What is the Valuentum Buying Index (VBI)?
Please click the following link to learn more about our stock-selection methodology:
http://www.valuentum.com/articles/20110622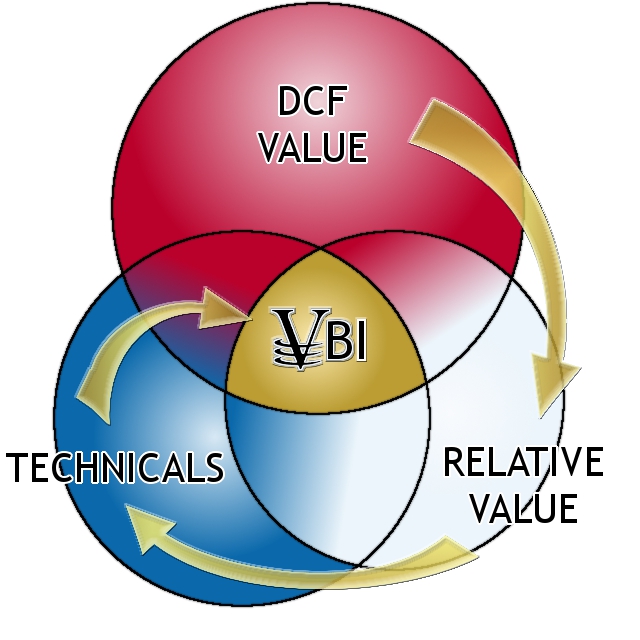 How do I subscribe to Valuentum's investment research services?
1) Click the following link: https://valuentum2.ssl.subhub.com/subscribe.
2) Select your currency, either United States Dollars or United Kingdom Pounds.
3) Click the Next button.
4) Select your membership plan.
5) Click the Next button.
6) Enter your contact details.
7) Click the Next button (or depending on your browser, you will be auto-forwarded to PayPal's secure site).
8) Click the PayPal button to pay through Paypal.
9) Complete your purchase.
Need to pay by debit/credit card? Click here.
What are the advantages of using Valuentum's investment services?
1) We're completely independent – we have NO conflicts of interest
2) Integrity and systematic application of analytical process
3) Comprehensive equity research provider – from deep value through momentum investing
4) Breadth and depth of coverage
5) Commitment to expanding coverage
6) Valuation expertise
7) Fair value estimates for all firms in our coverage universe
8) Unique and cash-flow based dividend growth process
9) Strong performance track record versus peers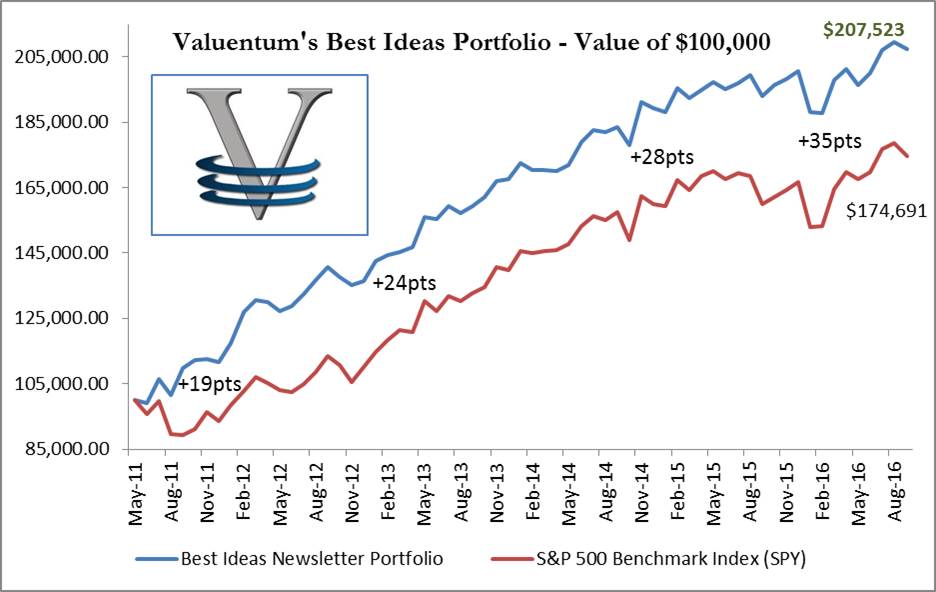 Past results are not a guarantee of future performance.
What's the best way to use the Valuentum Buying Index?
We often receive questions about how we use the Valuentum Buying Index (VBI) rating system, but I think it is equally important to mention that it is only one of the many facets of our website and services. For example, if you haven't checked out the Dividend Cushion ratios on the stocks in your portfolio or the dividend growth product (from individual reports to the newsletter and beyond), surely you are not maximizing your membership! We love dividends, but you can also trust us to make sure you're aware of the real risks of any dividend strategy in today's market.

No matter your strategy or process though, the Valuentum Buying Index rating system is still a helpful tool to have at your disposal, even if you are not using it. Admittedly, the VBI, as we call it, is not as easy to use as 1, 2, 3, or even buying 9s and 10s and selling 1s and 2s until their VBI changes upon the next update. Within any quantitative process, we value the human, qualitative overlay, which captures a wealth of experience and common sense. We want to make sure that we're surfacing the best ideas for members, and flying blind is never a good strategy, in my opinion. With prudence and care, the VBI process is carried out.

In probably one of the most obvious cases, for example, an experienced investor knows when a price-to-earnings (P/E) ratio isn't informative (as in the case of negative or negligible earnings), but a quantitative rating system that uses a P/E ratio, which the VBI does, may not know any better. Of course the VBI has checks and balances to adjust for such instances, but I believe the human, qualitative overlay is still extremely important, especially when considering various business models and unique "un-modelable" risks (particularly with respect to the banks). In my opinion, a golf club is only as good as the player that uses it, and in a similar light, a financial model or a rating system is only as good as the user that applies it.

That said, we stake so much on the performance of the portfolios in the Best Ideas Newsletter and Dividend Growth Newsletter. They represent the outcome of all of the work we do on the website, rolled into one final assessment: our best ideas for each respective strategy. Sure we have other screens on the website, but those are just screens -- listings of companies with similar data and information. The ideas in the portfolios in the Best Ideas Newsletter and Dividend Growth Newsletter have undergone a painstaking process with our analyst team to ensure that we're delivering the very best to members within a portfolio setting. The thoughts behind the weighting of each idea and the portfolio management process revealed in full transparency on a month to month basis may be worth the cost of a membership alone, even if you're not using the portfolios!

Here's why. In a market environment where more than 90% of large-cap funds have trailed the S&P 500 since 2011 through August of this year, the Best Ideas Newsletter portfolio has exceeded the market return by 33 percentage points over a similar time period. Absolutely phenomenal. What's more, we didn't hide behind standard quarterly reviews and updates either, sending out pre-packaged information to members. We showcased this performance in full transparency, and we had to write every single day to capture interest! When patience is the secret to success in investing, do you know how much could have gone wrong when having to produce daily? Obviously, we're very disciplined, but we also credit the portfolio outperformance to the VBI methodology itself.

Let's talk about how the VBI helps to inform which ideas we include in the Best Ideas Newsletter portfolio (not the Dividend Growth Newsletter portfolio as additional criteria must be met, namely as it relates to yield and Dividend Cushion ratio). That's such an important word, "informs." Notice how we didn't say "dictate" in this reference. For starters, we've noticed via our statistical backtesting that the momentum factor behind our process tends to be much more pronounced (powerful) over longer periods of time. This was one of the interesting findings of our academic white paper study. We try to replicate this dynamic with the update cycle of our reports (and the time horizon for our ideas to work out). That's why our reports are updated regularly (generally on a quarterly basis) or after material events and not daily or weekly. Perhaps most practically though, we don't want to whipsaw our membership, nor do we think churn is the way to generate outperformance.
Though the time frame varies depending on each idea that we consider for the Best Ideas Newsletter portfolio, we expect our best ideas to generally work out over a 12-24 month time horizon (on average). Our holding period is targeted to be much, much longer for some ideas in the Dividend Growth Newsletter portfolio, however. Here is where the VBI rating system becomes somewhat more advanced than a simple 1, 2, 3. We tend to add stocks to the Best Ideas Newsletter portfolio when they register a 9 or 10 on the Valuentum Buying Index (VBI), hold them for some time depending on a number of variables (the VBI, market conditions, sector weightings within the portfolio itself), and then we tend to remove stocks from our Best Ideas Newsletter portfolio when they register a 1 or 2 on the VBI. You'll notice that we have a qualitative overlay for the Best Ideas Newsletter portfolio (and one for the Dividend Growth Newsletter portfolio, too, though it is based on dividend-related considerations).
Image shown for informational purposes only.
But why don't we churn and burn by updating daily and trading a lot? Obviously, we don't think that's the secret to success. In quite the opposite approach, we like to maximize profits on every idea that we pursue, with the understanding that momentum does exist and that prices over and under shoot intrinsic value all of the time. For example, as shown in the image above, a value strategy (10 --> 5) truncates potential profits, while a momentum strategy (4 --> 1) ignores profits generated via value assessments. At Valuentum, we're after the entire profit potential of each idea. So, for example, if a firm is added to the Best Ideas Newsletter portfolio as a 10 and is removed as a 5, we would have truncated profit potential by not letting it run to lower ratings. Most of our highly-rated Valuentum Buying Index rated stocks have generated the vast outperformance of the Best Ideas portfolio, but these stocks' ratings declined over time as they were held (a good thing -- a declining VBI rating generally means the share price has advanced, assuming all else is well).
Image shown for informational purposes only.
Critically, regarding the Valuentum process, as it is executed in the Best Ideas Newsletter portfolio, we do not add all firms that register a 9 or 10, nor do we add the ones we do immediately thereafter. For example, Google (

GOOG

,

GOOGL

), now Alphabet, a current Best Ideas Newsletter portfolio holding, registered a 10 on the Valuentum Buying Index, but we remained patient and didn't add the company to our portfolio until after it reported earnings at the time, providing us with an even better entry point (as new information came to light). There are more "structural/timing" instances like the one with Alphabet, for example, that are extremely difficult to capture in any model, and understandably aren't as obvious to those outside looking in.
But why not add every highly-rated stock to the Best Ideas Newsletter portfolio? Think of it as if you were to imagine a value investor not adding and holding every undervalued stock to his/her portfolio. He or she wants the very best ones -- obviously, that means having to leave some good ideas behind. And then, of course, there are always tactical and sector weighting considerations in any portfolio construction, yet another reason why the human touch remains a vital aspect of the Valuentum process. At the core of how we use the VBI in the Best Ideas Newsletter portfolio, however, is a qualitative portfolio management overlay. The VBI rating helps to inform the process, but the Valuentum team makes the allocation decisions of the newsletter portfolio on the basis of a number of other firm-specific and portfolio criteria. Sometimes, under certain market conditions, we may have to relax the VBI criteria entirely in order to achieve newsletter portfolio goals.
Okay, a couple examples. Take pre-split eBay (

EBAY

), which many years ago included PayPal (

PYPL

), as an example of our process in action. The stock initially flashed a rating of 10 in late September 2011, and we added it to the Best Ideas Newsletter portfolio. The VBI rating changed to a 6 in December 2011 and then back to a 10 in May 2012, but because the rating never breached a 1 or 2, we did not remove the position from the Best Ideas Newsletter portfolio. In the case of pre-split eBay, we sought to capture the entire pricing cycle and avoided truncating it as most pure value investors often do (and what we would had done, if we had removed the stock at that time). In many ways, pre-split eBay/PayPal has become one of the better examples to use for illustrating the prolonged outperformance driven by undervalued stocks that are beginning to generate good momentum. [We no longer include eBay in the newsletter portfolio, but its split-off PayPal is retained.]
There have been more straightforward opportunities in the Best Ideas Newsletter portfolio, too, especially in the case of EDAC Tech, which had tripled since it was added to the newsletter portfolio (never registering below a 9 along the way), and then of course, Apple (

APPL

), Visa (

V

) and Altria (

MO

), but it is usually through the nuances of the process that one truly comes to understand it. The VBI ratings on each stock's most recent 16-page report, downloadable directly from the website at www.valuentum.com, reflect our current opinion on the company. The VBI rating system, as with all methodologies, helps to inform the investment decision process, but in constructing the newsletter portfolio, a qualitative overlay is not only necessary, in my view, but helps to optimize performance. If the returns of the Best Ideas Newsletter portfolio during the past 5+ years are any measure of the VBI rating system, it is performing fantastically well.
How frequently are the (stock and dividend) reports updated and what triggers an update?
Our reports are updated at least every 3-4 months or when material results alter our estimate of a company's fair value. This update cycle is typical for investment research firms. Fair value estimates do not change much over short-term periods of time, especially if our estimate of a company's intrinsic value is spot on. Although the date, data, or text on our reports may not change daily for each company, you can assume that if the reports are live on the site, the conclusions of the company in the report are still representative of our view on the stock or its dividend.
Importantly, by using our 'Symbol' search box in our header, you can gain access to some of the most advanced charting features to augment our Valuentum Buying Index's technical/momentum assessment. The charts are equipped with real-time data. The 'Symbol' search box in our website header is also the best way to find our recent articles and analysis (as well as the 16-page equity and dividend reports) on companies of interest to you.
Pasted below is what the search box retrieves on information related to Intel (INTC), for example:
http://www.valuentum.com/search2?searchtext=intc&searchtype=symbol
How much does a membership cost?
We offer membership services for as much as $99 per month (~$1,200 per year) or as little as $149 per year, depending on which level of service you choose. We offer monthly payment plans for each level of service, too. If you haven't already, please preview our membership options as the first 14 days are free under any plan.
Is it safe to subscribe to Valuentum.com?
We use PayPal to securely process online payments at Valuentum. Your credit-card information is never displayed on our website – or sent to or from our website.
What is Valuentum's privacy policy?
Our privacy policy can be viewed at the following link:
http://www.valuentum.com/static/privacypolicy
How do I login? Where can I find Valuentum reports on my stocks? And where can I become more familiar with how to best use Valuentum's website?
Visitors can access a video 'Getting Started on Valuentum.com' at the following link:
https://www.youtube.com/watch?v=fB97BfrC7jA
Visitors can access a video walking through the 16-page reports at the following link:
http://www.valuentum.com/articles/20120115
What web browser should I use to operate Valuentum.com?
Our website works best on Internet Explorer 9, Chrome, Firefox or Safari. You can click on the links to download them for free. Since the charts we use on our website have html5, Internet Explorer 8 and previous versions of web browsers do not support them.
Where can I get an education on the methodology and technical definitions of the terms used in your service?
The following is a link to the Valuentum Learning Center:
http://www.valuentum.com/articles/20121028
The following is a link to an in-depth presentation that goes into our stock-selection methodology:
http://www.valuentum.com/articles/20111201_1
The following is a link to a glossary of some common Valuentum terms found in our stock and dividend reports:
http://www.valuentum.com/articles/20110622_1
Do you have support that shows that your methodology was effective via backtesting? Do you have a white paper?
Yes. Pasted below is the link to our white paper discussing the benefits of 'Valuentum' investing.
http://www.valuentum.com/articles/20120528
Where can I find the current and previous editions of Valuentum's Best Ideas and Dividend Growth Newsletters?
Subscribers can view our newsletter archives at the following link:
Best Ideas Newsletter: http://www.valuentum.com/articles/20110927_1
Dividend Growth Newsletter: http://www.valuentum.com/articles/20170101
Why did the Valuentum Buying Index (VBI) score change on my stock?
A stock's Valuentum Buying Index is based on our view of the attractiveness of a company's DCF valuation, its relative valuation versus peers, and an overall technical assessment. If our views on any of these three investment pillars change, a firm's VBI score will change to reflect this new view.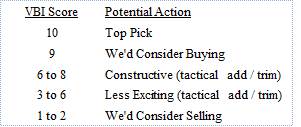 Why does my stock have a good VBI score but a poor dividend-growth profile?
The intrinsic value of a stock (company) is independent of the size or quality of its dividend payment or its dividend growth profile. Note: dividend payments are just a portion of a firm's total free cash flow (earnings), and intrinsic value is driven by all of the future free cash flows (earnings) that belong to shareholders.
The DCF valuation process for firms rests on assessing the discounted future free cash flows of an entity in arriving at a fair value estimate for that entity. We then use a margin of safety to better pinpoint an entry/exit point that captures the risks inherent to the company's business model. After doing this and conducting a relative value assessment, we then evaluate the technical and momentum indicators of the firm to further reinforce our entry/exit points. This process culminates in our Valuentum Buying Index (VBI), which uses a rigorous DCF evaluation, relative value assessment, and technical and momentum indicators to derive a score between 1 and 10 (10=top pick).
When evaluating a company's dividend, we sum the future free flows of the firm and divide that sum by future dividend payments over a five-year period (and consider the firm's net balance sheet impact). If this relationship is below parity (1), we don't think the firm's dividend growth potential is strong. In other words, this analysis reveals the company doesn't have a significant amount of capacity to raise the dividend. However, that doesn't mean the shares of the exact same company aren't undervalued and that investors aren't interested in other parameters that drive the company's VBI score -- which we think captures the major factors that drive a firm's future capital appreciation potential.
All things considered, it is perfectly consistent for a firm to score high on our VBI scale and not have strong dividend growth prospects. Alternatively, it is perfectly consistent for a firm to score low on our VBI scale and have strong dividend growth prospects.
How do I find stocks that meet my investment criteria?
Valuentum's broad focus across investment methodologies (from value through momentum) allows us to provide subscribers with tools and screeners that are unmatched by any other independent research provider. Subscribers can access our available stock screens in the left column of our website under the 'Stock Screens' category, or they can purchase our DataScreener, which contains sortable data and information on firms in our coverage universe.
Where can I find the highest-quality stocks that Valuentum covers?
Please learn about the Economic Castle rating here.
Our Ideas100 publication may be a consideration. Click the following link for more information:
http://www.valuentum.com/store/products/41
Where can I find stocks with the best dividend-growth profiles?
Please learn about the Dividend Cushion here.
Our Dividend100 publication may be a consideration. Click the following link for more information:
http://www.valuentum.com/store/products/38
If I am looking at a 1 or 2 month old Valuentum Buying Index, and the price and technicals have changed substantially, how useful is that Valuentum Buying Index rating? It just seems that the Valuentum Buying Index, for which price/fair value and technicals are factors, would require more frequent updates to be meaningful. Stocks that were overvalued at update time, that have corrected 10-15% (or more), surely have a different Valuentum Buying Index.
Great question. We could update the VBIs more frequently. However, we update as many as 100 companies or more each week with fresh new VBIs if that may be how you're looking at things, so there's still a lot of value in the service from that perspective.
That said, is the VBI not meaningful because it may not be as frequently updated? We think in some cases yes, and in some cases, no. It depends on what you mean by meaningful.
Here's where the question is turned on its head. The very idea that a stock we identified as overvalued has declined significantly, as in your example, means that the VBI, and more specifically, the fair value estimate and its range, is quite meaningful.
We think it comes down to practicality, too. We emphasize analyst oversight with respect to our reports and rating system, as opposed to a fast-moving quantitative output, which would result in rapid changes in the VBI, and arguably make the VBI less meaningful (in the case it changes so much over such a short period of time). We posit it all comes down to perspective and usefulness, too.
Importantly, however, the VBI is just one aspect of our research, and we use it as a tool much like any other (the fair value estimate, the fair value range, Economic Castle, Dividend Cushion). Have you had a chance to read through some of the newsletters and evaluate the newsletter portfolios?
The VBI question is not the easiest one to answer but we're working on triangulating on what makes the most sense; in any case, we hope you see a lot of value in what we have to offer!
Why are there firms on your Dividend Growth Watch List that don't have attractive dividend growth profiles...yet?
The Dividend Growth watch list and our screen of companies with 'high Valuentum Buying Index ratings and strong dividend growth prospects' include the firms that we are currently monitoring for potential inclusion into our Dividend Growth portfolio. The vast majority of companies on our Dividend Growth watch list are well-positioned and have dividends that are posied for growth.
Others, however, such as PepsiCo (PEP), for example, have an elevated dividend yield but a borderline Dividend Cushion score (and safety and growth metrics), where we're waiting for fundamental improvement before we would consider adding the company to our portfolio. But even though PepsiCo isn't a slam-dunk dividend growth investment in our view (at this time), we think it is still worthy of watching. In other words, if PepsiCo's balance sheet and cash flow position improve relative to its dividend payments in the future, members can track the performance real time with the firm's metrics conveniently located in our watch list.
If we didn't include this borderline firm in our watch list, we may miss the opportunity to highlight an interesting dividend growth firm when/if its fundamentals improve. That said, our Dividend Growth portfolio includes our favorite dividend growth names at any time.
What is the most important measure of return on invested capital (ROIC), in Valuentum's opinion?
We think return on new invested capital (RONIC) is the most important measure of whether a company is generating economic value for shareholders. Though we look at ROIC with goodwill and ROIC without goodwill (and each one is informative depending on a company's acquisition program), we view the capacity of a company to generate economic value in the future (RONIC) as the best indication of its ability to translate such business performance into equity price outperformance, all else equal.
How often does Valuentum make changes to its actively-managed portfolios held within the Best Ideas and Dividend Growth Newsletters? What is the typical holding period for picks made?
Our Best Ideas and Dividend Growth portfolios may be fully invested at times, and it may not make sense for us to add or remove a company each month. However, we actively provide a watch list and other ideas to consider in each monthly edition as many of our subscribers have cash to allocate to timely positions.
The holding period for stocks in our Best Ideas and Dividend Growth portfolios varies depending on the timing of when a particular stock converges to our fair value. On average, however, we'd like to see an idea work out within a 12-24 month period. To get a feel for the trading frequency and turnover of our portfolios, view the transaction log of our Best Ideas portfolio at the following link:
http://www.valuentum.com/articles/20120509_1
What does Valuentum mean when it says it helps investors avoid value traps, falling knives, and the opportunity cost of buying a great stock at the most inopportune time?
Have you ever held an undervalued stock for years, and it hasn't yet converged to what you think it is worth? This is opportunity cost, and we think it is a real expense for investors. Because our process factors in a technical and momentum assessment after we evaluate its attractiveness via our valuation process, we think we're better able to pinpoint the best entry and exit points on stocks.
We're less likely to be involved in value traps because we demand material revenue and earnings growth for firms to earn a 10 on our VBI, and we're less likely to be exposed to falling knives since our process requires firms to not only be undervalued but also be exhibiting bullish technicals before we would consider adding them to our portfolios. Research firms that just focus on valuation may encourage you to buy a stock all the way down (a falling knife). As such, we think our process helps investors avoid the opportunity cost of buying a great stock at the most inopportune time.
What is Valuentum's relationship with Seeking Alpha and the Motley Fool?
Valuentum may publish an article or a re-formatted company report on Seeking Alpha or Motley Fool from time to time. Our policy is to reach out to the investment community periodically through the syndication agreements with Seeking Alpha and other partners. The quality of the content on our website, the performance of our stock calls, and the complete satisfaction of our subscribers remain our top priorities.
Where can I directly find the 16-page equity reports on Valuentum's website?

The best way to navigate our website and find what your looking for with respect to any given stock is outlined at the following link:
https://www.youtube.com/watch?v=fB97BfrC7jA

Why do stocks in our Best Ideas portfolio and Dividend Growth portfolio sometimes have lower VBI ratings than ones on our watch list?

The goal of our Best Ideas portfolio is to outperform our market benchmark (the S&P 500) and to generate positive returns regardless of the broader market environment. The goal of our Dividend Growth portfolio is to identify high-yielding, undervalued stocks that offer investors not only a source of sustainable and growing dividend income but also collectively form a portfolio that we expect to achieve an average annual rate of return in the high-single-digits over rolling 3- to 5-year periods into the future.

Since achieving these goals often requires low-turnover portfolios, we do not trade in and out of names with every opportunity (even if a firm on our watch list may have a higher VBI than one in our portfolio). Said differently, the firms currently in our portfolios once flashed high scores on our VBI, which triggered a buy signal for us at the time. We are now waiting patiently for their respective stock prices to come to reflect our 'We'd sell' criteria (poor value, poor momentum). We can best be described as investors (with a 12-24 month horizon for each idea) -- not speculators or traders, despite the application of technical/momentum analysis in our VBI process.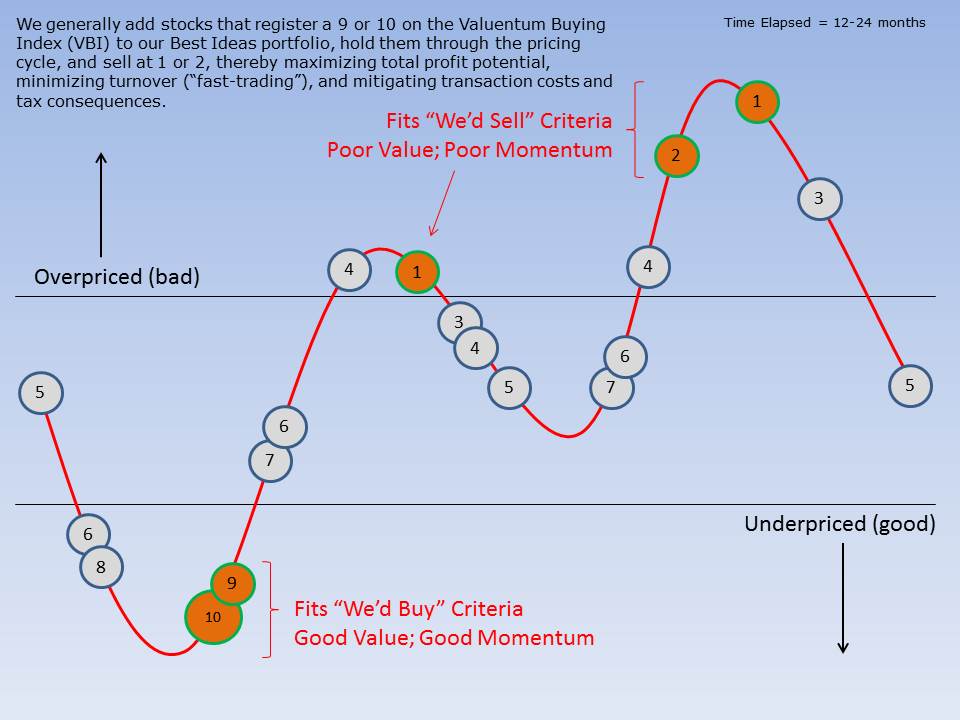 Image shown for informational purposes only.
That said, we will not hesitate to swap into our portfolio a high-VBI firm on the long side should its upside potential become greater than one of our current holdings. Since some of our subscribers have cash on hand (and may not be fully invested as we may be at times), we always provide a list of the highest-rated VBI firms in our coverage universe in each edition of our Best Ideas Newsletter.
In your 16-page equity reports, why doesn't the 'percentage undervalued / overvalued' match up to the actual discount/premium to Valuentum's fair value estimate of the company?
We view the intrinsic value of a firm as a range, not a single point estimate. So instead of us saying that a company is worth exactly $55 per share, for example, instead we'd say it is worth between $50 (low end) and $60 per share (high end). This is due to the inherent 'impossibility' of predicting with absolute precision a firm's future free cash flow stream, which determines our estimate of the company's intrinsic value. As a result, the 'percentage undervalued/overvalued' is calculated by comparing the firm's current price with the low end and high end of its fair value range (and not the single fair value point estimate), respectively. If a firm's price falls below the low end of our fair value range, we'd view it as cheap. If the price is above our fair value range, we think the company's shares are expensive.
Does a 'Very Poor' score on Valuentum's assessment of a company's dividend safety mean the firm will cut its dividend in future periods?
Not necessarily. In many cases, a 'Very Poor' dividend safety score will predict a cut, as this is what the Valuentum Dividend Cushion has been designed to do.
However, in other cases, the Valuentum Dividend Cushion may highlight significant risk related to future dividend payments (but not necessarily suggest that a cut is on the horizon). For one, the assessment of a firm's dividend safety is based on the excess cash-flow capacity the firm has for future dividend raises after considering its balance sheet structure. By extension, there will be a positive correlation between the safety of a firm's dividend and its future potential for growth.
In other words, the larger the capacity the firm has to raise its dividend based on our Valuentum Dividend Cushion, the more secure existing dividend payments are. However, just because a firm has a 'Very Poor' dividend safety score doesn't necessarily mean it will cut its dividend anytime soon. What a low safety score does mean, however, is that the board has effectively maxed out the company's annual payout and has little room for operating error.
In fact, a lot of steady-eddy utilities firms receive a 'Very Poor' safety rating. However, based on the stability of their business models (and sometimes fixed rate of returns), we're not expecting them to cut their respective dividends anytime soon. However, should an exogenous event happen, the board hasn't left much excess cash-flow capacity to absorb the impact and the dividend may be exposed to significant risk (think of the most recent example of Exelon).
What has been the "hit rate" in your Best Ideas portfolio? What percentage of the names have outperformed? I want to make sure a few winners don't account for "all" the alpha…
Out of the dozens or so securities we have selected to include in our Best Ideas portfolio since inception (ex options), nearly all of them have outperformed the market. However, firms like EDAC Tech (EDAC) and Apple (AAPL) have been significant sources of alpha for us, more-than-tripling and nearly doubling in price, respectively.
Read an audit of the Best Ideas Newsletter portfolio here >>
I have downloaded your last Best Ideas Newsletter and didn't quite understand where to find your best ideas? There are several articles about firms not in your portfolio. Are these your ideas for buying or should I refer to the Best Ideas portfolio itself?
In our Best Ideas Newsletter, we provide a wealth of current information as it relates to our opinion of stocks in the news as well as an actively-managed portfolio of best ideas and a watch list of firms that score high on our Valuentum Buying Index. We use our Valuentum Buying Index as the primary criteria for adding or removing firms to or from our Best Ideas portfolio, respectively. Because our actively-managed portfolios have stringent oversight and a portfolio-management overlay, we may not add all firms that have high scores on our Valuentum Buying Index to our portfolios due to diversification, cost, or broader-market considerations.
The goals of our Best Ideas portfolio are to outperform the market benchmark and to generate positive returns regardless of the broader market environment. To achieve these goals, we may limit turnover and transaction costs, pursue diversification benefits, and engage in option strategies to capture our view on broader market trends or on individual securities. However, we include a watch list of firms to supplement our best ideas portfolio in each edition of our Best Ideas Newsletter, as we understand that subscribers and clients may have different goals and varying investment mandates.
Our best ideas are the names included in our portfolios (the Best Ideas portfolio and Dividend Growth portfolio), as well as the names that score high on our Valuentum Buying Index. However, you should always consult your financial advisor to determine whether any investment in any security is suitable for you. At no time should any content on our website or in any transaction-alert email be viewed as a solicitation to buy or sell any security.
Why don't your VBI ratings change on a daily basis?
Investors can sell a stock for reasons unrelated to a company's fundamentals, and at times, make poor decisions on the basis of misinformation, driving a firm's shares lower. In our view, it simply takes time to get an accurate read on any fundamental or technical changes of a company's stock. We want to deliver ideas with conviction and confidence and not alter our views on a firm on a daily or even weekly basis.
I am wondering about the difference in dividend increases for the current fiscal year between what is showing on your reports and what we believe are the actual increase numbers for some companies. Here are some examples: CL -- Valuentum shows 8.3%; actual increase on 3/6/14 was 5.8%. MDT -- Valuentum shows 7.7%; actual increase on 6/16/14 was 8.9%. CNI -- Valuentum shows 11.0%; actual increase on 1/30/2014 was 16.3% Any thoughts?
The reporting structure of the dividend payments in the Dividend Reports correspond to when the payments have been paid in previous historical years. So, for example, in CL's case, the company paid the following as dividends in 2013: $0.31, $0.34, $0.34, $0.34 = $1.33 (as shown in the report). The current year 'forecast' (2014) represents the annualized rate based on the current payout ($1.44 per share). The growth rate is then derived as such ($1.44/$1.33-1).

The future forecasts beyond the initial year converge to the following scale (in most cases):

Dividend Growth Potential
Excellent: 8% or higher
Good: 4%-8%
Poor: 2%-4%
Very Poor: 0%-2%

Please find an extensive read on how we derive our forecasts both in the discounted cash-flow models and with respect to dividend growth here.
Why do you use a risk free rate assumption of 4.25% when the current spot rate of the 10-year Treasury is about 2%?
In our discounted cash-flow models that we use to value every non-financial operating company in our coverage universe, we match the duration of future free cash flows (from year 1 to perpetuity) with expectations of the average discount rate over this forecast horizon (from year 1 to perpetuity). We think the best way to achieve expectations of the long-term future average rate of the 10-year Treasury (risk free rate) is to use the weighted average of the historical 10-year Treasury and the current spot rate. The goal of using a weighted average risk free rate in our DCF process is to achieve balance with respect to the duration of future cash flows. For example, discounting a cash flow in Year 20 at the current spot rate doesn't make much sense to us. Other methods consider the yield curve in discounting future free cash flows, or use a long-term average of the risk free rate without considering near-term changes in the 10-year Treasury rate. We think the use of the spot rate on the 10-year Treasury as the risk free rate in any valuation model would not only cause significant fair-value volatility but also result in a systematic overvaluation of companies relative to their true long-term intrinsic worth.
Why do you use such a wide fair value range for certain companies?
One of the most important concepts of the Valuentum methodology (and valuation in general) is the understanding that the value of a company is a range of probable valuation outcomes, not a single point estimate. Even well-seasoned stock analysts are guilty of saying that a company's shares are worth exactly $25 or a firm's stock is worth exactly $100. The reality is that, in the first case, the company's shares are probably worth somewhere between $20 and $30, and in the latter case, the stock is worth somewhere between $75 and $125.
Why? Because all of the value of a company is generated in the future (future earnings and free cash flow), and the future is inherently unpredictable (unknowable). If the future could be predicted with absolute certainly (knowable), then a stock analyst could say a company's shares are worth precisely this, or that a firm's stock is worth precisely that. Not because he or she would know where the stock would be trading at, but because he or she would know precisely what future free cash flows would be (and all other modeling facts-not assumptions in this case) and arrive at the exact and non-debatable value of the firm.
But the truth of the matter is that nobody knows the future, and analysts can only estimate what a company's future free cash flow stream will look like. Certain unexpected factors will hurt that free cash flow stream relative to forecasts, while other unexpected factors will boost performance. That's how a downside fair value estimate and an upside fair value estimate is generated, or in the words of Warren Buffett and Benjamin Graham how a "margin of safety" is generated. Only the most likely scenario represents the point fair value estimate. Any stock analyst that says a company is worth a precise figure--whether it's $1 or $100--falls short of understanding one of the most important factors behind valuation.
But why the large range in many cases?
Well, there are many firms in our coverage universe that have a very large range of outcomes in their future free cash flow growth. And because discounting free cash flows is an integral part of calculating the fair value estimate of a company, the range of fair values will also be large. To illustrate this point, let's take a look at the difference between the levels of free cash flows in Year 20 under three different future growth rates: 10%, 15%, and 20%. Though the growth rate between each scenario is but 5 percentage points, the magnitude of the free cash flow difference is astounding many years into the future, and our discounted cash-flow process considers the long-term intrinsic value of firms.
Under these future free-cash-flow scenarios, if we assume an 8% discount rate and 100,000 shares outstanding (and no debt), the difference in the fair value estimate between the upside case (green line) and downside case (blue line) would be an incredible $68 per share ($82 per share less $14 per share). That's a huge fair value range (80%+), and all because of just a 10 percentage point difference in a future free cash flow growth assumption. For firms that are growing cash flows at 200% or 300% per annum, a large range of fair value outcomes is not only inevitable but also very reasonable. In other words, the Valuentum framework provides an avenue to quantify the upside and downside risks investors are taking in high uncertainty and fast-growing enterprises.
To really hit this point home, shown above is a slide of LinkedIn's (

LNKD

) revenue from the first quarter of 2010 through the first quarter of 2013. The green line (mapped to the right axis) shows LinkedIn's revenue growth rate. Let's assume revenue expansion translates into similar free cash flow growth expectations (not exactly a precise assumption, given the leverage in LinkedIn's business model), but bear with us for simplistic illustrative purposes. Will LinkedIn's revenue/cash flows expand at a 20% rate, a 40% rate, or a 60% rate (or an even greater pace) through year 20?
It's a very, very difficult question to answer. Remember how significant that 10 percentage point spread was in the hypothetical example above? Well, it's even more significant for LinkedIn. We know LinkedIn's free cash flows will expand, and expand fast, but just how fast is certainly debatable. To a very large extent, that's why LinkedIn's range of probable outcomes (fair value range) is so large. Understanding the cone of fair value outcomes of a company is helpful because the size of the range tends to be positively correlated to the equity's volatility. If you recall, look at what happened to LinkedIn's stock recently when investors ratcheted down their long-term growth assumptions (and by extension, the company's intrinsic value).
Shares collapsed in a huge way.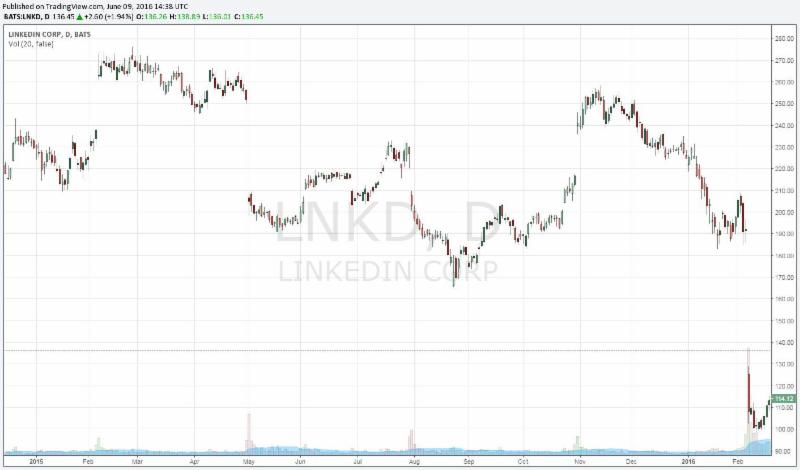 But it was largely because of that same weakness in equity pricing that drove Microsoft (

MSFT

) to take the leap to buy LinkedIn's equity outright just a few months later. Over just a very short period of time, LinkedIn's shares effectively collapsed and then surged as the chart below shows (its intrinsic value range didn't change much, however). Having a fair value range that adequately captures both the upside and downside cases for a company's shares remains an integral part of stock investing. Not only does it help hone in on the potential risk-reward profile of an equity at any given time, it also helps reveal the attractiveness of various "entry" or "exit" points using a robust free-cash-flow based and fundamentally-sound intrinsic value estimate as the anchor.
We're scouring our coverage universe for firms that are trading outside of their respective fair value ranges. A firm trading below the low end of its fair value range, for example, is undervalued, while a firm trading above its fair value range is overvalued. The fair value range for each company captures the inherent uncertainty of the trajectory of that firm's unique future free cash flow stream. For the 1,400+ companies we include in our coverage universe, we provide a discounted cash flow derived fair value estimate and a corresponding fair value range -- and a robust discounted cash-flow process is only one aspect of our service.
In your probability distribution of fair values, how can a company actually have a non-zero probability of a negative fair value?
This is a great question because it hits on the myriad uses of Valuentum's methodology. The non-zero probability is encircled in red below.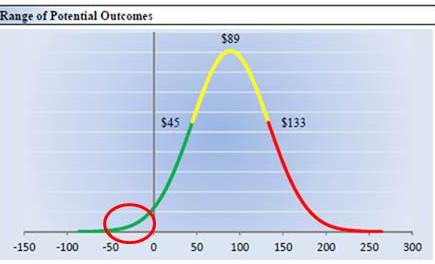 The way to interpret the area to the left of the $0 line (y-axis) is that it represents the probability of bankruptcy of the firm based on the uncertainty of future free cash flows. Though there are specific values assigned to the area to the left of the $0 line (y-axis), they are arbitrary as any equity value below $0 is actually an event of default if liquidity dries up (eating into bondholders). So the small area underneath the green curve to left of the $0 line (y-axis) and down to the x-axis (which is a mapping of fair values) represents the probability of bankruptcy (default) given the firm's fundamental future cash flow profile and balance sheet leverage. We disclose the probability of bankruptcy/default of each company in our reports. Valuentum plans to eventually use these probability-of-default estimates to calculate a corporate credit rating for each entity.
At any point in time, I haven't found many stocks with VBI ratings of 9 or 10. Some stocks like CSCO, KORS or BWLD seem to have almost characteristically high VBI's. For sure, I should have immediately bought some names when you added them to the Best Ideas Newsletter when there VBI's were 9 or 10. However, after missing them upon their initial recommendation, I always had doubts as to whether they are still warranted as being highlighted as new investments after they have risen in price and their VBI's have fallen below 9 or 10. One suggestion: each month I wish you would highlight any stocks in the Best Ideas Newsletter portfolio you would buy NOW. Stocks added to the list as 9's or 10's now at 5, 6, or 7 may or may not be candidates for new investment just as all stocks with 9's or 10's are not added to the list for qualitative reasons.
Your question comes up a lot, and unfortunately, it seems there's not a really good solution for helping readers understand our answer. We've pondered having a special categorization of the VBI for best ideas in both newsletters but we haven't implemented it. For example, we've thought about changing their VBIs to 10+.
At any time, whether a holding was added near inception or a holding is added two months from now, they are treated equally as new, interesting "best ideas." As we continue to emphasize in all of our writings, our best ideas for consideration at any time are included in the newsletter portfolios.
Let's see if we can better explain the topic with an example.
A portfolio manager must make a conscious decision to hold a stock every single day, and this conscious decision is reflected in it being one of his or her best ideas on a go-forward basis at that time. Only when it is removed from the portfolio is it no longer a best idea consideration. Sometimes the very best ideas for new money are already in one's portfolio! They should be, no? Otherwise, why hold the stock? One wouldn't hold a stock in the portfolio that is not his/her best ideas, right?
Here is much more on the topic:
http://www.valuentum.com/articles/How_to_Use_Valuentums_Investment_Services
Hope this helps explain.
What is Valuentum's cancelation policy?
When you begin your membership, we do not accept payment from you. Only when the first 14-days free period ends will you then be charged the subscription fee. Your subscription will automatically renew on the basis of your payment cycle.

If you are not happy with our service for any reason, cancel within 14 days of your start date (during the free period) by emailing info@valuentum.com saying that you would like to cancel. You will not be charged anything.
After the first 14 days, you may cancel at any time, and we will recalculate the cost of the subscription for the period the subscription was used (at then applicable monthly rates) and will refund any difference less transaction fees. No refunds are provided for monthly subscriptions. Your complete satisfaction is our top priority.