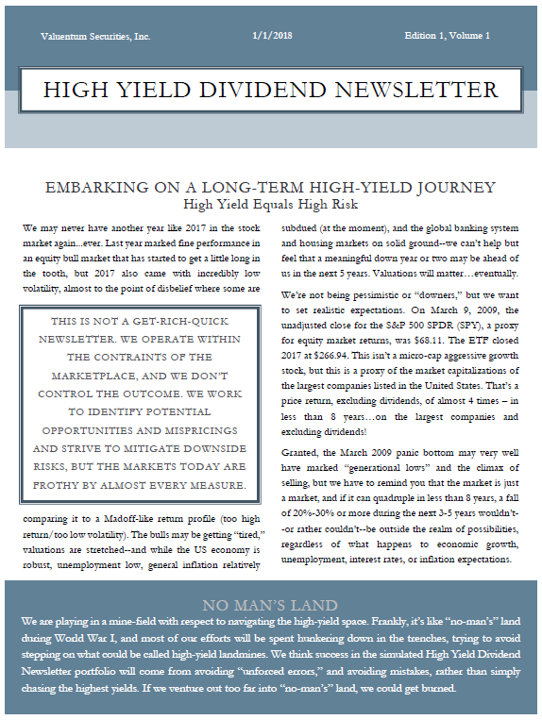 Already a member to the High Yield Dividend Newsletter? Contact us at info@valuentum.com for archived editions!
High Yield Dividend Investing
Are your income ideas not getting the job done? Did you miss the fall out in Kinder Morgan and General Electric? Is your portfolio suffering from the "wrong" high dividend-paying ideas the past few years?
Subscribe today to receive our monthly High Yield Dividend Newsletter and simulated high-yield dividend portfolio. You know the quality of Valuentum's work, and this new publication and simulated portfolio may be right up your alley.
The brand new monthly High Yield Dividend Newsletter is priced at $1,000/year. We provide the following regularly in the monthly newsletters, to be released on the 1st of each month:
A discussion about REITs, MLPs, high-yielders, and oftentimes banks, insurers, preferred shares and more! Nothing is off the table when it comes to high-yield income.
A simulated portfolio of high-yield income-oriented stocks that we think will collectively generate a strong stream of income in the coming years.
Commentary and analysis about high-yield stocks that are included in the High Yield Dividend Newsletter portfolio and on any new high-yield ideas. Ongoing updates of existing ideas.
Access to fair value estimates, Dividend Cushion ratios, and more -- when included in the High Yield Dividend Newsletter publication and accompanying simulated portfolio.
Email notifications of any changes we may make to the High Yield Dividend Newsletter portfolio*, and whether material events have happened to companies within it.
Helpful periodic screens that may overlay Valuentum metrics with other key information.
The High Yield Dividend Newsletter and accompanying simulated portfolio is an add-on to your existing membership.
$1,000/year. No refunds offered. This is a recurring membership. Cancel anytime.
* The High Yield Dividend Newsletter, Best Ideas Newsletter portfolio, ESG Newsletter portfolio, and Dividend Growth Newsletter portfolio are not real money portfolios. Results are hypothetical and do not represent actual trading. The Valuentum Exclusive publication does not reflect real performance. Any performance is hypothetical, simulated, and does not represent actual trading.
-------------------------
About Our Name
But how, you will ask, does one decide what [stocks are] "attractive"? Most analysts feel they must choose between two approaches customarily thought to be in opposition: "value" and "growth,"...We view that as fuzzy thinking...Growth is always a component of value [and] the very term "value investing" is redundant.
-- Warren Buffett, Berkshire Hathaway annual report, 1992
At Valuentum, we take Buffett's thoughts one step further. We think the best opportunities arise from an understanding of a variety of investing disciplines in order to identify the most attractive stocks at any given time. Valuentum therefore analyzes each stock across a wide spectrum of philosophies, from deep value through momentum investing. And a combination of the two approaches found on each side of the spectrum (value/momentum) in a name couldn't be more representative of what our analysts do here; hence, we're called Valuentum.