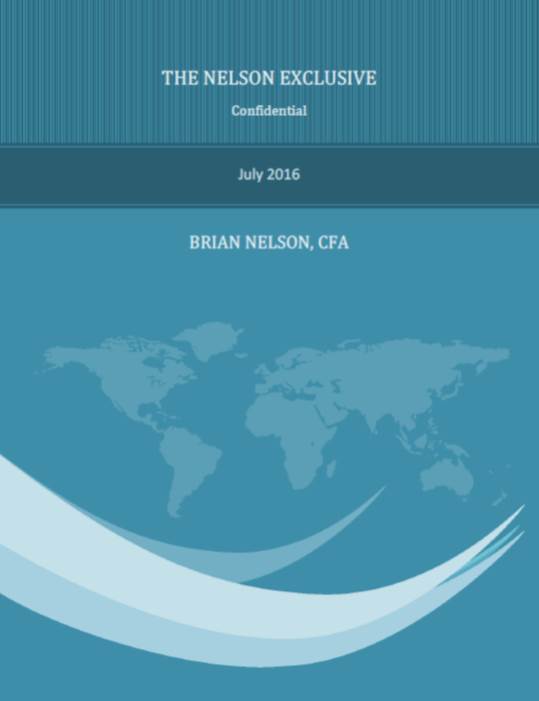 You Asked, We Answered: The Nelson Exclusive
From President of Investment Research Brian Nelson every month, receive three stock selections for consideration (one for income, one for capital appreciation, and a "short" idea), fully-laid out in thesis form.
Offer is limited to the first 1,000 Valuentum members. Reserve your spot today.
"The stock market is a no-called-strike game. You don't have to swing at everything—you can wait for your pitch. The problem when you're a money manager is that your fans keep yelling, "Swing, you bum!" -- Warren Buffett
Hi everyone,
We can't be more pleased with the reception we have received from the investment community the past 5+ years, and we continue to create products to meet various needs and requests. We're very lucky to be in high demand.
What we have rolled out may be one of our best features yet, and it's purely incremental, an add-on to your existing subscription (or a la carte), if you want it. We understand some members may not want to replicate the newsletter portfolios to capitalize on their respective overall returns (which have been great!), and we know that the Valuentum Buying Index may not be their cup of tea either.
Warren Buffett is famous for saying, "The stock market is a no-called-strike game. You don't have to swing at everything—you can wait for your pitch. The problem when you're a money manager is that your fans keep yelling, "Swing, you bum!" We're never going to jeopardize our laser-focus on achieving the newsletter goals by adding idea after idea (just for the sake of doing so), but we know members still want new ideas – and they want the very best ones at that! But we can't force ideas into a portfolio just for the sake of doing so.
So we're going to do one better. Having managed the Best Ideas Newsletter portfolio and Dividend Growth Newsletter portfolio to continued strong returns during the past 5+ years, President of Investment Research Brian Nelson will now be highlighting in a brand new publication The Nelson Exclusive three new ideas each month to consider, one for income, one for capital appreciation, and a "short" idea (all three will be outside our existing coverage universe). Brian will still be managing the newsletter portfolios, too. Fresh, underfollowed and new ideas -- outside our coverage universe -- every month! Nothing will be held back.
$1,000/year. No refunds offered. Product will close after the first 1,000 members, so reserve your spot today:
Brian is available for any questions about this product and its features at brian@valuentum.com. Thank you for your continued interest!
Key Features:
Released monthly when the market is closed -- everyone is on an equal playing field. You'll have time to consider.

Product is delivered to your inbox. It will never be published anywhere else. It's as exclusive as it gets.

Time horizons published for highlighted ideas. Follow ups of previous ideas in subsequent editions. Performance tracked and theses updated.

Only actionable, investable ideas. No thinly-traded issues. Includes small caps and non-US/ADRs -- under-followed and overlooked investment opportunities!

Only stocks outside Valuentum's existing coverage universe viewed outside the newsletter portfolio context. Product helps members sort through the thousands of other stocks not in Valuentum's existing coverage universe!

Purely incremental. No change to the high quality of service and analysis you've grown accustomed to. Independence and integrity remain our core. Investors first.
--------------------------------------------------
About Your Editor
Brian Nelson, CFA
President, Equity Research & ETF Analysis
E-mail: brian@valuentum.com
Brian Nelson is the president of equity research and ETF analysis at Valuentum Securities.
He is the architect behind the company's research methodology and processes, developing the Valuentum Buying Index rating system, the Economic Castle rating, and the Dividend Cushion ratio. Mr. Nelson has acted as editor-in-chief of the firm's Best Ideas Newsletter and Dividend Growth Newsletter since their inception.
Before founding Valuentum in early 2011, Brian worked as a director at Morningstar, where he was responsible for training and methodology development within the firm's equity and credit research department. Prior to that position, he served as a senior industrials securities analyst covering aerospace, airlines, construction, and environmental services companies.
Before joining Morningstar in February 2006, Mr. Nelson worked for a small capitalization fund covering a variety of sectors for an aggressive growth investment management firm in Chicago. He holds a Bachelor's degree in finance and a minor in mathematics, magna cum laude, from Benedictine University. Mr. Nelson has an MBA from the University of Chicago Booth School of Business and also holds the Chartered Financial Analyst (CFA) designation.
Highlights:
Brian is frequently quoted in the media and has been a frequent guest on Nightly Business Report, Bloomberg TV, CNBC, and the MoneyShow.
Mr. Nelson is very experienced valuing equities, developing discounted cash-flow models used to derive the fair value estimates for companies in the equity coverage universes of two of the largest independent investment research firms.
Brian worked on a small cap fund and a micro cap fund that were ranked within the top 10th percentile and top 1st percentile within the Small Cap Lipper Growth Universe, respectively, in 2005.
Brian led the charge in developing Morningstar's issuer credit ratings, creating and rolling-out one of the firm's proprietary credit metrics, the Cash Flow Cushion.
-------------------------
Our Best Ideas Newsletter, Dividend Growth Newsletter, and Nelson Exclusive publication are for information purposes only and should not be considered a solicitation to buy or sell any security. Valuentum is not responsible for any errors or omissions or for results obtained from the use of our newsletters, reports, or publications and accepts no liability for how readers may choose to utilize the content. Valuentum is not a registered investment advisor and does not offer brokerage or investment banking services and adheres to professional standards and abides by formal codes of ethics that put the interests of clients and subscribers ahead of their own. Valuentum, its employees, and affiliates may have long, short or derivative positions in the stock or stocks mentioned on this site.
-------------------------
About Our Name
But how, you will ask, does one decide what [stocks are] "attractive"? Most analysts feel they must choose between two approaches customarily thought to be in opposition: "value" and "growth,"...We view that as fuzzy thinking...Growth is always a component of value [and] the very term "value investing" is redundant.
-- Warren Buffett, Berkshire Hathaway annual report, 1993
At Valuentum, we take Buffett's thoughts one step further. We think the best opportunities arise from a complete understanding of all investing disciplines in order to identify the most attractive stocks at any given time. Valuentum therefore analyzes each stock across a wide spectrum of philosophies, from deep value to momentum investing. And a combination of the two approaches found on each side of the spectrum (value/momentum) in a name couldn't be more representative of what our analysts do here; hence, we're called Valuentum.