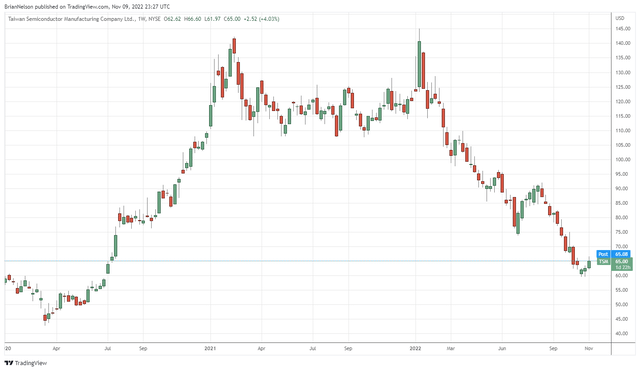 Image: Taiwan Semiconductor's shares have faced considerable pressure during 2022, despite strong operational performance.
By Brian Nelson, CFA
Taiwan Semiconductor Manufacturing Company's (TSM) shares have been cut in half this year as weakness across the tech space, uncertainty regarding new export restrictions, geopolitical tensions concerning China-Taiwan relations given Russia's invasion of Ukraine, and general market malaise, particularly across the chip sector, have weighed on the company. Our fair value estimate stands at $66, about in-line with where they are trading at the time of this writing.
One really wouldn't think TSM's shares would be down so much during 2022 given the company's recent fundamental performance, however. When it reported third-quarter results October 13, revenue advanced 35.9%, while third-quarter earnings per ADR (American Depository Receipt) came in at $1.79, beating the consensus estimate. Its gross margin jumped 9.1 percentage points on a year-over-year basis, while its operating margin leapt by 9.4 percentage points versus the same period last year.
The Wall Street Journal recently reported that TSM would be investing billions into a new cutting-edge facility in Arizona to make 3-nanometer transistors. As of its last quarter, 5-nanometer process technology contributed 28% of its total wafer revenue, while 7-nanometer generated 26%, with the balance 7-nanometer and below. Smartphone and high-performance computing revenue accounted for 41% and 39% of net revenue during the period, with the balance coming from Internet of Things (IOT) and automotive, among other areas.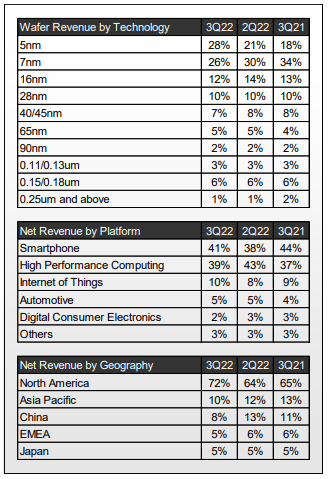 Image Source: TSM
At the end of the third quarter of 2022, Taiwan Semiconductor's net cash reserves increased while interest-bearing debt fell, helping to build the company's net cash reserves during the period. Current net cash reserves on hand cover about a full years' worth of dividends payable, and the company remains free cash flow positive, though capital spending is expected to increase materially as the firm invests aggressively in new manufacturing facilities in the U.S. and Japan. Uncertainty remains as to whether Taiwan Semiconductor will continue to operate unimpeded by new U.S. export restrictions in China, though recent reports indicate it may be exempt for one year.
Concluding Thoughts
We're disappointed with the performance of Taiwan Semiconductor's stock during 2022. Operational performance has been strong, but uncertainty stemming from weakness across the tech space to rising Sino-American tensions have punished shares. We continue to monitor its equity performance closely.
Tickerized for TSM, GFS, AMD, INTC, QCOM, TXN, AVGO, NVDA, KLAC, AMAT, LRCX
---------------------------------------------

About Our Name
But how, you will ask, does one decide what [stocks are] "attractive"? Most analysts feel they must choose between two approaches customarily thought to be in opposition: "value" and "growth,"...We view that as fuzzy thinking...Growth is always a component of value [and] the very term "value investing" is redundant.
-- Warren Buffett, Berkshire Hathaway annual report, 1992
At Valuentum, we take Buffett's thoughts one step further. We think the best opportunities arise from an understanding of a variety of investing disciplines in order to identify the most attractive stocks at any given time. Valuentum therefore analyzes each stock across a wide spectrum of philosophies, from deep value through momentum investing. And a combination of the two approaches found on each side of the spectrum (value/momentum) in a name couldn't be more representative of what our analysts do here; hence, we're called Valuentum.
---------------------------------------------
Brian Nelson owns shares in SPY, SCHG, QQQ, DIA, VOT, BITO, and IWM. Valuentum owns SPY, SCHG, QQQ, VOO, and DIA. Brian Nelson's household owns shares in HON, DIS, HAS, NKE, and RSP. Some of the other securities written about in this article may be included in Valuentum's simulated newsletter portfolios. Contact Valuentum for more information about its editorial policies.
Valuentum members have access to our 16-page stock reports, Valuentum Buying Index ratings, Dividend Cushion ratios, fair value estimates and ranges, dividend reports and more. Not a member? Subscribe today. The first 14 days are free.