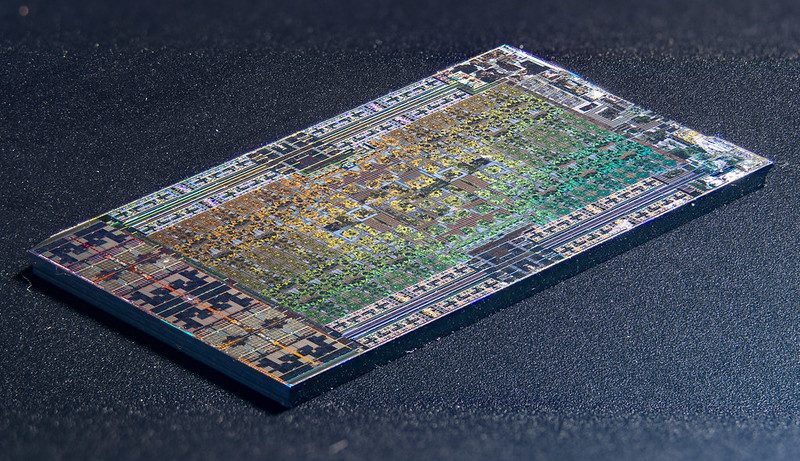 Image Source: Fritzchens Fritz
By Brian Nelson, CFA
Things aren't going well across the technology (XLK) landscape these days.
Microsoft Corp (MSFT) said in mid-July Windows OEM revenue faced pressure in its quarter ended June 30, its fourth quarter of fiscal 2022, and noted that the "PC market…deteriorated in June (slide 15)." On its fourth-quarter fiscal 2022 conference call, the software and gaming giant said that its outlook "has the trends (it) saw in June continu(ing) through Q1 (the quarter ending in September 2022). Continued weakness in the PC market demand and advertising spend (is expected to) impact Windows OEM, Surface, LinkedIn and search and news advertising revenue." We took note of this weakness at the time, but it looks like things are trending far worse than expected, at least for PCs and likely for search and news advertising, too.
Semiconductor Industry Chip Shortage to Inventory Overhang, Now on the Downswing
AMD (AMD) announced October 6 that its preliminary third quarter revenue would come in at $5.6 billion, more than $1 billion lower than its prior outlook of $6.7 billion as a result of weakness in its 'Client' segment revenue. In the press release, AMD pointed to "reduced processor shipments due to a weaker than expected PC market and significant inventory correction across the PC supply chain." Here's what AMD CEO Dr. Lisa Su had to say:
The PC market weakened significantly in the quarter. While our product portfolio remains very strong, macroeconomic conditions drove lower than expected PC demand and a significant inventory correction across the PC supply chain. As we navigate the current market conditions, we are pleased with the performance of our Data Center, Embedded, and Gaming segments and the strength of our diversified business model and balance sheet. We remain focused on delivering our leadership product roadmap and look forward to launching our next-generation 5nm data center and graphics products later this quarter.
We can understand how AMD may have had a modest miss on the top line in the quarter given the macroeconomic backdrop, but we're talking about a miss of more than 16% on the top line in the quarter. This is not small potatoes for a small company. We think what Microsoft had hinted at when it reported its fourth-quarter fiscal 2022 numbers in mid-July has deteriorated significantly the past few months. AMD's gross margin is expected to face considerable pressure in the near term, too, as it deals with lower processor unit shipments and reduced average selling prices (ASPs).
Clearly, this news is troubling for the likes of rival Intel (INTC), and perhaps to a lesser extent other chip stocks, including Qualcomm (QCOM), Texas Instruments (TXN), Analog Devices (ADI), Nvidia (NVDA), ON Semiconductor (ON), Marvell Technology (MRVL) and Broadcom (AVGO), among others. Foundry companies such as Taiwan Semiconductor (TSM) and GlobalFoundries (GFS) will also feel some weakness as the broader industry is now working through an inventory overhang.
The semiconductor industry (SOXX) is viciously cyclical, and the news follows a warning from Apple (AAPL) to its suppliers not to ramp up increased production of its iPhone 14 relative to last year, Things Are Bad Out There. Memory makers such as Micron (MU), Western Digital (WDC), and Samsung (SSNLF) may sport attractive P/E ratios, but their earnings will swing violently through the course of the economic cycle, and valuation multiples are inherently problematic measures of intrinsic value for a number of reasons.
The semi equipment makers such as KLA Corp (KLAC), Lam Research (LRCX), and Applied Materials (AMAT) won't be immune to semiconductor industry troubles, and neither will key Apple suppliers such as Cirrus Logic (CRUS), Skyworks (SWKS) and Qorvo (QRVO). Incredibly, the VanEck Semiconductor ETF (SMH) is already down more than 40% on a year-to-date basis, and there may be little relief on the horizon. Earnings across the sector may face pressure as the industry works through lower ASPs and inventory issues.
News and Search Advertising Likely Getting Punished, Meta to Feel Most Pain
In addition to Microsoft's warning about deteriorating PC market conditions in its calendar second-quarter results, released in July, the software and gaming giant also warned about search and news advertising revenue. We have to take that warning seriously given just how terrible AMD's preliminary results and the credibility that such poor results provides. This doesn't bode particularly well for the likes of Alphabet (GOOG) (GOOGL), Snapchat (SNAP), or Pinterest (PINS). Twitter (TWTR) continues its dog and pony show with Tesla (TSLA) CEO Elon Musk (and may be bailed out of industry troubles as a result), but Meta Platforms (META) may be hurt the most, given just how fast TikTok has taken center stage.
Furthermore, we received some rather peculiar and disappointing news about Meta Platforms' efforts building the metaverse, with The Verge reporting that "Meta's flagship app is too buggy and employees are barely using it." Meta's VR social network is called Horizon Worlds, and according to reports, "people building it inside Meta appear to not be using it that much." This reminds us of what former CEO of AOL Inc Tim Armstrong once said to employees about Patch: "if you don't use Patch as a product and you're not invested in Patch, you owe it to everybody else at Patch to leave." We all know how far AOL fell from its height in popularity in 2001, having been folded into Verizon (VZ) a few years ago.
That we're starting to hear similar things in Meta Platforms that we heard in AOL during troubling times has us worried. From our experience, Meta Platforms is starting to look more and more like a "value trap" each and every day, with its core businesses under pressure from TikTok, and its dreams of a metaverse yet to have a solid business case, with employees working directly on the metaverse seemingly lacking enthusiasm. We won't hesitate to drop Meta Platforms from the simulated Best Ideas Newsletter portfolio if its outlook in its third-quarter report falls short.
Concluding Thoughts
Economic conditions have deteriorated rapidly since Microsoft warned about deteriorating PC market demand in July of this year. AMD's preliminary third-quarter report announced October 6 showed a massive $1 billion miss relative to prior expectations, and we think this is the beginning of a vicious cyclical downturn in the semiconductor industry, with few immune to the troubles, particularly in light of Apple's warning about iPhone 14 demand.
Further, we think search and news advertising has likely deteriorated since the calendar second-quarter reporting season, too, and this doesn't bode well for the likes of Alphabet and Meta Platforms. Recent news about the strength of Tiktok and the lack of enthusiasm by Meta Platforms' insiders that are building the metaverse have us thinking that Meta has turned into a value trap. We won't hesitate to drop shares if the company's outlook in its third-quarter report comes up short.
-----
Related: XLC, SOCL, MILN, SE, TWLO, RBLX, ROKU, SPOT, BIDU, NTES, BILI, NYT
Brian Nelson owns shares in SPY, SCHG, QQQ, DIA, VOT, BITO, and IWM. Valuentum owns SPY, SCHG, QQQ, VOO, and DIA. Brian Nelson's household owns shares in HON, DIS, HAS, NKE. Some of the other securities written about in this article may be included in Valuentum's simulated newsletter portfolios. Contact Valuentum for more information about its editorial policies.
Valuentum members have access to our 16-page stock reports, Valuentum Buying Index ratings, Dividend Cushion ratios, fair value estimates and ranges, dividend reports and more. Not a member? Subscribe today. The first 14 days are free.