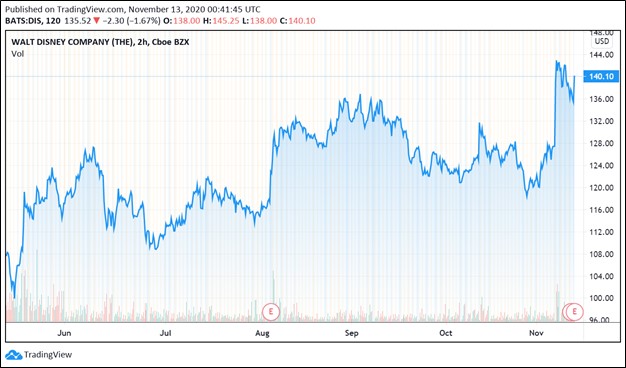 Image Shown: Shares of The Walt Disney Company are steadily climbing towards the top end of our fair value estimate range, which sits at $153 per share of DIS.
By Callum Turcan
After the market closed on November 12, The Walt Disney Company (DIS) reported its fourth quarter and full-year earnings for fiscal 2020 (period ended October 3, 2020). Its latest results beat both consensus top- and bottom-line estimates. Though Disney's financials took a big hit from the coronavirus ('COVID-19') pandemic, as expected (with an eye towards the enormous headwinds facing its 'Parks, Experiences and Products' business segment), the company's outlook has improved considerably as its various video streaming services continue to outperform.
We include shares of Disney in our Best Ideas Newsletter portfolio with a modest weighting. As the top end of our fair value estimate range sits at $153 per share of Disney, there could be room for shares to run higher even after recent share price gains.
Streaming Strength Shines Through
Back in October, we wrote a note highlighting why we view Disney as one of the best video streaming companies out there (link here). For reference, Disney owns Hotstar (heavily focused on growing its Hotstar+Disney subscriber base in India and more recently, Indonesia), Disney+ (launched in the US in November 2019 though it has expanded into new markets since then), 67% of Hulu (offers live TV and video streaming content packages) and 80% of EPSN (includes the ESPN+ video streaming service).
The company reported that by the end of fiscal 2020, Disney had 73.7 million paying Disney+ subscribers, almost triple levels seen at the end of the first quarter of fiscal 2020 (period ended December 28, 2019). Its ESPN+ paying subscriber base more than doubled during this period, hitting 10.3 million at the end of fiscal 2020. Some of this strength was due to Disney and its partners bundling Disney+, ESPN+, and Hulu services together at a discount, which proved to be a good decision.
Pivoting to Hulu, the video streaming service's total paying subscriber base stood at 36.6 million at the end of fiscal 2020, up from 30.6 at the end of the first quarter of fiscal 2020. Additionally, Hulu's Live TV paying subscriber base grew by ~28% during this period and ended fiscal 2020 at 4.1 million paying subscribers. Live TV packages are likely significantly more lucrative for Hulu, especially after the firm recently pushed through meaningful price increases.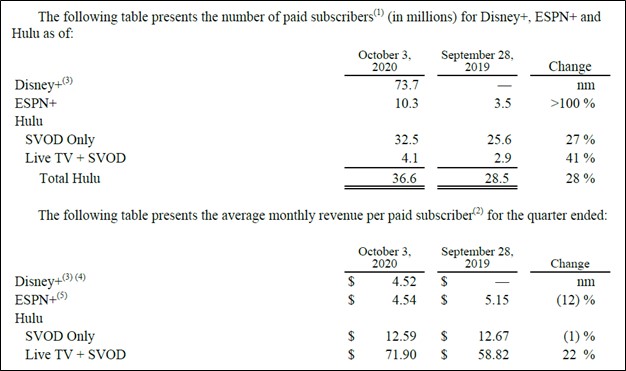 Image Shown: A snapshot of Disney's paying video streaming subscriber base at the end of fiscal 2020. Please note that the decline in some of Disney's 'average monthly revenue per paid subscriber' is largely a function of the firm and its partners offering bundle packages at a modest discount. Image Source: Disney –Fourth Quarter and Full-Year of Fiscal 2020 Earnings Press Release
Disney's 'Direct-to-Consumer & International' business segment includes its core video streaming operations. Revenue at this segment grew by 41% year-over-year in the fiscal fourth quarter while company's GAAP revenues were down 23% year-over-year. In fiscal 2020, this segment reported 81% year-over-year revenue growth while Disney's GAAP revenues were down 6% year-over-year. Clearly the great focus Disney has placed on growing its video streaming business of late has been an immense source of strength in the face of the COVID-19 pandemic forcing households indoors.
Hulu Ownership Analysis
Comcast Corporation (CMCSA) owns the remaining 33% stake in Hulu. Furthermore, please be aware that by as soon as January 2024, Disney can compel Comcast to sell its stake in Hulu to the firm at fair value or Comcast can compel Disney to acquire than stake from the firm at fair value. We covered this arrangement in our aforementioned article on Disney. In our view, depending on market conditions, it is likely Disney would want to acquire Comcast's stake in Hulu to simply its operational structure and further grow its exposure to the video streaming space. For reference, Comcast owns NBC Universal and AT&T Inc (T) now owns Warner Media. Here is a key excerpt from Disney's Fiscal 2019 Annual Report:
As part of the TFCF [21st Century Fox] acquisition, the Company acquired TFCF's 30% interest in Hulu increasing our ownership to 60%. As a result, the Company began consolidating Hulu and recorded a one-time gain of $4.8 billion (Hulu Gain) from remeasuring our initial 30% interest to its estimated fair value, which was determined based on a discounted cash flow analysis. Significant assumptions used in the discounted cash flows include future revenue growth and margins, the discount rate used to present value future cash flows and the terminal growth rate of cash flows.
On April 15, 2019, Hulu redeemed Warner Media LLC's (WM) 10% interest in Hulu for $1.4 billion. The redemption was funded by the Company and Hulu's remaining noncontrolling interest holder, NBC Universal (NBCU). This resulted in the Company's and NBCU's interests in Hulu increasing to 67% and 33%, respectively. On May 13, 2019, the Company entered into a put/call agreement with NBCU that provided the Company with full operational control of Hulu.
Under the agreement, beginning in January 2024, NBCU has the option to require the Company to purchase NBCU's interest in Hulu and the Company has the option to require NBCU to sell its interest in Hulu, based on NBCU's equity ownership percentage of the greater of Hulu's then fair value or $27.5 billion. Hulu's future equity capital calls are limited to $1.5 billion in the aggregate each year, with any excess funding requirements funded with member loans. NBCU has the right, but not the obligation, to fund its proportionate share of future capital calls.
If NBCU elects not to fund its share of future equity capital calls its ownership will be diluted. However, Disney has agreed that NBCU's ownership interest in Hulu cannot be diluted below 21%. Additionally, the agreement provides NBCU with 50% of the tax benefit related to the exercise of the put or call.
We are keeping a close eye on Hulu's ownership and Disney's balance sheet. On a final note here, BAMTech (which Disney owns 75% of) operates Disney's direct-to-consumer sports business, including ESPN+.
Financial Update
Even after all the headwinds it faced during the second half of fiscal 2020, Disney still generated $3.6 billion in free cash flow in fiscal 2020. Though that fully covered $1.6 billion in dividend payments made during this period, please note Disney forwent one of its expected semi-annual dividend payments last fiscal year to help conserve cash during the COVID-19 pandemic. We understand that Disney wants to conserve cash given it is not clear how long the pandemic will last. Disney decided to forgo another dividend payment on November 12.
The company exited fiscal 2020 with $17.9 billion in cash and cash equivalents on hand versus $5.7 billion in short-term debt and $52.9 billion in long-term debt. Disney aims to repair its balance sheet going forward according to management commentary during an investor event held in September 2020. The company's balance sheet became bloated after it acquired 21st Century Fox a couple of years ago, a transformative acquisition that greatly increased its exposure to the video streaming space (in part by giving Disney a greater equity stake in Hulu). In order to acquire the stake in Hulu it does not already own, Disney would need to pare down its total debt load and/or greatly increase its cash balance on hand.
During Disney's latest earnings call, management had this to say concerning its dividend policy and video streaming strategy going forward (emphasis added):
"As part of that commitment and given limited visibility due to COVID and our decision to prioritize investment in our DTC [direct-to-consumer] initiatives, the Board has decided to forego payment of a semi-annual dividend in January 2021.
Our capital allocation strategy will continue to prioritize investing in the growth of our businesses, particularly in the direct-to-consumer space.However, we anticipate the payment of a dividend will remain a part of our long-term capital allocation strategy following the return to a normalized operating environment.
As we look forward, we expect that our results in fiscal 2021 will continue to be impacted by COVID-19. Our visibility is limited and will be influenced by a number of factors, including but not limited to, the recovery of theatrical exhibition, confidence in consumer travel and the continued resumption of live sports." --- Christine McCarthy, CFO of Disney
In October 2020, Disney announced a major restructuring of its corporate structure to place a greater focus on streaming and original content which we covered here. Dan Loeb, founder and chief executive of the Third Point hedge fund, has publicly pushed Disney in the recent past to suspend its dividend to allow the firm to invest more in its video streaming businesses. Original content is king, and it appears Disney has decided to follow Mr. Loeb's advice. We support Disney's decision, and please note we include shares of DIS in our Best Ideas Newsletter due to its capital appreciation potential, and not due its income generation potential.
Concluding Thoughts
We continue to be big fans of Disney. Once global health authorities bring the ongoing COVID-19 pandemic under control, the financial performance of Disney's theme parks and resorts operations should experience a significant rebound as the world slowly returns to pre-pandemic activities. In such an event, Disney would likely be in a good position to resume its semi-annual dividend payments while also being able to repair its balance sheet.
Recent news from Pfizer Inc (PFE) and BioNTech SE (BNTX) regarding their COVID-19 vaccine candidate, which is currently in late-stage clinical trials, has been very encouraging and we covered this event in detail here. In the meantime, ongoing growth at Disney's large video streaming business will continue to drive the trajectory of its financials going forward.
-----
Related: CMCSA, CTL, DIS, DISH, NFLX, ROKU, T, TMUS, VZ, AMZN, FOX, FOXA, SBGI, OMC, VIAC, VIACA, AMCX, DISCA, IPG, FUN, SIX, SEAS
-----
Valuentum members have access to our 16-page stock reports, Valuentum Buying Index ratings, Dividend Cushion ratios, fair value estimates and ranges, dividend reports and more. Not a member? Subscribe today. The first 14 days are free.
Callum Turcan does not own shares in any of the securities mentioned above. Dollar General Corporation (DG) and The Walt Disney Company (DIS) are both included in Valuentum's simulated Best Ideas Newsletter portfolio. Health Care Select Sector SPDR ETF (XLV) is included in both Valuentum's simulated Best Ideas Newsletter and Dividend Growth Newsletter portfolios. AT&T Inc (T) is included in Valuentum's simulated High Yield Dividend Newsletter portfolio. Some of the other companies written about in this article may be included in Valuentum's simulated newsletter portfolios. Contact Valuentum for more information about its editorial policies.