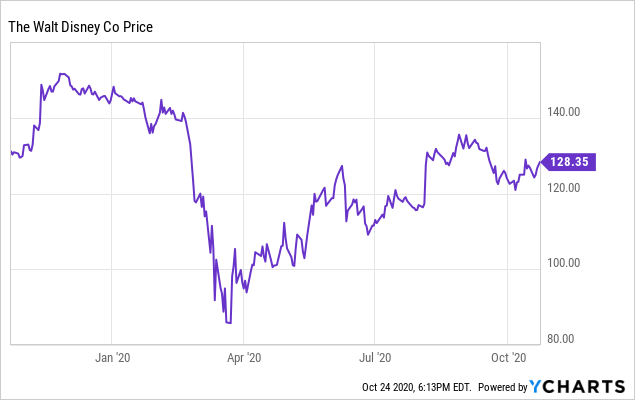 Image Shown: Shares of The Walt Disney Company continue to recover from the pandemic-induced crash in March 2020.
By Callum Turcan
One of our favorite companies with significant exposure to the video streaming arena is the entertainment behemoth The Walt Disney Company (DIS). The company's various streaming services include ESPN+, Disney+, Hulu, among others. On October 12, Disney announced a major restructuring which effectively reorganized several of its business operating segments around supporting its video streaming ambitions, with an eye towards ensuring sizable investments in original content would be put towards good use.
Overview of Disney's Historical Video Streaming Performance
To set the stage, let us first cover Disney's historical performance to highlight why we view the company's growth outlook (particularly on the video streaming front) so favorably. Disney's business has faced tremendous headwinds due to the ongoing coronavirus ('COVID-19') pandemic as its theme parks and resorts were closed (for a time, though those operations have resumed in some but not all regions). Before the pandemic hit, these operations were a major source of revenues and operating profits for Disney. Management responded by aggressively pivoting Disney's long-term focus towards growing its paying video streaming subscriber base.
In the third quarter of fiscal 2020 (period ended June 27, 2020), Disney reported its Disney+ paid subscriber base stood at 57.5 million subscribers as of the end of that period. For reference, that figure stood at 26.5 million at the end of the first quarter of fiscal 2020 (period ended December 28, 2019) and Disney+ was launched on November 12, 2019. Its ESPN+ paying subscriber base stood at 8.5 million at the end of the fiscal third quarter, more than triple year-ago levels. Disney's Hulu paying subscriber base was 27% larger than its year-ago levels at the end of the fiscal third quarter, and furthermore, its live TV/video streaming service combo package posted 55% year-over-year growth (this offering is likely much more lucrative for Hulu and ultimately Disney than Hulu's significantly cheaper standalone package without live TV).
Going forward, we expect Disney's paying video streaming subscriber base will continue to grow at an impressive clip (we will cover our reasoning behind that in just a moment) which in turn will provide a tailwind for the company's ability to generate free cash flows. Please note we define free cash flows as net operating cash flows less capital expenditures.
In the upcoming graphic down below, we highlight our forecasts for Disney's free cash flows over the coming fiscal years. The COVID-19 pandemic created significant headwinds for its business in fiscal 2020, which is why we expect Disney's full-year free cash flows will decline sharply this fiscal year, though we expect that Disney's financials will rebound going forward as its video streaming business continues to become a larger part of its company-wide operations (offsetting pressures elsewhere, such as at its theme parks and resorts operations).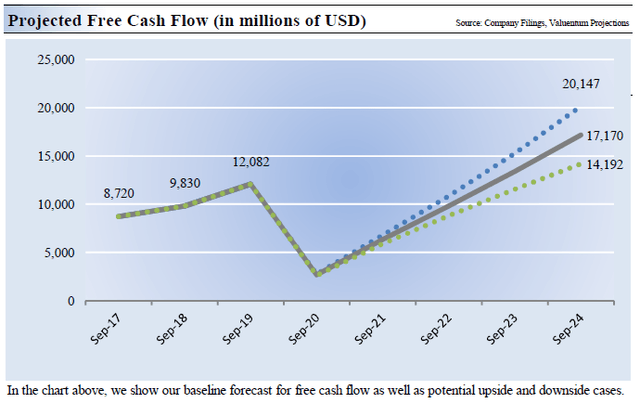 Image Shown: We see Disney's financial performance rebounding starting next fiscal year. Image Source: Valuentum
New Services, New Markets, Impressive Growth Runway
Back in early-April, Disney launched its Hotstar+ Disney video streaming offering in India and in early-September, Disney launched that service in Indonesia. These moves should help Disney maintain its paying subscriber growth momentum going forward, and please note that the company acquired the Hotstar brand when it purchased 21st Century Fox through a ~$73 billion deal that closed in calendar year 2019. Looking ahead, Disney's CEO Bob Chapek has this to say during the firm's third quarter of fiscal 2020 conference call given back in August:
Given the rapid changes in consumer behavior, we believe it is more important than ever that we continue to grow our direct relationship with our customers, and to this end, I am also pleased to announce that we plan to launch an international direct-to-consumer general entertainment offering under the Star brand in calendar year 2021.

Mirroring the strategy we successfully pursued with Disney+, the offering will be rooted in content we own from the prolific and critically acclaimed production engines and libraries of ABC Studios, Fox Television, FX, Freeform, 20th Century Studios and Searchlight. In many markets, the offering will be fully integrated into our established Disney+ platform from both a marketing and a technology perspective, and it will be distributed under the Star brand which has been successfully utilized by the company for other general entertainment platform launches, particularly with Disney+ Hotstar in India.
What makes the pending launch of its new international service quite intriguing is that Disney intends, according to management commentary, to only include its own content in that service. In other words, Disney does not intend to license out content from third-parties, content that (generally speaking) can be extremely expensive. It will be interesting to see how this strategy unfolds going forward.
Pivoting to Disney+, CEO Bob Chapek noted the firm's latest earnings call that Disney+ was expected to launch in several new markets this upcoming November including "in the Nordics, Belgium, Luxembourg and Portugal in September, and in Latin America this November." Management clearly have their feet on the gas pedal when it comes to growing the global reach of Disney's video streaming businesses, which we really appreciate. On a final note here, Disney+ had 60.5 million paying subscribers as of early-August according to management commentary, which indicates Disney's growth trajectory carried on into the fiscal fourth quarter. Disney intends to report its fiscal fourth quarter earnings on November 12.
Ownership Considerations
Please note that there are some third-party ownership considerations to be aware of as it concerns Disney's various streaming businesses. For instance, Disney owns 67% of Hulu while Comcast Corporation (CMCSA), through its NBC Universal subsidiary, owns the remainder. Additionally, Disney owns 80% of ESPN and privately-held Hearst owns the remaining 20%. Disney also owns 75% of BAMTech which operates its direct-to-consumer sports streaming services and that includes EPSN+. BAMTech's other shareholders include Major League Baseball ('MLB') and the National Hockey League ('NHL').
This is important to keep in mind because as early as January 2024, Disney has the right to acquire Comcast's stake in Hulu at fair value and/or Comcast has the right to compel Disney to acquire its stake in Hulu at fair value. As it concerns BAMTech, both the MLB and the NHL have the right to sell their stake in the company to Disney in the future. Especially as it concerns Comcast's stake in Hulu, Disney would need to make sure it has the financial capacity to fund such as deal, though we are not worried about that currently. Here is an excerpt from Comcast's Fiscal 2019 Annual Report (lightly edited):
In May 2019, we entered into a series of agreements (the "Hulu Transaction") with The Walt Disney Company and certain of its subsidiaries whereby we relinquished our board seats and substantially all voting rights associated with our investment in Hulu, and Disney assumed full operational control... The Hulu Transaction agreements include put and call provisions regarding our ownership interest in Hulu, pursuant to which, as early as January 2024, we can require Disney to buy, and Disney can require us to sell our interest, in either case, for fair value at that future time subject to a minimum equity value of $27.5 billion for 100% of the equity of Hulu. The minimum total equity value and ownership floor guarantee minimum proceeds of approximately $5.8 billion upon exercise of the put or call.
Once the world begins to return to pre-pandemic activities, Disney's ability to generate sizable free cash flows should return in earnest. Should Disney acquire all of Hulu within a few years, that would further enhance its long-term growth story and (assuming the purchase price is reasonable) would be a good move, in our view (assuming Disney improves its balance sheet before then).
Concluding Thoughts
Disney's financial performance during the initial stages of the COVID-19 pandemic is not indicative of the strength of its business model, in our view, far from it. The company's ability to utilize its vast existing content library combined with its ability to generate sizable amounts of new content across numerous genres supports its long-term growth outlook, with an eye towards a growing paying subscriber base for its streaming services. That in turn should help drive a significant turnaround in its free cash flows going forward.
Related: CMCSA, CTL, DIS, DISH, NFLX, ROKU, T, TMUS, VZ, AMZN, FOX, FOXA, SBGI, OMC, VIAC, VIACA, AMCX, DISCA, IPG
-----
Valuentum members have access to our 16-page stock reports, Valuentum Buying Index ratings, Dividend Cushion ratios, fair value estimates and ranges, dividend reports and more. Not a member? Subscribe today. The first 14 days are free.
Callum Turcan does not own shares in any of the securities mentioned above. Disney (DIS) is included in Valuentum's simulated Best Ideas Newsletter portfolio. Some of the other companies written about in this article may be included in Valuentum's simulated newsletter portfolios. Contact Valuentum for more information about its editorial policies.