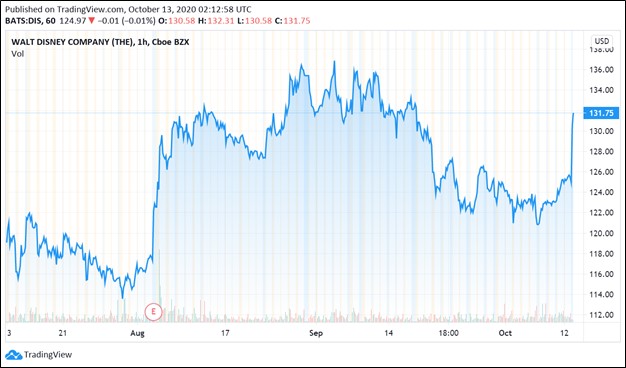 Image Shown: Shares of Walt Disney Company, a holding with a modest weighting in our Best Ideas Newsletter portfolio, are recovering. The ongoing pandemic created significant headwinds for Disney, though stellar paid subscriber growth at its Hulu, ESPN+, and Disney+ video streaming services are helping offset some of those headwinds.
By Callum Turcan
On October 12, Walt Disney Company (DIS) announced a major restructuring that fundamentally places a greater focus on its direct-to-consumer ('DTC') strategy, which rests on its video streaming services. We have written about Disney's impressive video streaming performance in the past (link here). Please note beyond Disney+ and EPSN+, Disney owns 67% of Hulu with Comcast Corporation (CMCSA) owning the remaining 33% stake.
Greater Emphasis on Streaming
Here is an excerpt from the press release announcing the strategic changes (emphasis added):
In light of the tremendous success achieved to date in the Company's direct-to-consumer business and to further accelerate its DTC strategy, The Walt Disney Company today announced a strategic reorganization of its media and entertainment businesses. Under the new structure, Disney's world-class creative engines will focus on developing and producing original content for the Company's streaming services, as well as for legacy platforms, while distribution and commercialization activities will be centralized into a single, global Media and Entertainment Distribution organization. The new Media and Entertainment Distribution group will be responsible for all monetization of content—both distribution and ad sales—and will oversee operations of the Company's streaming services. It will also have sole P&L accountability for Disney's media and entertainment businesses.
These changes are expected to be implemented in the current fiscal quarter, the first quarter of fiscal 2021 (which should have started in late-September 2020). Disney's subscriber growth has been stellar of late, aided by its expansive content portfolio that the firm continues to invest heavily in. Households are seeking ways to stay entertained indoors during the ongoing coronavirus ('COVID-19') pandemic, and Disney was able to meet that need by offering various tiers of video streaming packages. Furthermore, please note Disney generates a significant amount of digital advertising revenue through its video streaming platforms and related partnerships.
By the end of the third quarter of fiscal 2020 (period ended June 27, 2020), its Disney+ paid subscriber base grew by 24.0 million net versus levels seen at the end of the second quarter of fiscal 2020 (period ended March 28, 2020), good for 72% sequential growth. Disney has also reported stellar net paid subscriber growth at its EPSN+ and Hulu offerings of late. The company offers a bundle that includes its Disney+, EPSN+, and Hulu offerings, which has likely played a role in growing its net paid subscriber base across the board. As it concerns Hulu, the firm offers a video streaming service and a video streaming service with a live TV offering. There is also an ad-free version of Hulu that covers most of its video streaming content (there are still ads on live TV offerings and on certain streaming content).

Image Shown: Disney experienced strong paid subscriber growth across its various video streaming services in the third quarter of fiscal 2020. Image Source: Disney – Third Quarter of Fiscal 2020 Earnings Press Release
Concluding Thoughts
We continue to include shares of Disney as a holding in our Best Ideas Newsletter portfolio with a modest weighting. The COVID-19 pandemic created major hurdles for Disney, though its outlook is starting to improve as the firm scales up its video streaming business. Looking ahead, Disney plans to report fiscal fourth quarter earnings on November 12 after the market close, and we will have more to say then.
-----
Discretionary Spending Industry - ATVI BBY CBRL CMG DIS DG DLTR DPZ DNKN EL F GM HAS HD LOW MCD NFLX NKE SBUX TSLA YUM
Telecom Services Industry – CMCSA CTL DISH T TMUS VZ
Related: SPY
-----
Valuentum members have access to our 16-page stock reports, Valuentum Buying Index ratings, Dividend Cushion ratios, fair value estimates and ranges, dividend reports and more. Not a member? Subscribe today. The first 14 days are free.
Callum Turcan does not own shares in any of the securities mentioned above. Dollar General Corporation (DG) and The Walt Disney Company (DIS) are both included in Valuentum's simulated Best Ideas Newsletter portfolio. AT&T Inc (T) is included in Valuentum's simulated High Yield Dividend Newsletter portfolio. Some of the other companies written about in this article may be included in Valuentum's simulated newsletter portfolios. Contact Valuentum for more information about its editorial policies.