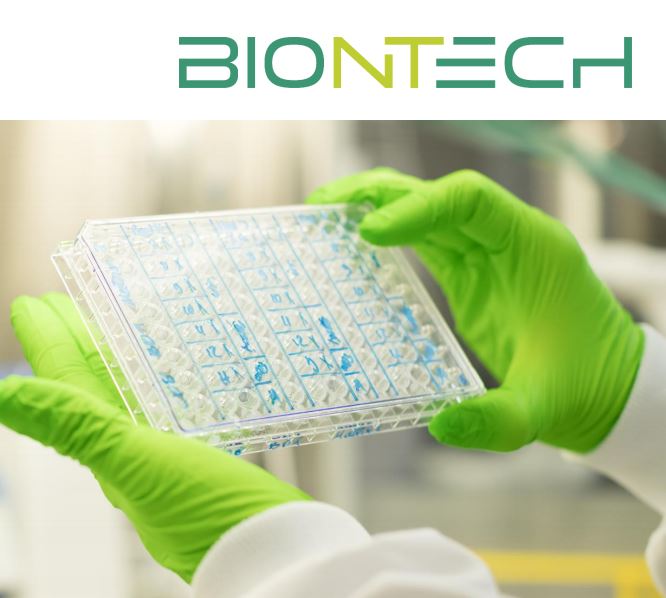 Image: BioNTech. Next Generation Immunotherapy Presentation, October 2020.
By Brian Nelson, CFA
The world received great news this week that the days of this terrible COVID-19 pandemic may finally be numbered. On November 9, Pfizer (PFE) and BioNTech (BNTX) announced that "their mRNA-based vaccine candidate, BNT162b2, against SARS-CoV-2 has demonstrated evidence of efficacy against COVID-19 in participants without prior evidence of SARS-CoV-2 infection." Here is what Pfizer's CEO Albert Bourla had to add with respect to the development:
Today is a great day for science and humanity. The first set of results from our Phase 3 COVID-19 vaccine trial provides the initial evidence of our vaccine's ability to prevent COVID-19. We are reaching this critical milestone in our vaccine development program at a time when the world needs it most with infection rates setting new records, hospitals nearing over-capacity and economies struggling to reopen. With today's news, we are a significant step closer to providing people around the world with a much-needed breakthrough to help bring an end to this global health crisis. We look forward to sharing additional efficacy and safety data generated from thousands of participants in the coming weeks.
According to the study, the vaccine candidate, BNT162b2, against SARS-CoV-2, had a 90%+ efficacy rate "in preventing COVID-19 participants without evidence of prior SARS-CoV-2 infection in the first interim efficacy analysis." The study was robust in that it had over 40,000 participants, with more than 40% having diverse backgrounds. No serious safety concerns were detected in the study either, and according to the press release, enough safety and efficacy data will be collected by the third week of November to submit to the FDA for Emergency Use Authorization.
Pfizer/BioNTech have plans to make 50 million vaccine doses in 2020 and produce as many as 1.3 billion doses in 2021. The timing of when the vaccine will be made broadly available to the masses, however, remains uncertain, in our view, as storage issues may create some logistic hurdles, especially in less-developed countries. The vaccine, for example, must be stored at negative 94 degrees (-94 degrees) Fahrenheit and be used within 5 days. Though the PFE/BNTX development is certainly great news, there are still some major obstacles to overcome in making the vaccine widely available.
Our thesis on the inevitable successful development of a vaccine for COVID-19 never centered on which pharma/biotech giant would be the first to develop one, but rather our thesis has always been focused on the large number of shots on goal (the large number of vaccine candidates in development, and the high probability that at least one would be effective). It's still quite feasible that another vaccine--an even better one with easier logistics for delivery--could be viable within the pipelines of other pharma/biotech giants also working hard to put an end to COVID-19. Time will tell.
Are We Changing Our Newsletter Portfolios as a Result of This News?
In short, no. We first wrote about the potential of the PFE/BNTX combo in our May 18 work, "Excited By COVID-19 Vaccine Candidates," and we updated members on the new developments of the efforts of PFE/BNTX in our August 19 research, "Update: COVID-19 Vaccine Race." We've long held the belief that a vaccine would be developed based solely on the large number of shots on goal, so we can't say that we are surprised by the development. We went "fully invested" on the markets in late April, "ALERT: Going to "Fully Invested," reiterated that we've never been more bullish in early May, and we reiterated the following take in mid-May and again in early June, "Stay Optimistic. Stay Bullish. I Am:"
Whether it's Moderna or Sorrento or Johnson & Johnson (JNJ) or another player that makes history by solving the COVID-19 crisis, I think it's going to happen, and probably sooner than many expect (if not, there will just be more stimulus, and that's bullish). The number of shots on goal for therapies and vaccines for coronavirus seems to be countless these days, giving me confidence we're going to beat this thing…In fact, I don't think I've ever been this bullish… (May/June 2020)
We didn't just stop there either. In mid-June, we pounded the table yet again on how bullish we were, "Reiterating Our Bullish Long-Term View on Stocks." The Pfizer/BioNTech news is certainly a big relief for humanity, but it is not a catalyst for us to make changes to our newsletter portfolios. We want to continue to include net cash rich, free cash flow generating powerhouses with strong competitive advantages that are tied to secular tailwinds, and that's how the newsletter portfolios are positioned.
That said, investors should expect a "junk rally" from the beaten down airline, cruise, and restaurant industries, among others, as well as the energy and banking sectors, (if such a "junk rally" hasn't already run its course). We're sticking with some of the best companies out there in the newsletter portfolios, however, and we're reiterating our fair value estimate range of 3,530-3,920 on the S&P 500 (established June 12), which we derive as 18-20x multiple on pre-pandemic 2021 earnings of $196. The S&P 500 stands within the range at ~3,560 today.
We continue to be bullish on stocks for the long run!
<< Best Ideas Newsletter portfolio
<< Dividend Growth Newsletter portfolio
---
---
Related (vaccine/treatment): MRNA, INO, NVAX, BNTX, APDN, VXRT, TNXP, EBS, PFE, JNJ, DVAX, IMV, IBIO, REGN, SNY, GSK, ABBV, TAK, HTBX, SNGX, PDSB, SRNE, SFOSF, SPY, CTLT
---
Valuentum members have access to our 16-page stock reports, Valuentum Buying Index ratings, Dividend Cushion ratios, fair value estimates and ranges, dividend reports and more. Not a member? Subscribe today. The first 14 days are free.
---
Brian Nelson owns shares in SPY, SCHG, DIA, VOT, and QQQ. Some of the other securities written about in this article may be included in Valuentum's simulated newsletter portfolios. Contact Valuentum for more information about its editorial policies.