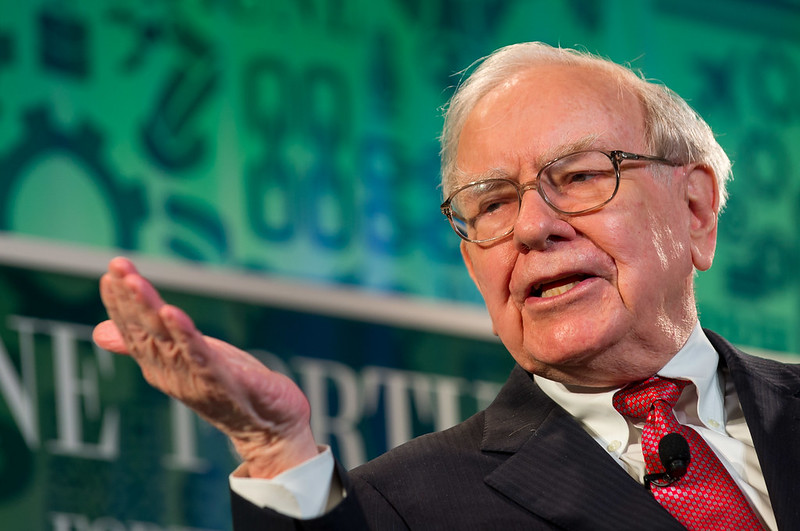 Image Source: Fortune Live Media
Warren Buffett has made some missteps over the years. For every Occidental Petroleum, there is a Kraft Heinz that hasn't worked out. For every Apple, there is an IBM that has failed to live up to expectations. We hope our readers view our work in a holistic way, much like they view Buffett's.
By Brian Nelson, CFA
On November 5, Berkshire Hathaway (BRK.A) (BRK.B), the conglomerate run by Warren Buffett and company, reported third-quarter results. Berkshire's quarterly reports are always rather muddy, as GAAP presentation requires the company to report unrealized gains/losses on its stock investments as investment gains/losses in net earnings (losses). Such accounting doesn't tell the whole story as most of Berkshire's equity positions are of the long-term variety, and quarterly swings in the market value of these positions shouldn't necessarily impact one's long-term thesis on the conglomerate. We continue to like shares of Berkshire in the simulated Best Ideas Newsletter portfolio.
Operating earnings at Berkshire Hathaway during the third quarter of 2022 were solid, in our view, advancing to $7.76 billion from $6.47 billion in the year-ago period, as strength in utilities, energy and other controlled businesses offset weakness in insurance underwriting. The big driver in the quarter, which led to GAAP losses of $2.69 billion on a net basis, was a $10.45 billion investment and derivative loss, but again, this line item will swing wildly with the market and is generally not a good lens through which to view Berkshire's performance in the period. Berkshire continues to buy back its own stock, allocating $1.05 billion in the quarter to share repurchases. It has now bought back $5.25 billion of stock so far in 2022.
During the first nine months of the year, Berkshire hauled in $27 billion in operating cash flow and spent $10.9 billion in capital outlays, good for some serious free cash flow generation. At the end of the quarter, the firm had ~$109 billion in cash and short-term investments in U.S. Treasury bills and ~$116.5 billion in notes payable and other borrowings across its insurance, railroad, utilities and energy operations. American Express Company (AXP), Apple Inc. (AAPL), Bank of America Corp (BAC), The Coca-Cola Company (KO), and Chevron Corp. (CVX) account for roughly 73% of the fair value of Berkshire's equity investment security portfolio.
Berkshire has continued to build a position in Occidental Petroleum Corp (OXY), with the firm acquiring 17% of the company's outstanding stock during the first half of the year and additional shares that put it over the 20% ownership mark (it currently has a 20.9% stake). We like outsize energy exposure in this market environment, as we "added" Exxon Mobil (XOM) and Chevron to the simulated newsletter portfolios last year and recently swapped out Digital Realty (DLR) for the Energy Select Sector SPDR (XLE) in the Dividend Growth Newsletter portfolio.
Though we prefer Visa (V) instead of American Express and McDonald's (MCD) instead of Coca-Cola (we swapped out QCOM for MCD in the Dividend Growth Newsletter portfolio recently, too), we have no qualms with Berkshire's largest publicly held securities, with Apple and Chevron even gracing the newsletter portfolios. Instead of Bank of America, we include the Financial Select Sector SPDR (XLF) as broad diversification across the financials sector, so that the Best Ideas Newsletter portfolio is not exposed to the opaqueness of any one bank's books, a valuable lesson that many investors learned following the Great Financial Crisis more than a decade ago now.
Concluding Thoughts
Warren Buffett has made some missteps over the years. For every Occidental Petroleum, there is a Kraft Heinz (KHC) that hasn't worked out. For every Apple, there is an IBM (IBM) that has failed to live up to expectations. We hope our readers view our work in a holistic way, much like they view Buffett's.
In the Best Ideas Newsletter portfolio, for example, where Meta Platforms (META), PayPal (PYPL), and Disney (DIS) haven't lived up to expectations, other Best Ideas Newsletter portfolio "holdings" such as Exxon Mobil, Chevron, and Vertex Pharma (VRTX) are up 79%, 56%, and 40% so far this year, respectively.
We don't think investors judge Warren Buffett solely on his missteps in Kraft Heinz and IBM (during a bull market no less!), no more than we hope readers won't judge our work solely on Meta, PayPal, or Disney (during a punishing bear market!), particularly when other ideas are soaring--and the simulated Best Ideas Newsletter portfolio is outdistancing the SPY so far this year (by ~6 percentage points at last tally).
Within any investment portfolio, there will be winners and there will be losers. It's all part of investing. Buffett understands this. Valuentum understands this. We hope you understand this, too!
Now Read:
2022 Oil & Gas Market Update: "The Outlook for Crude Oil Prices Remains Quite Bullish" >>
Best Idea Vertex Pharma Outperforming in 2022 >>
---------------------------------------------

About Our Name
But how, you will ask, does one decide what [stocks are] "attractive"? Most analysts feel they must choose between two approaches customarily thought to be in opposition: "value" and "growth,"...We view that as fuzzy thinking...Growth is always a component of value [and] the very term "value investing" is redundant.
-- Warren Buffett, Berkshire Hathaway annual report, 1992
At Valuentum, we take Buffett's thoughts one step further. We think the best opportunities arise from an understanding of a variety of investing disciplines in order to identify the most attractive stocks at any given time. Valuentum therefore analyzes each stock across a wide spectrum of philosophies, from deep value through momentum investing. And a combination of the two approaches found on each side of the spectrum (value/momentum) in a name couldn't be more representative of what our analysts do here; hence, we're called Valuentum.
---------------------------------------------
Brian Nelson owns shares in SPY, SCHG, QQQ, DIA, VOT, BITO, and IWM. Valuentum owns SPY, SCHG, QQQ, VOO, and DIA. Brian Nelson's household owns shares in HON, DIS, HAS, NKE, and RSP. Some of the other securities written about in this article may be included in Valuentum's simulated newsletter portfolios. Contact Valuentum for more information about its editorial policies.
Valuentum members have access to our 16-page stock reports, Valuentum Buying Index ratings, Dividend Cushion ratios, fair value estimates and ranges, dividend reports and more. Not a member? Subscribe today. The first 14 days are free.