"The REIT space has had a difficult time this year. Public Storage, which reported results November 1, remains one of our favorite REITs, but we are making a change to remove DLR in the simulated Dividend Growth Newsletter portfolio and High Yield Dividend Newsletter portfolio and replace its "weighting" with the Energy Select Sector SPDR (XLE). The changes will be reflected upon the release of each newsletter's next edition. We continue to monitor the REIT space cautiously as interest rates rise, and as investors seek out alternatives for income, including I-Bonds yielding 6.89% and certificates of deposit approaching 4% yields." -- Brian Nelson, CFA
By Brian Nelson, CFA
This year has not been kind to real estate investment trusts (REITs), with the Vanguard Real Estate ETF (VNQ) down roughly 29% year-to-date. A couple of our favorite REITs, Public Storage (PSA) and Realty Income (O), have done better than the REIT index so far this year. Life Storage (LSI), American Tower (AMT), and CubeSmart (CUBE) have performed roughly in-line with the REIT index. However, Digital Realty (DLR) and Crown Castle (CCI) haven't performed as well as we would have liked.
REIT economics have waned in the face of rising interest rates. Many investors count on REITs for the dividends they pay for investors, and with I-Bonds sporting rates of 6.89% these days, and certificate of deposits at certain banks approaching 4%, these "risk-free" yields are attracting capital that otherwise might find its way into REIT equities. We've warned about mortgage REITs in the past, but we do include a number of other REITs in the simulated Dividend Growth Newsletter portfolio and High Yield Dividend Newsletter portfolio.
Public Storage Remains One of Our Favorite REITs
Our favorite area within the REIT space remains the self-storage arena. Self-storage REITs tend to generate traditional free cash flow in excess of their dividend payouts, and Public Storage has been one of our very favorites. The REIT reported decent third-quarter results November 1, with core FFO jumping nearly 20.8%, to $4.13 per share, compared to the same period a year-ago and same-store direct net operating income advancing 16.5% from last year's period. Here's what management had to say about the performance in the quarter:
Public Storage's performance and improved outlook reflect the strength and quality of our assets and management team, backed by several industry-leading platforms…Our digital innovation centers on enhanced customer service, which has contributed to direct operating margins in excess of 80%, the highest in the self-storage industry. The recent acquisition, development, and redevelopment properties comprise more than 50 million square feet, or 25% of the portfolio, and are generating significant growth. And our long-standing focus on utilizing a disciplined balance sheet provides exceptional capital access to execute on a wide set of potential opportunities in the evolving macro environment. We are well-positioned heading into 2023.
Looking ahead, Public Storage's net operating income growth is targeted for 18% expansion in 2022 at the high end, with core FFO expected in the range of $15.35-$15.75 per share. In August 2022, PSA distributed a one-time dividend of $13.15 per common share, and its annualized yield of ~2.6% isn't too shabby, though we note it does pale in comparison to prevailing yields on other alternative instruments that have less price risk. Public Storage doesn't make the cut for the simulated Dividend Growth Newsletter portfolio given that it hasn't upped its steady payout the past few years, but its special dividend is one of the reasons why it remains in the simulated High Yield Dividend Newsletter portfolio.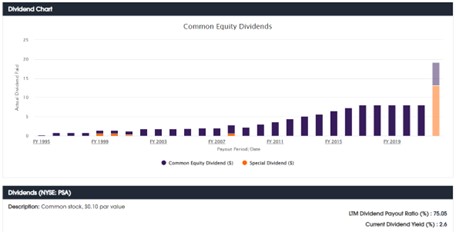 Image: Public Storage's one-time dividend issued this year has been fantastic for income investors. Image Source: Public Storage
Replacing Digital Realty with the Energy Select Sector SPDR in the DGN Portfolio and HYDN Portfolio
We didn't see anything in Digital Realty's (DLR) third-quarter report that would derail our long-term thesis on the name, but consistent with the Valuentum methodology, we grow concerned when momentum moves considerably against a name, and especially when a heavy short thesis comes to light. Further, where there was an environment largely without yield alternatives years ago, that is no longer the case these days.
Said another way, there's a lot of "hair" on Digital Realty these days, it no longer fits as well within the Valuentum methodology, and there are many other corporate ideas out there that can provide a decent dividend yield, in our view. As such, we're going to replace Digital Realty in both the simulated Dividend Growth Newsletter portfolio and simulated High Yield Dividend Newsletter portfolio with exposure to an area that has been a big winner thus far this year, energy – and in particular the Energy Select Sector SPDR (XLE).
In June of 2021, we added Exxon Mobil (XOM) and Chevron (CVX) to the simulated Best Ideas Newsletter portfolio and simulated Dividend Growth Newsletter portfolio, and in December 2021, we added these two ideas to the simulated High Yield Dividend Newsletter portfolio. The XLE is already included in the simulated Best Ideas Newsletter portfolio, and XLE will now replace the "weighting" of DLR in both the simulated Dividend Growth Newsletter portfolio and simulated High Yield Dividend Newsletter portfolio.
The XLE offers an estimated forward yield of ~3.4%, which is shy of DLR's, but we like this diversified sector-level position and the momentum behind the energy complex of late. The simulated newsletter portfolios have done extremely well on a relative basis so far in 2022, largely as a result of our decision to overweight energy heading into 2022. We've highlighted some huge winners in XOM and CVX this year, and our incremental idea today with the XLE is more a broad-based sector bet on energy with the dividend kicker to boot.
Here is our outlook on the energy complex from July: "2022 Oil & Gas Market Update: "The Outlook for Crude Oil Prices Remains Quite Bullish."
Concluding Thoughts
The REIT space has had a difficult time this year. Public Storage, which reported results November 1, remains one of our favorite REITs, but we are making a change to remove DLR in the simulated Dividend Growth Newsletter portfolio and High Yield Dividend Newsletter portfolio and replace its "weighting" with the Energy Select Sector SPDR. The changes will be reflected upon the release of each newsletter's next edition. We continue to monitor the REIT space cautiously as interest rates rise, and as investors seek out alternatives for income, including I-Bonds yielding 6.89% and certificates of deposit approaching 4% yields.
---------------------------------------------

About Our Name
But how, you will ask, does one decide what [stocks are] "attractive"? Most analysts feel they must choose between two approaches customarily thought to be in opposition: "value" and "growth,"...We view that as fuzzy thinking...Growth is always a component of value [and] the very term "value investing" is redundant.
-- Warren Buffett, Berkshire Hathaway annual report, 1992
At Valuentum, we take Buffett's thoughts one step further. We think the best opportunities arise from an understanding of a variety of investing disciplines in order to identify the most attractive stocks at any given time. Valuentum therefore analyzes each stock across a wide spectrum of philosophies, from deep value through momentum investing. And a combination of the two approaches found on each side of the spectrum (value/momentum) in a name couldn't be more representative of what our analysts do here; hence, we're called Valuentum.
---------------------------------------------
Brian Nelson owns shares in SPY, SCHG, QQQ, DIA, VOT, BITO, and IWM. Valuentum owns SPY, SCHG, QQQ, VOO, and DIA. Brian Nelson's household owns shares in HON, DIS, HAS, NKE. Some of the other securities written about in this article may be included in Valuentum's simulated newsletter portfolios. Contact Valuentum for more information about its editorial policies.
Valuentum members have access to our 16-page stock reports, Valuentum Buying Index ratings, Dividend Cushion ratios, fair value estimates and ranges, dividend reports and more. Not a member? Subscribe today. The first 14 days are free.