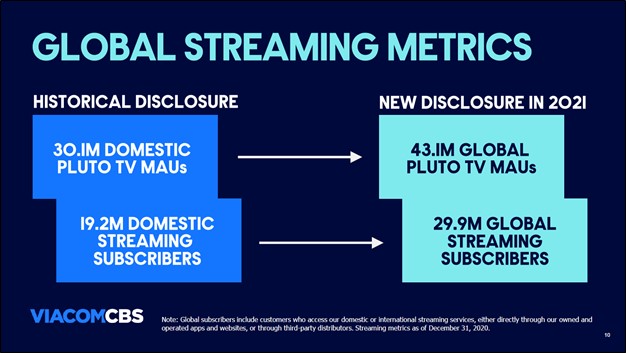 Image Source: ViacomCBS Inc – Fourth Quarter of 2020 IR Earnings Presentation
By Callum Turcan
After Viacom and CBS were reunited in December 2019, the new entity ViacomCBS Inc (VIAC) has finally started to gain some traction on the video streaming front. The service CBS All Access, which has since been rebranded as Paramount+, was largely a dud and did not gain the level of attention that Walt Disney Company's (DIS) Disney+ service (more on Disney's video streaming successes here and here), AT&T Inc's (T) HBO Max service (AT&T's video streaming growth strategy is picking up steam as we covered here), or Netflix Inc's (NFLX) namesake service (more on Netflix here) were able to generate.
For background, ViacomCBS's operations include various TV network and cable TV assets, TV and movie studios, various streaming services, and a book publisher. That includes various CBS networks (CBS, CBS Sports, CBS News), CBS studios, MTV, Comedy Central, Paramount, Nickelodeon, Pluto TV (another video streaming service that is free and ad-supported), BET, CMT, POP TV, half of CW (AT&T owns the remaining 50%), COLORS (focused on India), telefe (focused on Spanish-speaking content), SHOWTIME, and the book publisher Simon & Schuster.
Content is King
However, with ViacomCBS launching Paramount+ this month in the US and various Latin American markets, the service now has a larger slate of content than CBS All Access and is supported by ViacomCBS' vast library (and most importantly, ViacomCBS has plans to produce dozens of original series for Paramount+ going forward). Paramount+ is leaning on properties such as Star Trek and SpongeBob SquarePants along with reboots of shows like iCarly to create engaging original content.
Content is king. The combination of Viacom and CBS helped address that issue and provided the new entity with the scale required to be competitive in this business. All the big players in this space such as Disney, AT&T, Netflix and others have pledged to aggressively increase their original content investments over the coming years and please note that this comes on top of the hefty investments made in the recent past. Comcast Corporation's (CMCSA) Peacock service and Discovery Communications Inc's (DISCA) Discovery+ service represent two relatively new contenders in the video streaming space and HBO Max was only launched by AT&T last year, though there were other iterations of HBO streaming services available before then.
According to a March 4 press release, Paramount+ launched with "a slate of new originals" which includes (the bolded and italicized text was formatted that way in the press release):
…The SpongeBob Movie: Sponge on the Run, the first-ever all CGI SpongeBob motion picture event; Kamp Koral: SpongeBob's Under Years, a prequel series and the first-ever spinoff of SpongeBob SquarePants; MTV Documentary Films 76 Days, the Oscar Shortlisted documentary that looks at life in the earliest days of the COVID-19 crisis in Wuhan, China; For Heaven's Sake, a docuseries blending comedy and crime for a unique take on uncovering the truth; The Real World Homecoming: New York, a reunion special with the original New York cast in the iconic NYC loft; 60 Minutes+, a new form of the flagship series that reveals the stories behind the news through original reporting and captivating interviews; and Stephen Colbert Presents Tooning out the News, the second season of the animated daily news satire series. These titles join a growing slate of originals currently on the service exclusively, including The Good Fight, Why Women Kill, The Stand, Star Trek: Lower Decks, No Activity, Coyote and more.
Live Sports
For more information regarding the original content slate planned for Paramount+, please check out this webpage here. Additionally, Paramount+ includes live sports offerings and given the relatively low monthly cost of the service ($9.99 per month in the US for the ad-free version, and in June a $4.99 per month ad-supported version of the service will launch), we see room for the service to gain some ground (annual subscriptions are also available). Comcast's Peacock service also has some live sports offerings, as does Disney's EPSN+ service, though most video streaming services tend to either not have such offerings or require a substantially larger monthly bill to view such offerings.
FuboTV Inc (FUBO) focuses on live sports offerings (as part of a broader package similar to traditional pay-TV packages), though its cheapest offering starts at $64.99 per month (please note there are also tax and other considerations). Hulu, which is owned by Disney and Comcast, also offers packages similar to traditional pay-TV offerings that start at a similar price as FuboTV's. Traditional pay-TV packages such as those offering by Comcast, AT&T's DirecTV, and Dish Network Corporation (DISH) tend to be priced at or above that range.
With all of this in mind, Paramount+ includes several sporting events such as every UEFA Champions League and UEFA Europa League match (soccer), the 2021 NCAA Division I Men's Basketball Championship, and CBS Sports' coverage of The Masters golfing tournament. On March 18, ViacomCBS announced that it had secured a major 11-year deal with the NFL that will run through the 2033 season (please note ViacomCBS has an existing agreement with the NFL). This was part of a broader deal the NFL reached with ViacomCBS, Comcast (via its ownership of NBCUniversal), Fox Corp (FOXA) (FOX), Amazon Inc (AMZN), and Disney (via its ownership of ABC and majority ownership of EPSN) that could be worth north of $100.0 billion in total.
Here is what ViacomCBS's related press release had to say (lightly edited, emphasis added):
The new agreement, which begins with the 2023 season, allows for CBS Sports to broadcast and stream more Sunday afternoon games than ever before and also includes an expanded schedule of games featuring teams from the National Football Conference (NFC). In addition, the schedule is highlighted by 10 CBS doubleheaders, including the NFL's most-watched window Sundays at 4:25 PM ET, eight singleheaders and the annual Thanksgiving Day game. CBS Sports will broadcast three Super Bowls over the length of the deal, including the first in the new agreement, Super Bowl LVIII in 2024, as well as Super Bowl LXII in 2028 and Super Bowl LXVI in 2032.
The CBS Television Network and Paramount+ will also present a full slate of playoff games each season, featuring the AFC Championship game, one Divisional game and one Wild Card game. A second Wild Card game will be added to the CBS Sports lineup during the 2024, 2029 and 2033 seasons…
Paramount+ has been granted new and expanded rights for the streaming service, allowing for the flexibility to distribute NFL games on both the premium tier at $9.99 and the new $4.99 ad-supported tier that will debut in June. The rights begin with the 2021 season and extend throughout the length of the new deal to 2033.
ViacomCBS is making some interesting choices by combining live sports with video on demand offerings, and we are intrigued by the upside this combo could have. Paramount+ also includes breaking news offerings. Investors have clearly become significantly more optimistic on ViacomCBS's outlook in recent months, since through the sharp run up in shares of VIAC since late last year. When ViacomCBS reported its fourth quarter earnings for 2020 in late February, the firm touted the momentum it had gained on the video streaming front from its Pluto TV, Showtime, and CBS All Access (now Paramount+) offerings. Additionally, ViacomCBS's BET+ video streaming service has been performing well of late according to management commentary given during the related earnings call.
Recent Updates
The company's Pluto TV offering has seen its user base grow nicely of late with the company noting it had 43 global million monthly active users ('MAUs') in the final quarter of 2020 (up 80% year-over-year). ViacomCBS recently expanded the service into Brazil and Spain. It noted in its earnings press release that "Pluto TV's domestic MAUs increased to 30.1M, up 34% year-over-year, and more than doubled its advertising revenue in the quarter" which we appreciate.
However, the market is likely most interested to see if ViacomCBS can replicate the success of Netflix and Disney with its rebranded Paramount+ service given the highly desirable nature of growing recurring revenue streams (provides for higher quality cash flow profiles given the highly visible nature of those sales).
ViacomCBS generated $2.0 billion in free cash flow in 2020 and spent $0.6 billion covering its dividend obligations along with less than $0.1 billion on its share buybacks during this period. The firm exited 2020 with a little over $16.7 billion in net debt (inclusive of its marginal short-term debt position), which limits its flexibility to a degree, though ViacomCBS has the capacity to step up its original content investment going forward given its current free cash flow generating abilities. During the company's fourth quarter of 2020 earnings call, here is what management had to say regarding ViacomCBS' streaming strategy (emphasis added):
"ViacomCBS has been and remains a consistent hit maker across genres, across demographics, across formats and across platforms. Across our studios, we're one of the biggest suppliers of premium original content in the industry today, with nearly 900 shows in production this year.
In addition to hits on our own networks around the world, every major streaming service has had a monster hit from one of our studios. We have made or licensed for third parties some of the most watched shows and movies of the streaming era, including 13 Reasons Why, Emily in Paris, Dead to Me, Jack Ryan, Avatar, The Haunting of Bly Manor and many others.
The original shows we've made for others, is proof of the power of our content in the streaming era. And we also know that if we direct that same great content engine back to our own streaming service and unleash that same knack for producing original hits to attract our own subscribers, we can be successful. And that's exactly, what we're setting out to do.
A year ago, I said we were going to super size CBS All Access, but we've done much more than that. We've transformed CBS All Access into Paramount+. Paramount+ will be one of the only streaming services to combine live sports, breaking news and a mountain of entertainment, a mountain of entertainment built on a portfolio of world-renowned brands. It's all your favorites, all in one place.
Going forward, the combined creative firepower, franchises and IP of Paramount, CBS, MTV, Nickelodeon, Comedy Central, BET and the Smithsonian Channel will be focused on creating original hits for Paramount+. And Paramount+ will also be home to their massive libraries." --- Bob Bakish, President and CEO of ViacomCBS
We are intrigued, though please note these are still very early days and that the video steaming services space remains highly competitive. There is room for multiple winners, but there will be plenty of losers as well.
Concluding Thoughts
ViacomCBS is still playing catch up in the video streaming space, though things are increasingly starting to fall in the right place. When ViacomCBS reports its first quarter earnings report for 2021, all eyes will be on its initial Paramount+ paid subscriber figures. Going forward, we intend to continue monitoring the video steaming services space given its promising long-term growth outlook and the potential for these assets to become free cash flow cows (we highlighted this industry in our Stock Market Outlook for 2021 piece that can be viewed here).
Please note our favorite video streaming play is Disney, an idea in our Best Ideas Newsletter portfolio, and we continue to like AT&T as a high-yield opportunity which is included as an idea in our High Yield Dividend Newsletter portfolio. We are currently looking at ViacomCBS' shares within the context of an options idea and expect to raise our fair value estimate materially upon the next update. For long only investors, we prefer Disney and AT&T as the better ideas at this time, respectively.
ViacomCBS' 16-page Stock Report (pdf) >>
Disney's 16-page Stock Report (pdf) >>
AT&T's 16-page Stock Report (pdf) >>
-----
Telecom Services Industry - CMCSA, LUMN, DISH, T, TMUS, VZ, SBAC, AMT, CCI, VIAC (VIACA)
Related: AMZN, NFLX, DIS, DISCA, ROKU, FOX, FOXA, FUBO, SPOT, CHTR, ATUS, CABO
Valuentum members have access to our 16-page stock reports, Valuentum Buying Index ratings, Dividend Cushion ratios, fair value estimates and ranges, dividend reports and more. Not a member? Subscribe today. The first 14 days are free.
Callum Turcan does not own shares in any of the securities mentioned above. The Walt Disney Company (DIS) is included in Valuentum's simulated Best Ideas Newsletter portfolio. AT&T Inc (T) and Crown Castle International Corp (CCI) are both included in Valuentum's simulated High Yield Dividend Newsletter portfolio. Some of the other companies written about in this article may be included in Valuentum's simulated newsletter portfolios. Contact Valuentum for more information about its editorial policies.