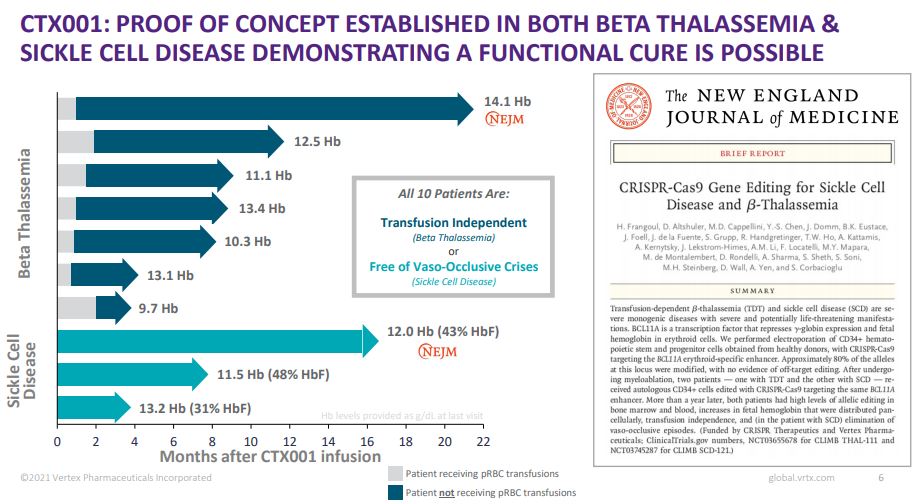 Image: Vertex Pharma is co-developing gene-based therapy for sickle cell disease (SCD) and transfusion-dependent beta thalassemia (TDT). CTX001 may offer a potential cure for people that have SCD and TDT.
By Callum Turcan
We include shares of Vertex Pharmaceuticals (VRTX) in the Best Ideas Newsletter portfolio and continue to view the biotech company quite favorably. Our capital appreciation thesis on Vertex Pharma is partially built upon the "call option" related to potential upside that various partnerships, including that with CRISPR Therapeutics (CRSP), could uncover.
Even if such promising partnerships don't pan out, however, Vertex Pharma's free cash flow growth outlook underpins the higher end of its fair value estimate range, which currently sits at $321 per share (well above where shares of VRTX are trading at as of this writing). We like biotech ideas such as Vertex Pharma that have a strong financial foundation (balance sheet) and upside potential in open-ended areas. Gene-editing technology with CRISPR Technologies may be one of the most exciting areas in all of modern medicine.
On April 20, Vertex Pharma and CRISPR Therapeutics issued a press release that noted "the companies have amended their collaboration agreement to develop, manufacture and commercialize CTX001, an investigational CRISPR/Cas9-based gene editing therapy that is being developed as a potentially curative therapy for sickle cell disease (SCD) and transfusion-dependent beta-thalassemia (TDT)." For more information on this subject (regarding SCD, TDT, and the commercial upside of these potential therapeutics), please check out our January 2021 article Best Idea Vertex Pharma Is an Intriguing Biotech Play which can be viewed here.
The April 20 press released noted that (emphasis added):
Under the terms of the amended agreement, Vertex will lead global development, manufacturing and commercialization of CTX001 with support from CRISPR Therapeutics. Vertex will be responsible for 60% of program costs and will receive 60% of profits from future sales of CTX001 worldwide, representing a 10% increase in program economics compared to the previous agreement. CRISPR will be responsible for 40% of costs and will receive 40% of profits. Additionally, CRISPR will receive a $900 million upfront payment, with potential for a $200 million payment upon the first regulatory approval of CTX001.
The development is a win-win for both Vertex Pharma and CRISPR Therapeutics and reinforces our positive view towards both company's capital appreciation upside. Here is some additional information on CTX001 from the press release:
CTX001 is an investigational, autologous, ex vivo CRISPR/Cas9 gene-edited therapy that is being evaluated for patients suffering from TDT or severe SCD, in which a patient's hematopoietic stem cells are edited to produce high levels of fetal hemoglobin (HbF; hemoglobin F) in red blood cells. HbF is a form of the oxygen-carrying hemoglobin that is naturally present at birth, which then switches to the adult form of hemoglobin. The elevation of HbF by CTX001 has the potential to alleviate transfusion requirements for patients with TDT and reduce painful and debilitating sickle crises for patients with SCD.
Based on progress in this program to date, CTX001 has been granted Regenerative Medicine Advanced Therapy (RMAT), Fast Track, Orphan Drug, and Rare Pediatric Disease designations from the U.S. Food and Drug Administration (FDA) for both TDT and SCD. CTX001 has also been granted Orphan Drug Designation from the European Commission for both TDT and SCD, as well as Priority Medicines (PRIME) designation from the European Medicines Agency (EMA) for SCD.
Among gene-editing approaches being investigated/evaluated for TDT and SCD, CTX001 is the furthest advanced in clinical development.
Vertex Pharma has a solid balance sheet, a strong commercial product line-up in cystic fibrosis (CF) and an open-ended opportunity in CTX001 with one of the most innovative companies in our coverage, CRISPR Therapeutics. We expect shares of both companies to be highly volatile, but we don't think the market is giving enough credit for their long-term potential. We prefer Vertex Pharma as our speculative biotech play in the Best Ideas Newsletter portfolio given its more resilient financials and established commercial portfolio. Note that with early stage biotech companies such as CRISPR Therapeutics, investors are taking outsized risks and could lose all their capital should future endeavors not pan out as expected.
Vertex Pharma's 16-page Stock Report >>
CRISPR Therapeutics' 16-page Stock Report >>
-----
Health Care Bellwethers Industry - JNJ, WBA, CVS, ISRG, MDT, ZBH, BAX, BDX, BSX, MTD, SYK, BIIB, GILD, ABT, ABBV, LLY, AMGN, BMY, MRK, PFE, VRTX, ZTS, REGN, UNH
Tickerized for VRTX, CRSP, XBI, IBB, PJP, IHE, IMRA, BLUE, GBT, EDIT, REGN, ALXN, MRNA, UTHR, GILD, CATB, LIFE, CLLS, NBSE, SRPT, KYMR, DYN, CAPR, SLDB, PTCT, RNA, FULC, BMRN, SGEN, BSGM, KPTI, TEVA, INFI, TAUG, IQV, MTEM, NTLA, ARWR, PTI, AZRX, ELOX, TAK, NKTR, INCY, SAGE, CRBP, XON
-----
Valuentum members have access to our 16-page stock reports, Valuentum Buying Index ratings, Dividend Cushion ratios, fair value estimates and ranges, dividend reports and more. Not a member? Subscribe today. The first 14 days are free.
Callum Turcan does not own shares in any of the securities mentioned above. Johnson & Johnson (JNJ) and Health Care Select Sector SDPR Fund (XLV) are both included in Valuentum's simulated Best Ideas Newsletter portfolio and Dividend Growth Newsletter portfolio. Vertex Pharmaceuticals Inc (VRTX) is included in Valuentum's simulated Best Ideas Newsletter portfolio. UnitedHealth Group Inc (UNH) is included in Valuentum's simulated Dividend Growth Newsletter portfolio. Vanguard Consumer Staples ETF (VDC) is included in Valuentum's simulated High Yield Dividend Newsletter portfolio. Some of the other companies written about in this article may be included in Valuentum's simulated newsletter portfolios. Contact Valuentum for more information about its editorial policies.