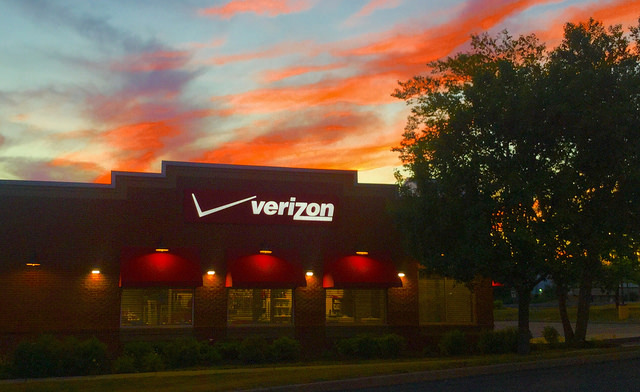 Image Source: Mike Mozart
Verizon's financial metrics didn't stack up during 2016, and management suggested 2017 will be more of the same. We're cautious on this overleveraged, capital-intensive telecom giant.
By Brian Nelson, CFA
As a dividend growth investor, there's really only one thing you need to worry about when it comes to Verizon (VZ), and you won't find it in its fourth-quarter 2016 earnings release, issued January 24, or really in most news correspondence. You have to go to the financial statements to see it. I'm talking about Verizon's massive debt obligations, which are sure to keep any prudent investor up at night.
At the end of 2016, the telecom giant's long-term debt load stood at ~$105 billion, while cash and cash equivalents on the books came in under $3 billion, good enough for a net debt position of over $100 billion. Free cash flow generation during all of 2016, as measured by cash flow from operations less all capital spending, was roughly ~$5.7 billion, not even measuring up to the ~$9.3 billion the company paid in dividends for the same year, let alone enough to pursue deleveraging initiatives. It's just difficult to make the case to be excited about owning Verizon's shares, and it's probably no wonder why we assign cautious dividend ratings to the company.
Most of the discussion about Verizon's fourth-quarter results has been focused on its disappointing bottom-line and subscriber growth numbers, but management's outlook for organic revenues to be "fairly consistent" with 2016 did little to get investors excited either. We can understand why. Adjusted non-GAAP revenue declined 2.4% for the full-year 2016 and 4.3% on a reported basis, hardly a pace to look forward to in the coming year. Though we expect Verizon's free cash flow to improve meaningfully in 2017 (as a few non-core items weighed down cash flow from operations in 2016), we're still cautious on this overleveraged, capital-intensive telecom giant that operates in one of the most intensely-competitive industries (wireless and broadband) in our coverage.
When we put it that way, how could we not be cautious, right?
Management said it was on track to return Verizon to its "credit-rating profile prior to the acquisition of Vodafone's (VOD) indirect 45% interest in Verizon Wireless in early 2014" by 2018-2019, but we're not so sure. It's been a couple years since the landmark deal already, and numbers in 2016 weren't great, and the outlook for 2017, including expectations for "full-year 2017 consolidated adjusted EPS trends to be similar to consolidated revenue trends" isn't that encouraging. Verizon's capital spending will continue to be hefty, too, expected in the range of $16.8-$17.5 billion for 2017, and the midpoint is roughly in line with the company's $17.1 billion in spending during 2016. Debt-heavy, capital-intensive business models come with extraordinary risks, especially those tied to cyclical consumer spending.
Despite all of these troubles, however, the company seems to think that spending valuable management resources to acquire Yahoo (YHOO) is the answer. We're just not sure what the executive suite is thinking at this point, and the company's already-stretched balance sheet and news of ongoing data breaches at Yahoo should be more than enough for the Verizon team to walk away from the deal. We think Yahoo can't move fast enough to close the deal, as it wasn't but January 23, that the SEC announced an investigation into whether Yahoo should have reported the two massive data breaches to investors earlier. The news flow keeps coming.
Verizon's reported earnings per share dropped nearly 27% in 2016, to $3.21 from $4.37 in 2015, implying on a trailing basis, Verizon's shares are fetching a 16 times earnings multiple. Unlike with other beaten down (and sometimes attractive) below-market multiples, however, Verizon has a net debt position of over $100 billion (debt amounts to roughly half of its market capitalization, or about one third of enterprise value). In light of the rather ho-hum outlook for 2017, our fair value estimate of Verizon, while reasonable, can be considered rather optimistic--and while we maintain that shares of Verizon are fairly valued at the moment, the company is trading at levels that marked the peak of the dot-com boom.
Verizon's equity holds greater risk than what may present itself at face value, and investors should know this.