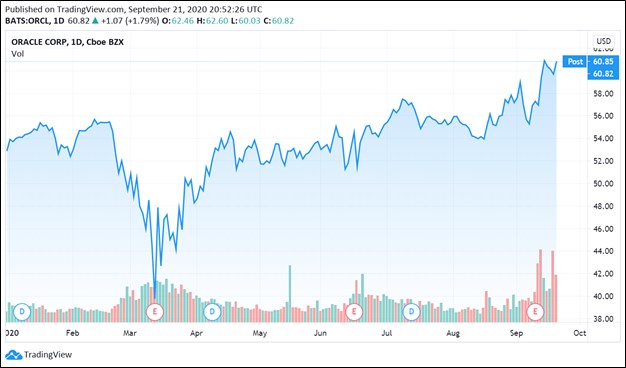 Image Shown: Shares of Oracle Corporation, a holding in our Dividend Growth Newsletter portfolio, have performed well recently as excitement grows over the company's improving long-term growth outlook. Oracle may soon become a strategic shareholder in the rising social media star TikTok, alongside Walmart Inc and various US-based venture capital firms.
By Callum Turcan
Some big news emerged this past weekend involving TikTok that we wanted to bring to our members attention. We covered this story in detail in late-August and mid-September, and encourage our members to check out those articles for additional background information. In brief, TikTok is currently owned by Beijing-based ByteDance, a company that has been accused of being an extension of China's central government (meaning a security threat to Western interests) which in turn prompted the White House to push for a sale of TikTok's US operations or an outright shutdown/ban of the app in the US. This past weekend, President Trump stated he approved of a proposed deal that would involve Oracle Corporation (ORCL) and Walmart Inc (WMT) taking a strategic equity stakes in a newly created firm called TikTok Global, which will likely be based in the US.
Oracle
Oracle is expected to take a 12.5% equity stake in TikTok Global while becoming the firm's key provider of cybersecurity and cloud services. Please note that according to The Information, Alphabet Inc (GOOG) (GOOGL) signed a three-year agreement with TikTok in May 2019 that involved Alphabet providing TikTok with over $800 million in cloud computing services during this period. It appears Oracle, in the event the deal receives the blessing from both Chinese and US authorities, would gain a new major cloud customer which could provide a big boost to its transformation strategy (pivoting away from legacy IT offerings and towards cloud-based services). That includes storing the data generated from US-based TikTok users in Oracle's domestic data centers, specifically Oracle's Generation 2 Cloud offerings.
As an aside, please note that this event does not impact our view of Alphabet, which continues to be a holding in our Best Ideas Newsletter portfolio. Alphabet has started to having some real success on the cloud computing front of late as well (we covered its latest earnings report here), though most importantly Alphabet's long-term growth outlook is underpinned by its incredibly lucrative digital advertising business. We continue to be big fans of Alphabet.
Pivoting back to Oracle. When Oracle secured a major contract with Zoom Video Communications Inc's (ZM) earlier this year (we covered that news here), that deal illuminated that Oracle's cloud offerings could step up and meet surging customer demand even during harrowing times such as these. During Oracle's latest earnings update, the company grew its GAAP revenues and net operating income on a year-over-year basis in large part due to strength at its cloud-oriented operations (we covered Oracle's latest earnings here).
In recent years, Oracle's outlook has improved significantly as its strategic pivot started showing signs that it was paying off. Adding digital advertising secular growth tailwinds to its business (via its potential equity stake in TikTok Global) while giving its cloud-oriented operations a big boost highlights why the proposed TikTok Global deal would be very beneficial to Oracle, in our view. Shares of ORCL have performed well of late and we continue to like Oracle as a holding in our Dividend Growth Newsletter portfolio.
Walmart
Pivoting to Walmart, the retail giant agreed to take a 7.5% equity stake in TikTok Global. For Walmart, the main goal will likely be to further digitize its operations. The company has made great strides in growing its e-commerce business during the ongoing coronavirus ('COVID-19') pandemic and historically, Walmart has shown a preference for using acquisitions to bolster its strategic initiatives. Walmart acquired Jet.com Inc for ~$3.3 billion in a cash and stock deal in 2016, largely to improve its domestic e-commerce business which was not doing well at the time. In 2018, Walmart acquired a 77% equity stake in Indian e-commerce Flipkart for ~$16.0 billion. There are potential synergies as it relates to TikTok Global's targeted advertising business and Walmart's advertising business, on top of Walmart's desire to become a bigger e-commerce player.
Walmart announced its new Walmart+ service (which will cost $98 per year) on September 1. The unlimited free delivery service launched on September 15 and is similar to Amazon Inc's (AMZN) Prime service, though Amazon has added non-shipping features to its Prime subscription over the years (such as video streaming content). Though the potential synergies between Oracle and TikTok Global are more straightforward than the potential synergies between Walmart and TikTok Global, there are still plenty of opportunities here and the pending deal will support Walmart's long-term growth ambitions.
The Deal
Please note that the details of the potential deal are somewhat conflicting, in large part due to the geopolitical complexities of the proposed arrangement. Venture capital firms based in the US including Sequoia, General Atlantic, and Tiger Management reportedly own ~41% of ByteDance and another ~14% of ByteDance is owned by outside investors not based in the US or China, largely European investors. Authorities in China have indicated that they would rather see TikTok shut down instead of sold off, and recently imposed new technology transfer restricted that appear to be aimed directly at ByteDance. If TikTok is spun out of ByteDance under the proposed arrangement, in the view of ByteDance the company would still own approximately 80% of TikTok Global and most importantly, authorities in Beijing might approve of a deal that allows the Chinese firm to retain upside in its international operations.
In the view of Oracle and Walmart (a statement from Walmart on the potential deal can be viewed here), the new firm would be under the control of US-based investors due to US-based entities controlling four out of five board seats on TikTok Global under the proposed arrangement. While ByteDance would retain control over the recommendation algorithm TikTok Global uses (which is incredibly valuable, in our view), Oracle would be able to review ByteDance's source code and would have control over TikTok Global's update process, cybersecurity operations, and Oracle would be in control of the new company's cloud computing operations as well. Combined, US-based investors would reportedly own ~53% of TikTok Global's equity however, that conflicts with statements made by ByteDance, likely due to differences in accounting for the stakes owned by US-based venture capital firms.
Considering President Trump has voiced his approval of the deal, there is a good chance it could proceed as planned though Chinese authorities will need to sign off as well. As it concerns financial terms and other aspects of this deal, publicly disclosed details were limited beyond Walmart noting the plan was to have TikTok Global pursue an initial public offering ('IPO') "in less than 12 months and be listed on a U.S. Exchange." If it goes ahead as planned, TikTok Global is expected to create 25,000 jobs in the US. Additionally, please note TikTok Global will be comprised most of TikTok's current international operations including those in the US, instead of covering just TikTok's US or North American operations (as was proposed in past deals).
Concluding Thoughts
As new information comes to light, we will continue keeping our members updated on the ongoing TikTok saga, especially as this story concerns one of holdings in our Dividend Growth Newsletter portfolio. Oracle's outlook continues to improve, and as our fair value estimate sits at $65 per share, excitement over recent events (the potential TikTok deal and Oracle's latest earnings update) could see shares of ORCL converge to our fair value estimate over time.
-----
Internet Content & Services Industry – GOOG GOOGL BIDU FB JD TCEHY TWTR
Internet Content and Catalog Retail Industry – BABA AMZN BKNG EBAY EXPE GRPN IAC OSTK QRTEA STMP
Software Industry – ADBE ADSK EBIX INTU MSFT ORCL CRM
Related: AAPL, FB, WMT, SOCL, MILN, ZM
-----
Valuentum members have access to our 16-page stock reports, Valuentum Buying Index ratings, Dividend Cushion ratios, fair value estimates and ranges, dividend reports and more. Not a member? Subscribe today. The first 14 days are free.
Callum Turcan does not own shares in any of the securities mentioned above. Apple Inc (AAPL), Alphabet Inc (GOOG) Class C shares, Facebook Inc (FB), and Microsoft Corporation (MSFT) are all included in Valuentum's simulated Best Ideas Newsletter portfolio. Apple Inc, Microsoft Corporation, and Oracle Corporation (ORCL) are all included in Valuentum's simulated Dividend Growth Newsletter portfolio. Some of the other companies written about in this article may be included in Valuentum's simulated newsletter portfolios. Contact Valuentum for more information about its editorial policies.