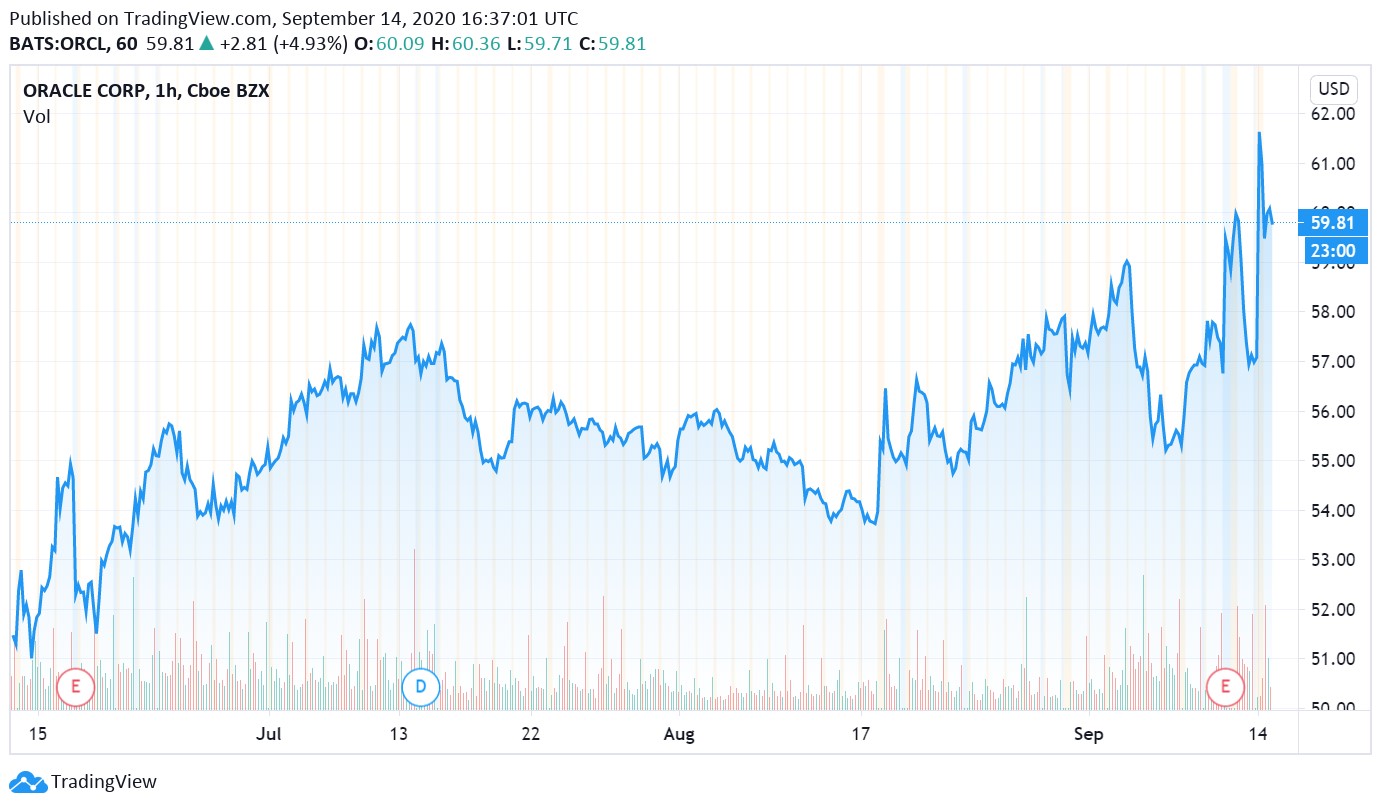 Image Shown: Shares of Dividend Growth Newsletter holding Oracle Corporation jumped higher on September 14 as the tech giant is reportedly getting closer to acquiring TikTok's operations in the US and potentially elsewhere, though there are a lot of unknowns at this point.
By Callum Turcan
Reportedly, Oracle Corporation (ORCL) has submitted a proposal to become the "trusted technology partner" of the popular yet controversial social media app TikTok, particularly at TikTok's US operations (and possibility some other countries as well). TikTok is currently owned by Beijing-based ByteDance. We will likely know more about a potential deal sooner rather than later, though there are a lot of unknowns at this point as it does not appear Oracle's proposal is a straightforward acquisition.
Microsoft Corporation (MSFT) and Walmart (WMT) were previously in the running for TikTok's US and other operations, before their bid was rejected. Back on August 28 (link here), we published a note highlighting why the Trump Administration was pushing for a divestment of TikTok's US operations that we encourage our members to check out that article for additional background information.
On September 14, shares of Dividend Growth Newsletter portfolio holding Oracle leapt higher on this news, though we would like to stress that our fair value estimate for ORCL sits at $65 per share, comfortably above where shares are trading at as of this writing. As an aside, TikTok's former CEO Kevin Mayer recently quit after just a few months on the job. We see this as a sign that a deal of some sort was inevitable. Kevin Mayer joined TikTok after previously working for The Walt Disney Company (DIS).
Update
Though it is not clear what "trusted technology partner" means or ultimately what the structure of the potential deal looks like, US Treasury Secretary Mnuchin confirmed reports that Oracle had submitted a proposal that would be placed under review right away. Additionally, Oracle confirmed it had struck a deal with ByteDance. It is likely the US would sign off on an Oracle-led deal, depending on how it is structured, though approval from Chinese authorities might be a tough sell after Beijing placed restrictions on the transfer of certain technologies that would include TikTok's algorithms.
TikTok is able to keep an engaged used base by using machine learning algorithms to create highly personalized recommendation to its users. Put another way, the short videos TikTok directs its users towards are more likely to be content that its users want to watch. TikTok's users reportedly spend a little under one hour per day on the app according to venture capital firm Kleiner Perkins.
Please note that TikTok's algorithms are a core part of its operations and played a key role in growing its user base in the US to over 100 million monthly active users. It is likely that due to Beijing preferring to see TikTok's US operations shut down versus ByteDance selling those assets, and given the significance of the algorithms to TikTok's success, Oracle's proposal would take those geopolitical and operational hurdles into consideration.
What Oracle gets out of the deal is exposure to the incredibly lucrative digital advertising industry. The ongoing coronavirus ('COVID-19') pandemic has taken a chunk out of the industry's sales this year; however, its long-term growth trajectory remains firmly intact. Simply put, targeted digital advertising offerings are some of the best marketing tools around, and that is unlikely to change for a long time (if at all). Companies that operate in the digital advertising space generally have high quality cash flow profiles, as the ongoing capital expenditure requirements to maintain a certain level of revenue generation is relatively low (making generating free cash flows an easier task). However, scale is required before meaningful free cash flows can be generated.
Oracle was reportedly teaming up with venture capital firms General Atlantic and Sequoia Capital to acquire TikTok's US operations, two firms that are also investors in ByteDance as we covered in our August 28 article. It is not clear if that is still the case with the proposal Oracle recently submitted, though given Oracle's net debt load as of August 31, the tech giant would likely want to have partners held reduce its cash contribution (Oracle was reportedly considering a cash/equity deal for some of TikTok's operations).
Part of this proposal may center around the potential Oracle-led consortium keeping US user data within the realm of US authorities. That could include agreements that prohibit the transfer of user data from TikTok's US operations to its operations in other geographical locations. Back in 2019, Alphabet Inc's (GOOG) (GOOGL) Google Cloud unit reportedly signed a three-year deal with TikTok to provide cloud computing services according to The Information. Utilizing domestic cloud computing providers and committing to storing US user data domestically would likely be part of any agreement, though it is possible Oracle would replace Google Cloud's offerings with its own cloud computing services.
Concluding Thoughts
Oracle may be open to acquiring an economic interest in TikTok's US operations and assuming operatorship of those assets, while ByteDance retains an economic stake in TikTok's assets and ownership of its algorithms. Whether such an arrangement would be appealing to authorities in both the US and China remains to be seen.
As new information becomes available, we will continue updating our members on this intriguing opportunity for Oracle. To read more about our thoughts on Oracle and why we like the firm as a holding in our Dividend Growth Newsletter portfolio, please check out this article here covering Oracle's latest earnings report.
-----
Internet Content & Services Industry – GOOG GOOGL BIDU FB JD TCEHY TWTR
Internet Content and Catalog Retail Industry – BABA AMZN BKNG EBAY EXPE GRPN IAC OSTK QRTEA STMP
Software Industry – ADBE ADSK EBIX INTU MSFT ORCL CRM
Related: AAPL, DIS, FB, SFTBY, WMT, SOCL, MILN
-----
Valuentum members have access to our 16-page stock reports, Valuentum Buying Index ratings, Dividend Cushion ratios, fair value estimates and ranges, dividend reports and more. Not a member? Subscribe today. The first 14 days are free.
Callum Turcan does not own shares in any of the securities mentioned above. Apple Inc (AAPL), Alphabet Inc (GOOG) Class C shares, Facebook Inc (FB), Microsoft Corporation (MSFT), and The Walt Disney Company (DIS) are all included in Valuentum's simulated Best Ideas Newsletter portfolio. Apple Inc, Microsoft Corporation, and Oracle Corporation (ORCL) are all included in Valuentum's simulated Dividend Growth Newsletter portfolio. Some of the other companies written about in this article may be included in Valuentum's simulated newsletter portfolios. Contact Valuentum for more information about its editorial policies.