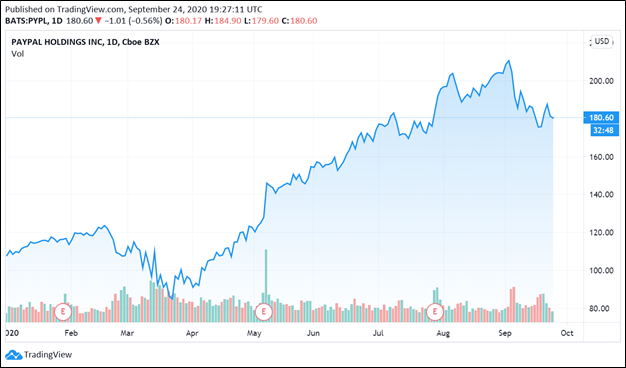 Image Shown: Shares of Best Ideas Newsletter portfolio holding PayPal Holdings Inc have surged higher this year. We continue to be big fans of the company.
By Callum Turcan
The payment processing and payment solution space is incredibly attractive given the secular growth tailwinds supporting companies operating in the financial tech industry. As consumers are increasingly using cards and digitally-oriented payment services during the ongoing coronavirus ('COVID-19') pandemic, demand for the various "cash-less" payment options offered by PayPal Holdings Inc (PYPL) and Visa Inc (V) is on the rise. Please note that rising demand for payment processing, cross-border transactions, and similar services is increasing from both consumers and businesses alike. This is more than just a short-term adjustment to cope during the COVID-19 pandemic; the transition towards a "cash-less society" has been underway for some time. We continue to like shares of both PayPal and Visa as top-weighted holdings in our Best Ideas Newsletter portfolio.
Background
Rising e-commerce sales are a perfect example of the ongoing transition away from physical in-person payment options, as in many/most instances only digitally-capable payment services can be used to process such transactions (meaning cash or check are not viable here). For context on why this is such a big deal for PayPal and Visa, please note that during the second quarter of 2020, US e-commerce sales rose by ~32% year-over-year (adjusted for seasonal variations) according to the US Census Bureau of the Commerce Department. E-commerce sales represented over 16% of total US retail sales during this period. Total US retail sales were down ~4% year-over-year in the second quarter due in large part to the pandemic forcing stores to close, meaning e-commerce gained market share during this period.
Going forward, US e-commerce sales are likely to continue growing both nominally and as a percentage of total US retail sales. Major supermarket chain operators like Kroger Company (KR), Target Corporation (TGT), and Walmart Inc (WMT) are increasingly expanding their omni-channel sales capabilities with a focus on fulfilling digital orders (such as those placed online and fulfilled via home-delivery or curbside pickup). Rising e-commerce grocery sales represents a huge opportunity for PayPal and Visa given that US households spend almost $700 billion at grocery stores per year.
Brick-and-mortar retail stores that did not have significant digital and omni-channel sales operations got crushed during the pandemic, while those that made such investments gained market share. As an aside, our favorite retailer remains Dollar General Corporation (DG), which is a holding with a modest weighing in our Best Ideas Newsletter portfolio. To read more about our thoughts on Dollar General, check out this article here.
PayPal and Visa are not taking sides in the "retail wars" and stand to gain regardless of who wins. Outside the US, this trend towards cash-less payment options continued during the pandemic. Market research firm eMarketer expects strong nominal and market share growth for e-commerce sales in the Western European region over the coming years, aided by a growing portion of the population utilizing such services.
PayPal and Visa
PayPal is extremely well-positioned to capitalize on rising e-commerce demand around the globe. In the second quarter of 2020, PayPal's total payment volumes ('TPVs') surged 30% higher year-over-year, hitting $222 billion. PayPal generated $3.5 billion in free cash flow during the first half of 2020, up from $1.8 billion the same period the prior year. We are extremely impressed with PayPal's performance of late.
During Visa's third quarter of fiscal 2020 (period ended June 30, 2020), management noted that the firm witnessed strong demand from e-commerce-related activities, though Visa's TPVs still came under fire from sharp reductions in travel activities worldwide. As of this writing, shares of PayPal are up ~69% year-to-date while Visa is up ~5% year-to-date (before taking dividend considerations into account particularly as it concerns Visa, which would not change this picture much).
We expect Visa's financial and operational performance will stage an impressive rebound once the pandemic gets under control, and in the interim, the company's business model has proven incredibly resilient. Visa generated $7.8 billion in free cash flow during the first three quarters of fiscal 2020, only down modestly from the $8.2 billion generated in the same period the prior fiscal year. Should a COVID-19 vaccine that is both safe and effective get discovered, Visa would be a big winner as households slowly begin to resume "normal" travel activities (such as vacations and business trips).
Expanded Partnership
PayPal and Visa recently expanded their partnership to speed up payment times. The press release noted that this agreement would "expand real-time access to funds for consumers and small businesses that are sending or receiving money via PayPal, Venmo or Xoom" and please note Venmo (mobile-oriented person-to-person money transfer service) and Xoom (focuses on international money transfer services) are both subsidiaries of PayPal. What this expanded partnership means is that PayPal's customers will have the option to have significantly faster access to their funds by utilizing PayPal's Instant Transfer service with Visa Direct, a real-time payment push platform. Additionally, PayPal will also extend Visa Direct services through its Braintree, Hyperwallet, and iZettle subsidiaries (these firms primarily cater towards businesses large and small). The press release noted:
"Eligible PayPal customers can pay and get paid by friends, family and businesses, and move money quickly from their PayPal, Xoom and Venmo accounts via Visa Direct to their eligible Visa cards… Through Visa's collaboration with PayPal, eligible PayPal, Braintree, iZettle and Hyperwallet merchants will be able to access their money quickly and efficiently, eliminating the need for paper-based processes that can delay quick access to funds."
PayPal and Visa will roll out these enhanced payment processing services over the coming months. Allowing PayPal's merchants to tap their funds quickly means that businesses using these services can better manage their cash flows. During harrowing times such as these, getting paid quickly to keep making payroll and acquiring necessary supplies can mean the difference between a business staying open or going under. For PayPal's non-business customers, having faster access to funds could make managing household finances significantly easier. We like the various growth opportunities this expanded partnership could yield and see both PayPal and Visa coming out as winners.
Concluding Thoughts
We continue to like both PayPal and Visa as top-weighted holdings in our Best Ideas Newsletter portfolio. Both companies have stellar cash flow profiles (low capital expenditure requirements to maintain a certain level of revenue), resilient business models, strong balance sheets, and promising long-term growth outlooks. During the initial stages of the pandemic, PayPal and Visa continued to generate sizeable free cash flows and we expect that performance will continue going forward. To read more about our thoughts on PayPal, check out this article here. To read more about our thoughts on Visa, check out this article here.
-----
Banks & Money Centers Industry – AXP BAC BBT BK C DFS FITB GS HSBC JPM KEY MS NTRS PNC RF STI TCF USB WFC
Dollar Store and Department Store Industries – KSS M JWN BIG DG DLTR PSMT
Financial Tech Services Industry – MA MELI PYPL VRSK V
Food Retailing Industry – CASY COST CVS KR SYY TGT WBA WMT
Related: DAL, IYG, IPAY, IYF, XLF, PIN, FLIN, XRT, RTH, FIVE, ULTA, ROST, TJX, OLLI, VDC
-----
Valuentum members have access to our 16-page stock reports, Valuentum Buying Index ratings, Dividend Cushion ratios, fair value estimates and ranges, dividend reports and more. Not a member? Subscribe today. The first 14 days are free.
Callum Turcan does not own shares in any of the securities mentioned above. Dollar General Corporation (DG), PayPal Holdings Inc (PYPL) and Visa Inc (V) are all included in Valuentum's simulated Best Ideas Newsletter portfolio. Vanguard Consumer Staples ETF (VDC) is included in Valuentum's simulated High Yield Dividend Newsletter portfolio. Some of the other companies written about in this article may be included in Valuentum's simulated newsletter portfolios. Contact Valuentum for more information about its editorial policies.