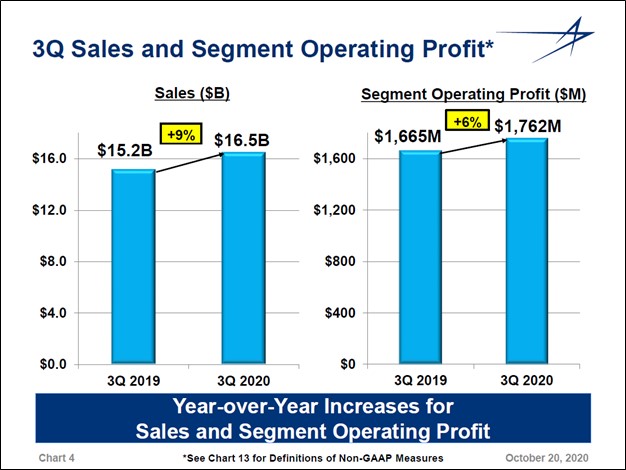 Image Shown: Lockheed Martin continued to grow its revenues and segment operating profit in the third quarter of fiscal 2020. Image Source: Lockheed Martin Corporation – Third Quarter of Fiscal 2020 IR Earnings Presentation
By Callum Turcan
On October 20, Lockheed Martin Corporation (LMT) reported third quarter earnings for fiscal 2020 (period ended September 27, 2020) that beat consensus top- and bottom-line estimates. Lockheed Martin's GAAP sales rose by 9% year-over-year, hitting $16.5 billion, in part due to the company increasing its F-35 aircraft deliveries to 31 in the fiscal third quarter from 28 in the same quarter last fiscal year. Additionally, all four of Lockheed Martin's core business segments ('Aeronautics,' 'Missiles and Fire Control,' 'Rotary and Mission Systems' and 'Space') reported year-over-year sales growth.
Lockheed Martin's diluted EPS from continuing operations rose by over 10% year-over-year last fiscal quarter, though its GAAP diluted EPS was held down (still grew by 7% year-over-year) by a loss from its discounted operations relating to the resolution of a tax dispute stemming from a 2016 divestment.
Guidance Boost
Management once again boosted Lockheed Martin's full-year guidance for fiscal 2020 during the firm's latest earnings report, just as it did during its previous fiscal quarter which we covered in detail here. We appreciate the defense contractor's confidence in its near-term performance given the turbulence caused by the ongoing coronavirus ('COVID-19') pandemic.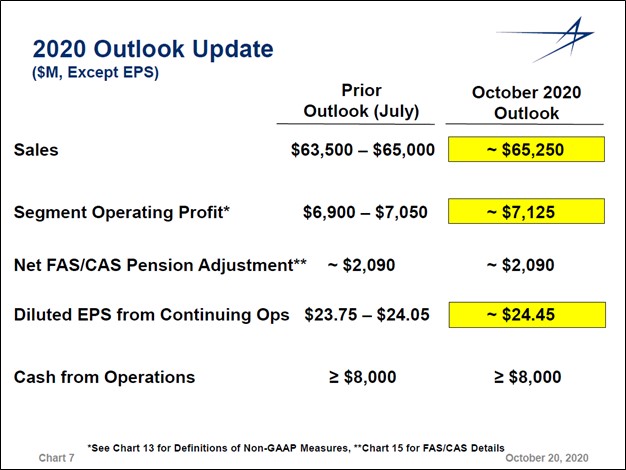 Image Shown: Lockheed Martin once again boosted its full-year guidance for fiscal 2020. Image Source: Lockheed Martin – Third Quarter of Fiscal 2020 IR Earnings Presentation
As it concerns Lockheed Martin's order backlog, which stood at $150.4 billion as of September 27, that was up marginally from the $150.3 billion backlog Lockheed Martin had as of June 28 and was up comfortably from the $144.0 billion backlog the firm had as of December 31. We appreciate Lockheed Martin's ability to secure new orders during these challenging times as that lends a tremendous amount of support to both its near- and long-term outlook.
Back in August, we wrote a note that highlighted one of Lockheed Martin's recent big wins that involved securing a $62.0 billion contract from the US Department of Defense ('DoD') covering 'Foreign Military Sales' of the F-16 aircraft (that article can be viewed here). Management had this to say on that contract during Lockheed Martin's latest earnings call:
"I'd like to highlight a few of our notable strategic achievements that demonstrate the solid demand for our signature platforms and their relevancy to next-generation war-fighting capabilities. In our Aeronautics business area, the Department of Defense announced a foreign military sale for a total of 90 new F-16 fighter aircraft to the countries of Taiwan and Morocco.
Aero received an award of nearly $5 billion, adding to recent orders from Bahrain, Slovakia and Bulgaria and bringing the F-16 backlog to nearly 130 jets. This 90-airplane award is part of a new $62 billion indefinite delivery, indefinite quantity, contract vehicle put in place to facilitate F-16 FMS sales to international customers, taking advantage of standardized contracting to expedite the process for future awards. And I can tell you, I flew a Block 70 last year and it is an awesome airplane." --- Jim Taiclet, CEO of Lockheed Martin
Lockheed Martin has been firing on all-cylinders of late. In our view, regardless of which side of the isle wins the upcoming US election, domestic defense spending will remain resilient going forward. The National Defense Authorization Act covering fiscal 2020 included a defense budget of ~$738 billion, up ~$21 billion from fiscal 2019 levels. Additionally, international defense spending is likely to remain strong as well going forward as geopolitical tensions are building worldwide. That will likely lead to rising sales of US arms to Western allies, given the numerous competitive advantages the US has in this arena (due in large part to the operational and technical prowess of top tier defense contractors like Lockheed Martin). The deal covering F-16s mentioned above highlights this dynamic in action.
Financial Update and Fiscal 2021 Guidance
During the first three quarters of fiscal 2020, Lockheed Martin generated a little less than $6.4 billion in net operating cash flow and spent a little more than $1.0 billion on its capital expenditures, allowing for over $5.3 billion in free cash flow. That easily covered $2.0 billion in dividend payments made during this period along with the $1.1 billion Lockheed Martin spent repurchasing its stock. Given that shares of LMT are trading decently below their fair value estimate of $432 per share as of this writing and were trading well below that level throughout the fiscal third quarter, we view share repurchases as a good use of capital.
On a side note, while Lockheed Martin's net operating cash flows were positively impacted by a $1.4 billion benefit from the CARES Act during the first three quarters of fiscal 2020, please keep in mind the firm also spent $1.8 billion on "accelerated payments to our suppliers" during this period according to management.
At the end of the fiscal third quarter, Lockheed Martin had $3.6 billion in cash and cash equivalents on hand versus $1.0 billion in short-term debt and $11.7 billion in long-term debt, good for a net debt load of $9.1 billion. The company's net debt load fell by just under $2.1 billion from the end of 2019 to the end of its last fiscal quarter, which we really appreciate. Management's fiscal prudence better positions Lockheed Martin to ride out the storm.
Shares of LMT yield ~2.8% on a forward-looking basis as of this writing after the firm boosted its quarterly dividend up to $2.60 per share in September. This marked the 19th consecutive year Lockheed Martin has increased its quarterly dividend according to management commentary during the firm's latest earnings call. The company also authorized an additional $1.3 billion in share repurchases in conjunction with the dividend increase, and at the time of the announcement, the firm had ~$3.0 billion in total remaining share repurchasing authority.
During Lockheed Martin's latest earnings call, management noted the firm intended to repurchase about $1.0 billion of its stock next fiscal year when providing preliminary guidance for fiscal 2021. Looking ahead, the company expects its strong financial and operational performance in fiscal 2020 will carry on into fiscal 2021. Even better, management forecasts that Lockheed Martin's 'Segment Operating Margin' will improve from 10.8% during the first three quarters of fiscal 2020 to 10.9%-11.1% in fiscal 2021.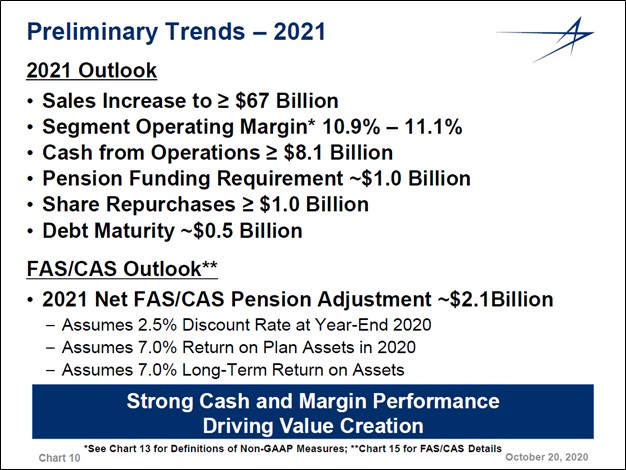 Image Shown: Lockheed Martin expects its strong performance to continue into fiscal 2021. Image Source: Lockheed Martin – Third Quarter of Fiscal 2020 IR Earnings Presentation
Concluding Thoughts
We continue to like shares of Lockheed Martin as a holding in the Dividend Growth Newsletter portfolio, and we view its deleveraging efforts quite favorably as that will positively impact its Dividend Cushion ratio (currently at 1.8) and Dividend Safety rating (current rated as "GOOD"). Furthermore, we view Lockheed Martin's dividend growth outlook as promising and the firm has a "GOOD" Dividend Growth rating. Though shares of LMT sold off modestly during normal trading hours on October 20, we remain confident in the company's ability to generate meaningful free cash flows in any environment.
-----
Prime Aerospace & Defense Industry – BA FLIR GD LMT ROC RTX
Conglomerates Industry – MMM DHR GE HON [UTX is now part of RTX]
Aerospace Suppliers Industry – ATRO HEI HXL TDY TXT SPR
Related: SPY, XAR, KTOS, HII, BAESY, LHX, CVU, KAMN, TDG, ETN, CW, DCO, DCI, EWT
-----
Valuentum members have access to our 16-page stock reports, Valuentum Buying Index ratings, Dividend Cushion ratios, fair value estimates and ranges, dividend reports and more. Not a member? Subscribe today. The first 14 days are free.
Callum Turcan does not own shares in any of the securities mentioned above. Lockheed Martin Corporation (LMT) is included in Valuentum's simulated Dividend Growth Newsletter portfolio. Some of the other companies written about in this article may be included in Valuentum's simulated newsletter portfolios. Contact Valuentum for more information about its editorial policies.