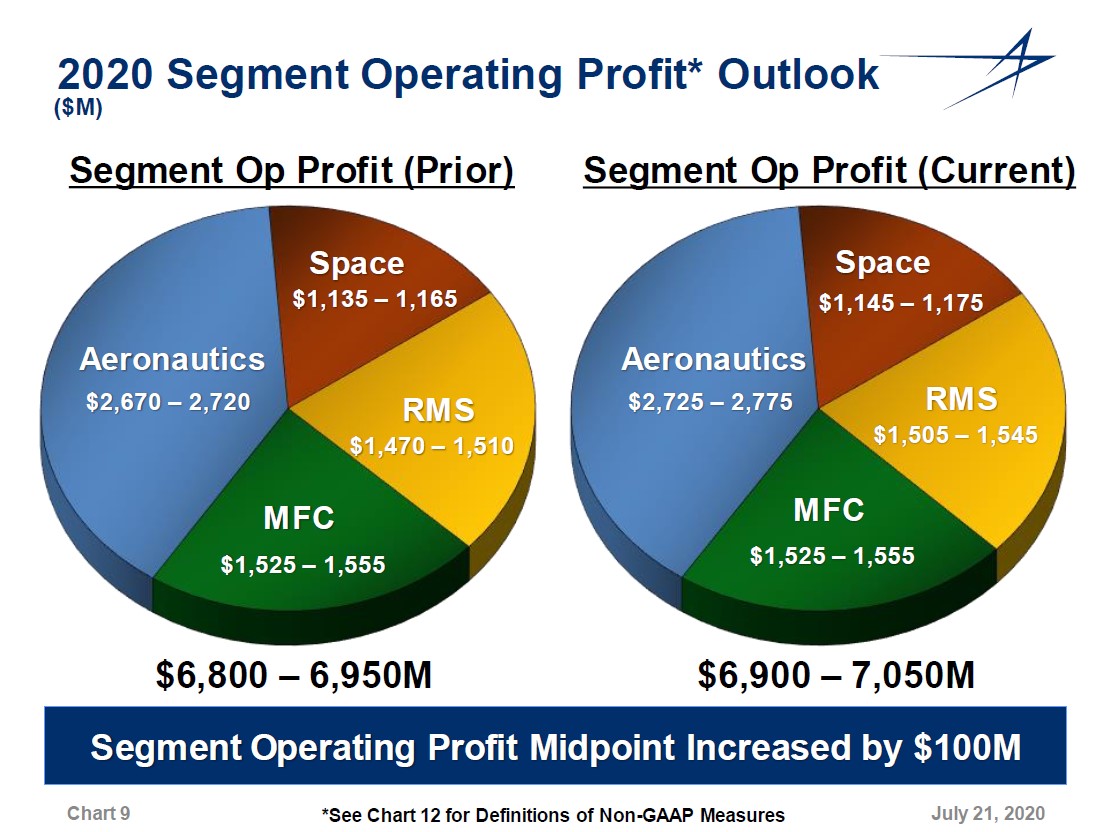 Image Shown: Lockheed Martin Corporation's 'Aeronautics' segment is its largest in terms of operating profit. Management boosted the firm's operating profit guidance for fiscal 2020 during Lockheed Martin's latest earnings report. Image Source: Lockheed Martin Corporation – Second Quarter of Fiscal 2020 IR Earnings Presentation
By Callum Turcan
On August 14, the US Department of Defense ('DoD') awarded Lockheed Martin Corporation (LMT) a ten-year $62.0 billion contract covering the sale of F-16 aircraft to overseas buyers. This is an "indefinite-delivery/indefinite-quantity ('IDIQ'), fixed-price-incentive contract" and it is possible the ultimate sales figure under this deal will be lower than $62.0 billion. In the press release announcing the contract, the DoD noted the initial delivery order covers 90 aircraft and that this portion of the deal was worth a bit over $4.9 billion. Most of the production work on the new jet fighters will be conducted in South Carolina and Texas.
Overview
These are classified as Foreign Military Sales ('FMS') and are highly regulated. Overseas buyers include Taiwan, which recently signed a deal to acquire F-16 jet fighters from Lockheed Martin. Over the past several years, Taiwan has stepped up investments in its defense capabilities as the island nation's geopolitical tensions with China continue to grow. For reference, China claims Taiwan as its own territory, while Taiwan is run by a pro-independence (from China) government (Taiwan's President Tsai Ing-wen seeks much stronger ties with the US to help assist the island nation's independence drive).
Lockheed Martin's ability to continue securing new projects highlights one of the key reasons why this is our favorite defense contractor. We include Lockheed Martin as a holding in our Dividend Growth Newsletter portfolio, and shares of LMT yield ~2.5% as of this writing. Our fair value estimate sits at $432 per share of LMT, significantly above where Lockheed Martin's shares are trading at as of this writing.
From December 31, 2019 to June 28, 2020, Lockheed Martin's total project backlog grew from $144.0 billion to $150.3 billion. Rising orders at its 'Aeronautics' segment were partially responsible (the firm's Aeronautics backlog grew by $0.6 billion during this period), even though Lockheed Martin delivered 47 F-35 aircraft during the first half of fiscal 2020 (period ended June 28, 2020). Strength at Lockheed Martin's F-16 and F-35 offerings is a welcome sign, and highlights the resilience of the defense industry during tough times such as these, keeping the coronavirus ('COVID-19') pandemic in mind.
Concluding Thoughts
We continue to like Lockheed Martin as a holding in our Dividend Growth Newsletter portfolio. So far, Lockheed Martin's production capabilities have held up well in the face of the ongoing COVID-19 pandemic, all things considered. That supports its ability to continue generating meaningful cash flows during these harrowing times. Members looking to read more about the firm should check out our thoughts on Lockheed Martin's fiscal second quarter earnings by clicking this link here.
-----
Prime Aerospace & Defense Industry – BA FLIR GD LMT ROC RTX
Conglomerates Industry – MMM DHR GE HON [UTX is now part of RTX]
Aerospace Suppliers Industry – ATRO HEI HXL TDY TXT SPR
Related: SPY, XAR, KTOS, HII, BAESY, LHX, CVU, KAMN, TDG, ETN, CW, DCO, DCI, EWT
-----
Valuentum members have access to our 16-page stock reports, Valuentum Buying Index ratings, Dividend Cushion ratios, fair value estimates and ranges, dividend reports and more. Not a member? Subscribe today. The first 14 days are free.
Callum Turcan does not own shares in any of the securities mentioned above. Lockheed Martin Corporation (LMT) is included in Valuentum's simulated Dividend Growth Newsletter portfolio. Some of the other companies written about in this article may be included in Valuentum's simulated newsletter portfolios. Contact Valuentum for more information about its editorial policies.