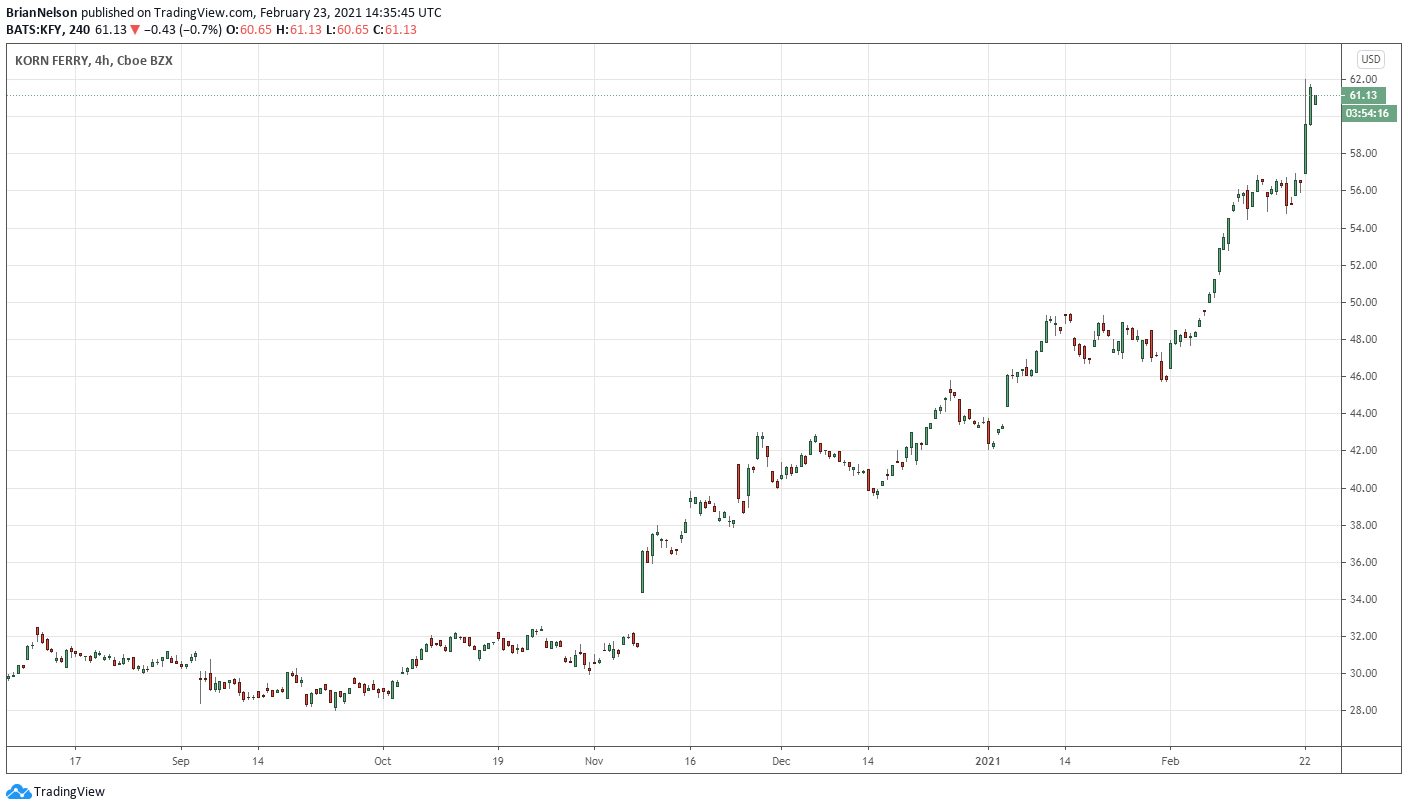 Image Shown: Korn Ferry's stock has surged since it registered a 9 on the Valuentum Buying Index. The company is also included as a holding in the Best Ideas Newsletter portfolio.
Brian Nelson, CFA
During the trading session Monday, February 22, Best Ideas Newsletter portfolio holding and 9-rated on the Valuentum Buying Index, Korn Ferry (KFY) jumped nearly 9% thanks to better-than-expected fiscal third-quarter 2021 results.
Korn Ferry's fee revenue advanced 9% on a sequential basis as the global consulting firm hauled in record operating income of $65.2 million, record adjusted EBITDA of $96.7 million, and record net income of $51.3 billion during the three months ended January 31, 2021. Here's what CEO Gary D. Burnison had to say in the press release:
In a post-pandemic world, there will continue to be heightened demand for transformational consulting skills and expertise. The steps we have taken to evolve our business into a more efficient, profitable, growth-oriented organization have positioned Korn Ferry to provide our clients with unparalleled expertise, data, and innovation support. With people at the center of our strategy, we are achieving our growth objectives, delivering long-term value creation to shareholders and establishing Korn Ferry as the preeminent global organizational consultancy.
Korn Ferry's fiscal year-to-date performance has suffered as a result of the COVID-19 outbreak, but its earnings power shined through in the fiscal third-quarter 2021 report. Diluted earnings per share ($0.94) and adjusted diluted earnings per share ($0.95) during the quarter were the highest ever. The company's operating margin came in at 13.7% during the fiscal third-quarter 2021 period, more than doubling the mark from the year-ago period.
The changing needs of organizations in a post-COVID world (accelerated digital transformations, social change, and increased emphasis on ESG issues) coupled with the cost-structure adjustments pursued during the past few quarters should allow Korn Ferry to continue to post impressive results. For the fiscal fourth quarter 2021, fee revenue is expected in the range of $475-$500 million, while diluted earnings per share is targeted in the range of $0.95-$1.05 per share.
The bottom-line performance for the current quarter may set another record high for the company, and the levels look sustainable given expectations for heightened levels of profitability. Here's what management had to say on the fiscal third-quarter 2021 conference call:
If you go back prior to the pandemic, we were essentially a $2 billion business with an adjusted EBITDA margin of around 15% to 16%. As we return to the, pre pandemic levels of fee revenue, our business will benefit from previously mentioned structural changes, and we're going to add around 200 basis points to our adjusted EBITDA margin. And as a result, we expect near term consolidated margins beyond the fourth quarter to range from 17% to 18%.
Concluding Thoughts
On December 11, 2020, we raised our fair value estimate of Korn Ferry to $66 per share and assigned it a 9 on the Valuentum Buying Index, one of the highest ratings on our system. Shares at the time were trading at ~$41 each. The company's equity has surged in the past few weeks, with shares now changing hands at $60+ each. We still believe Korn Ferry's stock has room to run higher, and the company will remain a holding in the Best Ideas Newsletter portfolio.
Korn Ferry's 16-page Stock Report (pdf) >>
Tickerized for KFY, ADP, DLX, EFX, JOBS, MAN, NSP, PAYX, RHI, HURN
It's Here!
-----
---
Valuentum members have access to our 16-page stock reports, Valuentum Buying Index ratings, Dividend Cushion ratios, fair value estimates and ranges, dividend reports and more. Not a member?

Subscribe today

. The first 14 days are free.
Brian Nelson owns shares in SPY, SCHG, QQQ, and IWM. Some of the other securities written about in this article may be included in Valuentum's simulated newsletter portfolios. Contact Valuentum for more information about its editorial policies.