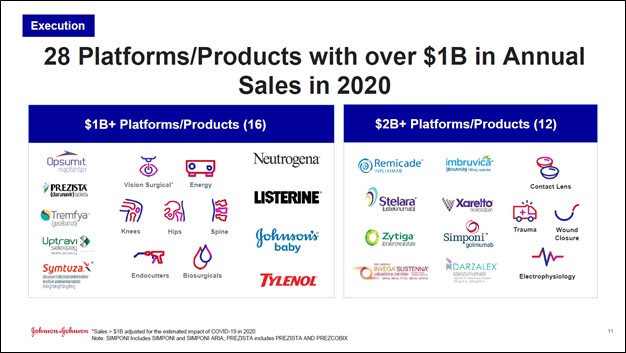 Image Shown: We include Johnson & Johnson as an idea in both the Best Ideas Newsletter and Dividend Growth Newsletter portfolios. The health care giant is home to over two dozen 'platforms/products' that generate $1.0+ billion in annual sales, as you can see in the above graphic. Recently, Johnson & Johnson's COVID-19 vaccine received emergency use authorization from the US CDC, which will provide public health authorities with another arrow in their quiver as it relates to bringing an end to the public health crisis. Image Source: Johnson & Johnson – Fourth Quarter of 2020 IR Earnings Presentation
By Callum Turcan
At the end of February 2021, the US Centers for Disease Control and Prevention ('CDC') gave emergency use authorization for the single-shot vaccine developed by Janssen, a subsidiary of Johnson & Johnson (JNJ), to inoculate patients aged 18 years and older from the coronavirus ('COVID-19'). We have been covering this story for some time (here are the links to some of those articles I, II, III, IV, V) and are delighted to see that Johnson & Johnson's COVID-19 vaccine crossed the finish line. Having another safe and viable COVID-19 vaccine at their disposal should go a long way in assisting global health authorities in eventually bringing the pandemic under control. We covered the interim safety and efficacy data from Johnson & Johnson's Phase 3 COVID-19 vaccine clinical trial in this article here.
Johnson & Johnson is included as an idea in both the Best Ideas Newsletter and Dividend Growth Newsletter portfolios, and we continue to like exposure to the name. The top end of our fair value estimate for JNJ sits at $172 per share, and we are big fans of its promising dividend growth trajectory. Shares of JNJ yield ~2.6% as of this writing.
COVID-19 Vaccine Update
In terms of distribution activities, Johnson & Johnson's COVID-19 vaccine has some advantages over the other COVID-19 vaccines that have received emergency use authorization from the US CDC--such as the vaccines developed by Moderna Inc (MRNA) and the partnership between Pfizer Inc (PFE) and BioNTech SE (BNTX). The vaccines developed by Moderna and Pfizer/BioNTech require a two-dose regimen and need to be stored at ultra-low temperatures (meaning specialized freezers that are not commonly found outside of the pharmaceutical industry are required), whereas Johnson & Johnson's vaccine only requires a single-dose and can be stored in freezers commonly found at pharmacies, health clinics, and other modern health care establishments.
Efforts are ongoing to see if some of the two-dose COVID-19 vaccines that have been approved for emergency use would be effective with just one dose, and whether those vaccines could be stored in freezers that are more commonly found at health care facilities. We will see how things play out but as of right now it seems J&J's vaccine may be the easiest route to meet the heightened need. Here is what Johnson & Johnson had to say in a February 28 press release (moderately edited, emphasis added):
Johnson & Johnson [referred to as The Company] today announced that the U.S. Centers for Disease Control and Prevention's (CDC) Advisory Committee on Immunization Practices (ACIP) has recommended the first single-shot COVID-19 vaccine, developed by the Janssen Pharmaceutical Companies of Johnson & Johnson, for individuals 18 years of age and older under the Emergency Use Authorization (EUA) issued by the U.S. Food and Drug Administration (FDA)…
Johnson & Johnson is committed to making its COVID-19 vaccine available on a not-for-profit basis for emergency pandemic use. The Company has begun shipping its COVID-19 vaccine and expects to deliver enough single-shot vaccines by the end of March to enable the full vaccination of more than 20 million people in the U.S. The Company plans to deliver 100 million single-shot vaccines to the U.S. during the first half of 2021. The U.S. government will manage allocation and distribution of the vaccine in the U.S.
Johnson & Johnson also recently announced its submission of a European Conditional Marketing Authorisation Application to the European Medicines Agency as well as its filing for an Emergency Use Listing with the World Health Organization for its COVID-19 vaccine candidate. In addition, rolling submissions for the single-dose COVID-19 vaccine candidate have been initiated in several countries worldwide…
The Johnson & Johnson COVID-19 single-dose vaccine is compatible with standard vaccine storage and distribution channels with ease of delivery to remote areas. The vaccine is estimated to remain stable for two years at -4°F (-20°C), and a maximum of three months at routine refrigeration at temperatures of 36-46°F (2 to 8°C). The Company will ship the vaccine using the same cold chain technologies it uses today to transport treatments for cancer, immunological disorders and other medicines. The COVID-19 vaccine should not be re-frozen if distributed at temperatures of 36°F–46°F (2°-8°C).
We are excited by this news, though we will stress that Johnson & Johnson plans to offer the vaccine on a not-for-profit basis. However, we expect the firm's brand and corporate image to improve worldwide as vaccine manufacturing and distribution activities scale up, assuming everything goes as planned. This may implicitly help its view in the courts with any outstanding litigation as the company works to save thousands of lives from COVID-19.
Vaccine Manufacturing Update
To speed up the production of its COVID-19 vaccine, Johnson & Johnson recently partnered up with Merck & Co Inc (MRK). Merck will "support the manufacturing and supply of Johnson & Johnson's SARS-CoV-2/COVID-19 vaccine and use its facilities in the United States to produce drug substance, formulate and fill vials of Johnson & Johnson's vaccine." Part of this strategy involves the Biomedical Advanced Research and Development Authority ('BARDA'), which is within the US Department of Health and Human Services ('HHS'), providing up to $268.8 million in funding to Merck so the company can "adapt and make available a number of existing manufacturing facilities for the production of SARS-CoV-2/COVID-19 vaccines and medicines." Johnson & Johnson started scaling up its vaccine manufacturing capacity (assisted by partnerships) last year, though one of its partners has run into some trouble recently.
Johnson & Johnson has an existing manufacturing services agreement with Emergent BioSolutions Inc (EBS) that was announced in 2020 and is set to run for several years. However, recent reporting by the NYT (link here) has placed an unfavorable spotlight on Emergent BioSolutions as it concerns its past relationship with the US federal government and the government's reserve of medical equipment. Given that the US federal government has played and will continue to play an outsized role in the development and distribution of COVID-19 vaccines (via major financial contributions and commitments made to various entities through Operations Warp Speed and other initiatives), Johnson & Johnson made the right call bringing another manufacturing partner onboard, in our view.
Financial Update
In late February 2021, Johnson & Johnson published its 2020 Annual Report and we want to highlight some of the firm's strong financial metrics. At the end of last year, the company had roughly $25.2 billion in cash, cash equivalents and marketable securities on hand combined. Stacked up against $2.6 billion in short-term debt and $32.6 billion in long-term debt, Johnson & Johnson's net debt load of ~$10.1 billion at the end of 2020 is manageable given its impressive free cash flow generating abilities. The company had ample liquidity on hand at the end of last year even after making a significant acquisition that we will cover in just a moment.
Johnson & Johnson generated $20.2 billion in free cash flow in 2020, up from $19.9 billion in 2019. The company spent $10.5 billion covering its dividend obligations last year and another $3.2 billion buying back its stock. Both activities were fully covered by its free cash flows last year.
Please note Johnson & Johnson acquired Momenta Pharmaceuticals through an all-cash deal worth roughly $6.1 billion (net of cash acquired) that closed in October 2020. We covered the reasoning behind that deal here. Considering Johnson & Johnson spent roughly twice as much buying back its stock in 2019 than it did in 2020, it appears that management scaled back share the pace of its share repurchases to help fund this acquisition while maintaining financial strength.
Concluding Thoughts
We are pleased that Johnson & Johnson's COVID-19 vaccine development efforts were a success. Johnson & Johnson is a great company with a resilient business model and stellar cash flow profile. Elective surgery activities are beginning to recover worldwide as public health authorities are beginning to get a handle on the pandemic, which in turn should enable Johnson & Johnson's enormous medical devices business to post a sustained recovery (which underpins the company's promising cash flow growth outlook). Members interested in reading more about our thoughts on Johnson & Johnson are encouraged to check out this article here.
-----
Health Care Bellwethers Industry - JNJ, WBA, CVS, ISRG, MDT, ZBH, BAX, BDX, BSX, MTD, SYK, BIIB, GILD, ABT, ABBV, LLY, AMGN, BMY, MRK, PFE, VRTX, ZTS, REGN, UNH
Related: BNTX, EBS, MRNA, XLV, MRK
-----
Valuentum members have access to our 16-page stock reports, Valuentum Buying Index ratings, Dividend Cushion ratios, fair value estimates and ranges, dividend reports and more. Not a member? Subscribe today. The first 14 days are free.
Callum Turcan does not own shares in any of the securities mentioned above. Johnson & Johnson (JNJ) and Health Care Select Sector SDPR Fund (XLV) are both included in Valuentum's simulated Best Ideas Newsletter portfolio and simulated Dividend Growth Newsletter portfolio. Vertex Pharmaceuticals Inc (VRTX) is included in Valuentum's simulated Best Ideas Newsletter portfolio. UnitedHealth Group Inc (UNH) is included in Valuentum's simulated Dividend Growth Newsletter portfolio. Vanguard Consumer Staples ETF (VDC) is included in Valuentum's simulated High Yield Dividend Newsletter portfolio. Some of the other companies written about in this article may be included in Valuentum's simulated newsletter portfolios. Contact Valuentum for more information about its editorial policies.