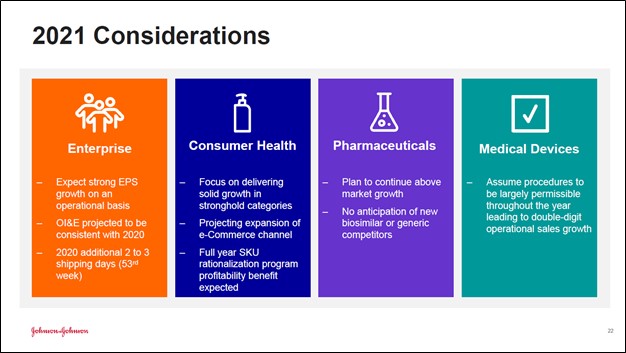 Image Shown: An overview of Johnson & Johnson's expectations for fiscal 2021 provided during its second quarter of fiscal 2020 earnings report. We continue to like shares of Johnson & Johnson as a top-weighted holding in our Dividend Growth Newsletter portfolio. Image Source: Johnson & Johnson – Second Quarter of Fiscal 2020 Earnings IR Presentation
By Callum Turcan
Johnson & Johnson (JNJ) is a top-weighted holding in our Dividend Growth Newsletter portfolio, and we continue to be big fans of the healthcare and consumer staples giant. The company recently published some key updates that we wanted to draw our members' attention towards. Before we begin, please note that Johnson & Johnson is near the front of the pack when it comes to developing a potential coronavirus ('COVID-19') vaccine. Should Johnson & Johnson prove successful, global health authorities would be better able to combat the severity of the COVID-19 pandemic.
COVID-19 Vaccine Update
On September 23, Johnson & Johnson announced it had initiated Phase 3 clinical trials concerning its COVID-19 vaccine candidate JNJ-78436735. This trial is dubbed the "ENSEMBLE trial" and builds on the success of Johnson & Johnson's Phase 1/2a clinical study. In that study, Johnson & Johnson's COVID-19 vaccine candidate "demonstrated that the safety profile and immunogenicity after a single vaccination were supportive of further development" leading the firm to launch a much bigger study. While the Phase 1/2a study had roughly 1,000 patients, the ENSEMBLE study will have roughly 60,000 patients (aged 18+) across three continents.
The ENSEMBLE trial "will study the safety and efficacy of a single vaccine dose versus placebo in preventing COVID-19" and if successful, could allow for Johnson & Johnson to make the COVID-19 vaccine available for emergency use by early next year. Please note Johnson & Johnson has been scaling up its vaccine manufacturing capabilities concurrently with its clinical trials to significantly speed up the development process (which we covered here). The goal is to make one billion doses of the potential COVID-19 vaccine available every year, assuming all goes as planned and the vaccine candidate is both safe and effective (which we covered here).
We are cautiously optimistic that out of the ~200 COVID-19 vaccines currently under development at various stages (clinical and pre-clinical vaccine candidates), at least one will make it over the finish line. Johnson & Johnson's JNJ-78436735 candidate may just be the one, though nothing is for certain at this point. Such a development would likely not generate needle moving revenue for Johnson & Johnson as the COVID-19 vaccine is expected to be sold on a not-for-profit basis, but it could improve the company's brand image with both consumers and healthcare providers while also earnings the firm some goodwill with governments worldwide.
Other News
Beyond its COVID-19 vaccine program, Johnson & Johnson also noted on September 23 that its 'Pharmaceutical' and 'Medical Devices' business operating segments were not experiencing any significant supply disruptions at this time. This is encouraging as Johnson & Johnson boosted its full year guidance for fiscal 2020 back during its fiscal second quarter earnings report, which we covered in this article here.
Johnson & Johnson raised its adjusted sales and adjusted EPS forecast for fiscal 2020 (both are non-GAAP metrics) during its fiscal second quarter earnings report as the outlook at its Medical Devices unit had improved significantly due to a rebound in elective medical procedures, procedures that had been delayed due to COVID-19. We will get a better idea on what that rebound ultimately looks like when Johnson & Johnson reports its fiscal third quarter earnings on October 13, 2020, before the bell. As it concerns Johnson & Johnson's Pharmaceutical unit, that division has performed relatively well during the initial stages of the pandemic (posting year-over-year sales growth in both the first and second quarters of fiscal 2020).
However, Johnson & Johnson also noted on September 23 that its 'Consumer' business operating segment was "experiencing increased consumer-driven demand with certain products and markets, which we are currently meeting in a controlled manner" and that the company was "taking all possible measures to maximize product availability." That appears to indicate Johnson & Johnson may be having trouble keeping up with brisk demand, though that is not the worst problem to have during harrowing times such as these. We are confident Johnson & Johnson will be able to expand its production capabilities and/or fix any supply chain issues it is having at this segment within a reasonable timeframe.
Concluding Thoughts
As of this writing, shares of JNJ yield ~2.8% and we see plenty of room for future payout growth. We give Johnson & Johnson an "EXCELLENT" Dividend Growth rating. The company moderately raised its quarterly payout earlier this year (from $0.95 per share to $1.01 per share), and we appreciate management's commitment to rewarding shareholders. Johnson & Johnson's Dividend Cushion ratio sits at 2.1, earning the firm a "GOOD" Dividend Safety rating. Members looking to read more about our thoughts on Johnson & Johnson should check out our commentary covering its pending acquisition of Momenta Pharmaceuticals (MNTA) by clicking this link here.
-----
Medical Devices Industry – EW ISRG MDT VAR WAT ZBH
Health Care Services Industry – DVA EHC HCA UNH UHS
Pharmaceuticals (Big) Industry – ABT ABBV AMGN AZN BMY LLY GSK MRK NVS NVO PFE SNY
Pharmaceuticals (Biotech/Generic) Industry – ALXN AGN BHC BIIB BMRN GILD MYL REGN TEVA VRTX ZTS
Household Products Industry – CHD CLX CL ENR HELE JNJ KMB PG
Related: SPY, XLV, STT, MNK, ENDP, CAH, MCK, ABC, WMT, RAD, CVS, IBB, MCO
Related (vaccine/treatment): MNTA, MRNA, INO, NVAX, BNTX, APDN, VXRT, TNXP, EBS, PFE, JNJ, DVAX, IMV, IBIO, REGN, SNY, GSK, ABBV, TAK, HTBX, SNGX, PDSB, SRNE
-----
Valuentum members have access to our 16-page stock reports, Valuentum Buying Index ratings, Dividend Cushion ratios, fair value estimates and ranges, dividend reports and more. Not a member? Subscribe today. The first 14 days are free.
Callum Turcan does not own shares in any of the securities mentioned above. The Health Care Select Sector SPDR ETF (XLV) and Johnson & Johnson (JNJ) are both included in Valuentum's simulated Best Ideas Newsletter and Dividend Growth Newsletter portfolios. Vanguard Consumer Staples ETF (VDC) is included in Valuentum's simulated High Yield Dividend Newsletter portfolio. Some of the other companies written about in this article may be included in Valuentum's simulated newsletter portfolios. Contact Valuentum for more information about its editorial policies.