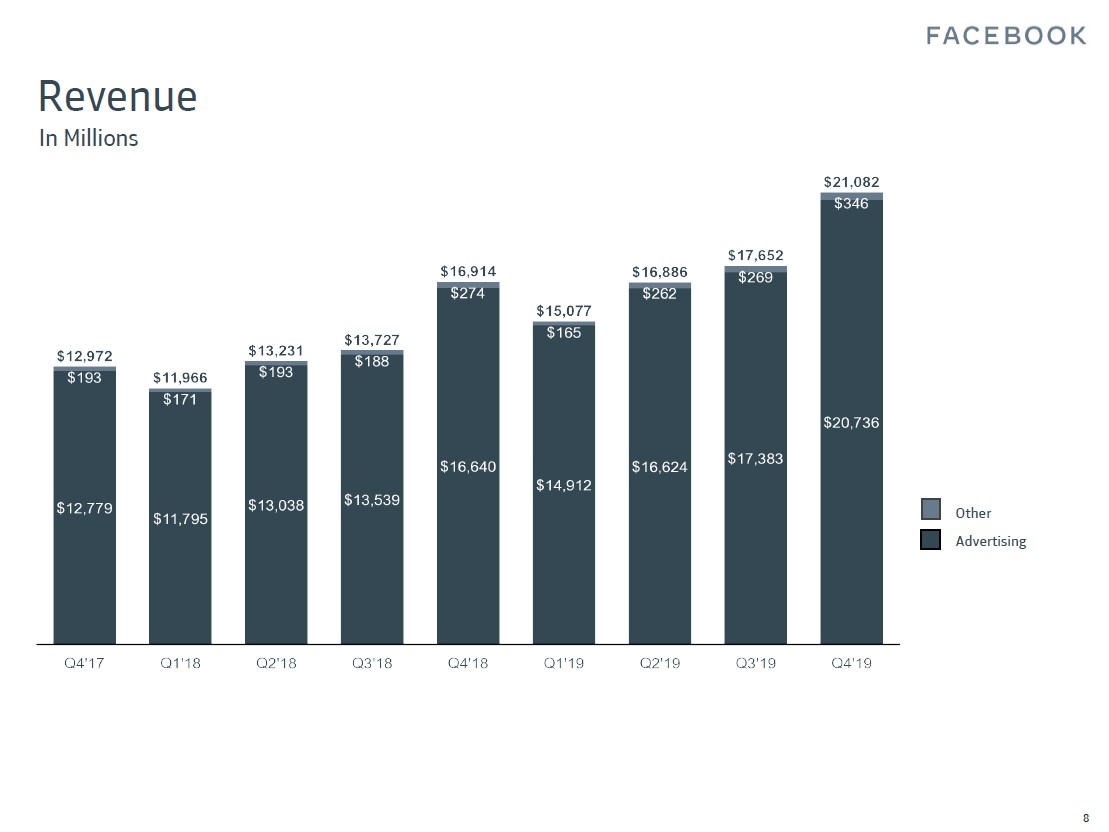 Image Shown: Facebook Inc's top-line has experienced meaningful growth in recent years. Image Source: Facebook Inc – Fourth Quarter and Full-Year 2019 Earnings IR Presentation
By Callum Turcan
One of our favorite Best Ideas Newsletter portfolio holdings is Facebook Inc (FB), and we appreciate its pristine balance sheet (plenty of cash on hand and no debt on the books as of the end of 2019), promising growth trajectory (short-term headwinds aside, digital advertising is a secular growth market and likely to bounce back strongly once the pandemic subsides), and we would like to highlight that shares of FB trade at a meaningful discount to our fair value estimate (which sits at $234 per share) as of this writing. Recently, several things have happened that supports our thesis as to why Facebook is a stellar company which will cover in this note. The ongoing coronavirus ('COVID-19') pandemic will depress Facebook's near-term performance, but the firm's medium- and long-term outlook remains very promising.
At Least One Legal Hurdle Now in the Rearview Mirror
In April 2020, a federal court approved Facebook's $5.0 billion settlement with the US Federal Trade Commission ('FTC') over user privacy concerns related to the now-defunct Cambridge Analytica consultancy firm. As part of the deal, reached in July 2019, Facebook agreed to create an independent privacy committee and to implement more privacy protections. However, the closing of the settlement was delayed as the federal judge allowed for the hearing of detailed arguments from interested parties as it concerns the agreement, according to the WSJ.
Putting this saga behind the firm will better allow Facebook to pivot towards its future growth opportunities. Facebook has already booked a large charge related to this legal settlement, and at the end of 2019, the social media giant had $19.1 billion in cash & cash equivalents plus $35.8 billion in marketable securities on hand along with no debt, giving it the means to cover any potential legal liabilities with relative ease.
Moving Deeper into India
Facebook's Indian operations represent a major growth opportunity for the firm. The sub-continent's population is estimated to be home to around 1.4 billion people; however, only a little over the third of the population had access to the Internet in 2017 (according to at least one market research service). As India's economy continues to develop, the nation's Internet penetration rate should grow substantially over the coming decades.
Reliance Industries Limited is a massive Indian conglomerate which has been coming under pressure from the downturn in global economic activity, and more specifically, heavily subdued raw energy resource pricing of late. To raise funds to pay down debt and for other endeavors, Reliance Industries reportedly sold off a 9.99% stake in the telecommunications and digital platform company Reliance Jio (a subsidiary of Reliance Industries) to Facebook for ~$5.7 billion (in US dollars) in a deal announced in late-April 2020. For reference, this is Facebook's biggest deal since buying WhatsApp back in 2014 (in a cash-and-stock deal worth over $21.0 billion at the time of closing given that shares of FB rose materially between the time of the announcement and the closing of the deal).
There are several things Facebook is acquiring through its stake in Reliance Jio. For starters, beyond the telecommunications operations (including 4G services) which cater to over 370 million subscribers, Reliance Jio owns express grocery delivery business JioMart, an e-commerce platform that caters to small mom-and-pop businesses. While JioMart has yet to launch across India, with backing from Facebook, the e-commerce company is now in a much better position when it comes to competing with the likes of Amazon Inc (AMZN) and Flipkart, which is backed by Walmart Inc (WMT). In theory, there's room for Facebook to integrate its WhatsApp Business offerings with JioMart as it relates to payment processing (currently awaiting regulatory approval in India), communicating with customers (such as automated replies), and cataloging products. Here's a key excerpt from Facebook's CEO, Mark Zuckerberg, during the firm's fourth quarter of 2019 quarterly conference call (emphasis added):
"Commerce and payments is another area that will be important for the private social platform but also across all of our apps, including Facebook and Instagram. Our goal here is to make sure every individual small business entrepreneur out there has the same opportunity and access to the same type of sophisticated tools that historically only the big companies have had access to. That's what we stand for -- putting power in individuals' hands.
One example we've been working on is WhatsApp Payments. You'll be able to send money as quickly and easily as sending a photo. We got approval to test this with a million people in India back in 2018, and when so many of the people kept using it week after week, we knew it was going to be big when we get to launch. I'm really excited about this and I expect this to start rolling this out in a number of countries and for us to make a lot of progress here in the next six months."
Additionally, here's a comment from management made during Facebook's follow-up conference call covering its fourth quarter of 2019 earnings report (emphasis added):
"WhatsApp payments has been in a test mode in India for most of 2019. And we've gotten good feedback on that product from users who have used it. And we're working towards getting that unblocked for a larger expansion in India. And we're also looking to bring payments to a number of other countries that are significant for WhatsApp. The potential revenue and fees from that are quite small. So we're not really doing this as a revenue opportunity. It's really about giving people and businesses the ability to send and receive money to one another as easier and securely as they send a message. And so we think this is just an important part of empowering people and businesses with the tools they need to enable commerce." --- Dave Wehner, CFO of Facebook
As it relates to finding a local partner, Reliance Industries is one of India's largest companies and the conglomerate's Chairman, Mukesh Ambani, is India's wealthiest man and reportedly he has a good relationship with India's ruling Bharatiya Janata Party ('BJP'). Indian Prime Minister Narendra Modi (a long-time member of the BJP) launched his "Make in India" program a few years ago as a key part of his political platform, and the nation's regulators remain wary of foreign investment/control in various aspects of the sub-continent's economy. By teaming up with a very well-established player in the region, there is conceivably plenty of room for Facebook to assist in developing India's economy by joining forces with Reliance Jio and Reliance Industries. More broadly, to assist in a way that will not run afoul of regulators.
Furthermore, with additional funds, Reliance Jio will be better-positioned to invest in telecommunications infrastructure with an eye towards the eventual rollout of 5G, keeping the need to expand Internet services to the entire Indian populace in mind. Facebook's large net cash position makes acquiring the near-10% equity stake in Reliance Jio quite feasible, and highlights the value of having net cash positions (i.e. net cash positions gives firms the ability to capitalize on opportunities when they arise, such as Reliance Industries' needing to pare down its debt load and Facebook's desire to become a bigger player in India's economy).
Launching Messenger Rooms
The success of live video communications services such as Apple Inc's (AAPL) FaceTime, Zoom Video Communications Inc (ZM) and Microsoft Corporation's (MSFT) Skype offering prompted Facebook to speed up the launch of Messenger Rooms (announced in late-April), another live video communication service that's heavily integrated with Facebook's existing offerings (such as Facebook Dating). Non-Facebook users can reportedly still use the service, which will be able to accommodate up to 50 users at a time. Facebook plans to build off the success of its existing social media and communications services to drive up the potential usage of Messenger Rooms, which will be rolled out over the coming weeks. Moving into the live video communications space should help Facebook maintain its dominant status as one of the social media and digital advertising giants of the world.
Concluding Thoughts
We continue to like Facebook as a top holding in our Best Ideas Newsletter portfolio, and we view recent events as solidifying our thesis towards the name. On April 29, Facebook plans to release its first quarter earnings for 2020 after the market closes, and we will have more to say then as new information becomes available. Expect Facebook to provide more details on its ambitions in India.
Software Industry – ADBE ADSK EBIX INTU MSFT ORCL CRM
Internet Content & Services Industry – GOOG GOOGL BIDU FB JD TECHY TWTR
Internet Content and Catalog Retail Industry – BABA AMZN BKNG EBAY EXPE GRPN IAC OSTK QRTEA STMP
Related: AAPL, SOCL, WMT, ZM
-----
Valuentum members have access to our 16-page stock reports, Valuentum Buying Index ratings, Dividend Cushion ratios, fair value estimates and ranges, dividend reports and more. Not a member? Subscribe today. The first 14 days are free.
Callum Turcan does not own shares in any of the securities mentioned above. Oracle Corporation (ORCL) is included in Valuentum's simulated Dividend Growth Newsletter portfolio. Alphabet Inc (GOOG) Class C shares and Facebook Inc (FB) are both included in Valuentum's simulated Best Ideas Newsletter portfolio. Some of the other companies written about in this article may be included in Valuentum's simulated newsletter portfolios. Contact Valuentum for more information about its editorial policies.