By Brian Nelson, CFA
We released a few preliminary thoughts on second quarter earnings in our note here, but we wanted to elaborate on a few new reports, too. Lockheed Martin (LMT) is included in the Dividend Growth Newsletter portfolio (login required), while Intuitive Surgical (ISRG) was highlighted as a COVID-19 play during the March swoon. Coca-Cola (KO) remains an excellent bellwether on the global economy, while Philip Morris (PM) remains a holding in the High Yield Dividend Newsletter portfolio (subscribe). Let's cover the second quarter reports from these companies in this note.
Lockheed Martin Achieves Record Backlog
Things are looking good for Dividend Growth Newsletter portfolio holding Lockheed Martin. The company's second-quarter results, released July 21, showed the defense contractor achieved a record backlog north of $150 billion, while it raised its outlook for "all financial metrics." Diluted earnings per share for 2020 is now targeted in the range of $23.75-$24.05, up from $23.65-$23.95 per share, while cash flow from operations is expected to be north of $8 billion, up from $7.6 billion. We're sticking with Lockheed in the Dividend Growth Newsletter portfolio as geopolitical risks have not gone away. Shares popped 5% higher during the trading session July 22.
Intuitive Surgical Increases Installed Base
Intuitive Surgical's shares have advanced more than 70% since it was highlighted as one of the 'Top 10 Ideas for Consideration Amid COVID-19' during the March swoon. We're huge fans of the company's technology and its razor-razor blade model, and while the pace of growth slowed during its second quarter, results released July 21, the company still grew its da Vinci Surgical Systems installed base nicely to 5,764 (up 9% on a year-over-year basis). The revolutionary company noted that it is navigating an environment of procedural postponements, but we would expect fundamental performance to bounce back in a big way once pent-up demand is able to be satisfied. The firm ended the second quarter with $6.1 billion in cash and cash equivalents.
Coca-Cola Supported By Strong Brand Name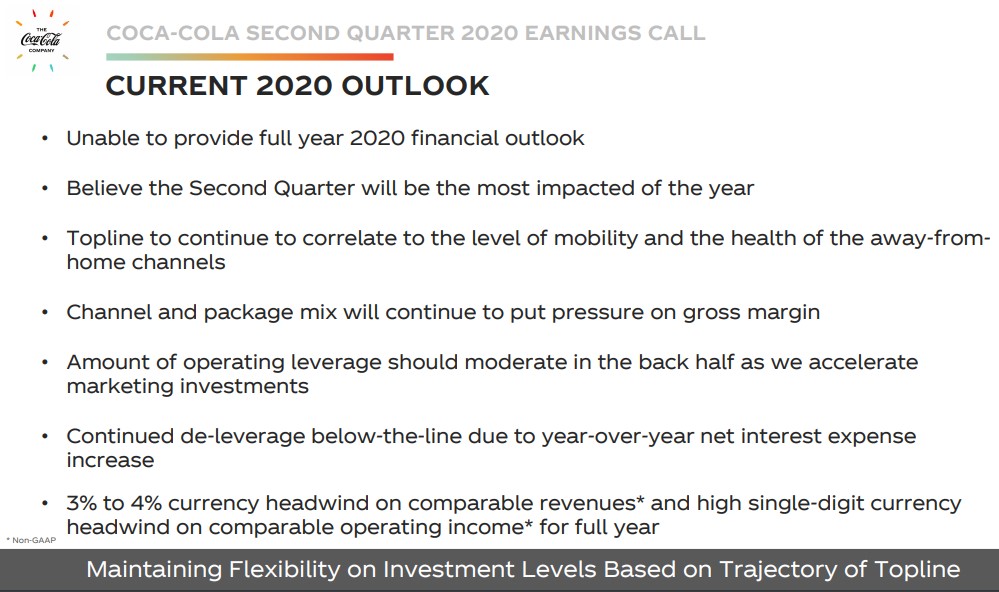 Image Source: As with many companies these days, Coca-Cola pulled its 2020 outlook due to uncertainties surrounding COVID-19. Second Quarter 2020 Earnings Call.
Coca-Cola's shares look like they want to bounce back technically, but the company's fundamentals, as reported during its second quarter, results released July 21, left a lot to be desired. Organic revenue fell 26% in the period, causing operating income to fall 34%. Management noted that the second quarter would be the most challenging of the year, but we were a bit surprised at the magnitude of the declines in the quarter for this steady-eddy bellwether. Year-to-date cash flow from operations fell 38%, while non-GAAP free cash flow was 40% lower. Without a doubt, Coca-Cola is a fantastic company, and we expect it to bounce back nicely, but we're just not interested in shares. The company earned $2.07 in fiscal 2019, meaning the firm trades at 23 times prior-peak earnings, while currently holding a rather large net debt position (~$27.4 billion at the end of June).
Better Relative Visibility at Philip Morris
Philip Morris remains a holding in the High Yield Dividend Newsletter portfolio, and the tobacco giant put up better-than-expected second-quarter results July 21. The company continues to face headwinds with respect to declining cigarette volumes, but it did gain share in non-US IQOS markets, which we view as positive for long-term positioning. Through the first six months of 2020, Philip Morris managed to grow operating income more than 11%, excluding currency fluctuations thanks to 2.3 percentage points of expansion in its adjusted operating margin. The firm is now targeting adjusted earnings per share in the range of $5.23-$5.38 for 2020, as it ended the second quarter with $4.2 billion in cash and cash equivalents. We continue to like the name. Shares yield over 6% at the time of this writing.
Aerospace & Defense - Prime: BA, FLIR, GD, LMT, NOC, RTX
Medical Devices: EW, ISRG, MDT, VAR, WAT, ZBH
Beverages - Nonalcoholic: CCEP, KO, KDP, MNST, FIZZ, PEP
Tobacco: BTI, MO, PM, SWM, VGR
-----
Valuentum members have access to our 16-page stock reports, Valuentum Buying Index ratings, Dividend Cushion ratios, fair value estimates and ranges, dividend reports and more. Not a member? Subscribe today. The first 14 days are free.
Brian Nelson owns shares in SPY and SCHG. Some of the other securities written about in this article may be included in Valuentum's simulated newsletter portfolios. Contact Valuentum for more information about its editorial policies.