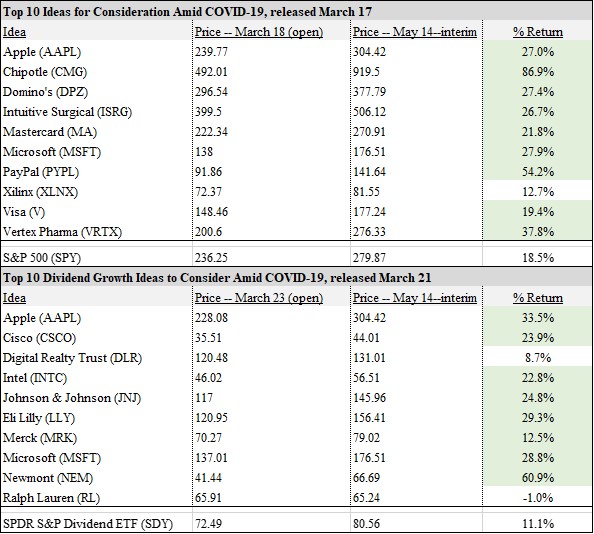 Image Shown: Valuentum released two sets of its top 10 ideas for capital appreciation and dividend growth, respectively, during the COVID-19 pandemic. Both sets of ideas have performed extremely well.
---
I wanted to check in to see how you are doing. I'll talk a little about the table above in a bit, which goes into our top ideas amid the COVID-19 pandemic, but first, I wanted to keep the Exclusive publication in front of you (if you haven't yet subscribed).
In the Exclusive publication, we're now setting up to get the 26th consecutive monthly short idea correct! I can hardly believe it.
The May edition was released last Saturday, and our team continues to scour the companies outside our coverage to bring new ideas to the table each month. I believe it's a must-have for any investor focused on stock selection. More information regarding the Exclusive can be found
here
.
I continue to be excited about the value-add of our new options commentary in this ultra-volatile marketplace, too. This commentary can be added to your membership
here ($500/year)
.
---
Okay -- back to the table above. Clearly, our COVID-19 ideas have hit the ball out of the park, and I'm not exaggerating when I say so. On March 17, we released the following, "
Top Ten Ideas for Consideration Amid COVID-19
." These ideas can be found in the top part of the table above. On a price basis, the average idea advanced more than 34% versus the market return of 18.5%.
That's huge outperformance.
Chipotle (
CMG
), PayPal (
PYPL
), and Vertex Pharma (
VRTX
) have been huge winners.
---
The dividend growth ideas have also been great. On March 21, we wrote the following note, "
Top Ten Dividend Growth Stocks to Consider Amid COVID-19
." These ideas can be found in the bottom part of the table above. On a price basis, these dividend growth ideas have advanced more than 24%, on average, better than the return of the dividend growth benchmark of 11.1%. We don't emphasize outperformance with respect to dividend growth ideas because the strategy targets income expansion, but the outperformance gap is nonetheless incredible.
---
From
calling the crash February 22
to considering
dollar-cost averaging near the bottom March 23
to highlighting the outperforming ideas above
at the most opportunistic time
, we wanted to thank you for the opportunity you've given us to showcase our experience, stock-selection skills and the value we bring with our investment research. We appreciate your membership very much, and
I personally continue to be very bullish on equities for the long haul, "
ICYMI: Never Been More Bullish Even as Buffett Dumps Airlines
."
Thank you and congrats!
Kind regards,
Brian Nelson, CFA
President, Investment Research
Valuentum Securities, Inc.
brian@valuentum.com
Please be sure to ask your financial advisor if options may be right for you. Derivatives trading is risky, can result in complete loss of premium (capital), and most options expire worthless.
---
Valuentum members have access to our 16-page stock reports, Valuentum Buying Index ratings, Dividend Cushion ratios, fair value estimates and ranges, dividend reports and more. Not a member? Subscribe today. The first 14 days are free.
Brian Nelson owns shares in SPY and SCHG. Some of the other securities written about in this article may be included in Valuentum's simulated newsletter portfolios. Contact Valuentum for more information about its editorial policies.