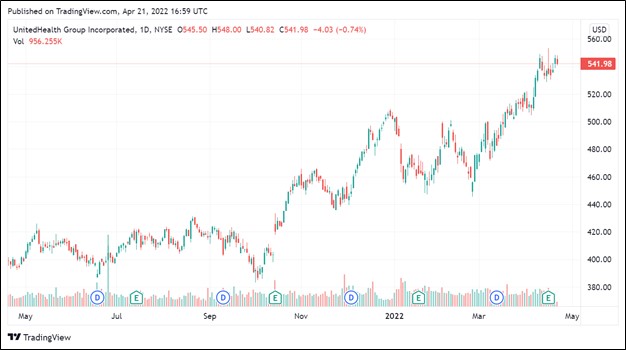 Image Shown: Dividend growth idea UnitedHealth Group Inc has seen its share price surge higher over the past year.
By Callum Turcan
One of our favorite dividend growth ideas is UnitedHealth Group Inc (UNH). The company runs an expansive portfolio of domestic health care operations including large health insurance businesses, pharmacy benefits managers ('PBMs') and specialty pharmacy businesses, outpatient surgical centers, in-home health care service providers, analytical services, and services geared towards administrative activities, among many other operations involving health care. Its four business reporting segments are Optum Health (national health care delivery platform), Optum Insight (services, analytics, and platforms aimed at generating insights and efficiencies while improving patient outcomes), Optum Rx (portfolio of pharmacy care services), and UnitedHealthcare (portfolio of health insurance businesses). Shares of UNH yield ~1.1% as of this writing.
We include UnitedHealth Group as an idea in the Dividend Growth Newsletter portfolio and have been impressed with its performance of late. On April 14, the company reported first quarter 2022 earnings that beat consensus top- and bottom-line estimates, and the firm also raised its full-year earnings guidance for 2022. Now UnitedHealth Group forecasts it will generate reported EPS of $20.30-$20.80 (up from $20.20-$20.70 previously) and non-GAAP adjusted EPS of $21.20-$21.70 (up from $21.10-$21.60 previously) this year. The company boosted its earnings guidance due to widespread outperformance across its various business segments.
Acquisition News
We have covered UnitedHealth Group's attempt to acquire health care payment solutions provider Change Healthcare Inc (CNHG) via an ~$8 billion merger with its Optum unit several times in the past (I, II, III), a deal that has yet to proceed due to antitrust and regulatory concerns. Here we will note that in April 2022 the merger agreement was extended to the end of December 2022, though it looks like there is a decent chance the deal will not materialize as planned. That being said, UnitedHealth Group is a solid enterprise with or without this deal getting finalized.
Pivoting to a different deal, UnitedHealth Group's Optum unit agreed to acquire managed home health care company LHC Group Inc (LHCG) for $170 per share in cash through a deal announced in March 2022. This deal is expected to have a "neutral" impact on UnitedHealth Group's adjusted EPS in 2022 and be "modestly accretive" to its adjusted EPS performance in 2023. Closing is targeted for the second half of 2022 and the all-cash transaction is worth ~$5.4 billion on an equity basis.
We appreciate UnitedHealth Group pushing deeper into the managed home health care space given that demographic trends, namely the "greying of America" trend and expected growth in the 80+ age cohort, indicate that demand for such services should increase robustly over the coming years and decades.
Earnings Update
In the first quarter of 2022, UnitedHealth Group reported $80.1 billion in GAAP revenues (up 14% year-over-year) with its UnitedHealthcare (revenues were up 14% year-over-year) and Optum (revenues were up 19% year-over-year) businesses both reporting nice double-digit growth. Growth at its 'Eliminations' line-item reduced its overall revenue growth rate (this represents inter-business sales).
UnitedHealth Group's GAAP operating margin declined to 8.7% last quarter from 9.6% in the same period in 2021 due to health care activities (such as elective surgeries) resuming in earnest after getting subdued during the worst of the coronavirus ('COVID-19') pandemic. Its medical care ratio (health care cost payouts divided by health insurance premiums) rose to 82.0% in the first quarter of 2022 versus 80.9% in the first quarter of 2021.
The company's UnitedHealthcare business "grew to serve 1.5 million more people than a year ago, led by continued strong growth in Medicare Advantage and Dual Special Needs Plans and in the broader Medicaid market" last quarter. Additionally, this unit's "expanding portfolio of innovative, new offerings for people served by commercial benefits, including physician-led, consumer-tailored and virtual-first products, grew by 350,000 people over the past year" last quarter and we appreciate its strength in the health insurance market.
Pivoting to its Optum business units, "Optum Health now expects to serve 600,000 new patients under [value-based care] arrangements in 2022 compared to its initial outlook of 500,000" aided by "the continued expansion of care services offered, with at-home and digital offerings complementing and integrating with growing clinic-based and outpatient services, including ambulatory surgical care." Optum Health's revenue per customer rose by 33% year-over-year last quarter.
Looking now at its Optum Insight unit, this part of its business saw its revenue backlog grow by ~$2 billion year-over-year to reach $22.8 billion last quarter. This performance was "driven by strong growth and execution in its expanding comprehensive managed services offerings for health systems." UnitedHealth Group noted that Optum Insight is driving innovation in payment integrity (ahead of its potential deal to acquire Change Healthcare), digital modernization (implementing digital solutions to boost efficiencies by freeing up physician's time by reducing administrative-related workloads is an example of this process), and care coordination (there are numerous layers to the US health care sector that adds complexity which UnitedHealth Group seeks to solve).
Finally, Optum Rx saw its adjusted scrips rise to 352 million last quarter versus 329 million in the same period in 2021, aided by "continued advancements in serving new, large health plan clients and further expansion of community-behavioral, specialty pharmacy and e-commerce services."
Across its business, UnitedHealth Group has been firing on all cylinders of late, and that is why the firm felt confident in boosting its full-year guidance for 2022. The company's GAAP operating income came in at $7.0 billion in the first quarter, up 3% year-over-year, as revenue growth offset rising medical cost outlays at its health insurance operations. UnitedHealth Group's GAAP diluted EPS came in at $5.27 (up 4% year-over-year) and its adjusted diluted EPS came in at $5.49 (up 3% year-over-year) last quarter.
Financial Strength
One of the reasons why we are big fans of UnitedHealth Group is due to its fortress-like balance sheet. At the end of March 2022, it had a net cash position of ~$23.3 billion (inclusive of long-term investments and short-term debt) though we caution it also has sizable other non-cancellable liabilities on the books as well (such as medical costs payable). UnitedHealth Group possesses the financial capacity to acquire both LHC Group and Change Healthcare while keeping its financial strength intact.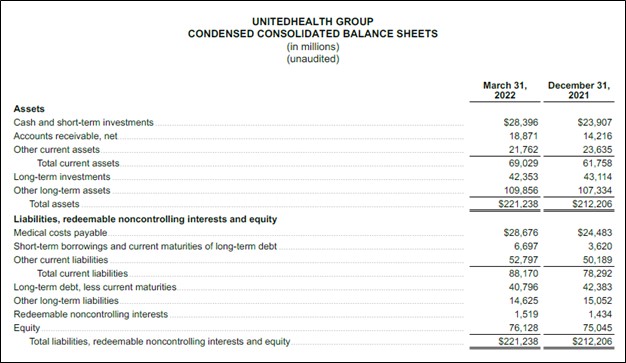 Image Shown: UnitedHealth Group has a fortress-like balance sheet. Image Source: UnitedHealth Group – First Quarter of 2022 Earnings Press Release
During the first quarter of 2022, UnitedHealth Group generated $4.8 billion in free cash flow and spent $1.4 billion covering its dividend obligations along with an additional $2.5 billion buying back its common stock. We are also huge fans of its stellar cash flow profile given its relatively modest capital expenditure obligations to maintain a given level of revenues.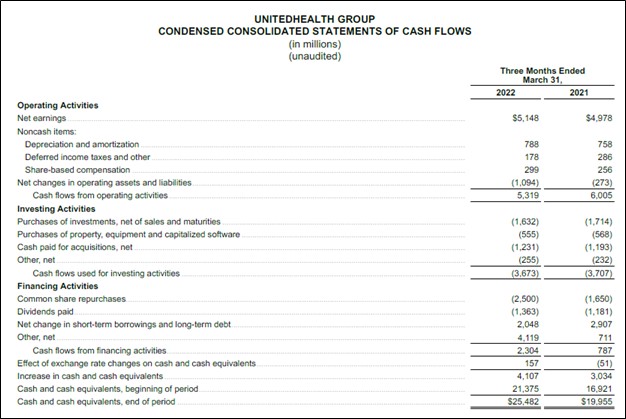 Image Shown: UnitedHealth Group is a tremendous free cash flow generator. Image Source: UnitedHealth Group – First Quarter of 2022 Earnings Press Release
Here is what UnitedHealth Group's management team had to say on the company's outlook and financial strength during the firm's latest earnings call:
"We see the number of people served overall increasing as we progress through '22, driven by the strong market response to our more recently introduced innovative offerings, as well as the continued recovery in the total number of people covered by employer health benefits, which typically lags reported job growth.
Our capital capacities remain strong. First quarter cash flows from operations of $5.3 billion or 1x net income were consistent with our expectations. And we continue to expect full year cash flows of about $24 billion or 1.2x net income. We returned nearly $4 billion to shareholders in the quarter through dividends and share repurchases, and ended the quarter with a debt-to-capital ratio of 38%." --- John Rex, EVP and CFO of UnitedHealth Group
Additionally, UnitedHealth Group aims to generate ~$317-$320 billion in revenues in 2022 (as noted during its fourth quarter of 2021 earnings update), up ~11% year-over-year at the midpoint of guidance. The company's growth outlook is quite bright.
Concluding Thoughts
UnitedHealth Group is a rock-solid income growth idea backed up by a fortress-like balance sheet, stellar free cash flow generating abilities, and a promising growth outlook. In our view, there is not much that will get in the way of management continuing to increase the company's payout going forward. We're big fans.
-----
Health Care Bellwethers Industry – JNJ, WBA, CVS, ISRG, MDT, ZBH, BAX, BDX, BSX, MTD, SYK, BIIB, GILD, ABT, ABBV, LLY, AMGN, BMY, MRK, PFE, VRTX, ZTS, REGN, UNH
Related: CHNG, LHCG, XLV
Valuentum members have access to our 16-page stock reports, Valuentum Buying Index ratings, Dividend Cushion ratios, fair value estimates and ranges, dividend reports and more. Not a member? Subscribe today. The first 14 days are free.
Callum Turcan owns shares in DIS, FB, GOOG, VRTX, and XLE and is long call options on DIS and FB. Johnson & Johnson (JNJ) and Health Care Select Sector SDPR Fund (XLV) are both included in Valuentum's simulated Best Ideas Newsletter portfolio and simulated Dividend Growth Newsletter portfolio. Vertex Pharmaceuticals Inc (VRTX) is included in Valuentum's simulated Best Ideas Newsletter portfolio. UnitedHealth Group Inc (UNH) is included in Valuentum's simulated Dividend Growth Newsletter portfolio. Some of the other companies written about in this article may be included in Valuentum's simulated newsletter portfolios. Contact Valuentum for more information about its editorial policies.