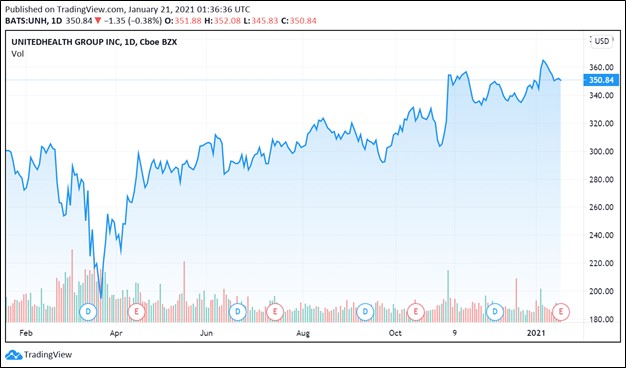 Image Shown: Shares of UnitedHealth Group Inc, which we added to our Dividend Growth Newsletter portfolio back on November 27, continue to climb higher. The top end of our fair value estimate for UnitedHealth Group sits at $401 per share.
By Callum Turcan
On January 20, UnitedHealth Group (UNH) issued fourth quarter and full-year results for 2020 that beat both consensus top- and bottom-line estimates. The health care giant reported a 6% annual increase in its GAAP revenues in 2020, with its 'Premiums,' 'Products' and 'Services' sales all reporting meaningful increases. Its GAAP earnings from operations grew by 14% annually in 2020, though we caution there is some noise due to the deferral of certain medical procedures, a result of the ongoing coronavirus ('COVID-19') pandemic.
UnitedHealth Group's Improving Outlook
Back in November 27, we added UnitedHealth Group to our Dividend Growth Newsletter portfolio (link here). We are impressed with its financial resilience as the company continued to generate gobs of free cash flow last year. Shares of UNH yield ~1.4% as of this writing.
During its latest earnings report the company reaffirmed its 2021 guidance that calls for $17.75 - $18.25 in adjusted EPS (non-GAAP) for the full-year, up from the $16.88 in adjusted EPS (non-GAAP) the firm posted in 2020. Management also noted that UnitedHealth Group would see its total revenues approach $280 billion this year during the company's latest earnings call, which would be a respectable increase from the $257.1 billion in GAAP revenues UnitedHealth Group posted in 2020. Please note the firm's 2021 guidance incorporates the negative impact lingering headwinds from the pandemic are expected to have on its near-term results.
With COVID-19 vaccine distribution efforts now well underway, UnitedHealth Group's outlook is looking quite bright and its strong technical performance of late indicates investors are warming back up to the name. The top end of our fair value estimate range for UnitedHealth Group sits at $401 per share, meaningfully above where shares of UNH are trading at as of this writing, though we are primarily interested in the company's substantial dividend growth potential.
Rock-Solid Financials
As of the end of 2020, UnitedHealth Group had $19.8 billion in cash and short-term investments on hand along with $41.2 billion in long-term investments (which can be viewed as cash-like holdings). The company also had $4.8 billion in short-term debt and $38.6 billion in long-term debt on the books at the end of last year, good for a net cash position of ~$17.6 billion.
We're big fans of UnitedHealth Group's pristine balance sheet as a net cash position can be a source of funds to cover its future dividend obligations, though those obligations continue to be well-covered by its free cash flows. A net cash position can also be used to support future share repurchases. UnitedHealth Group's weighted-averaged outstanding diluted share count dropped from 966 million in 2019 to 961 million in 2020.
The company generated $20.1 billion in free cash flow in 2020, up from $16.4 billion in 2019. UnitedHealth Group spent $4.6 billion covering its dividend obligations and another $4.3 billion buying back its stock in 2020. Both activities were readily covered by its free cash flows. On a forward-looking basis, UnitedHealth Group has a Dividend Cushion ratio of 3.1 and that factors in our expectations the firm will push through sizable per share dividend increases over the coming years. We give UnitedHealth Group "EXCELLENT" Dividend Safety and Dividend Growth ratings.
Strength Across the Board
While 2020 was an abnormal year, UnitedHealth Group had positive things to say about both its UnitedHealthcare and Optum business platforms. For reference, here is a quick breakdown of the company's operations from a past article we published (link here):
UnitedHealth Group has two main business platforms: UnitedHealthcare (focuses on providing health insurance plans to individuals, enterprises, and governments) and Optum (a health services business that seeks to use technology to improve care delivery, generate insights that can improve various health care operations, and provide a comprehensive array of pharmacy care services).
Its four main business reporting segments are as follows: UnitedHealthcare (provides health insurance plans), OptumHealth (includes its local ambulatory care services business and a health care provider business), OptumInsight (provides a slate of services to drive efficiencies and improve quality of care including health information and electronic data exchange, revenue cycle management, administrative and clinical technology for claims editing, and risk analytics services), and OptumRx (provides diversified pharmacy care services through a vast network of retail and community health pharmacies while also helping provide home delivery services, specialized pharmacy services, and more).
Sales at its Optum business platform were up 21% annually in 2020 with growth seen at its 'OptumHealth,' 'OptumInsight' and 'OptumRx' segments. However, the operating income of its Optum business platform grew at a more modest pace (up 7% annually in 2020) due in large part to headwinds created by COVID-19. The company's UnitedHealthcare business platform posted modest revenue growth (up 4% annually in 2020) though this operation's operating income surged higher (up 20% annually in 2020) due primarily to delays in elective medical procedures due to the pandemic.
Keeping the aforementioned noise in its historical financial performance in mind, we appreciate that UnitedHealth Group reported strength across the board last year even when facing serious exogenous headwinds. The resilience of UnitedHealth Group's business model is another reason why we are big fans of the firm.
Pending Acquisition
Back on January 6, UnitedHealth Group's Optum unit announced it was combining with Change Healthcare Inc (CNHG) via an acquisition. UnitedHealth Group agreed to pay $25.75 in cash for each share of CNHG and the deal is expected to close during the second half of 2021, assuming it receives the necessarily shareholder and regulatory approvals. Private equity funds affiliated with The Blackstone Group (BX) own ~20% of Change Healthcare's common stock and those funds intend to vote in favor of the deal according to the press release.
In 2022, UnitedHealth Group sees the acquisition being accretive to its financial performance and expects that the deal will add an incremental $0.50 towards its adjusted EPS (non-GAAP) that year before "advancing strongly in subsequent years, inclusive of investments to accelerate technology, system and product integration and development activities to more quickly deliver the value of this combination to all health care system stakeholders." Here is another key excerpt from that press release:
This combination unites two technology and service companies focused on serving health care. Their combined capabilities will more effectively connect and simplify core clinical, administrative and payment processes - resulting in better health outcomes and experiences for everyone, at lower cost. Change Healthcare brings key technologies, connections and advanced clinical decision, administrative and financial support capabilities, enabling better workflow and transactional connectivity across the health care system. Optum brings modern analytics, comprehensive clinical expertise, innovative technologies and extensive experience in improving operational and clinical performance.
We are intrigued by the upside this deal could generate. For instance, integrating Change Healthcare's payment capabilities with Optum's payment network is expected to "simplify financial interactions among care providers, payers and consumers and accelerate the movement to a more modern, real-time and transparent payment system." Additionally, the combination aims to improve back-office operations with the press release noting that:
Complexities across the health system result in significant levels of administrative waste. The combined company will be well positioned to make health care simpler, more efficient and more effective. A key opportunity is to enhance with insights drawn from billions of claims transactions using Change Healthcare's intelligent health care network, combined with Optum's advanced data analytics. This will support significantly faster, more informed and accurate services and processing.
Integrating healthcare operations can be a tricky business, and in our view, UnitedHealth Group is up to the task. Considering UnitedHealth Group's large net cash position at the end of 2020, this acquisition can easily be funded with cash on hand without significantly harming its financial strength.
Concluding Thoughts
UnitedHealth Group is an exciting healthcare play with substantial dividend growth upside. As global health authorities continue to work toward getting the pandemic under control, a process aided by the ongoing distribution of COVID-19 vaccines, the outlook for the healthcare sector and global economy at-large should continue to improve going forward. We like having exposure to UnitedHealth Group in the Dividend Growth Newsletter portfolio.
UnitedHealth Group's 16-Page Stock Report (pdf) >>
UnitedHealth Group's Two-Page Dividend Report (pdf) >>
-----
Health Care Bellwethers Industry - JNJ, WBA, CVS, ISRG, MDT, ZBH, BAX, BDX, BSX, MTD, SYK, BIIB, GILD, ABT, ABBV, LLY, AMGN, BMY, MRK, PFE, VRTX, ZTS, REGN, UNH
Tickerized for UNH, CNHG, BX, MOH, ANTM, CNC, CI, HUM, THC, UHS, CYH, HCA, ABC, CAH, LLY, CVS, WBA, EHTH, GTS, TDOC
-----
Valuentum members have access to our 16-page stock reports, Valuentum Buying Index ratings, Dividend Cushion ratios, fair value estimates and ranges, dividend reports and more. Not a member? Subscribe today. The first 14 days are free.
Callum Turcan does not own shares in any of the securities mentioned above. Johnson & Johnson (JNJ) and Health Care Select Sector SDPR Fund (XLV) are both included in Valuentum's simulated Best Ideas Newsletter portfolio and simulated Dividend Growth Newsletter portfolio. Vertex Pharmaceuticals Inc (VRTX) is included in Valuentum's simulated Best Ideas Newsletter portfolio. UnitedHealth Group Inc (UNH) is included in Valuentum's simulated Dividend Growth Newsletter portfolio. Vanguard Consumer Staples ETF (VDC) is included in Valuentum's simulated High Yield Dividend Newsletter portfolio. Some of the other companies written about in this article may be included in Valuentum's simulated newsletter portfolios. Contact Valuentum for more information about its editorial policies.