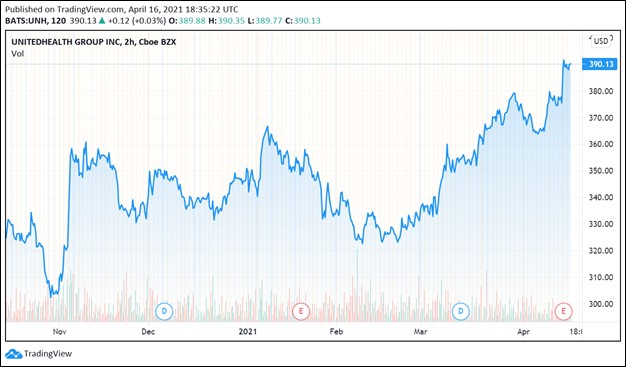 Image Shown: We added UnitedHealth Group Inc to the Dividend Growth Newsletter portfolio back on November 27, 2020. Since then, shares of UNH have surged higher, though we are primarily interested in the company's immense dividend growth potential.
By Callum Turcan
On April 15, health insurance and health care solutions provider UnitedHealth Group Inc (UNH) reported first quarter 2021 earnings that beat both consensus top- and bottom-line estimates. In conjunction with the earnings update, management raised the company's full-year adjusted (non-GAAP) EPS forecast for 2021 up to $18.10 - $18.60 versus $17.75 - $18.25 previously. At the midpoint of guidance, the company's new forecast represents ~9% growth over its 2020 adjusted EPS of $16.88.
UnitedHealth Group maintained its expectations for its adjusted EPS to face headwinds of $1.80 this year due to the coronavirus ('COVID-19') pandemic, in part as a result of "the residual impact of people having deferred care in 2020" among other factors. We are impressed with the resilience of the company's business model and its growth outlook continues to improve as public health authorities work to put an end to the public health crisis, aided by COVID-19 vaccine distribution efforts. Back in November 27, we added UnitedHealth Group to the Dividend Growth Newsletter portfolio (link here) and continue to be big fans of the name.
Earnings Update
During the first quarter of this year, UnitedHealth Group generated $70.2 billion in GAAP revenues (up 9% year-over-year), $6.7 billion in GAAP operating income (up 35% year-over-year) and posted $5.31 in adjusted EPS (up 43% year-over-year, aided by its outstanding diluted share count falling marginally). Strength was widespread as sales at its Optum (health care solutions) and UnitedHealth (health care insurance) business operating segments advanced 11% and 8% year-over-year, respectively, last quarter. Its GAAP operating margin grew by ~185 basis points year-over-year (both segments reported sizable operating margin expansion), aided by economies of scale and initiatives to continuously improve the company's cost structure.
UnitedHealth Group's OptumInsight business continues to perform well with revenues up 14% year-over-year last quarter. The firm's analytics, data and digital initiatives are apparently playing out quite favorably. Pivoting to its health insurance operations, UnitedHealth Group's Medicare Advantage and Medicaid membership base grew at a brisk pace last quarter on both a year-over-year and sequential basis. Revenues from its UnitedHealthcare Medicare & Retirement unit were up 10% year-over-year last quarter.
We are impressed with UnitedHealth Group's free cash flow generating abilities. The company generated $5.4 billion in free cash flow, which handily covered $1.2 billion in dividend payouts and just under $1.7 billion in share repurchases in the first quarter of this year. At the end of March 2021, UnitedHealth Group had a fortress-like balance sheet with a net cash position of ~$19.1 billion (inclusive of short-term debt and long-term investments). UnitedHealth Group's business model is resilient, and its financial position is rock-solid. Combined with its promising earnings and cash flow growth outlook, we view UnitedHealth Group's dividend growth trajectory quite favorably.
Pending Acquisition Update
In January 2021, UnitedHealth Group's Optum unit announced that it intends to acquire Change Healthcare Inc (CHNG). The unit is paying $25.75 per share in cash with the equity component valued at approximately $8 billion and the total transaction worth approximately $12.5 billion when including Change Healthcare's net debt load at the end of 2020. This deal is expected to be completed by the second half of this year; however, the American Hospital Association ('AHA') has publicly signaled its opposition to the deal and is actively seeking to get the US Department of Justice ('DOJ') to investigate the deal on antitrust grounds.
During UnitedHealth Group's first quarter of 2021 earnings call, the company's new CEO, Andrew Witty, had this to say on the broader issue in response to a question from an analyst (emphasis added, moderately edited):
"In terms of [our pending Change Healthcare acquisition], obviously we are very keen to continue to work through the regulatory process. We expect this to close in the second half as we have previously indicated. And you should not expect any disruption from us bringing Change onboard to really anything that we are doing and especially not in terms of our selling activity. So we absolutely continue to operate OptumInsight fully as if we were not in a transaction. And even post-transaction, I would fully expect the ongoing sales energy of the company to be not disrupted. So nothing. I really would not lead you to expect anything on that front."
If the transaction goes through as planned, UnitedHealth Group expects the deal to provide its 2022 adjusted EPS performance with a $0.50 uplift with room for significant upside over the following years. We view this acquisition favorably (as we covered here) given the apparent operational synergies, which ultimately aim to simplify and streamline administrative operations in a complex industry. Please note that even if the transaction does not go through as planned, that would note change our view towards UnitedHealth Group.
Concluding Thoughts
We continue to be big fans of UnitedHealth Group and like the company as an idea in the Dividend Growth Newsletter portfolio. Shares of UNH have surged towards the upper end of our fair value estimate range over the past couple of months. When we roll forward our enterprise cash flow model for the new year, we expect UnitedHealth Group's fair value estimate to increase meaningfully on the back of its improving cash flow growth outlook. As of this writing, shares of UNH yield ~1.3% and its Dividend Cushion ratio stands north of 3.0, highlighting the tremendous strength of its forward-looking dividend coverage.
United Health's 16-page Stock Report >>
United Health's Dividend Report >>
-----
Health Care Bellwethers Industry - JNJ, WBA, CVS, ISRG, MDT, ZBH, BAX, BDX, BSX, MTD, SYK, BIIB, GILD, ABT, ABBV, LLY, AMGN, BMY, MRK, PFE, VRTX, ZTS, REGN, UNH
Tickerized for UNH, MOH, ANTM, CNC, CI, HUM, THC, UHS, CYH, HCA, ABC, CAH, CVS, WBA, EHTH, GTS, TDOC, CHNG, XLV
Valuentum members have access to our 16-page stock reports, Valuentum Buying Index ratings, Dividend Cushion ratios, fair value estimates and ranges, dividend reports and more. Not a member? Subscribe today. The first 14 days are free.
Callum Turcan does not own shares in any of the securities mentioned above. Johnson & Johnson (JNJ) and Health Care Select Sector SDPR Fund (XLV) are both included in Valuentum's simulated Best Ideas Newsletter portfolio and simulated Dividend Growth Newsletter portfolio. Vertex Pharmaceuticals Inc (VRTX) is included in Valuentum's simulated Best Ideas Newsletter portfolio. UnitedHealth Group Inc (UNH) is included in Valuentum's simulated Dividend Growth Newsletter portfolio. Vanguard Consumer Staples ETF (VDC) is included in Valuentum's simulated High Yield Dividend Newsletter portfolio. Some of the other companies written about in this article may be included in Valuentum's simulated newsletter portfolios. Contact Valuentum for more information about its editorial policies.