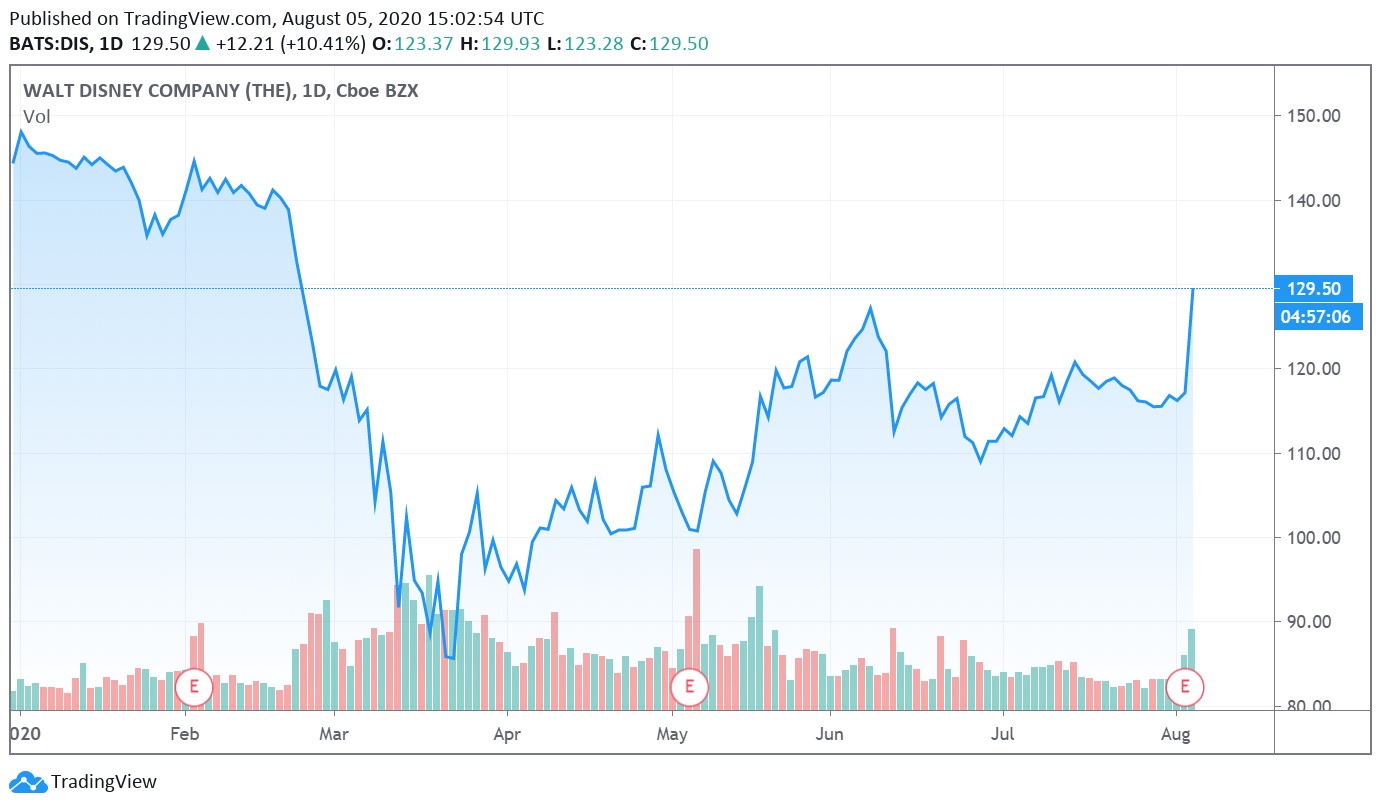 Image Shown: The Walt Disney Company recently reported earnings which highlighted the ongoing success of its video streaming strategy. Shares of DIS surged upwards on August 5, 2020.
By Callum Turcan
On August 4, The Walt Disney Company (DIS) reported third quarter fiscal 2020 earnings (period ended June 27, 2020) that missed consensus top-line estimates but beat consensus bottom-line estimates. Shares of DIS were higher by ~11% on August 5 as of this writing, as investors looked past its weak historical performance (which was expected) and towards Disney's improving outlook. We appreciated the announcement that Disney now has over 100 million paid subscriptions across its "portfolio of direct-to-consumer services" including Disney+, EPSN+, and Hulu (Disney owns 67% of Hulu's equity). Disney's business model has faced acute stresses due to the ongoing coronavirus ('COVID-19') pandemic, making its video streaming growth strategy all the more important. We continue to like shares of DIS at a modest weighing in our Best Ideas Newsletter portfolio.
Earnings Overview
In the fiscal third quarter, Disney reported a $4.8 billion loss from continuing operations before income taxes on a GAAP basis. When excluding $5.0 billion in restructuring and impairment charges, it appears the company was profitable on an adjusted non-GAAP basis given that most of the charges were non-cash expenses. Disney noted it generated $0.08 in adjusted non-GAAP EPS last fiscal quarter, though its GAAP diluted EPS came in at -$2.61 (negative $2.61) during this period. The company estimates COVID-19 shaved $3.5 billion off its segment-level operating income from Disney's 'Parks, Experiences and Products' segment, though the firm noted it started to reopen some of its theme park and resort locations.
Disney's GAAP revenues were down 42% year-over-year last fiscal quarter as the closure of its resorts and theme parks combined with the lack of live sporting events were serious headwinds. We were expecting a rough earnings report due to the pandemic and are now looking towards the future. The easing of quarantine measures and its success in the video streaming arena lends tremendous amount of support to its near- and medium-term outlook.
Resuming modified activities at its theme park and resort operations will help out going forward, though the company noted its park in Hong Kong (owned through a joint-venture with the Hong Kong Special Administrative Region) was forced to close on July 15 after reopening on June 18 due to a government order. The reopening process will be an uneven one.
On a final note here, Disney generated just under $2.7 billion in free cash flow during the first nine months of fiscal 2020 (generated over $5.9 billion in net operating cash flow less a tad under $3.3 billion in capital expenditures). Additionally, Disney exited the third quarter of fiscal 2020 with $23.1 billion in cash and cash equivalents on hand versus $10.2 billion in short-term debt and $54.2 billion in long-term debt. We view Disney's net debt load as manageable given its strong cash flows and ample liquidity, though we would like to see the company pare that down over time. Disney raised a significant amount of funds in debt markets at attractive rates last fiscal quarter, highlighting its ongoing access to capital markets.
Streaming Success
The only segment to report year-over-year revenue growth last fiscal quarter was Disney's 'Direct-to Consumer & International' operations, which posted 2% year-over-year sales growth. Please note this segment includes the financial performance of Disney+ and Hulu. As of June 27, 2020, Disney had 57.5 million paid Disney+ subscribers, 8.5 million paid EPSN+ subscribers, and 35.5 million paid Hulu subscribers (includes both live TV and video streaming packages). Combined, that is 101.5 million paid subscribers and we appreciate the reoccurring revenue opportunities Disney has effectively capitalized on, with room for ample upside here.
Disney and its partner Comcast Corporation (CMCSA), which owns the remaining 33% equity interest in Hulu, have been pushing through pricing increases at Hulu recently including increases that went into effect back in December 2019. Additionally, Disney owns 80% of EPSN and privately-held Hearst Corporation owns the remaining 20%. We are optimistic that Disney will be able to secure a meaningful amount of share market in the video streaming and live video streaming space.
Please note EPSN+ launched back in April 2018 and Disney+ launched back in November 2019. At the end of Disney's second quarter of fiscal 2020 (period ended March 28, 2020), the firm had 33.5 million paid Disney+ subscribers and 7.9 million paid ESPN+ subscribers. On a sequential basis, Disney grew its Disney+ paid subscriber base by 72% and its EPSN+ paid subscriber base by 8% during the third fiscal quarter, assisted in part by the firm offering a bundle that includes Disney+, EPSN+, and Hulu. As an aside, the paid subscriber base of EPSN+ more than tripled year-over-year last fiscal quarter, albeit off a low base.
In the third quarter of fiscal 2019 (period ended June 29, 2019), Hulu had 27.9 million total paid subscriptions, which grew by 27% year-over-year to 35.5 million by the third quarter of fiscal 2020 as mentioned previously. On a sequential basis, Hulu grew its paid subscriber base by 11%. Disney and its partner Comcast have been effective at growing Hulu's paid subscriber base, even after taking price increases into account, as households seek new ways to keep entertained during the pandemic.
New market entrants did not seem to slow Disney or Hulu down. AT&T Inc (T) launched its new HBO Max video streaming service on May 27 in the US. Comcast's new Peacock video streaming service had a soft launch on April 15 in the US (for some of Comcast's existing customers) followed up by its bigger launch on July 15 (to all domestic households).
The average monthly revenue per paid subscriber in the third quarter of fiscal 2020 was $4.62 for Disney+, $4.18 for EPSN+, $11.39 for Hulu (not including live TV), and $68.11 for Hulu Live TV. Last fiscal quarter, Hulu's Live TV package saw its paid subscriber base grow by 55% year-over-year, hitting 3.4 million as of June 27, 2020. We appreciate Disney's strength across the board as it relates to its video streaming services and expect that the company will be able to maintain its momentum in this arena going forward.
Disney's management noted during the firm's latest earnings call that the release of "Hamilton" (a hit Broadway musical) and Beyoncé's "Black is King" (a visual album) on Disney+ helped drive ongoing interest in the service. As of August 3, Disney+ had 60.5 million paid subscribers, indicating paid subscriber growth continued into the fiscal fourth quarter. Please note the firm launched Disney+ in France, India, and Japan last fiscal quarter. In India, Disney launched Disney+ Hotstar which represented ~15% of the streaming service's quarter-end paid subscriber base.
The company mentioned the live action movie "Mulan" would be available on Disney+ in the US, Canada, Australia, New Zealand, and some Western European countries starting September 4 (for an additional fee of $29.99 in the US, and the fee will vary by country), though plans for theatrical releases in some markets are still underway. Management described this as a "one-off" as the firm still intends to release major theatrical pieces in physical movie theaters once the pandemic is effectively contained. It will be interesting to see how successful this endeavor is.
Comcast-owned DreamWorks Animation's "Trolls World Tour" was released straight to digital rental in the US and elsewhere (at a premium to normal digital rental prices) on April 10, 2020, which made almost $100 million that month. Movie studios keep a much larger share of the gross revenues from digital rentals than the gross revenues generated during the first few weeks of a movie being shown in traditional theaters. The pandemic has upended the movie theater and movie production industry, and companies are being forced to adapt.
Next calendar year, Disney plans to release another video streaming service under the Star brand acquired from its purchase of 21st Century Fox (that deal closed March 2019). This service will be an "international direct-to-consumer general entertainment offering" that will lean heavily on Disney's massive portfolio for content and will utilize some of the infrastructure built out to support its existing Disney+ offering. We appreciate Disney's focus on growing both its domestic and international paid video streaming subscriber base.
Outlook
As it concerns Disney's near-term outlook, management had this to say during the firm's latest earnings call (lightly edited, emphasis added):
"Since our last earnings call, we've begun a responsible phased reopening of our parks in Shanghai, Paris, Tokyo, and Orlando, as well as our shopping and dining area Downtown Disney in Anaheim. We have prioritized the health and safety of our cast members and guests and have instituted protocols that include a mandatory mask policy, temperature screenings, increased cleaning and disinfecting, as well as capacity restrictions to promote social distancing…
Along with millions of fans, we're also pleased with the return of major live sports on ESPN including the successful resumption of the NBA and MLS seasons within the Walt Disney World bubble and restarts of the WNBA and MLB. Another positive development to note has been the initial restarting of some of our television and film productions, both domestically and overseas…
Last November, we successfully launched Disney+ domestically and we've since rolled it out in a number of major international markets, including Western Europe, India and Japan. I am also incredibly pleased to announce that, as of yesterday [August 3], we have surpassed 60.5 million paid subscribers globally, far exceeding our initial projections for the service…
We will continue our international expansion with the launch of Disney+ in the Nordics, Belgium, Luxembourg and Portugal in September, and in Latin America this November. And I'm happy to announce that we will also be rolling out Disney+ Hotstar on September 5 in Indonesia, one of the world's most populous countries. By year-end, Disney+ will be available in nine of the top 10 economies in the world." --- Bob Chapek, CEO of Disney
It appears Disney's near-term outlook is improving as quarantine measures ease in many countries around the world. Additionally, now that some production activities for TV shows and movies have resumed, Disney can continue churning out content to support its video streaming strategy. The launch of Disney+ in new markets this calendar year combined with the upcoming launch of its Star video streaming service next calendar year will help Disney's financial performance recover. Longer term, video streaming services will better position Disney to generate meaningful cash flows in any macroeconomic environment, and we appreciate the resilient nature of these reoccurring revenue streams.
Concluding Thoughts
We liked what we saw during Disney's latest earnings report as did investors, with shares of DIS now firmly on the rebound after bottoming in March 2020. Disney decided to forgo its semiannual dividend back in May 2020 to conserve cash, though when things start to return to some type of normal, the firm should be in a position to resume those payouts. Management noted a decision on whether to restart Disney's dividend program would be made later this calendar year (in November or December), though the trajectory of the pandemic will likely play an outsized role in whether to resume payouts or not.
-----
Media Entertainment Industry – CNK DIS IMAX ISCA LYV MSG NFLX NWSA SIRI
Telecom Services – BCE CTL EQIX FTR S T TMUS VZ VOD
Related: AMC, CMCSA, CNNWF, IEME, PBS, XLC
-----
Valuentum members have access to our 16-page stock reports, Valuentum Buying Index ratings, Dividend Cushion ratios, fair value estimates and ranges, dividend reports and more. Not a member? Subscribe today. The first 14 days are free.
Callum Turcan does not own shares in any of the securities mentioned above. The Walt Disney Company (DIS) is included in Valuentum's simulated Best Ideas Newsletter portfolio. AT&T Inc (T) is included in Valuentum's simulated High Yield Dividend Newsletter portfolio. Both the simulated Best Ideas Newsletter and Dividend Growth Newsletter portfolios include a SPDR S&P 500 ETF Trust (SPY) put option holding with a $295 per share strike price that expire on August 21, 2020. Some of the other companies written about in this article may be included in Valuentum's simulated newsletter portfolios. Contact Valuentum for more information about its editorial policies.