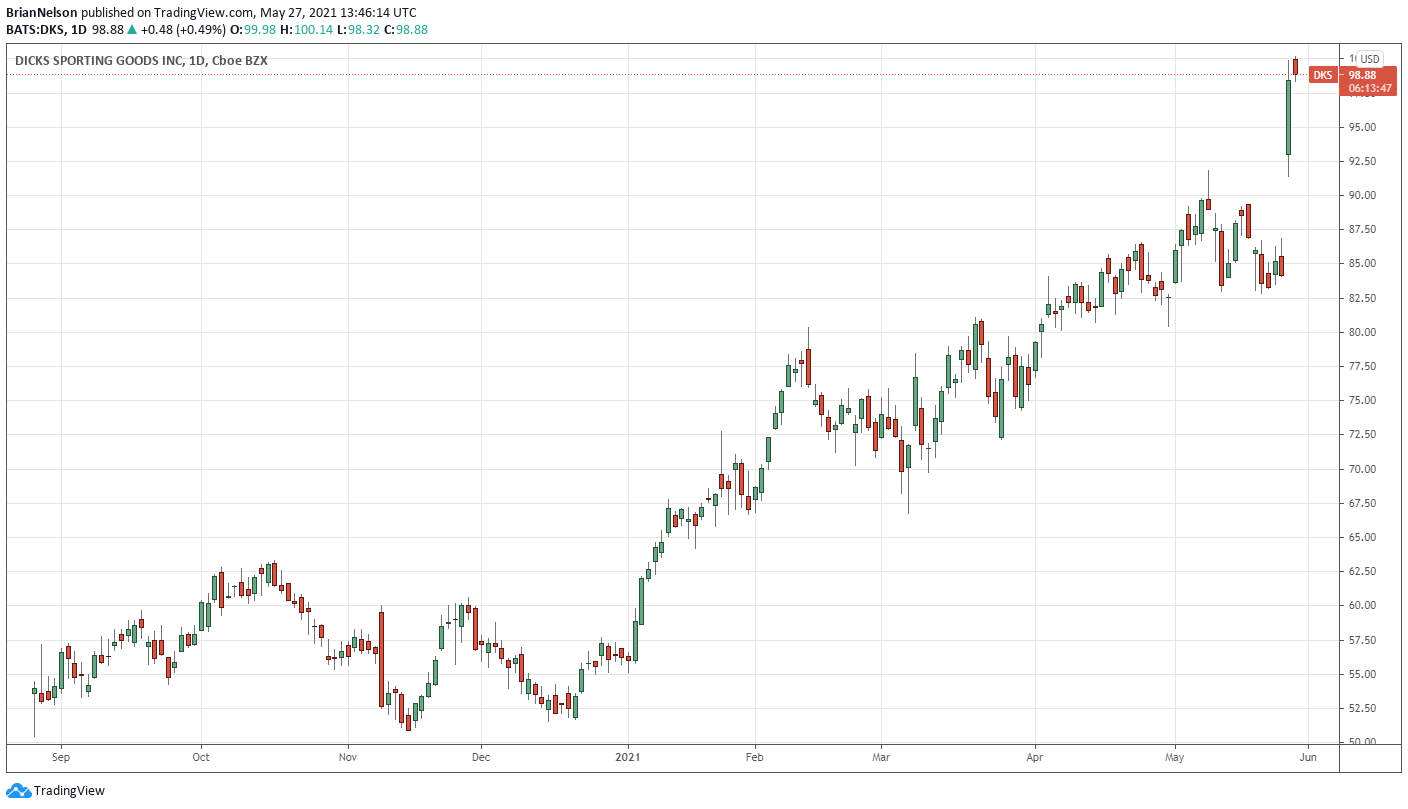 Image Shown: Dick's Sporting Goods' stock price soared following the release of its first-quarter fiscal 2021 earnings report and robust guidance for the remainder of the year. We added the sporting goods retailer to the Dividend Growth Newsletter portfolio last November, and we continue to like shares.
By Brian Nelson, CFA
On Wednesday, May 26, Dick's Sporting Goods (DKS) released a stellar fiscal first-quarter earnings report for the period ending May 1, 2021, that showed its omni-channel sales strategy is paying off as the U.S. economy continues its robust recovery. We added Dick's Sporting Goods to the Dividend Growth Newsletter portfolio in November of last year, and its dividend growth prospects remain as strong as ever.
In March of this year, the company raised its dividend payout 16%, to $1.45 on an annualized basis (~1.5% dividend yield), and shares have rocketed to our fair value estimate of $97 per share, as of this writing. We like to think of valuation as a range of fair value outcomes, and in light of Dick's Sporting Goods' strong outlook for fiscal 2021, the high end of the fair value estimate range of $116 per share may be within reach.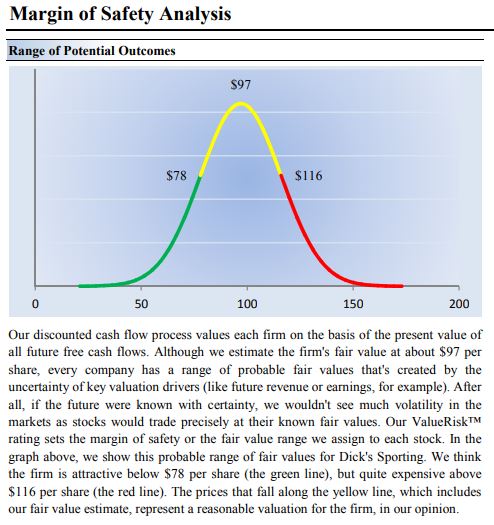 Image Shown: We value shares of Dick's Sporting Goods at $116 at the high end of our fair value estimate range. We use a discounted cash-flow model to value shares of non-financial companies in our coverage universe and employ a fair value estimate range to capture the uncertainty of future fundamental forecasts that drive the point fair value estimate.
During the first quarter of fiscal 2021, Dick's Sporting Goods' net sales advanced 119% from last year's quarter and were up 52% from the pre-COVID-19 first quarter of fiscal 2019. E-commerce strength was prevalent, as penetration advanced to 20% of sales in the first quarter of fiscal 2021 from 13% of sales in the same period a couple years ago. The company continues to deliver for athletes, meeting their shopping preferences whether they want to order online or in the store.
Here's what the executive suite had to say about the quarterly performance in the press release:
We are in a great lane right now, and 2021 will be our boldest and most transformational year in the Company's history. We believe the future of retail is experiential, powered by technology and a world-class omni-channel operating model. Importantly, we are reimagining the athlete experience, both across our core business and through new concepts that we have been working on for the past several years, which will collectively propel our growth in the future.
We are very pleased to deliver another exceptionally strong quarter, achieving record first quarter sales and our highest-ever quarterly earnings, both significantly exceeding our expectations. The strength of our diverse category portfolio, supply chain, technology capabilities and omni-channel execution helped us continue to capitalize on strong consumer demand across golf, outdoor activities, home fitness and active lifestyle. We also saw a resurgence in our team sports business as kids began to get back out on the field after a year in which many youth sports activities were delayed or cancelled. Looking ahead, we remain very enthusiastic about our business and are pleased to increase our full year sales and earnings outlook.
During the current fiscal 2021, Dick's Sporting Goods expects consolidated same-store sales to advance 8%-11% and GAAP profit margins on income before taxes to increase to the range of 9.4%-10.0%, more than a 3 percentage-point increase from levels in fiscal 2020 and roughly a 5 percentage-point increase from levels in fiscal 2019 at the midpoint of the range. Dick's Sporting Goods' e-commerce strategy is helping with margins, and its merchandise strategy is working with pricing mix. Total inventory fell 4% at the end of the first quarter on a year-over-year basis.
Concluding Thoughts
Dick's Sporting Goods surprised the market to the upside in a big way when it reported first quarter earnings for fiscal 2021 on May 26. Management is targeting non-GAAP earnings per share for fiscal 2021 in the range of $8.00-$8.70, implying shares of the sporting goods retailer are trading at just 11.3 times the high end of this year's earnings guidance. A solid balance sheet and strong free cash flow generation support the company's dividend growth profile. We continue to like how Dick's Sporting Goods is positioned for the long haul, and it remains an idea in the Dividend Growth Newsletter portfolio.
Downloads
Dick's Sporting Goods' Stock Report (pdf) >>
Dick's Sporting Goods' Dividend Report (pdf) >>
-----
Tickerized for DKS, ADDYY, ADDDF, COLM, NKE, LULU, YETI, PTON, ELY, JOUT, NLS, POOL, LESL, BGFV, CAB, ESCA, HIBB, VSTO, GOLF, CLAR, CWH, SWBI, RGR, SPWH, OLN
Valuentum members have access to our 16-page stock reports, Valuentum Buying Index ratings, Dividend Cushion ratios, fair value estimates and ranges, dividend reports and more. Not a member? Subscribe today. The first 14 days are free.
Brian Nelson owns shares in SPY, SCHG, QQQ, DIA, VOT, and IWM. Brian Nelson's household owns shares in HON, DIS, HAS. Some of the other securities written about in this article may be included in Valuentum's simulated newsletter portfolios. Contact Valuentum for more information about its editorial policies.