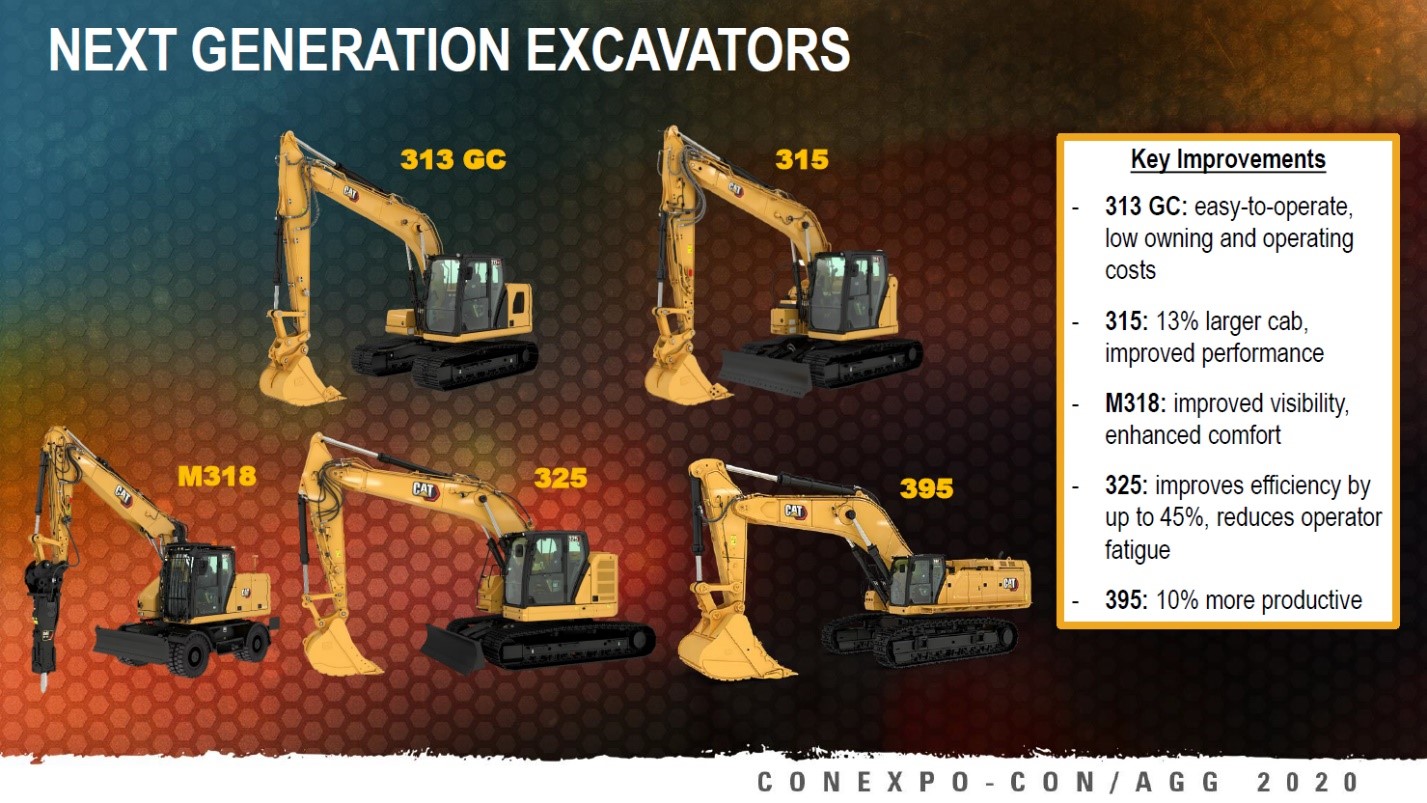 Image Shown: Caterpillar Inc is hoping that efficiency improvements at its construction equipment business will help revive retail sales growth at the segment. That's no easy task given the exogenous headwinds facing the company. Image Source: Caterpillar Inc – CONEXPO March 2020 IR Presentation
By Callum Turcan
The ongoing novel coronavirus ('COVID-19') pandemic is beginning to wreak havoc on the global economy. Major agriculture, construction, energy, resource extraction and transportation equipment supplier Caterpillar Inc (CAT) filed an 8-K report with the SEC on March 12 that highlighted just how rough the start of 2020 has been for the industrial space at-large. Even before the COVID-19 pandemic started spreading, Caterpillar's retail sales had been coming under fire from slowing global economic growth, but now that decline has started to really pick up pace as you can see in the upcoming graphic down below.
Please note that these figures are "primarily based on unaudited reports that are voluntarily provided to Caterpillar by its independent dealers and which are not subject to Caterpillar's internal controls over financial reporting" and should be used solely to get a read on the state of the global economy at-large. Furthermore, while Caterpillar explicitly notes that the upcoming figures (in the third graphic in this article near the bottom of the note) are on a year-over-year basis for its 'Energy & Transportation' business, that isn't the case for the upcoming graphic down below (however, these figures appear to be on a year-over-year basis based on commentary provided in the 8-K filing).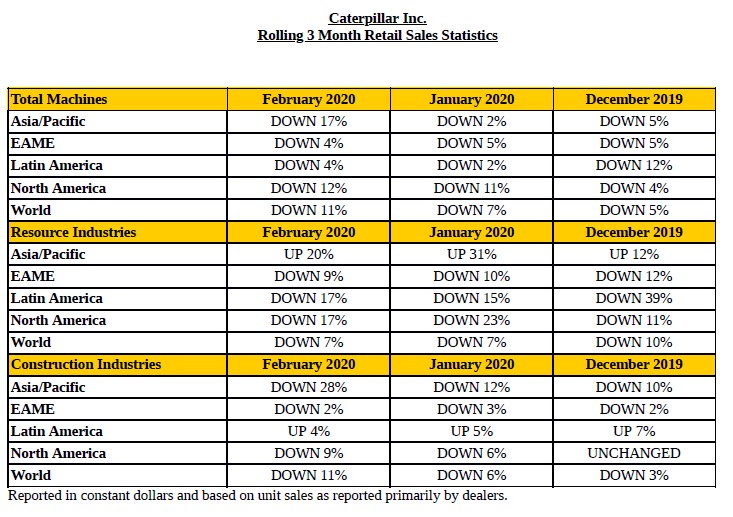 Image Shown: The decline in Caterpillar's retail sales, on an adjusted (constant currency) rolling three-month basis compared to what appears to be year-ago levels, picked up steam from December 2019 to February 2020. Weakness is widespread, and Caterpillar's retail sales outlook looks dour given the ongoing spread of the COVID-19 pandemic. Image Source: Caterpillar – 8-K Filing
The only "bright" spot came from Caterpillar's 'Energy & Transportation' business, as Caterpillar noted a more modest decline in retail sales at that segment. However, please note that its 'Transportation' and 'Power Gen' sub-segments both reported a material deterioration in retail sales while its 'Industrial' sub-segment saw its growth nearly evaporate from December 2019 to February 2020. Going forward, the spread of the ongoing COVID-19 pandemic to Europe and the US will likely continue pressuring Caterpillar's operational and ultimately financial performance, even as China attempts to restart its economy.
It was the relative outperformance (in terms of the retail sales growth/decline trajectory) of its 'Oil & Gas' sub-segment that helped limit the overall decline in retail sales at Caterpillar's Energy & Transportation segment to just 4% year-over-year on an adjusted (constant currency) rolling three-month basis. Considering that oil and other raw energy resources have seen their prices crater over the past week or so (we covered that in detail here and here), it's unlikely this relative strength will last (keeping in mind that this sub-segment's "strength" just implies a sales decline that's less than the segment's total). Additionally, note the sharp deterioration in Caterpillar's 'Transportation' sub-segment from January 2020 to February 2020.

Image Shown: While Caterpillar's 'Energy & Transportation' segment's retail sales have held up better overall compared to its company-wide operations of late (which were down 11% year-over-year in February 2020 on an adjusted rolling three-month basis), that relative outperformance (keeping in mind retail sales are still declining here, just less than Caterpillar's company-wide retail sales) is unlikely to last much longer given significant declines in raw energy resources pricing of late. Image Source: Caterpillar – 8-K Filing
Concluding Thoughts
As 10-K filings start rolling on in our team is getting ready to roll forward our discounted cash flow models for industries across the board. Given rising exogenous headwinds are starting to pressure the near- and medium-term performance of all types of companies including Caterpillar, it's quite possible fair value estimates will get reduced to varying degrees to take slowing economic activity over the coming quarters and potentially years into account (keeping in mind most of the intrinsic value of equities, generally speaking, comes from the mid-cycle and perpetuity part of the business period). Caterpillar is doing what it can to revive sales growth via innovation, but that can only do so much when demand is cratering.
Agricultural Equipment Industry – AGCO CAT CNHI DE MTW
Related: DJD, DVOP, DIA, XLI, FIDU
-----
Valuentum members have access to our 16-page stock reports, Valuentum Buying Index ratings, Dividend Cushion ratios, fair value estimates and ranges, dividend reports and more. Not a member? Subscribe today. The first 14 days are free.
Some of the companies written about in this article may be included in Valuentum's simulated newsletter portfolios. Contact Valuentum for more information about its editorial policies.