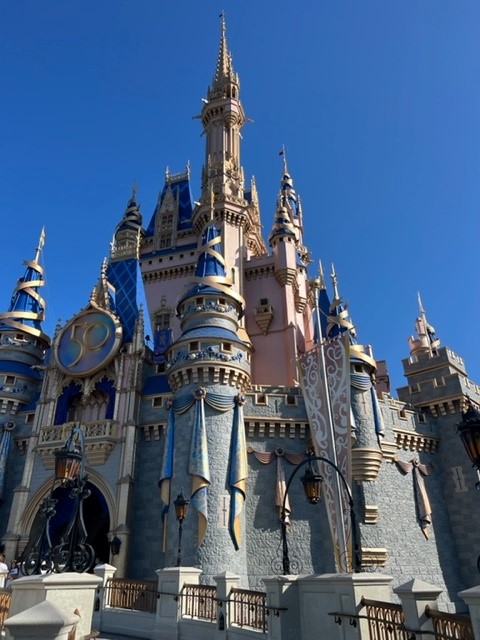 Image Source: Valuentum
By Brian Nelson, CFA
After The Walt Disney Company's (DIS) poor performance in its fiscal fourth quarter (calendar third quarter) 2022 results, released November 9, we no longer think the company is a great fit as one of our best ideas. We have cut our discounted cash-flow-derived fair value estimate of Disney to $93 per share and are removing the company from the simulated Best Ideas Newsletter (BIN) portfolio. The cash "raised" from Disney in the Best Ideas Newsletter portfolio will be allocated to one of our favorite garbage haulers, Republic Services (RSG), which is already a key idea in the simulated Dividend Growth Newsletter portfolio.
Disney's revenue in its fiscal fourth quarter grew 9% as the company posted strong results in its 'Parks, Experiences and Products' segment and experienced solid subscriber growth at Disney+, but the company missed big on its bottom line, with diluted earnings per share in the quarter falling to $0.30 from $0.37 in the prior-year period. This was a huge miss relative to consensus estimates, too, with non-GAAP profits coming in almost half of what was expected in the period. The big problem for Disney, in our view, is the costs related to its streaming operations, something that Netflix (NFLX) noted in its recent shareholder letter October 18:
From Netflix: Our competitors are investing heavily to drive subscribers and engagement, but building a large, successful streaming business is hard - we estimate they are all losing money, with combined 2022 operating losses well over $10 billion, vs. Netflix's $5 to $6 billion annual operating profit.
We believe the streaming business may start to become an irrational one, at least for some time, as rivals fight hand over fist for new customers, only to have them churn if spending levels to keep them entertained subside. Disney has rolled out price increases and will launch an ad-supported tier to its streaming operations soon, but it's growing likely that it may take much longer than management's target for Disney+ profitability by fiscal 2024, given:
1) its poor cost performance in the quarter and what that implies going forward,
2) shifting consumer preferences to other video content (e.g. TikTok),
3) the ongoing need for continuous content spending,
4) the aggressive nature of existing rivals seeking to protect their turf, and
5) the potential for even more companies to enter the streaming space directly or indirectly.
That said, Disney's 'Parks, Experiences and Products' segment is doing better now that the worst of COVID-19 seems to be behind the world. Revenue growth in this segment was 36% in the quarter on a year-over-year basis, while segment operating income in the division advanced considerably to $1.51 billion from $640 million in the year-ago period. However, the massive 91% fall in segment operating income in its 'Media and Entertainment Distribution' business almost fully offset the recovery from people visiting its parks, where total companywide segment operating income barely nudged higher in the quarter.
Disney generated $1.06 billion in free cash flow during the fiscal year ended October 1, 2022, down from $2 billion last fiscal year, while it recorded a net debt position of $33.7 billion at the end of the quarter (cash and cash equivalents less borrowings). The trends aren't favorable at Disney these days, and they may take a long time to reverse, in our view. We love the company, admire the brand, but the economics behind the streaming business aren't nearly as attractive as we once thought they could be, especially as the company is already jumping to an ad-supported tier in just a few years.
Concluding Thoughts
With content costs on the rise and the potential for the streaming business to become irrational as rivals fight for the incremental customer, Disney has a tough road ahead of it, in our view. Its 'Parks, Experiences and Products' segment is recovering nicely from the COVID-19 lockdowns, but losses in its 'Media and Entertainment Distribution' business remain very concerning in a difficult advertising environment.
Disney has already cut its dividend payout, and while the firm remains free cash flow positive, we're not fans of its massive net debt position. Our updated fair value estimate of Disney now stands at $93 per share, and it no longer fits the bill of a best idea. We're replacing it with environmental services company Republic Services in the simulated Best Ideas Newsletter portfolio. The change will be reflected in the next edition of the Best Ideas Newsletter.
Disney's 16-page stock report (pdf) >>
Republic Services 16-page stock report (pdf) >>
Tickerized for DIS, NFLX, PARA, AMZN, WBD, CMCSA
---------------------------------------------

About Our Name
But how, you will ask, does one decide what [stocks are] "attractive"? Most analysts feel they must choose between two approaches customarily thought to be in opposition: "value" and "growth,"...We view that as fuzzy thinking...Growth is always a component of value [and] the very term "value investing" is redundant.
-- Warren Buffett, Berkshire Hathaway annual report, 1992
At Valuentum, we take Buffett's thoughts one step further. We think the best opportunities arise from an understanding of a variety of investing disciplines in order to identify the most attractive stocks at any given time. Valuentum therefore analyzes each stock across a wide spectrum of philosophies, from deep value through momentum investing. And a combination of the two approaches found on each side of the spectrum (value/momentum) in a name couldn't be more representative of what our analysts do here; hence, we're called Valuentum.
---------------------------------------------
Brian Nelson owns shares in SPY, SCHG, QQQ, DIA, VOT, BITO, and IWM. Valuentum owns SPY, SCHG, QQQ, VOO, and DIA. Brian Nelson's household owns shares in HON, DIS, HAS, NKE, and RSP. Some of the other securities written about in this article may be included in Valuentum's simulated newsletter portfolios. Contact Valuentum for more information about its editorial policies.
Valuentum members have access to our 16-page stock reports, Valuentum Buying Index ratings, Dividend Cushion ratios, fair value estimates and ranges, dividend reports and more. Not a member? Subscribe today. The first 14 days are free.