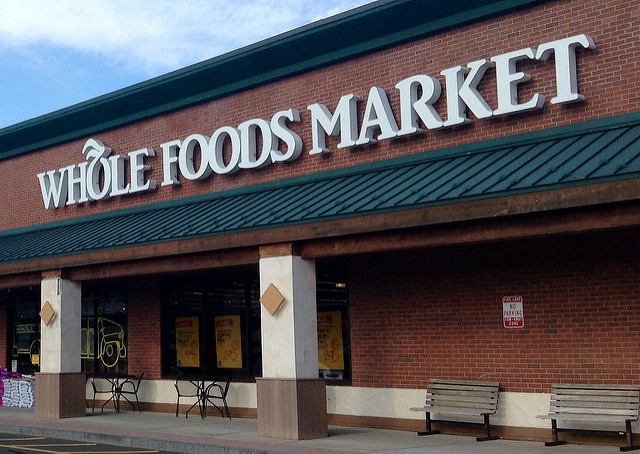 Image Source: Mike Mozart
Amazon announced plans to buy Whole Foods. We're viewing the news as affirmation of our decision to stay largely away from retail exposure in the newsletter portfolios. We think a bidding war for Whole Foods is possible, mostly to keep it and its real estate out of the hands of Amazon, potentially setting up for a true "winner's curse" scenario. The winner will overpay.
By Brian Nelson, CFA
We're not pleased, but then again, it's okay. Amazon (AMZN) announced June 16 that it will buy high-end grocer Whole Foods (WFM) for $42 per share in cash. Though we mentioned that Amazon was expanding into the grocery store market anecdotally, we must say that it still is a bit odd for us to say this is actually happening. We're not reading into potential implications on Amazon's rumored extension into the pharmacy market, however, but we believe it is growing more likely on the news. Here's what healthcare and biotech contributor Alexander J. Poulos said June 14 as it relates to speculation that Amazon might enter the pharmacy market in full force:
For Amazon to fully hamper CVS, it would need to build out a cluster of stores, which it has resisted thus far. The Amazon Go supermarket concept, however, could be considered the first shot across the bow, as it is Amazon's attempt to break into the grocery store market. If Amazon were to proceed with a roll-out of the Amazon GO concept, a credible case could be made the entire Drug Delivery Model could be at risk assuming Amazon equips its supermarket concept with a pharmacy department. Amazon is also now opening brick-and-mortar book stores, a headache for Barnes & Noble (BKS), but nonetheless, more evidence that Amazon continues to evolve.
If Amazon does turn its proposed, newly-acquired chain of Whole Foods stores into pharmacies, we could start to see some cracks in our thesis on CVS Health (CVS) as no pharmacy benefits manager (PBM) would be spared. We doubt that even low-cost big-box players such as Walmart (WMT) and Costco (COST) would be immune to Amazon's entrance into brick-and-mortar grocery. Walgreens (WBA) and Target (TGT) may fare the worst from Amazon's unwieldly move, however, but we haven't liked Target for some time, and neither it nor Walgreen's is a newsletter portfolio constituent. Even food stocks may face some headwinds should bargaining power move toward the online retailing giant. In other news, Walmart bought e-commerce clothing company Bonobos, and Wayfair (W) could be on Walmart's radar, too. Shares of Wayfair have soared in recent months.
In our opinion, Amazon's decision to buy Whole Foods does not reflect creative destruction, just destruction. Market participants may already be anticipating the worst in light of the sell-off in many household names June 16. Kroger's (KR) weak guidance, released June 15, isn't helping either. We think it'd be wise for industry constituents to do what they can to keep Whole Foods out of Amazon's hands, but we'd be hard-pressed to say a suitor is ready to make a bid right now. If a new suitor does emerge and it (they) do "win" Whole Foods' assets, it will almost certainly mean they would have overpaid for them. From a newsletter portfolio perspective, we're not worried about this development, at least not nearly as much as we are about general market valuations. Aside from CVS Health exposure in both newsletter portfolios, Dollar General (DG) is the only other pure "retail" exposure. In fact, we're viewing the news from Amazon June 16 as affirmation of our decision to stay largely away from retail exposure in the newsletter portfolios.
We plan to update our 16-page reports on impacted companies shortly, with the largest adjustments coming in the Food Retailing industry.
Food Products (Small/Mid-Cap): CALM, DF, FLO, FDP, HAIN, HRL, JJSF, LANC, MKC, SJM, THS, TSN
Food Products (Large/Mid-Cap): ADM, BG, CPB, CAG, GIS, HSY, K, KHC, MDLZ, MJN, NSRGY, UL, UN
Food Retailers: CASY, COST, CVS, GNC, KR, SVU, SYY, TGT, UNFI, VSI, WBA, WFM, WMT