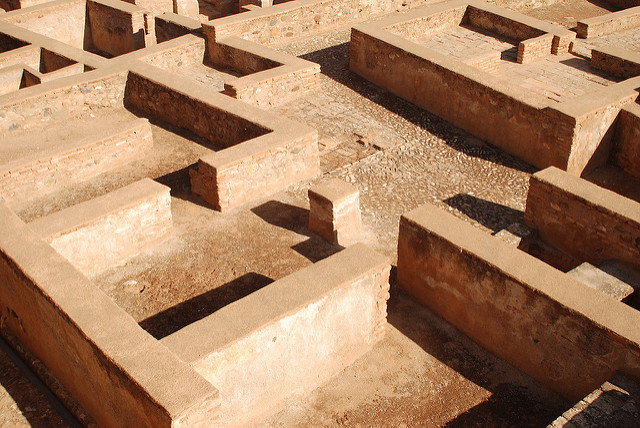 Image Source: Lindsay Holmwood
Let's examine how we derive the forecasts in our stock and dividend reports.
This article appeared on our website April 2014. It is reproduced today for the benefit of new members.
By Brian Nelson, CFA
One of the biggest benefits of being a member of Valuentum's investment services is that we show you all of the numbers – the numbers tell the real story.
An author/analyst may tell the story of a company through his/her eyes, but the author/analyst must still convert his/her thoughts and qualitative considerations into quantitative future forecasts to arrive at the fair value of a stock. These future forecasts ultimately determine the intrinsic value of the equity. Without an in-depth valuation process on the basis of future free cash flows, stock analysis is a story that has no end…no tangible conclusion.
Sometimes investors may not want to see all of data (at times, it can be overwhelming), but we think it's important that investors know it's here at Valuentum. Investors are learning that most of the articles found on the web today do not have a robust cash-flow valuation process – or any robust and systematically-reviewed valuation process – supporting the conclusions.
Buying a stock after reading an article without examining its valuation model is like buying a house without examining the foundation. The house may look pretty on the outside, but there's really nothing supporting it. You may get lucky and be on sturdy ground, or you may not. Just like we don't want our house to sink, we don't want our stocks to collapse either.
You can find our earnings estimates and the hundreds of assumptions we include to arrive at a fair value estimate in our 16-page reports, or if you want to take a fully-populated discounted cash-flow model for a test drive, we make this unique and unmatched feature available through our Financial Advisor plan (upgrade here). You can use the same models our analyst team uses! We are the only firm that provides this feature to you.
Why are we writing this article?
We're writing this article to show you just how transparent we are as a firm (this is a good thing) and why we do the things we do. A recent study by the CFA Institute revealed that trust is far and away the most important consideration for an investment service, and we hear you. We don't take our responsibilities lightly.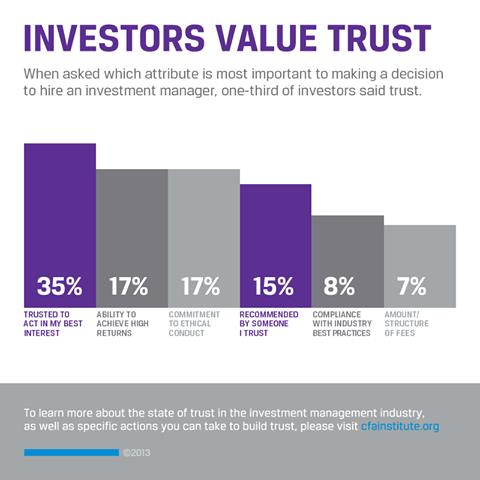 Source: http://www.cfainstitute.org/learning/future/about/pages/investor_trust_study.aspx
That said, the best place to start with how we think about forecasts is with a statement that may shock you: There are more than 40 analysts deriving Google's (GOOG) earnings estimates for this year alone (please click here to view the list). And the large number of analysts isn't a phenomenon unique to Google or just large companies – it's like this for almost every mid/large cap – F5 (FFIV), for example, has over 30. Some of the analysts will be right some of the time, and some of the analysts will be wrong some of the time. It's just the way the stock-research business works. No analyst is right all of the time.
But that shouldn't be the takeaway from this article – investors already know analysts are not perfect (that's why there are earnings beats and misses all the time). Still, we think it is quite informative to examine where these analysts are focusing their attention. Below, please find a snapshot of the earnings-estimate distribution from these analysts, courtesy of FactSet (as of October).

Image Source: FactSet
At the time this article was originally written, you'll see some research firms are pessimistic about the year's earnings estimate of Google relative to consensus and some firms are optimistic. The range of earnings estimates is $41-$48 per share for fiscal year 2013 (our forecast is $44 per share). More than forty analysts are all looking at the year's performance and making an estimate.
Are we interested in competing with 40 other analysis on this year's numbers? No. First of all, we don't think we could do a better job than these 40 analysts collectively – just like we don't think we could beat out the ultra-fast algorithmic traders – nor do we want to. Trust me -- I've made earnings estimates for a research firm that's listed in Google's coverage. I've been spot on at times. I've been wrong at times. But I can tell you with certainty – next year's earnings have little to do with the intrinsic value of a stock.
Most money managers will try to find an analyst from the list that they think is good – one that predicts earnings surprises or is a good fit for their strategy (think growth, value, momentum). Though there is value to this, we're more interested in getting our fair value estimates correct and delivering information regarding the Valuentum Buying Index rating that correctly predicts future stock price movements more often than not. As we outline in the "13 Most Important Steps to Understand the Stock Market", "playing games" with earnings estimates as some sell-side analysts do is not the driver behind long-term stock prices (logically, it doesn't make sense):
Let's ask ourselves these two questions: What if a company continues to miss earnings expectations every quarter into infinity? Will its stock price keep going down forever until it reaches 0? The answer simply is no. Stock prices are determined by expectations of future earnings and cash flow. A company will still have value even if it continues to miss earnings. Consensus estimates and even whisper numbers move around often. And I've even heard of some speculation that some analysts actually raise their target prices and lower earnings estimates (at the same time for the same company), so that specific company can beat estimates (and hopefully traders drive the stock price higher to their target price, so they look smart). This can't be true, right? Well-seasoned market participants may know about this potential conflict and what I am talking about.
Simply put, we just don't see much value in spending our time competing with 40 other analysts (on Google alone), where the majority of them will be wrong. Our top- and bottom-line forecasts for the next two years, therefore, do not vary much from consensus estimates or management's provided guidance. Where we do differentiate ourselves is in the intermediate- and long-term forecasts that are more important to the derivation of a fair value estimate than anything else.
Please examine the distribution of a firm's equity value, per Google's 16-page report from October below (please view Google's updated report here). Roughly $68.3 billion (20%) of the firm's equity value comes from value generated during the next five years, $154.8 billion (45%) from years 6-20, $77.2 billion (22.5%) from perpetuity, and the balance from its balance sheet position.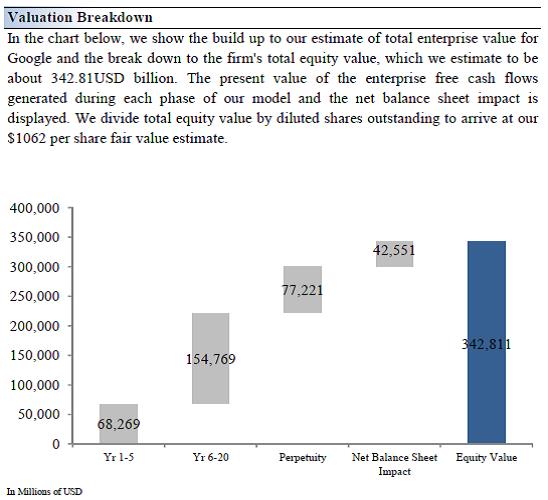 Source: Google's 16-page equity report, 10/11/2013
Sell-side analysts are spending the majority of their time analyzing fundamentals over the next few years, a time frame that accounts for less than one fifth of Google's equity value (see image above). We like to spend the majority of our time looking just past the focus of those 40 analysts, the area in which the most value is created.
We don't care to differ much from consensus estimates during the next couple years – it's not where we're going to "win the game" or where most of the value is generated. We're laser-focused on getting our long-term assumptions correct -- a time frame some sell-side analysts may not even be looking at!
Our fair value estimates reflect the base-case scenario of the firm (they do not represent an optimistic case or a pessimistic case, but the scenario that we think will occur). That said, we're well aware that valuation is not a precise exercise, and the upside and downside cases of our forecasts result in our fair value range for each company (encapsulating the concept of a margin of safety).
If you have any questions about how we derive our operating assumptions within our valuation model, please contact us at info@valuentum.com. We have an analyst team waiting to hear from you. If you're using our valuation model template, you may find some helpful commentary in the model Q&A on our discussion board here.
How do we think about the dividend growth rates we assign to stocks?
"No board of directors is going to openly say that its firm's dividend is weak."
Forecasting dividend growth rates is not an exact science either. For one, the board of directors can choose to raise the dividend at any time it wants. J.C. Penney kept raising its dividend through 2007 and is now headed for bankruptcy, for example. In fact, every company that has previously paid a dividend and has subsequently filed for bankruptcy can look to a board that either was too optimistic about the company's fortunes or did not accurately anticipate the fundamental risks (Eastman Kodak and Dana are a couple firms that come to mind).
Our goal with respect to our dividend forecasts in the dividend reports is to separate ourselves from board decision-making. We want to estimate what we think is an achievable growth rate in the firm's dividend on the basis of the firm's Valuentum Dividend Cushion ratio and the willingness of management to continue raising it by assessing the consistency and pace of dividend growth in the past. Boards make mistakes all of the time – it's possible that they will raise the dividend by more than our forecast or by less than our forecast.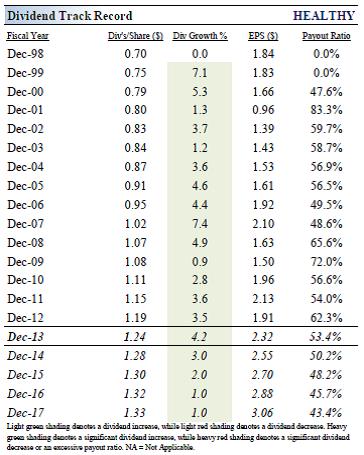 Source: Valuentum, Sonoco's (SON) dividend report
We're not trying to – or even interested in – front-running a board's decision. We want to provide dividend growth investors with an independent opinion of the strength of a firm's dividend – what we think is a reasonable growth rate to expect on the basis of the company's cash-flow profile, balance sheet health, and dividend track record (our opinion – not the board's). No board of directors is going to openly say that its firm's dividend is weak. We're going to voice an unbiased opinion based on hard numbers.
Though there are a variety of exceptions, the future dividend growth rates at the end of our discrete forecast horizon (2017, in Sonoco's case above) are assigned according to the following scale.
Dividend Growth Potential
Excellent: 8% or higher
Good: 4%-8%
Poor: 2%-4%
Very Poor: 0%-2%

Source: Valuentum (Sonoco's dividend report)
The firm's dividend growth rate in its most recently-reported fiscal year will gradually increase or decrease to this terminal rate over the discrete period.
Key Takeaway: Valuentum's investment ideas stand on a very firm valuation foundation (and are augmented by technical and momentum indicators), and our expected dividend growth rates for each firm are not only cash-flow based but also completely independent from potential "group think" on a firm's board of directors.
If you have any questions about how we derive our forward-looking dividend growth assumptions within our dividend reports, please contact us at info@valuentum.com.