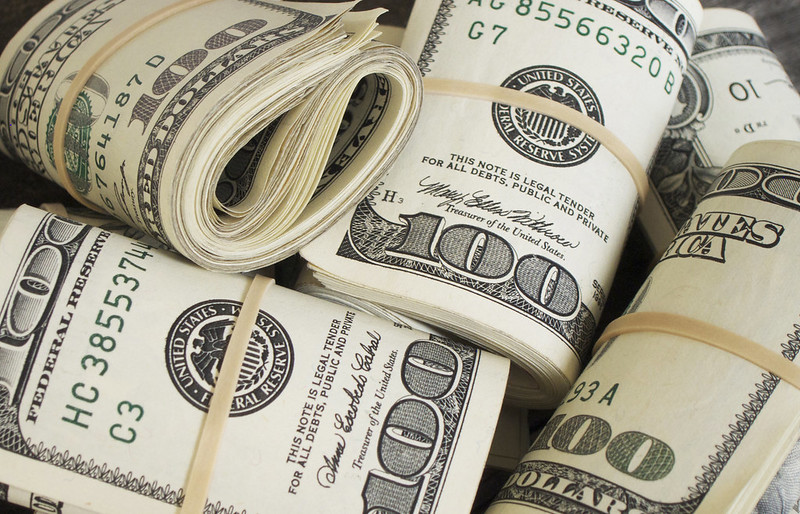 Image Source: Pictures of Money
By Callum Turcan
On Thursday, April 9, the US Senate is set to hold a vote on whether to add additional funding towards helping small- and medium-sized businesses ('SMBs') on top of the $350 billion allocated towards a loan/grant program that was included in the recently passed $2+ trillion Coronavirus Aid, Relief, and Economic Security Act ('CARES Act'). Members who want to read our commentary on the CARES Act are encouraged to check out this article here, and for additional commentary, check out our 'Recapping the Crash' note here and one of our latest videos here. We sincerely hope everyone and their loved ones stay safe during the ongoing coronavirus ('COVID-19') pandemic.
Pivoting back to the vote that's expected to be held on April 9 in the US Senate, key Republican legislators and Trump administration officials including Senate Majority Leader McConnell (Kentucky), Treasury Secretary Mnuchin, and Senator Rubio (Florida) who is Chairman of the Senate Committee on Small Business and Entrepreneurship, want to add $250 billion in funding capacity to the SMBs relief program, dubbed the Paycheck Protection Program ('PPP'). That program involves providing loans to SMBs equal to 250% of their monthly payroll, and those loans can be used to pay employees along with utilities and rent. If those funds are used to retain workers, they can become forgivable loans and effectively grants (if certain conditions are met).
Considering many legislators are currently out of town, the goal (for Senate Republicans at least) is to approve the additional funding measure by "voice vote" as not all members will be able to return in time. It only takes dissent from one senator to prevent a measure from passing in this manner. Please note that even if the additional spending package is approved in the Senate, it must still pass the US House of Representatives and get signed into law by President Trump (who approves of the additional funding measure).
Key Democrats including House Speaker Pelosi (California) and Senate Minority Leader Schumer (New York) are in favor of adding funding capacity to the SMBs relief program (as long as $125 billion of the additional $250 billion in PPP funding support goes to community lenders); however, they are also calling for additional funds for healthcare needs ($100 billion in additional funds towards hospitals and community health centers, on top of the ~$140 billion allocated in the CARES Act), states and local governments ($150 billion in additional funds on top of the ~$150 billion allocated in the CARES Act), and a 15% increase in the maximum Supplemental Nutrition Assistance Program ('SNAP') benefit (the food assistance program).
How this plays out remains to be seen, but what's clear is that PPP loans are in high demand. JPMorgan Chase & Co (JPM) had reportedly received 375,000 requests for $40 billion in PPP loans by Tuesday, April 7 (a figure that's likely growing), while Bank of America Corporation (BAC) reported that it had received 177,000 requests for $32.6 billion in PPP loans by Monday, April 6, and that too has likely grown since then. Initially, many banks had trouble handling these PPP loans given the rushed nature of the program, but now it appears at least some banking institutions are able to process these loan applications. We'll have more to say as more information becomes available.
A recent survey conducted by the US Chamber of Commerce and MetLife Inc (MET) noted that around 25% of US small businesses have closed and another 40% are considering closing in the coming weeks (the survey covered 500 small businesses), according to an article in the WSJ. Please note that this doesn't necessarily mean shutting down for good but considering many small businesses don't have a lot of cash on hand and carry high fixed costs, plenty of those businesses will unfortunately go under. With the S&P 500 hovering near the high end of our target range of 2,350-2,750, the markets are starting to factor in a V-shaped economic recovery, which may not be easily achieved. We'll continue to update members as more information becomes available.
-----
Banks - Regional and Asset Management: AB, AINV, AMP, ARCC, BCH, BEN, BGCP, BKU, BLK, BMO, BNS, CM, FSIC, ISBC, KKR, LAZ, LM, MAIN, MTB, NABZY, NYB, OCN, PBCT, PFG, PSEC, RY, SBNY, SBSI, STT, TD, VLY, WBK
Banks & Money Centers: AXP, BAC, BBT, BK, C, DFS, FITB, GS, HBC, JPM, KEY, MS, NTRS, PNC, RF, STI, TCF, USB, WFC
Airline Related: AAL, ALK, DAL, HA, JBLU, LUV, SAVE, UAL
Hotel Related: H, IHG, WH, CHH, RLH, STAY, BEL, WYN, EXPE, BKNG, TRIP, TZOO, TCOM, HTZ, CAR
Other Related: VGK, FEZ, HEDJ, EZU, IEV, IEUR, EPV, EURL, SPEU, DBEU, EEA, HEZU, MET
Treasury Related: TLT, TBT, IEF, SHY, IEI, EDV, TMV, TMF, VGLT, SHV, BIL, VGSH
-----
Valuentum members have access to our 16-page stock reports, Valuentum Buying Index ratings, Dividend Cushion ratios, fair value estimates and ranges, dividend reports and more. Not a member? Subscribe today. The first 14 days are free.
Callum Turcan does not own shares in any of the securities mentioned above. Bank of America Corporation (BAC) is included in Valuentum's simulated Dividend Growth Newsletter portfolio. Some of the other companies written about in this article may be included in Valuentum's simulated newsletter portfolios. Contact Valuentum for more information about its editorial policies.