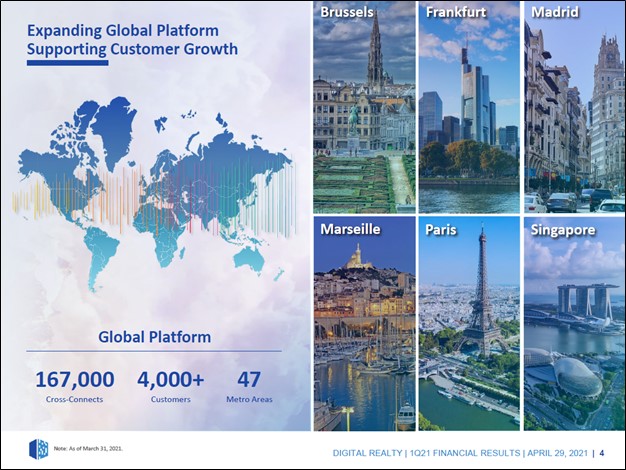 Image Shown: An overview of Digital Realty Trust Inc's expansive geographical footprint. Image Source: Digital Realty Trust Inc – First Quarter of 2021 IR Earnings Presentation
By Callum Turcan
The real estate investment trust ('REIT') industry is steadily recovering from the coronavirus ('COVID-19') pandemic. Generally speaking, rent collection rates are on the rise as vaccine distribution efforts are helping enable the economy to slowly open back up, allowing many commercial activities to resume in earnest. Let's have a look at the latest earnings reports from two high-quality REITs in this article.
Digital Realty (DLR)
On April 29, Digital Realty Trust Inc (DLR), a data center REIT, published its first quarter 2021 earnings that beat both consensus top- and bottom-line estimates. Digital Realty's strong performance gave management the confidence to raise the REIT's full-year guidance for 2021 as it concerns its funds from operations ('FFO') per share and revenue performance. Now, Digital Realty forecasts it will generate $4.3-$4.4 billion in revenue (up from $4.25-$4.35 billion previously) and $6.50-$6.55 in FFO per share (up from $6.40-$6.50 per share previously) this year. Strong top-line performance, operating expense savings, and a tailwind from favorable foreign currency movements all played a role here.
Digital Realty recently sold off some non-core European operations through a deal that closed in March 2021, which raised just under USD$0.7 billion in gross cash proceeds. Considering Digital Realty acquired the European data center firm InterXion through a deal that closed the year prior in March 2020, rationalizing its footprint in the region seems like the right call, in our view. The demand outlook for data centers and interconnection services is incredibly strong and supported by numerous factors including the proliferation of e-commerce and the Internet of Things ('IoT') trend.
We appreciate that Digital Realty has a well-staggered debt maturity schedule, as one can see in the upcoming graphic down below. During Digital Realty's first quarter of 2021 earnings call, management noted that the REIT was able to raise capital via a green Eurobond issuance earlier in 2021 at very attractive rates. Shares of DLR yield ~3.1% as of this writing. We include Digital Realty as an idea in both the Dividend Growth Newsletter portfolio and High Yield Dividend Newsletter portfolio. Digital Realty's outlook is bright and getting brighter as it moves past headwinds seen over the past couple of years relating to the expiration of legacy contracts, a dynamic we covered in this note here. We continue to be big fans of Digital Realty.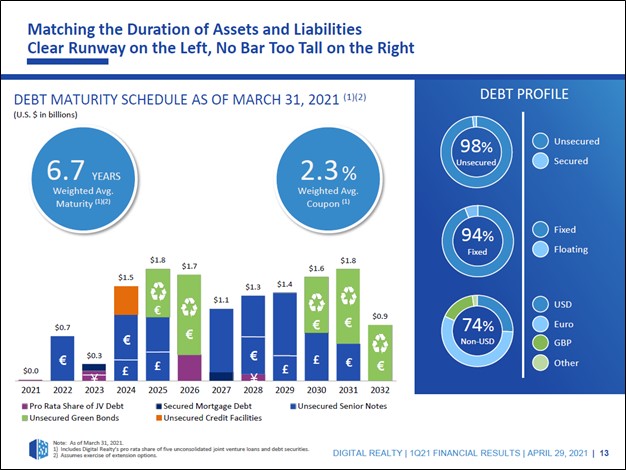 Image Shown: Digital Realty's debt maturity schedule is well-staggered, making refinancing activities an easier task. Recent debt issuance activity indicates Digital Realty retains access to capital markets at attractive rates. Image Source: Digital Realty – First Quarter of 2021 IR Earnings Presentation
Realty Income (O)
On May 3, Realty Income Corporation (O) reported first quarter 2021 earnings that beat both consensus top- and bottom-line estimates. Realty Income's contractual rent collection rates stood at 94.1% last quarter (up from 93.6% in the final quarter of 2020), with 100% of the contractual rent owed from its investment-grade tenants collected in the first quarter of this year (which was also the case in the final quarter of last year). In March 2021, Realty Income modestly boosted its monthly dividend, supported by its strong performance of late as the REIT continues to recover from the COVID-19 pandemic. Realty Income focuses on single-tenant free standing commercial properties in the US and the UK.
The biggest news to come out of Realty Income recently involves its pending all-stock merger with VEREIT Inc (VER) that was announced in late April 2021. VEREIT focuses on single-tenant retail, restaurant, office, and industrial properties in the US. The combined company is expected to have an enterprise value of ~$50 billion.
For every VER share, VEREIT shareholders will receive 0.705 share of O they own. Additionally, once the deal closes, Realty Income will spin off "substantially all of the office properties of both companies into a new, self-managed, publicly traded REIT" dubbed SpinCo. Shares of SpinCo are expected to be distributed to investors, though we caution that there may be tax implications here. On a pro forma basis, Realty Income shareholders will own ~70% of both companies (Realty Income, the surviving company, and SpinCo) and VEREIT shareholders will own the remaining ~30% in both entities.
Realty Income sees this move being highly accretive to its adjusted FFO ('AFFO') performance, boosting its AFFO per share by over 10% in year one on an annualized, leverage-neutral basis. Using Realty Income's 'A-rated' investment grade credit rating to its advantage along with the benefits of greater scale, Realty Income aims to refinance VEREIT's maturing debt at meaningful lower rates. Scale should give the combined company greater cost of capital advantages.
By the fourth quarter of 2021, this deal is expected to be completed. Realty Income expects to generate $45-$55 million in annualized corporate cost synergies when including stock-based compensation (annualized cash cost synergies are expected to come in around $35-$40 million). We like the combination, especially as Realty Income indicated that the REIT would remain committed to its dividend policy going forward.
On a pro forma basis (after the spinoff of its office properties is complete), the new Realty Income's property portfolio will be represented by convenience stores (~9% of annualized contractual rent), grocery stores (~8%), dollar stores (~8%), drug stores (~8%), causal restaurants (~7%), quick-service restaurants (~7%), health and fitness properties (~5%), home improvement properties (~4%), theaters (~4%), transportation properties (~4%), and other properties. Roughly 45% of the pro forma company's annualized contractual rent will come from investment-grade tenants.
Shedding the pro forma company's office properties will result in a much stronger REIT, given how the COVID-19 pandemic has fundamentally altered workplace norms with an eye towards greater amounts of remote working opportunities. Shares of O yield ~4.4% as of this writing, and Realty Income is included as an idea in our Dividend Growth Newsletter portfolio. We continue to view Realty Income's dividend growth trajectory quite favorably.
Image Shown: Realty Income expects its pending merger with VEREIT to be highly accretive to its AFFO per share performance once the deal closes. Image Source: Realty Income – Realty Income Merging with VEREIT IR Presentation
Concluding Thoughts
There are ample risks to be aware of when looking to dabble in REIT investment ideas, namely the capital-market dependency of the sector given their large total debt loads, sizable capital expenditures, and dividend obligations. Maintaining constant access to capital markets, ideally at attractive rates, is essential for REIT equities to stay healthy and to continue to make good on their hefty payout obligations. Locating high-quality REITs with strong businesses is key, and both Digital Realty and Realty Income fit the bill. On a final note, we include the Vanguard Real Estate Index Fund ETF (VNQ) in our High Yield Dividend Newsletter portfolio to gain diversified exposure to the space (learn more about the High Yield Dividend Newsletter here).
Downloads
Digital Realty's 16-page Stock Report (pdf) >>
Digital Realty's Dividend Report (pdf) >>
Realty Income's 16-page Stock Report (pdf) >>
Realty Income's Dividend Report (pdf) >>
-----
Real Estate Investment Trusts (REITs) - CONE, DLR, FRT, O, REG, SPG, WPC, PEAK, HR, LTC, OHI, UHT, VTR, WELL, PSA, EQIX, CUBE, EXR, IRM
Related: VER, VNQ
Valuentum members have access to our 16-page stock reports, Valuentum Buying Index ratings, Dividend Cushion ratios, fair value estimates and ranges, dividend reports and more. Not a member? Subscribe today. The first 14 days are free.
Callum Turcan does not own shares in any of the securities mentioned above. Realty Income Corporation (O) and Digital Realty Trust Inc (DLR) are both included in Valuentum's simulated Dividend Growth Newsletter portfolio. Digital Realty Trust and Vanguard Real Estate ETF (VNQ) are both included in Valuentum's simulated High Yield Dividend Newsletter portfolio. Some of the other companies written about in this article may be included in Valuentum's simulated newsletter portfolios. Contact Valuentum for more information about its editorial policies.