"Davey the Day Trader" meets space flight in this article that sums up the goings-on at two exciting companies, Penn National and Virgin Galactic. We think shares of PENN are fairly valued at the moment, and we won't be taking a "flier" on Virgin Galactic, but we still think it is one worth watching.
By Brian Nelson, CFA
Penn National Gaming (PENN)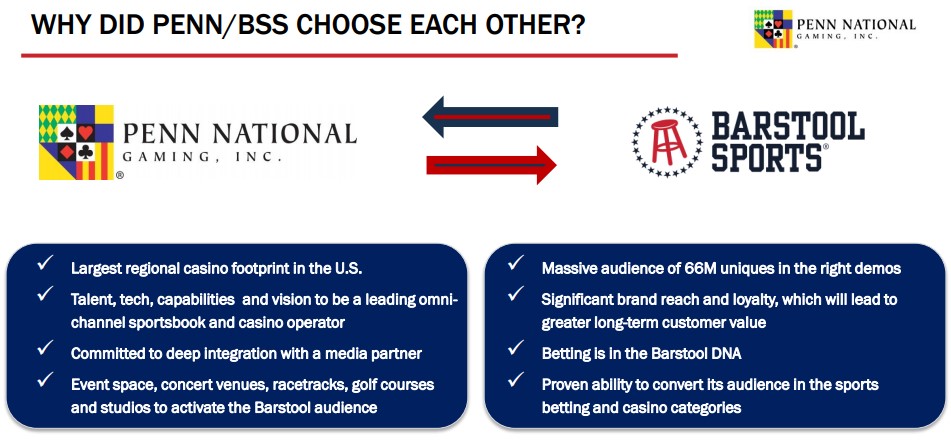 Image Source: Penn National Gaming
Dave Portnoy, "Davey the Day Trader," has taken the investment community by storm, and not just because he lost a cool mil on Remark (MARK). He's been taking on the "suits" of Wall Street as he calls it, and while the entertainment "value" is excellent, there's just not much going on other than profanity-laced videos on Twitter, from what we can tell. It may not have been until this year that many even heard of the company Portnoy founded, Barstool Sports, which was acquired in part by Penn National in February of this year.
Penn looks to have purchased Barstool for about 4.5-5x revenue, a sweet price for "Davey the Day Trader," now a large shareholder of Penn stock, which has increased more than 10-fold from the bottom set during the doldrums in March. We think Penn may have a bright future given the growing popularity of sports gambling, but we're going to take a wait-and-see approach on the name. Penn's net debt position was $1.9 billion at the end of a loss-ridden second quarter, and while the company has been a free cash flow cow (averaging $380+ million during the past three fiscal years), there's still a lot of risk to the story.
That said, assuming $780 million in normalized annual enterprise free cash flow ($380 in free cash flow + $400 million in tax-effected interest) and the current net debt position, a good fair value estimate for the company's equity is $6-$8 billion (assuming an all-in discount rate of 8%). Though its current market cap is within this range, there could be upside on the basis of recent trends in free cash flow and if Barstool translates into even more free cash flow generation down the road. What can we say – people love to gamble. Congrats Davey on your tremendous entrepreneurial journey! I don't think anyone saw this coming, but I can tell you got the heart and drive, and you made it. Please don't lose all your money day trading.
Virgin Galactic (SPCE)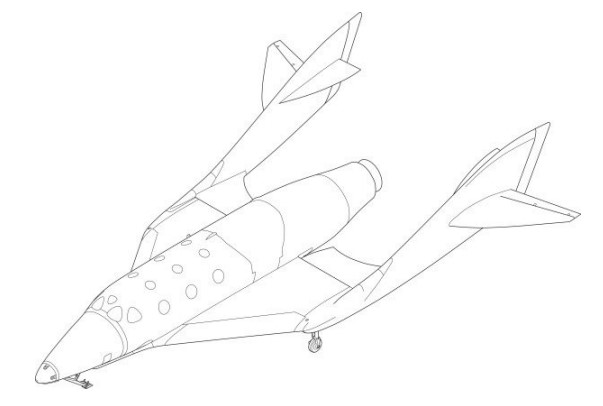 Image: Virgin Galactic's SpaceShipTwo. "SpaceShipTwo is a reusable spaceship with the capacity to carry two pilots and up to six spaceflight participants into space before returning them safely to the Earth's surface. SpaceShipTwo is a rocket-powered winged vehicle designed to achieve a maximum speed of over Mach 3 and has a flight duration, measured from WhiteKnightTwo's takeoff to landing, of up to approximately 90 minutes (Form 10-K)."
Let's just call it how it is. Virgin Galactic is an exciting company:
We are a vertically-integrated aerospace company pioneering human spaceflight for private individuals and researchers, as well as a manufacturer of advanced air and space vehicles. Using our proprietary and reusable technologies, and supported by a distinctive, Virgin-branded customer experience, we are developing a spaceflight system designed to offer customers a unique, multi-day, transformative experience. This culminates in a spaceflight that includes views of Earth from space and several minutes of weightlessness that will launch from Spaceport America, New Mexico. We believe that one of the most exciting and significant opportunities of our time lies in the commercial exploration of space and the development of technology that will change the way we travel across the globe in the future. Together we are opening access to space to change the world for good. – Virgin Galactic Annual Report Form 10-K
The U.S. Chamber of Commerce estimates that the "commercial space market is expected to grow 6% per year, from $385 billion in 2017 to at least $1.5 trillion by 2040, reaching 5% of the U.S. gross domestic product (Form 10-K)." Not bad. The company also emphasizes that "the market for commercial human spaceflight for private individuals is new and untapped," with less than 600 people ever having traveled into space. Now, I'm not saying that we'll never have space flight for entertainment, but I know I won't be doing it (I can barely get up the nerve to fly by plane). I just don't think I'm their target market.
In any case, though there is a ton of risk attached to the name, it's one worth watching closely, and there's a lot of excitement surrounding it. I'm super skeptical Virgin Galactic will make space flight economical (airlines are still having trouble doing this). Remember the supersonic transport Concorde? It also may require tons of new financing to make this dream a reality (diluting shareholders along the way), though we note the firm held a nice net cash position at the end of the second quarter. Perhaps all it may take is for one high-profile accident to put an end to space flight for entertainment, too.
Virgin Galactic is as risky as it is exciting, wouldn't you say? Be careful with this one. While the future may hold great promise, getting there without substantial shareholder dilution is another thing altogether. As you can probably guess, we won't be adding Virgin Galactic to any newsletter portfolios soon, but that doesn't mean we can't follow this story closely. From our perspective, there are just too many net cash rich, free-cash-flow generating powerhouses out there with long runways of growth that we can't take a "flier" on this name.
Related: CHDN, CMCSA, DKNG, MGM, WIMHY, RYCEF, TSLA, BA, NOC, BETZ, MGM
-----
Valuentum members have access to our 16-page stock reports, Valuentum Buying Index ratings, Dividend Cushion ratios, fair value estimates and ranges, dividend reports and more. Not a member? Subscribe today. The first 14 days are free.
Brian Nelson owns shares in SPY and SCHG. Some of the other securities written about in this article may be included in Valuentum's simulated newsletter portfolios. Contact Valuentum for more information about its editorial policies.