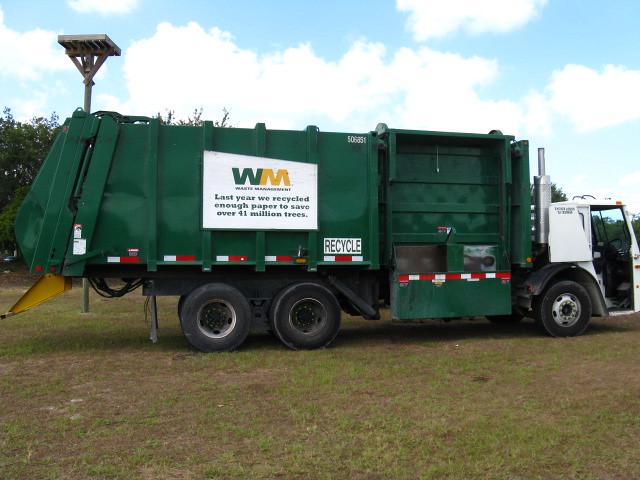 Image Source: Clyde Robinson
By Brian Nelson, CFA
It's hard not to like exposure to the municipal solid waste industry. Dividend Growth Newsletter portfolio idea Republic Services (RSG) finished 2020 on a solid note, and you can read about our latest thoughts on the company here. From valuable disposal capacity to lucrative contract-based revenue with CPI-escalators, Republic Services is one strong consideration.
Waste Management's first-quarter 2021 results, released April 27, only reinforces our thesis on the waste hauler space. The read-through across the municipal solid waste space is a positive one for peers Republic Services and Waste Connections (WCN), as Waste Management is the bellwether for the group. Here's what Waste Management CEO Jim Fish had to say about his company's first-quarter 2021 performance:
We had an exceptionally strong start to the year with first quarter adjusted operating EBITDA growth of more than 14% and adjusted operating EBITDA margin expansion of 100 basis points. We achieved these results by generating strong yield, flexing down our cost structure, and executing on the integration of Advanced Disposal. With this solid performance and our confidence in the strength of our business model, we are increasing our 2021 financial guidance that we provided in February for revenue, adjusted operating EBITDA and free cash flow.
In addition to the strong performance of our core business, the integration of Advanced Disposal is going remarkably well. Based upon the success of the integration efforts so far, we believe we will capture synergies above our original expectations. We now expect to achieve $130 million in annual run-rate synergies from operating costs and SG&A savings, which is a more than 60% increase from our initial estimates. The revised estimate includes between $75 million and $85 million in run-rate synergies captured during 2021, up from our prior guidance of between $50 million and $60 million.
The outlook for 2021 from Waste Management was more of the same, which is a good thing. The company expects internal revenue growth from yield and volume to be greater than 4.5% thanks in part to the waste giant's pricing programs. Price falls straight to the bottom line, so companies with pricing power have the capacity to generate strong economic returns through thick and thin.
Waste Management's free cash flow is expected to be in the range of $2.325-$2.425 billion in 2021, and there might even be upside to that number as the U.S. economy continues to recover. Our forecasts for cash dividends paid for 2021 is just shy of $1 billion, so Waste Management has ample dividend coverage with respect to forecasted free cash flow. The company's fair value range and unadjusted Dividend Cushion is weighed down by its net debt load, which stood at ~$13 billion at the end of March 2021.
When it comes to the Dividend Cushion ratio, we forecast a company's future expected traditional free cash flow over the next five years and add net cash or subtract net debt to that sum. We then divide the sum of future expected free cash flows and the net balance sheet impact by future expected cash dividends paid over the same five year period, to arrive at a proprietary coverage ratio that considers both free cash flow generation and balance sheet health.
We may make adjustments to the Dividend Cushion ratio in the cases of REITs and MLPs taking into consideration credit market conditions and access to new capital via the debt and equity markets. We also make adjustments to utilities in many cases (the waste hauling group, too) by giving them credit for the ability to pay back debt in light of their strong and predictable free cash flow streams. Waste Management's unadjusted Dividend Cushion ratio is 1.2, while its adjusted Dividend Cushion ratio is 2.5 – both of which we rate as GOOD.
Concluding Thoughts
Increasingly valuable disposal capacity that is only becoming scarcer and pricing power across collection and disposal operations that keep inflationary pressures at bay are just two of the reasons why we like the municipal solid waste space. Waste Management's first-quarter performance showed that the U.S. municipal solid waste industry remains very healthy while free cash flow generation across the group will remain robust and perhaps grow stronger as the U.S. economy continues its recovery. We include Waste Management's peer Republic Services as one of our favorite ideas in the Dividend Growth Newsletter portfolio.
Downloads
Waste Management's 16-page Report (pdf)
Waste Management's Dividend Report (pdf)
Republic Services' 16-page Report (pdf)
Republic Services' Dividend Report (pdf)
Tickerized for RSG, WM, WCN, CWST, SRCL, EVX, USMV, CLH, CVA, DAR, ECOL, VEOEY, SZEVY, ENGIY
-----
Valuentum members have access to our 16-page stock reports, Valuentum Buying Index ratings, Dividend Cushion ratios, fair value estimates and ranges, dividend reports and more. Not a member? Subscribe today. The first 14 days are free.
Brian Nelson owns shares in SPY, SCHG, QQQ, DIA, VOT, and IWM. Brian Nelson's household owns shares in HON, DIS, HAS. Some of the other securities written about in this article may be included in Valuentum's simulated newsletter portfolios. Contact Valuentum for more information about its editorial policies.