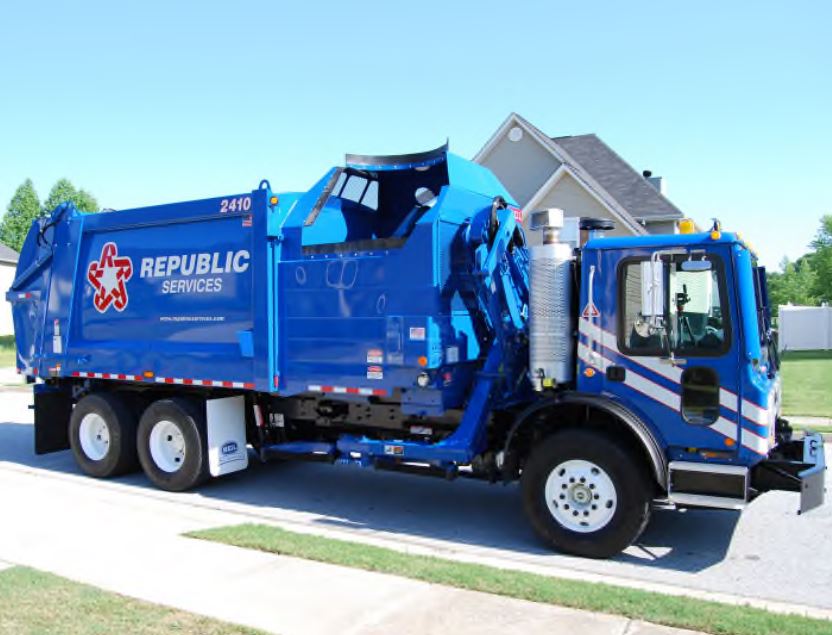 Image Source: Republic Services

By Brian Nelson, CFA
There are few things as certain as death and taxes, but garbage may be one of them. One of our favorite ideas within the municipal solid waste coverage is Republic Services (RSG), a holding in the Dividend Growth Newsletter portfolio. We love its free cash flow generating ability, visibility into future revenue, enviable position with respect to disposal capacity, CPI-based book of business, and exposure to fast-growing economic areas in the US.
Republic Services reported strong fourth-quarter results Monday, February 22, and issued favorable 2021 full-year guidance. Revenue during the fourth quarter was largely flat, but adjusted net income rose to $1.00 per diluted share from $0.88 per diluted share in the year-ago period thanks in part to solid pricing expansion (core price advanced 4.8% during the year). Here's what CEO Donald W. Slager had to say about recent performance in the fourth-quarter 2021 press release:
Last year proved the resiliency of our business model and power of our portfolio. In the face of adversity, the Republic Services team remained focused on our priorities — putting our people first, keeping our facilities running smoothly and taking care of our customers. Republic again proved its strength, resolve and ability to persevere through a challenging environment. As a result, we outperformed our adjusted earnings and free cash flow targets and created sustainable value for our shareholders.
On a full-year basis, cash flow from operations came in at $2.47 billion, while adjusted free cash flow was $1.24 billion, exceeding the company's previously issued guidance. Republic returned roughly $621 million to shareholders in the form of dividends and share buybacks, revealing strong dividend coverage with free cash flow generation (cash dividends paid during the year came in at ~$523 million). Republic Services Dividend Cushion ratio, a measure of dividend health, stands at 1.7 (a very good ratio).
Looking ahead to full-year 2021, management expects diluted earnings per share to be in the range of $3.65-$3.73 and adjusted free cash flow in the range of $1.3-$1.375 billion. Pricing strength will be a key part of hitting these targets, with average yield growth expected at ~2.5% and volume expansion to be in the range of 1.5%-2%. If the executive suite hits its targets, 2021 will record the "highest levels of adjusted earnings and free cash flow in the company's history."
Concluding Thoughts
We're huge fans of the waste-hauling space. The industry operates largely as an oligopoly with respect to disposal capacity, and pricing power emanates as a result; hence, the solid yield performance from participants. Headwinds from increased residential collection costs from COVID-19 may be largely behind the group, and we expect a banner year from Republic in 2021, as implied by its guidance range. The company's annualized $1.70 per share payout translates into a 1.9% dividend yield. We continue to like shares of this strong and predictable free cash flow generator.
Republic Services 16-page Stock Report (pdf) >>
Republic Services Dividend Report (pdf) >>
Tickerized for RSG, WM, WCN, CWST, SRCL, EVX, USMV, CLH, CVA, DAR, ECOL, VEOEY, SZEVY, ENGIY
---
It's Here!
-----
Valuentum members have access to our 16-page stock reports, Valuentum Buying Index ratings, Dividend Cushion ratios, fair value estimates and ranges, dividend reports and more. Not a member? Subscribe today. The first 14 days are free.
Brian Nelson owns shares in SPY, SCHG, QQQ, and IWM. Some of the other securities written about in this article may be included in Valuentum's simulated newsletter portfolios. Contact Valuentum for more information about its editorial policies.