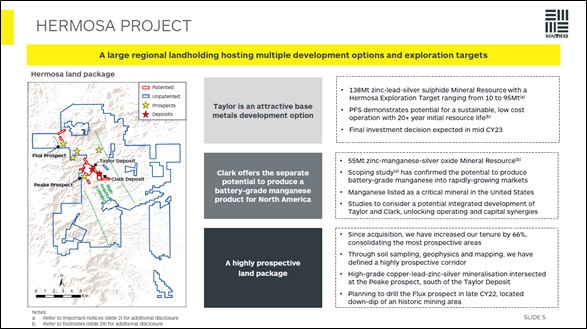 Image Shown: South32 is targeting ample zinc, lead, and silver resources at the Hermosa project in Arizona that could be quite economical to extract should the Australian-based miner move forward with the endeavor. Image Source: South32 – January 2022 IR Presentation
By Callum Turcan
Shares of South32 (SOUHY), one of our favorite miners, are up over 50% during the past year as of this writing and that is before taking dividend considerations into account. The Australian miner has a bright outlook after shedding virtually all its thermal coal assets last calendar year (completed in June 2021) and announcing in October 2021 that it would acquire a sizable economic interest in a Chilean copper mine. As a quick housekeeping item, South32's fiscal year ends in June.
We include shares of SOUHY as an idea in the ESG Newsletter portfolio and continue to be huge fans of the company. The miner has ample exposure to the "green energy" revolution and continues to pivot towards minerals that are expected to be in high demand in the future, which in turn supports the firm's cash flow growth runway. South32 has exposure to attractive potential mining opportunities down in Arizona and recently provided a big update on these efforts that are worth going over. Let's dig in.
Asset Overview
Before covering recent events, let's first provide an overview of how South32 began to build up a sizable presence in Arizona. In May 2017, South32 announced a private placement in the common equity of a Canadian junior miner, Arizona Mining. South32 acquired 45 million shares for around CAD$110 million as part of this arrangement. After the deal closed, South32 owned roughly 15% of Arizona Mining's equity (on a non-diluted, post-subscription basis) and was able to appoint a member to Arizona Mining's board of directors.
These funds were needed to advance Arizona Mining's efforts to test and appraisal various potential resource bases across a land package in the state of Arizona (dubbed the Hermosa project or Hermosa property). Specifically, the land package is located in Santa Cruz County, Arizona, which is located along the U.S. border with Mexico. When this private placement was announced, Arizona Mining was primarily focused on testing out and appraising the zinc-lead-silver Taylor sulphide deposit ('Taylor Deposit'). These efforts proved to be successful.
By June 2018, South32 had the confidence to acquire the remaining stake in Arizona Mining it did not already own for roughly CAD$1.8 billion in cash (equal to about USD$1.3 billion). The transaction at the time had a total equity value of approximately USD$1.6 billion. A preliminary economic assessment conducted a few years ago cited the potential for a lucrative mining development targeting the Taylor Deposit at the Hermosa project, an assessment that was recently validated by a pre-feasibility study. Please note that South32 owns this entire asset and that this potential mine represents a needle-moving growth opportunity for the company.
Resource Upside
Over the past few years, South32 has been steadily drilling exploration wells, conducting surface geophysical analysis, and testing soil samples to get a better idea of the resource potential at the Hermosa project. Ultimately, the goal is not just to locate ample recoverable resources, but resources that under a reasonable pricing outlook would be economical to extract. The company has also been slowly building out some of the infrastructure in the region that would be required to support future production efforts, including a water treatment plant and a tailings storage facility.
South32 has had conversions with relevant parties about securing 100% renewable energy to power operations at the potential future mining site. Bigger picture, South32 aims to make the Hermosa project a carbon neutral development, aided by its plans to use automation, electric vehicles ('EVs'), and advanced mining equipment. To manage its environmental impact, South32 is using state-of-the-art dry stack tailings facilities (one is already completed at the site).
The miner aims to use about half of the projected tailings from its potential mining operations as paste fill. For reference, mine tailings are the chunk of ore after the economically-recoverable minerals have been extracted from that ore. Additionally, paste fill is used to fill vertical slopes where precious metals have been extracted in underground mines. We appreciate South32's commitment to sustainable and environmentally friendly practices. Given the restrictions placed on miners on this front due to logistical and economical hurdles, South32 has really gone above and beyond here.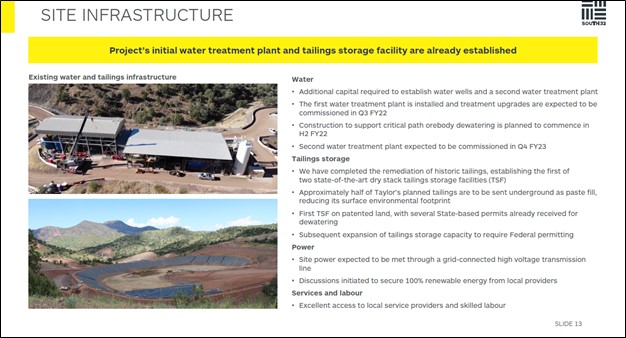 Image Shown: South32 has built out some of the infrastructure required to support future production activities at the Hermosa project in Arizona. Image Source: South32 – January 2022 IR Presentation
In January 2022, South32 announced that a recently completed pre-feasibility study covering the Taylor Deposit indicated these resources could support an underground mine along with a nearby processing facility that would be "in the first quartile of the industry cost curve" making it an economically attractive endeavor. We appreciate the economical nature of the resources the miner is targeting in Arizona. The miner also noted that the pre-feasibility study "is based on an underground zinc-lead-silver mine development using longhole open stoping and a conventional sulphide ore flotation circuit producing separate zinc and lead concentrates, with silver by-product credits" and the upcoming graphic down below highlights what that process looks like.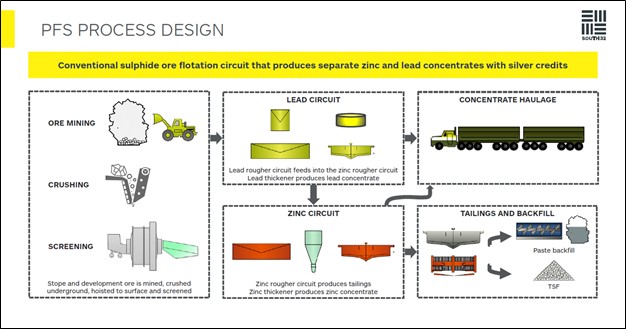 Image Shown: An overview of the development scheme South32 may use to extract zinc, lead, and silver resources at the Hermosa project in Arizona. Image Source: South32 – January 2022 IR Presentation
South32 is currently working towards completing a feasibility study at the Taylor Deposit by calendar year 2023 which could see a mining development get sanctioned later that year. The firm expects that the resource base at the Taylor Deposit could sustain a producing mine for over two decades, with room for upside. Beyond the Taylor Deposit, the zinc-manganese-silver Clark oxide deposit ('Clark Deposit') represents another attractive opportunity in the Hermosa project. South32 is pursuing a pre-feasibility study at the Clark Deposit, which could potentially produce battery-grade magnesium. Currently, the 'Mineral Resource' is estimated to sit near 55 million metric tons ('Mt') at the Clark Deposit.
The company is also testing out the resource upside the Peake prospect "with initial drilling results returning copper and polymetallic mineralization," a promising sign, and the Flux prospect, which "is located down-dip of a historic mining area that has the potential for carbonate hosted, Taylor-like mineralization." At the Peake prospect, drilling activities are planned for calendar year 2022 and South32 is waiting for permits to begin testing out the Flux prospects. South32 notes that the Peake prospect is "at depth to the Taylor Deposit" though it is still in the general area as one can see in the upcoming graphic down below.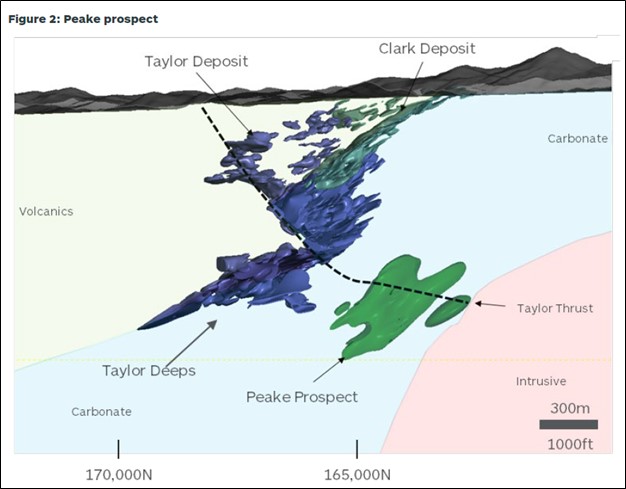 Image Shown: South32 sees ample room for exploration and appraisal upside in Arizona as the miner is actively working towards locating additional resources that can be economically extracted in the Hermosa project. Image Source: South32 – January 2022 Press Release
Silver is a key component used in the production of photovoltaic ('PV') solar panels as manufactures turn silver into a paste and put it on silicon wafers used in PV solar panels. Growing demand for solar energy across the globe underpins the promising longer term outlook for silver prices. Zinc is primarily used as an alloy in metals production, such a coating for steel and iron to prevent corrosion. Lead is used in lead acid batteries (the kind used in older vehicles), ammunition, and cable sheathing, among other items.
As noted previously, magnesium can be used into batteries and also has other numerous other applications (it can be added to iron and steel to remove sulfur, as an alloying agent for aluminum, and magnesium oxide can be used to create heat-resistant bricks for furnaces). Magnesium-based batteries could represent the future of batteries used in EVs, as compared to lithium-ion batteries today, though technological improvements would be required to make that feasible.
Its efforts in Arizona tie into its South32's broader strategy. The miner exited the thermal coal space and announced plans to enter the copper mining space to better position itself for the proliferation of renewable energy and EVs. Copper is an essential component of the green energy revolution as copper is a tremendous conduit for electricity. We appreciate that South32's efforts in Arizona could grow its exposure to the green energy revolution while also producing minerals to meet important industrial needs.
Overview of Potential Development
Pivoting back to the Taylor Deposit, South32 sees room for an underground dual shaft access mine through a development design that "prioritises higher grade mineralisation early in the mine's life" or put another way, will target the most economical resources first. That should support South32's efforts to generate sizable cash flows from this asset as quick as reasonably possible, considering the long development timelines most mining operations face.
Currently, the Mineral Resource estimate for the Taylor Deposit is 138Mt which South32's pre-feasibility study expects could support a mine with average annual production of ~111,000 metric tons of zinc, ~138,000 metric tons of lead, and ~7.3 million ounces of silver. The processing facility is expected to have the capacity to handle 4.3 million metric tons per year ('Mtpa'). By itself, under current resource assumptions, the Taylor Deposit could support production activities at a new mine for 22 years.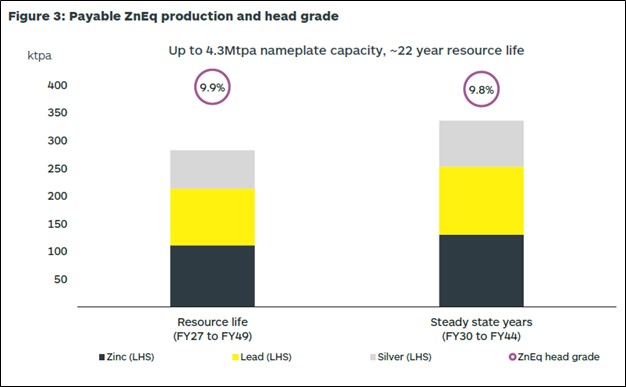 Image Shown: A look at the potential production profile of an underground mine developing the Taylor Deposit should the endeavor get sanctioned as currently envisioned. Image Source: South32 – January 2022 Press Release
Such an endeavor is expected to involve roughly $1.2 billion in direct project capital and approximately $0.5 billion in indirect project capital, with a relatively low sustaining capital requirement of about $40 million annually. Ongoing operating expenses would be quite material as well. If South32's efforts testing out the Peake prospects near the Taylor deposit prove successful, the company could significantly extend the mine's lifespan, with South32 noting it has located a 10Mt – 95Mt exploration target at the prospect. In the upcoming graphic down below, South32 lays out a summary of the pre-feasibility survey results covering the Taylor Deposit.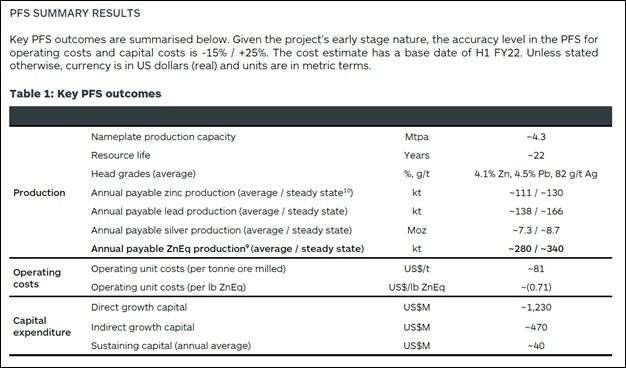 Image Shown: South32 expects that the Taylor Deposit could support a lucrative underground mine that would produce sizable amounts of zinc, lead, and silver each year. Image Source: South32 – January 2022 Press Release
There is room for upside should South32 opt to develop the Taylor Deposit alongside the Clark Deposit due to the ability to reduce both construction and operating costs, in part by combining certain facilities. Please note South32 still needs to complete its pre-feasibility study at the Clark Deposit before it would have a clear idea if co-development options may be possible.
In the meantime, South32 is building out critical infrastructure in the region to support its ongoing exploration and appraisal activities and potentially, future production activities. During the second half of South32's fiscal 2022, the company has roughly $55 million in total pre-commitment capital expenditures to construct and install infrastructure relating to orebody dewatering at the Hermosa project, with additional capital expenditures relating to these activities expected in fiscal 2023.
South32 notes that production at the Hermosa project would have access to Asian and European markets, along with markets in the Americas, due to existing infrastructure in the region. The miner expects to export concentrate to smelters in Asia and Europe by trucking the concentrate to rail transfer facilities or directly to ports. South32 is also evaluating the ability to supply concentrate to smelters in the Americas.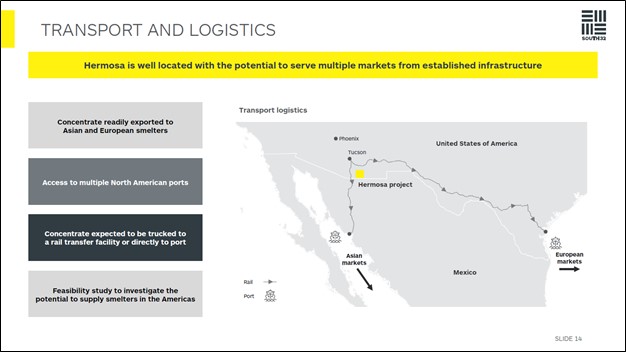 Image Shown: The Hermosa project has ample access to logistical infrastructure including rail facilities and ports. Image Source: South32 – January 2022 IR Presentation
If everything goes as planned, South32 could sanction the development of the Taylor Deposit by mid-2023 after getting the feasibility study back. By fiscal 2024, construction of the mine's shafts could begin, with first production targeted by fiscal 2027. The upcoming graphic down below highlights the development timetable for a potential mine at the Taylor Deposit as things stood in January 2022.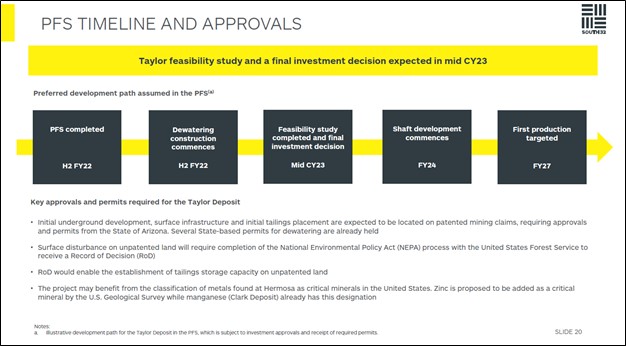 Image Shown: By fiscal 2027, South32 could begin production activities at a zinc-lead-silver mine in Arizona. Image Source: South32 – January 2022 IR Presentation
Embarking on this endeavor would require significant cash flow outlays from South32, though the current environment is favorable for miners as commodity prices are quite dear. South32 aims to capitalize on the favorable terms provided to miners, in some instances, when mining "critical minerals" in the US as classified by the US federal government. Magnesium is on that list, and it is possible zinc could get added to the list as proposed by US Geological Survey ('USGS'). In our view, South32 should possess the financial firepower to pursue this growth opportunity.
Financial Considerations
At the end of June 2021, South32 had a net cash position of $0.4 billion (inclusive of short-term debt). South32 generated $0.8 billion in free cash flow in fiscal 2021 as the company's high-quality asset base enables it to generate free cash flow in almost any operating environment (the firm generated $0.7 billion in free cash flow in fiscal 2020). In fiscal 2021, South32 spent $0.1 billion covering its dividend obligations (the miner has a variable dividend program) and another $0.3 billion buying back its stock. We appreciate its rock-solid free cash flow generating abilities, but caution that its balance sheet will soon flip to a net debt position.
In October 2021, South32 announced it would acquire a 45% equity stake in the Sierra Gorda copper mine in Chile for an upfront cash payment of $1.55 billion along with up to $0.5 billion in contingent payouts. South32 is acquiring this stake from Sumitomo Metal Mining (SMMYY) and Sumitomo Corporation (SSUMY), and its partner going forward would be the Polish miner KGHM Polska Miedz (KGHPF), assuming the deal goes through as planned. During its update covering the fiscal quarter ended December 2021, South32 noted that it was on track to compete this acquisition by the end of its current fiscal quarter (period ended March 2022).
We are big fans of South32's push into the copper space, though we want to stress that there are benefits to be had as it concerns the firm staggering the launch of its major growth endeavors. Seeing as how its copper mine acquisition is expected to close during the current fiscal quarter, South32 has time to rebuild its financial strength before potentially sanctioning the development of the Taylor Deposit, aided by its stellar free cash flow generating abilities and the benign backdrop for miners.
Concluding Thoughts
South32 is a great enterprise with an attractive asset base that churns out ample free cash flows. The miner complies with rigorous ESG investing criteria after its recent portfolio optimization efforts. On a scale of 1-100 (with 100 being the best), we give South32 an ESG rating of 93 and appreciate the company's efforts to adapt to the changing investing and mining landscape.
South32 is actively pivoting towards minerals that should be in high demand going forward due to the ongoing proliferation of renewable energy (solar and wind farms along with the related battery storage efforts) and EVs. We continue to like South32 as an idea in the ESG Newsletter portfolio (more on that publication here). Readers interested in learning more about South32 are strongly encouraged to check out our November 2021 article covering its copper mine acquisition (link here).
-----
Mining & Chemicals Industry - APD, DD, EMN, ECL, LYB, PPG, BHP, FCX, NEM, RIO, VALE, WPM, CMP, AA, KALU, MLM, VMC, NUE, CSL, SON, ALB, FUL, ATR, GGG, SHW
Tickerized for BHP, SOUHY, ELEMF, TMQ, TSLA, RIO, VALE, FCX, BVN, HBM, GLCNF, GLNCY, AAUKF, NGLOY, FQVLF, ANFGF, FSUMF, TECK, AA, X, MT, TX, NUE, STLD, SCHN, TS, CLF, SCCO, CDE, HL, CENX, ARNC, COPX, CPER, JJCTF, JJC, JJN, XLB, SMMY, SSUMY, KGHPF, MSBHF, CME, SMMYY, SLV, GLD, AG, PAAS, LIFZF, NEM, KOL, HCC, ARCH, ARLP, CEIX, BTU, NC, METC, AMR, SXC
Valuentum members have access to our 16-page stock reports, Valuentum Buying Index ratings, Dividend Cushion ratios, fair value estimates and ranges, dividend reports and more. Not a member? Subscribe today. The first 14 days are free.
Callum Turcan does not own shares in any of the securities mentioned above. South32 (SOUHY) is included in Valuentum's simulated ESG Newsletter portfolio. Newmont Corporation (NEM) is included in Valuentum's simulated Dividend Growth Newsletter portfolio. Some of the other companies written about in this article may be included in Valuentum's simulated newsletter portfolios. Contact Valuentum for more information about its editorial policies.