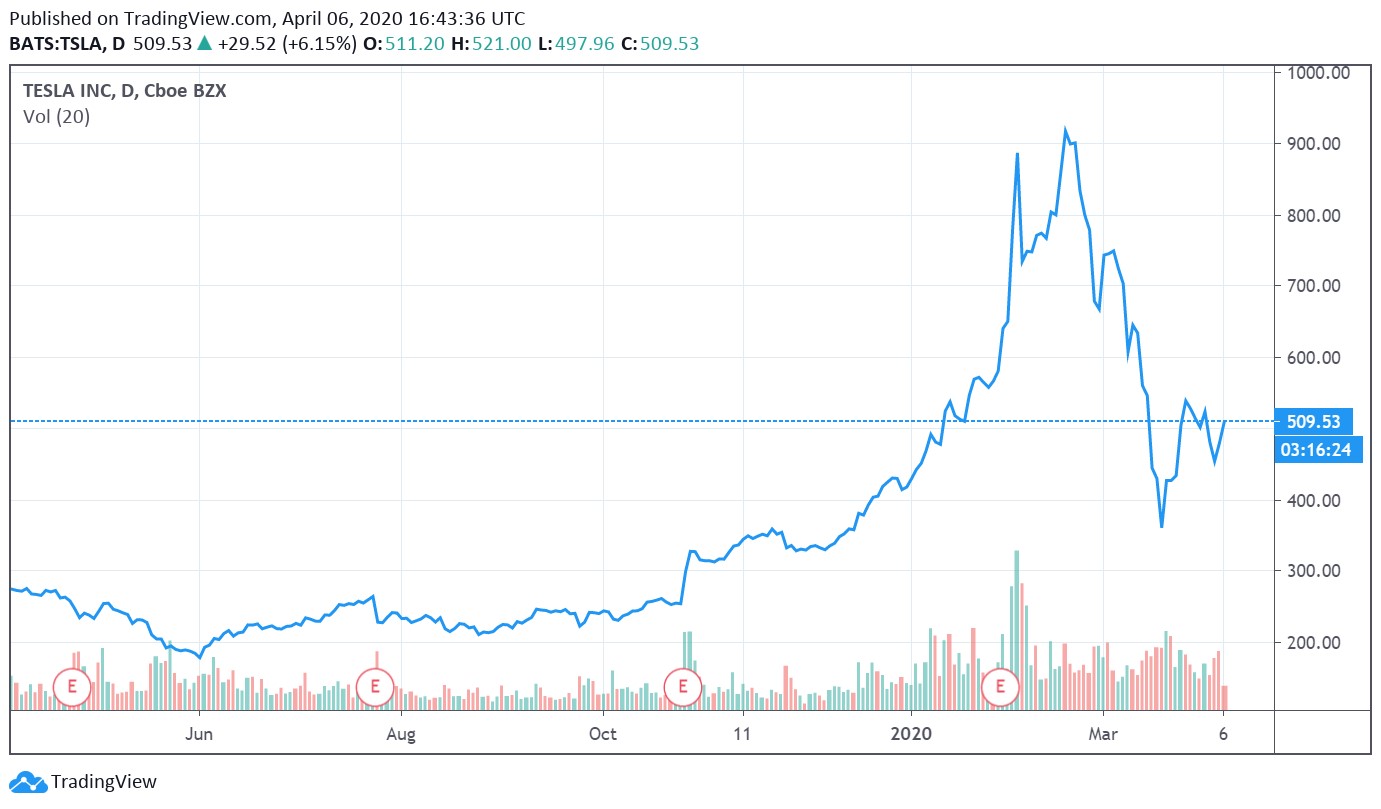 Image Shown: Shares of Tesla Inc are still up materially over the past year after coming in considerably since skyrocketing in late-2019 through early-2020, before the pandemic slowed the global economy to a crawl.
By Callum Turcan
Tesla Inc (TSLA) isn't immune to the ongoing coronavirus ('COVID-19') pandemic, far from it, but a well-timed capital raise combined with strong operational performance in the first quarter of 2020 (before the pandemic hit) has renewed investor confidence in the electric vehicle maker and battery producer.
Operational Update
Before Tesla was forced to halt production at its Fremont factory in California by the end of the day on March 23, to comply with California's stay-at-home order (which only allows "essential" businesses to remain open during the emergency), the automaker was able to roughly match its fourth-quarter 2019 production levels during the first quarter of 2020. For reference, please note Tesla produced a combined ~105,000 Model S/X and Model 3 vehicles during the fourth quarter of 2019, which fell marginally subsequently and hit ~103,000 last quarter (in part due to the forced shutdown of its production facilities). Additionally, please note Tesla was forced to temporarily shut down its factory in Shanghai, China, earlier on in the first quarter of 2020. Production activities resumed in mid-February.

Image Shown: Tesla's vehicle production rates held up quite well last quarter in the face of numerous setbacks, but going forward, the electric vehicle marker will need to wait until it can resume production at its Fremont factory to get back to previous output levels. Image Source: Tesla – 8-K Filing
It won't be until stay-at-home orders are lifted in California, Nevada (the location of Tesla's battery production facilities, dubbed the Gigafactory which is located outside Reno), and elsewhere that Tesla will be able to match its fourth quarter 2019 and first-quarter 2020 production levels, but when taking a longer-term view, things seem to be going in the right direction. During the fourth quarter of 2018 and first quarter of 2019, Tesla produced ~87,000 and ~77,000 total vehicles, respectively. With Tesla's Shanghai factory now operational (deliveries began late last year), the company's production capabilities continue to aggressively scale up.
Capital Raise
These investments weren't cheap, which is why Tesla launched a secondary offering in February 2020, selling a little over 3.0 million shares (in the event the underwriters decided to exercise their right to purchase an additional ~0.4 million shares) at $767 per share. It appears the underwriters did decide to exercise that right, as Tesla noted it had raised $2.3 billion via that secondary offering in March 2020. Within that press release, Tesla reported:
Our cash position at the end of Q4 2019 was $6.3B before our recent $2.3B capital raise. We believe this level of liquidity is sufficient to successfully navigate an extended period of uncertainty. At the end of Q4 2019, we had available credit lines worth approximately $3B including working capital lines for all regions as well as financing for the expansion of our Shanghai factory.
The company appears to now have decent levels of cash and access to liquidity to ride out the pandemic. At the end of last year, Tesla had $1.8 billion in short-term 'current portion of debt and finance leases' and $11.6 billion in long-term 'debt and finance leases, net of current portion' which is largely why Tesla tapped equity markets in the first place. Tesla's timing couldn't have been better, given where equity markets have gone since the middle of February. Virtually all the commitments made under Tesla's 'senior asset-based revolving credit agreement' mature in July 2023 after getting amended in March 2019 (that facility has ~$2.4 billion in lending capacity, and it appears per the quote up above Tesla is including borrowing capacity relating to its Chinese operations). Further, please note some of Tesla's short-term debt will likely get converted into common stock (from Tesla's 2019 Annual Report):
In December 2015, SolarCity [which was acquired by Tesla in 2016] issued $113 million in aggregate principal amount of Zero-Coupon Convertible Senior Notes due on December 1, 2020 in a private placement. $13 million of the convertible senior notes were issued to related parties... Each $1,000 of principal of the convertible senior notes is now convertible into 3.3333 shares of our common stock, which is equivalent to a conversion price of $300.00 per share (subject to adjustment upon the occurrence of specified events related to dividends, tender offers or exchange offers). The maximum conversion rate is capped at 4.2308 shares for each $1,000 of principal of the convertible senior notes, which is equivalent to a minimum conversion price of $236.36 per share. The convertible senior notes do not have a cash conversion option.
The convertible senior note holders may require us to repurchase their convertible senior notes for cash only under certain defined fundamental changes. On or after June 30, 2017, the convertible senior notes are redeemable by us in the event that the closing price of our common stock exceeds 200% of the conversion price for 45 consecutive trading days ending within three trading days of such redemption notice at a redemption price equal to 100% of the principal amount plus any accrued and unpaid interest. As of December 31, 2019, the if-converted value of the notes exceeds the outstanding principal amount by $41 million.
Cash Flow Commentary
In 2019, Tesla generated $2.4 billion in net operating cash flow and spent $1.3 billion on 'purchases of property and equipment excluding finance leases, net of sales' and $0.1 billion on 'purchases of solar energy systems' allowing for about $1.0 billion in free cash flow. Tesla was modestly free cash flow negative in 2018 and very free cash flow negative in 2017, highlighting the very positive impact economies of scale via greater production capacity is having on its financials. Please note that we expect Tesla to eventually become consistently free cash flow positive by the middle of the 2020s decade, as you can see in the upcoming graphic down below.

Image Shown: Our models forecast Tesla will eventually start to become quite free cash flow positive within a few years' time.
To cut down on costs during the pandemic, Tesla has followed the moves of many other companies and shed its headcount where possible. These job losses are very unfortunate and are largely due to the negative effects the COVID-19 pandemic is having on economic activity around the world. Reportedly, Tesla is letting go of contractors that work at its Fremont factory and Gigafactory in the US in order to reduce its operating expenses while unable to produce electric vehicles and batteries. Hopefully, those jobs can be restored at a later date as Tesla continues to ramp up its production levels.
Concluding Thoughts
Tesla is well-positioned to ride out the storm after its well-timed equity raise at very favorable stock price levels. With that in mind, the top end of our fair value range estimate sits at $424 per share, well below where TSLA is trading at as of this writing. We maintain our view that Tesla is a speculative play only for the most risk-seeking investors.
Auto Making Industry – F GM HOG HMC TSLA TM
Auto Specialty Retailers Industry – AAP AN AZO CPRT GPC KMX KAR MNRO ORLY PAG
Related: CARZ, RXI
----
Valuentum members have access to our 16-page stock reports, Valuentum Buying Index ratings, Dividend Cushion ratios, fair value estimates and ranges, dividend reports and more. Not a member? Subscribe today. The first 14 days are free.
Callum Turcan does not own shares in any of the securities mentioned above. Some of the companies written about in this article may be included in Valuentum's simulated newsletter portfolios. Contact Valuentum for more information about its editorial policies.