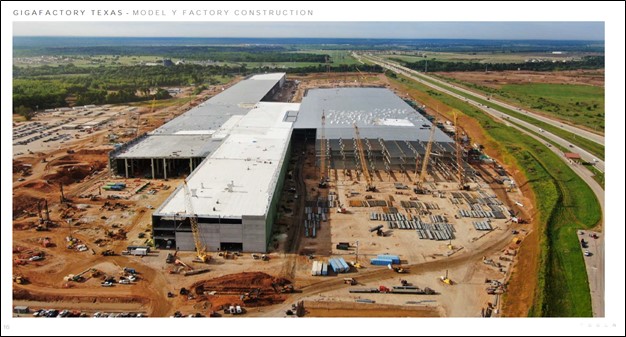 Image Shown: Tesla Inc is steadily working towards bringing another manufacturing facility online in the US, this time near Austin, Texas. Image Source: Tesla Inc – Shareholder Letter Covering the First Quarter of 2021
By Callum Turcan
Electric vehicle ('EV') giant Tesla Inc (TSLA) continues to impress as it smashed past consensus top- and bottom-line estimates when it reported first quarter 2021 earnings on April 26. The company delivered 184,800 vehicles (182,780 Model 3/Y variants and 2,020 Model S/X variants) and produced 180,338 vehicles in the first quarter of this year, though we note that Tesla only produced Model 3/Y variants last quarter and Model S/X vehicle deliveries were met via its inventory. In the first quarter of 2021, Tesla's 'automotive revenues' of $9.0 billion advanced 75% year-over-year, its GAAP revenues of $10.4 billion were up 74% year-over-year, and its GAAP net income came in north of $0.4 billion (up sharply from year-ago levels).
Manufacturing Update
For reference, Tesla produced 102,672 vehicles in total during the first quarter of 2020 and delivered 88,400 vehicles during this period, indicating the company is successfully scaling up its manufacturing capabilities worldwide. Tesla brought its first plant in China online in 2019 when its Shanghai facility became operational and the firm is currently working towards bringing its first plant in Europe online, which will be based in the Berlin-Brandenburg metropolitan area in Germany. Once Tesla brings a new facility online, it can take time to reach its full potential (with room for additional expansion via various growth projects).
Tesla also continues to ramp up the capabilities at its Gigafactory near Reno in Nevada (focused on batteries) and its vehicle production facility near Freemont, California. In Texas' Travis County which includes the city of Austin, Tesla is getting closer to bringing online another domestic manufacturing facility which among other things is slated to produce its upcoming Cybertruck. We're excited about the potential upside Tesla's EV pickup truck offering could generate.
Financial Update
Considering Tesla's 'automobile gross margin' stood at 26.5% in the first quarter of 2021, up ~100 basis points versus year-ago levels, it appears Tesla is doing a solid job ramping up its manufacturing capacity in an economical manner. We appreciate that Tesla noted its 'automotive gross margin excluding regulatory credits' rose ~200 basis points last quarter on a year-over-year basis, hitting 22.0%, indicating its strong performance was not simply the result of greater government subsidies. The company's company-wide GAAP gross margin hit 21.3% last quarter, up ~70 basis points versus year-ago levels.
We're impressed with Tesla's free cash flow generating abilities, keeping the capital intensive nature of its business model in mind, as the firm generated $0.3 billion in free cash flow last quarter. At the end of March 2021, Tesla had $17.1 billion in cash and cash equivalents on hand versus $1.8 billion in short-term debt and current finance lease liabilities along with $9.1 billion in long-term debt and non-current finance lease liabilities. Backed by an impressive net cash position, Tesla has ample financial firepower to continue growing as the outlook for EV demand remains robust, supported by current and future government incentives along with shifting consumer trends.
Concluding Thoughts
Tesla is a solid business and the company's free cash flow growth prospects are bright. Shares of TSLA are trading north of the top end of our fair value estimate range as of this writing, and while we won't be adding Tesla as an idea to the newsletter portfolios at this time, we are keeping a close eye on the EV space at-large. Interested members are encouraged to check out our The Electric Vehicle (EV) Market Is Hot and Getting Hotter article from January 2021 (link here) and our Stock Market Outlook for 2021 article from February 2021 (link here) to read more about this interesting industry.
Tesla's 16-page Stock report (pdf) >>
-----
Industrial Leaders Industry - MMM, DHR, GE, HON, BA, GD, LMT, NOC, RTX, WM, RSG, CAT, CNHI, DE, CNI, CSX, UNP, FDX, UPS, FAST, APH, GLW, TEL, ETN, DOV, ITW, SWK, EMR, ROP, PNR, PH, AOS, EXPD, GWW
Tickerized for AUDVF, AYRO, BLNK, BMWYY, BYDDF, DDAIF, DMLRY, F, FCAU, FUJHY, GM, GOEV, GP, HMC, HOG, HYMLF, KNDI, LI, MZDAY, NIO, NIU, NKLA, NSANY, NSANF, PEUGF, QS, RIDE, RMO, SOLO, TM, TSLA, TTM, VLKPF, VWAGY, VLKAF, WKHS, WLMTF, XL, XPEV
Other auto supplier related: FSR, TEN, CPS, HYLN, ADNT, MPAA, VNE, APTV, WPRT, AXL, DAN, LEA, DLPH, VC, ALV, ALB, PLL, APH, TEL, BWA, SUP
Other related: UBER, LYFT
Valuentum members have access to our 16-page stock reports, Valuentum Buying Index ratings, Dividend Cushion ratios, fair value estimates and ranges, dividend reports and more. Not a member? Subscribe today. The first 14 days are free.
Callum Turcan does not own shares in any of the securities mentioned above. Berkshire Hathaway Inc Class B shares (BRK.B) are included in Valuentum's simulated Best Ideas Newsletter portfolio. Honeywell International Inc (HON), Lockheed Martin Corporation (LMT) and Republic Services Inc (RSG) are all included in Valuentum's simulated Dividend Growth Newsletter portfolio. Some of the other companies written about in this article may be included in Valuentum's simulated newsletter portfolios. Contact Valuentum for more information about its editorial policies.