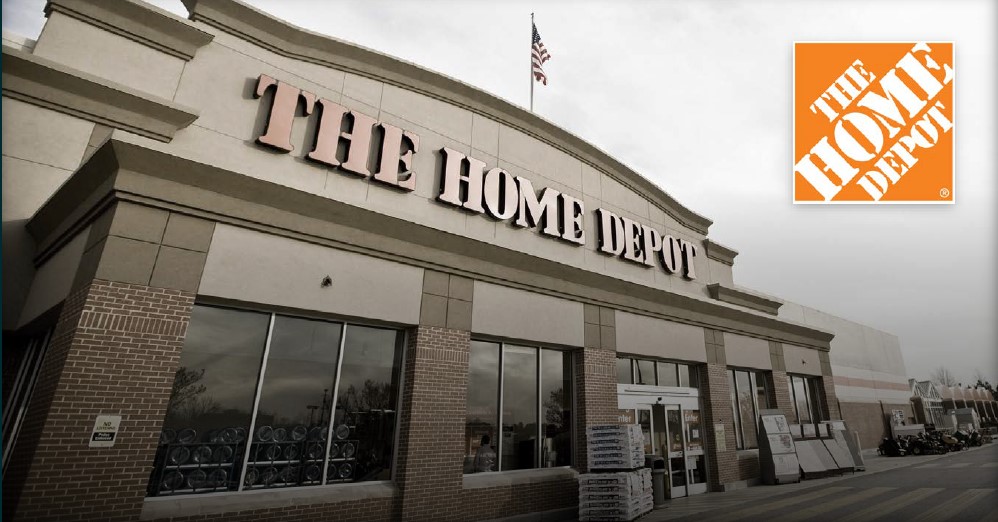 Image Source: Home Depot Inc – June 2019 IR Presentation
By Callum Turcan
In this article we cover two major retailers that reported strong comparable store sales growth in the face of the ongoing coronavirus ('COVID-19') pandemic. E-commerce offerings and past digital investments have been key to supporting sales growth at major retail firms, and those that haven't made these investments are in a far worse position than HD and WMT.
Home Depot
On May 19, Home Depot Inc (HD) reported first-quarter earnings for fiscal 2020 (period ended May 3, 2020) that beat consensus top-line estimates and missed consensus bottom-line estimates. Comparable store sales were up 6.4% year-over-year, including up 7.5% at its US stores. Home Depot announced $850 million in expanded benefits to reward frontline workers during these harrowing times and to provide its older employees with the ability to stay home via additional paid time off. That saw its SG&A expenses rise by 18% year-over-year which resulted in Home Depot's GAAP operating income dropping by 9% year-over-year last fiscal quarter. However, rewarding employees and ensuring a safe working environment can yield powerful long-term benefits once the pandemic fades (reduced employee turnover, better brand image, etc.).
Home Depot pulled its full-year guidance for fiscal 2020 due to the challenging conditions created by the ongoing coronavirus pandemic. Predicting its future financial and operational performance is no easy task, and a lot is up in the air right now as parts of the US begin easing stay-at-home orders. That being said, management had enough confidence in Home Depot's performance (aided by its strong comparable store sales growth last fiscal quarter) to maintain the firm's dividend payout at its recently increased rate (from $1.36 per share on a quarterly basis in late-2019 which rose to $1.50 per share on a quarterly basis in early-2020). Digital sales played a major role in supporting Home Depot's revenues. Here's a key excerpt from Home Depot's latest quarterly conference call (emphasis added):
"Investments we have made over the years in our stores, market leading digital assets, flexible supply chain and a world class merchandising organization have allowed us to quickly adapt to shifts in customer needs, preferences and behaviors. Our interconnected retail strategy and underlying technology infrastructure have supported record level web traffic for several weeks without disruption.
Sales leveraging our digital platforms increased approximately 80% in the quarter and more than 60% of the time our customers opted to pick up their orders at a store.We were able to extend our in-store focus capabilities to curbside pickup in the U.S. in a matter of days offering customers an additional choice with respect to fulfillment. In the case of our Ontario stores in Canada, this curbside capability was turned on essentially overnight when it became the only option to remain open and operational with those stores operating under these circumstances for more than a month." --- Craig Menear, CEO and Chairman of Home Depot
Firms that invested heavily in digital infrastructure and the related operational changes (whether that's improving home delivery logistics or enabling curbside or some form of in-store pickup) better positioned themselves for Black Swan events like COVID-19.
Walmart
On May 19, Walmart Inc (WMT) reported first-quarter earnings for fiscal 2021 (period ended April 30, 2020) that smashed past both consensus top- and bottom-line estimates. The retailer's Walmart US division saw comparable store sales grow by 10% year-over-year (led by strong demand for consumer staples) and its Sam's Club division saw comparable store sales jump by 12% year-over-year (keeping in mind that this strong performance occurred even though reduced tobacco sales, due to a change in company policy, reduced comparable store sales at this division by 410 basis points). Please note these figures don't include fuel sales to provide a better comparison for investors. Like Home Depot, the challenging environment created by the pandemic forced Walmart to pull its full-year guidance for fiscal 2021.
As it relates to e-commerce, Walmart US saw its e-commerce sales jump 74% year-over-year with grocery delivery and pickup leading the way. Sam's Club saw its e-commerce sales shoot up 40% year-over-year as its home delivery offering was quite popular last fiscal quarter according to management, supporting this growth trajectory (membership growth at Sam's Club was also strong last fiscal quarter). Walmart will discontinue the Jet.com offering to focus more on growing its core offerings, Walmart.com and Samsclub.com. Walmart's management team had this to say during the firm's latest quarterly conference call (emphasis added):
"Walmart U.S. comp sales excluding fuel grew 10% with eCommerce sales growth of 74%. While we don't normally provide monthly comp sales, it's important to understand the flow of the quarter. ECommerce sales remained strong throughout the quarter while store traffic was quite variable due to the various stay in place orders and social distancing around the country. February sales were stronger than expected with comp sales of 3.8%. As the health crisis intensified in mid-March, we saw a surge in stock-up trips with March comps increasing about 15%. Store pickup and delivery spiked in March and remained elevated in April with sales growth of nearly 300% at peak.
Store sales slowed during the first half of April due to soft Easter seasonal sale and additional social distancing measures. In mid-April, sales reaccelerated across the business as government stimulus money reached consumers with general merchandise sales particularly strong. April comp sales increased 9.5%.
During the quarter, we saw customers consolidate shopping trips and purchase larger baskets in stores, which drove a ticket increase of about 16% while transactions decreased about 6%. With the shift in purchasing behavior, eCommerce sales contributed approximately 390 basis points to segment comp. Pickup and delivery services continue to run historically high volumes." --- Brett Biggs, CFO of Walmart
Walmart's international division saw its net sales grow by 3.4% year-over-year, which was held back by foreign currency headwinds. On a comparable store constant-currency basis, comparable sales at Walmart's international division was up 8% year-over-year last fiscal quarter according to management commentary during the retailer's latest quarterly conference call.
Concluding Thoughts
Home improvement stores and retailers with large grocery/consumer staples offerings in the US held up relatively well during the COVID-19 pandemic. E-commerce sales enabled Home Depot and Walmart to continue chugging along as consumers opted for either home delivery or curbside pickup in order to stay away from large crowds.
Going forward, consumer spending may come under pressure from elevated levels of unemployment, but for now, major fiscal stimulus measures appear to be helping offset the worst of that particularly in the US and other developed nations that embarked on meaningful fiscal stimulus programs (keeping in mind that the latest quarterly results from Home Depot and Walmart only cover part of the worst of the economic downturn due to COVID-19).
----------
Dollar Store and Department Store Industries – KSS M JWN BIG DG DLTR PSMT
Specialty Retailers Industry – AAN BBBY BBY GME HD LOW LL ODP SHW TSCO WSM
Food Retailing Industry – CASY COST CVS KR SYY TGT WBA WMT
Related: AMZN, FDS, SPY
----------
Valuentum members have access to our 16-page stock reports, Valuentum Buying Index ratings, Dividend Cushion ratios, fair value estimates and ranges, dividend reports and more. Not a member? Subscribe today. The first 14 days are free.
Callum Turcan does not own shares in any of the securities mentioned above. Cracker Barrel Old Country Store Inc (CBRL) is included in Valuentum's simulated Dividend Growth Newsletter portfolio. Dollar General Corporation (DG) is included in Valuentum's simulated Best Ideas Newsletter portfolio. Some of the other companies written about in this article may be included in Valuentum's simulated newsletter portfolios. Contact Valuentum for more information about its editorial policies.