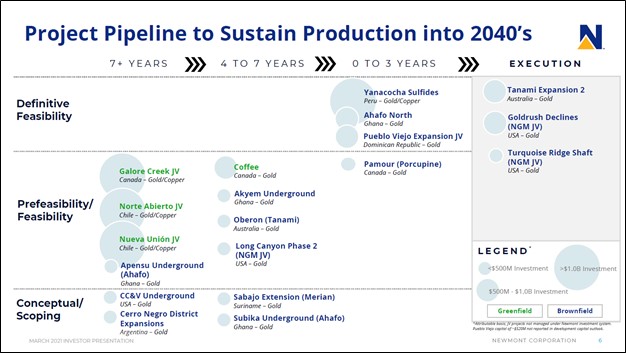 Image Shown: Newmont Corporation has an impressive project pipeline that will help ensure the gold miner's production levels stay healthy over the decades to come, underpinning its promising long-term cash flow trajectory. We continue to like Newmont as an idea in the Dividend Growth Newsletter portfolio. Image Source: Newmont Corporation – March 2021 IR Presentation
By Callum Turcan
We include gold miner Newmont Corporation (NEM) as an idea in the Dividend Growth Newsletter portfolio. It is looking quite likely that the White House will soon sign a massive emergency spending package into law after the bill recently passed the Senate and House of Representatives. This emergency spending legislation aims to tackle the coronavirus ('COVID-19') pandemic by providing various health care entities with substantially more federal funds and includes provisions that should provide many US households with a substantial (albeit temporary) boost in income which in turn could provide a tailwind to inflation rates and thus gold prices (GLD). Though gold prices have shifted somewhat lower over the past few months, they remain at levels where Newmont's free cash flow growth outlook is incredibly bright.
Shares of NEM yield ~3.8% on a forward-looking basis as of this writing after the company approved a large dividend increase in February 2021. In this article, we cover Newmont's recent acquisition, which will add another long-term development opportunity to its global portfolio in a region that was already home to one of Newmont's promising development opportunities. Newmont needs to maintain a substantial project pipeline to ensure that it can maintain a stable production base over the years and decades to come, as output from mines that are currently operational will eventually wane. Beyond gold, Newmont is also looking at boosting its production of other lucrative resources such as copper (CPER) and silver (SLV).
We covered the favorable outlook for Newmont's production base over the next decade in this article here.
Doubling Down on the "Golden Triangle"
On March 10, Newmont announced it would acquire the ~85% stake in junior miner GT Gold Corp (GTGDF) that it does not already own for approximately USD$311 million (or roughly CAD$393 million) in cash. Newmont offered CAD$3.25 in cash for each share of GTGDF and this deal is expected to close in the second quarter of 2021.
Please note that GT Gold does not currently operate any producing mines and only owns potential development opportunities, the most important one being the Tatogga project located in Canada's "Golden Triangle" region. The Golden Triangle is an area within the province of British Colombia that is known to be resource rich and the region has experienced a surge in interest from the mining industry over the past few years (which has clearly continued to this day). Here is what Newmont's acquisition press release had to say about the Tatogga project:
The Tatogga project, including the primary Saddle North deposit, has the potential to contribute significant gold and copper annual production at attractive all-in sustaining costs over a long mine life. In addition to the known deposits at Saddle North, there are further exploration opportunities throughout the land package. The acquisition of the Tatogga project adds to Newmont's existing interest in the prospective Golden Triangle through the company's 50 percent ownership in the Galore Creek project.
Located in the northwestern corner of British Colombia, the Tatogga project is within Tahltan Territory (home to the Tahltan First Nation, an indigenous community in Canada). Working with the Tahlatan First Nation in a cooperative manner will be key to getting this potential development, if it does get sanctioned in the future, off the ground. Newmont's management team had this to say in the acquisition press release:
"We are excited to expand our world-class portfolio to include the Tatogga project in the Tahltan Territory located in the highly sought-after Golden Triangle district of British Columbia, Canada… Newmont recognizes that our relationships with Indigenous, First Nations and host communities are critical to the way we operate. We are committed to continue building a constructive and respectful relationship with the Tahltan Nation, including with the community of Iskut, which is near the project, in anticipation of exploring this highly prospective area.
We understand and acknowledge that Tahltan consent is necessary for advancing the Tatogga project and we will partner with the Tahltan Nation at all levels, and with the Government of British Columbia to ensure a shared path forward." --- Tom Palmer, CEO and President of Newmont
Newmont is interested in the substantial upside the Tatogga project offers in terms of sizable gold and copper resources that could potentially be extracted in a very economical manner. According to GT Gold's website, the junior miner made some big discoveries in the area in 2017 and 2018. Furthermore, there is room for substantial upside through future exploration and appraisal activities. The Quash Pass target area was identified as a potential source of resource upside in the region.
A lot more work needs to be done here, but past exploration efforts have (literally) struck gold and Newmont thinks there is room to expand on those efforts. We caution that while this development opportunity looks quite promising, there is a chance this asset will never generate revenues, though the existing resource base indicates there is a decent chance the development will eventually get sanctioned.
Another Opportunity Nearby
In 2018, Newmont acquired a 50% stake in the Galore Creek Partnership from NOVAGOLD Resources Inc (NG) for a total consideration of $275 million should certain milestones get reached. Part of that deal involved Newmont establishing a partnership with Teck Resources Ltd (TECK), the miner that owned the other 50% stake in the venture that owns the Galore Creek project. According to Teck Resources, the Galore Creek opportunity is home to eight million ounces of gold and nine billion pounds of copper along with significant amounts of silver. These resources are also in the northwestern portion of the Canadian province of British Colombia within Tahltan First Nation territory, in the Golden Triangle district.
According to Galore Creek Mining Corporation's website, pre-development activities were delayed due to the COVID-19 pandemic. It will be a while before mining activities begin should the Galore Creek project get sanctioned down the road, and that is a big if given the need to first complete prefeasibility studies before moving on to developing a blueprint for a potential development. However, like the Tatogga project, the Galore Creek project looks quite appealing as things stand today.
Concluding Thoughts
Locating promising development opportunities such as these is essential in the mining industry and we applaud Newmont's efforts in managing its project pipeline. The long lead times mining developments have means planning years in advance is crucial to maintaining production bases. Newmont is a top-quality forward-thinking gold miner, and we continue to like exposure to the company in the Dividend Growth Newsletter portfolio. We encourage our members to check out our thoughts on Newmont's latest earnings report which we covered in this article here.
-----
Mining & Chemicals Industry - APD, DD, EMN, ECL, LYB, PPG, BHP, FCX, NEM, RIO, VALE, WPM, CMP, AA, KALU, MLM, VMC, NUE, CSL, SON, ALB, FUL, ATR, GGG, SHW
Related: GLD, CPER, SLV, NG, TECK, GTGDF
Other: GOLD, AEM, KGC, IAG, AUY, EGO, FNV, EXK, AG, FSM, CDE, GDX, GDXJ, NUGT, IAU, JNUG, SIL, GGN, PHYS, DUST, AGQ, USLVF, SGOL, AU, KL, WPM, HL, GFI, HMY
Valuentum members have access to our 16-page stock reports, Valuentum Buying Index ratings, Dividend Cushion ratios, fair value estimates and ranges, dividend reports and more. Not a member? Subscribe today. The first 14 days are free.
Callum Turcan does not own shares in any of the securities mentioned above. Newmont Corporation (NEM) is included in Valuentum's simulated Dividend Growth Newsletter portfolio. Some of the other companies written about in this article may be included in Valuentum's simulated newsletter portfolios. Contact Valuentum for more information about its editorial policies.