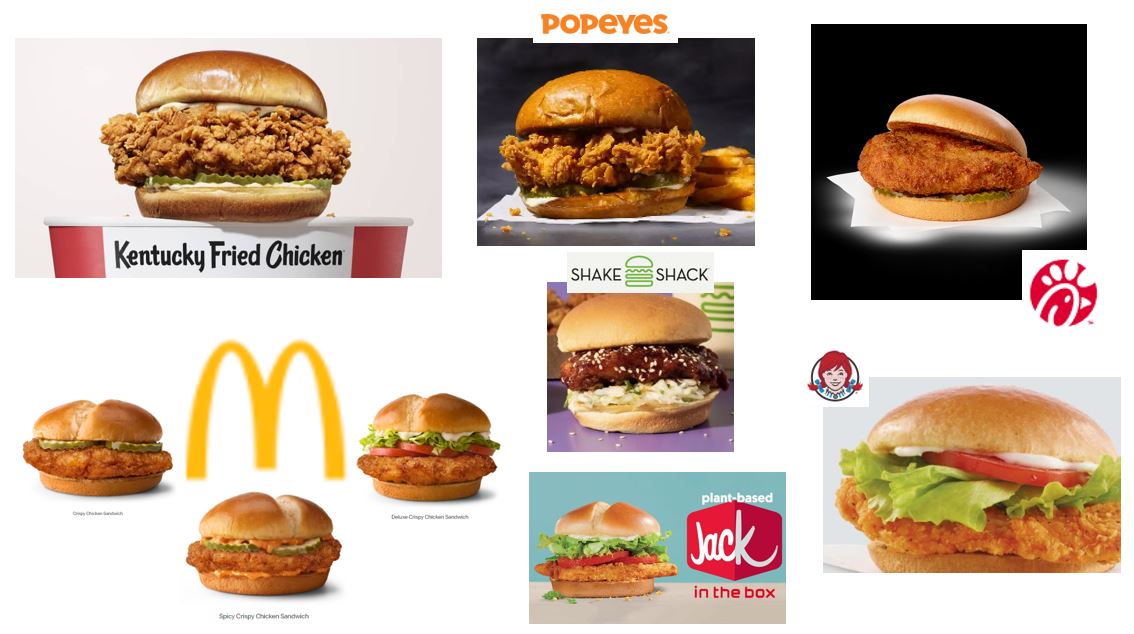 Image Shown: Rivals in the quick-service restaurant space are aggressively competing for share in the fast-growing premium chicken sandwich category following Popeyes' considerable success the past couple years. Source: Images/logos property of the respective companies.
By Callum Turcan and Brian Nelson, CFA
Nothing has been the same in the fast-food industry since Popeyes launched its first nationwide chicken sandwich August 12, 2019. The release of the delicious chicken sandwich from the company named after Gene Hackman's character Popeye Doyle in the 1971 film The French Connection may even have changed the fast-food industry as we know it.
Popeyes' "tender all-white meat chicken breast fillet, marinated in (its) authentic blend of Louisiana seasonings, then hand battered and breaded in (its) all new buttermilk coating...served with crisp barrel cured pickles and Classic or Spicy Mayonnaise, served on a warm and toasted buttery brioche bun" has been driving the taste buds of customers wild.
Just writing this has made us hungry for one, and rivals haven't been sitting quietly in light of the success of Popeyes' new creation. Who can forget the infamous Popeyes and Chick-fil-A feud on Twitter that caught customers' attention, and even Wendy's (WEN) couldn't resist jumping into the ring. There's clearly a lot at stake.
Not to be left out, on February 24, 2021, McDonald's Corp (MCD) announced plans to launch three new chicken sandwich offerings in the US: the Crispy Chicken Sandwich, Spicy Chicken Sandwich, and Deluxe Chicken Sandwich. Privately-owned Chick-fil-A, Restaurant Brands International's (QSR) Popeyes Louisiana Kitchen, and Yum Brands' (YUM) KFC will surely be watching closely, as they monitor the impact on demand for their offerings, which have also been strong of late.
Other chains are experimenting, if not competing agressively, too. For example, Jack in the Box (JACK) recently released a chicken alternative made of pea protein via a partnership with Tyson (TSN), and Shake Shack (SHAK) announced that it will serve a Korean-style Fried Chick'n Sandwich nationwide through April 5, 2021. At one point, Wendy's was even giving away its chicken sandwich for free with any order made through its mobile app. Industry participants are fighting tooth and nail to capture increased share of the fast-growing category of premium chicken sandwiches.
Here's what KFC's chief marketing officer had to say recently:
Many customers hadn't considered KFC as a part of the chicken sandwich conversation, but anyone who tastes this sandwich will know, without a doubt, that we're playing to win.
The gloves are off.
McDonald's Seems Up to the Task
McDonald's started testing chicken sandwich offerings at select locations in late 2019, keeping in mind how adding complexity to its menus will impact order times and overall operating costs. Many of McDonald's franchisees have been calling for the fast-food giant to begin offering new chicken sandwiches in the wake of Chil-fil-A expanding more aggressively in the Southern US and after the Popeyes' culinary sensation.
Those competive dynamics created headwinds for McDonald's business in certain markets, but it appears the company is finally taking note. Though McDonald's new chicken sandwich offerings will likely create certain operational complexities such as the need for in-store pressure cookers and hand breading stations, we think the fast-food behemoth is up to the task. As evidence, the company's launch of all-day breakfast initiatives, which added a layer of complexity, has been a roaring success, providing a shot in the arm to same-store-sales performance.
Unlike McDonald's chicken nuggets offerings, the McNuggets, which are largely prepared (processed, battered, and partially cooked) and frozen before arriving at McDonald's restaurants, however, its new chicken sandwich offerings will need to be prepared in-store to taste fresh and be competitive against the offerings of the company's peers. That is why McDonald's will likely need to invest in pressure cookers and hand breading stations, in our view. Marination is another obstacle, but given McDonald's scale and history of innovation, Mickey D's will be able to figure out a way to scale its chicken sandwich operations, in our view.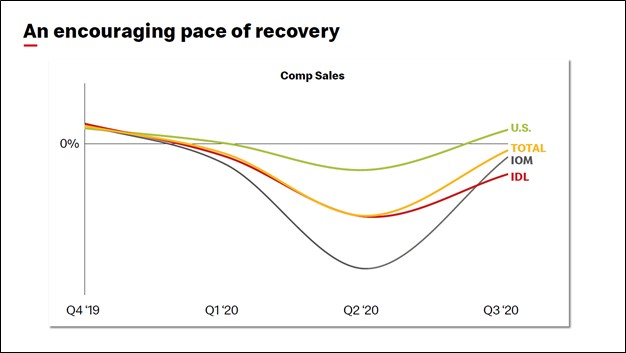 Image Shown: McDonald's Corporation has seen its business recover at a faster pace from the coronavirus ('COVID-19') pandemic in the US than in other geographical markets it operates in. Image Source: McDonald's Corporation – November 2020 IR Presentation
Concluding Thoughts
Demand for Popeyes Louisiana Kitchen's chicken sandwich offerings continues to be strong as comparable sales at this unit of Restaurant Brands International were up 9.7% in the third quarter of 2019 and up 17.4% in the third quarter of 2020 (generating impressive stacked year-over-year comps)--supported, of course, by the addition of the chicken sandwich to its menu.
We expect McDonald's to be successful with its new chicken sandwich initiatives, in part, given its impressive operational know-how, unmatched brand recognition, and massive scale across the US. New chicken-sandwich initiatives from Yum Brands, Jack in the Box, and Shake Shake may also bear fruit to varying degrees, buttressed by the expanding size of this fast-growing category. KFC is a legitimate contender.
The chicken sandwich wars have certainly taken the fast-food industry by storm, and we'll be following developments very closely. We do not include any restaurants in our newsletter portfolios at this time, however. Our fair value estimate of McDonald's is $204 per share, while Yum Brands continues to trade at the high end of our estimate of its fair value range. On a fundamental basis, our two favorite restaurants remain Domino's (DPZ) and Chipotle (CMG).
Downloads
McDonald's 16-page Stock Report >>
Yum Brands' 16-page Stock Report >>
Yum Brands' Dividend Report >>
Domino's 16-page Stock Report >>
Chipotle's 16-page Stock Report >>
-----
Discretionary Spending Industry – ATVI, BBY, CBRL, CMG, DIS, DG, DLTR, DPZ, DNKN, EL, F, GM, HAS, HD, LOW, MCD, NFLX, NKE, SBUX, TSLA, YUM, DKS, TJX, ROST, WHR, KMX, AZO, RL
Tickerized for MCD, QSR, JACK, SHAK, ARCO, WEN, BYND, WING, YUM, YUMC, LOCO
Also related food delivery stocks: DASH, WTRH, GRUB, APRN, TKAYF, HLFFF
Other related: TSN, SAFM, PPC, HRL
-----
Valuentum members have access to our 16-page stock reports, Valuentum Buying Index ratings, Dividend Cushion ratios, fair value estimates and ranges, dividend reports and more. Not a member? Subscribe today. The first 14 days are free.
Callum Turcan does not own shares in any of the securities mentioned above. Brian Nelson owns the SPY, SCHG, DIA, QQQ, VOT, and IWM. Dollar General Corporation (DG) and The Walt Disney Company (DIS) are both included in Valuentum's simulated Best Ideas Newsletter portfolio. Dick's Sporting Goods Inc (DKS) and Home Depot Inc (HD) are both included in Valuentum's simulated Dividend Growth Newsletter portfolio. Some of the other companies written about in this article may be included in Valuentum's simulated newsletter portfolios. Contact Valuentum for more information about its editorial policies.