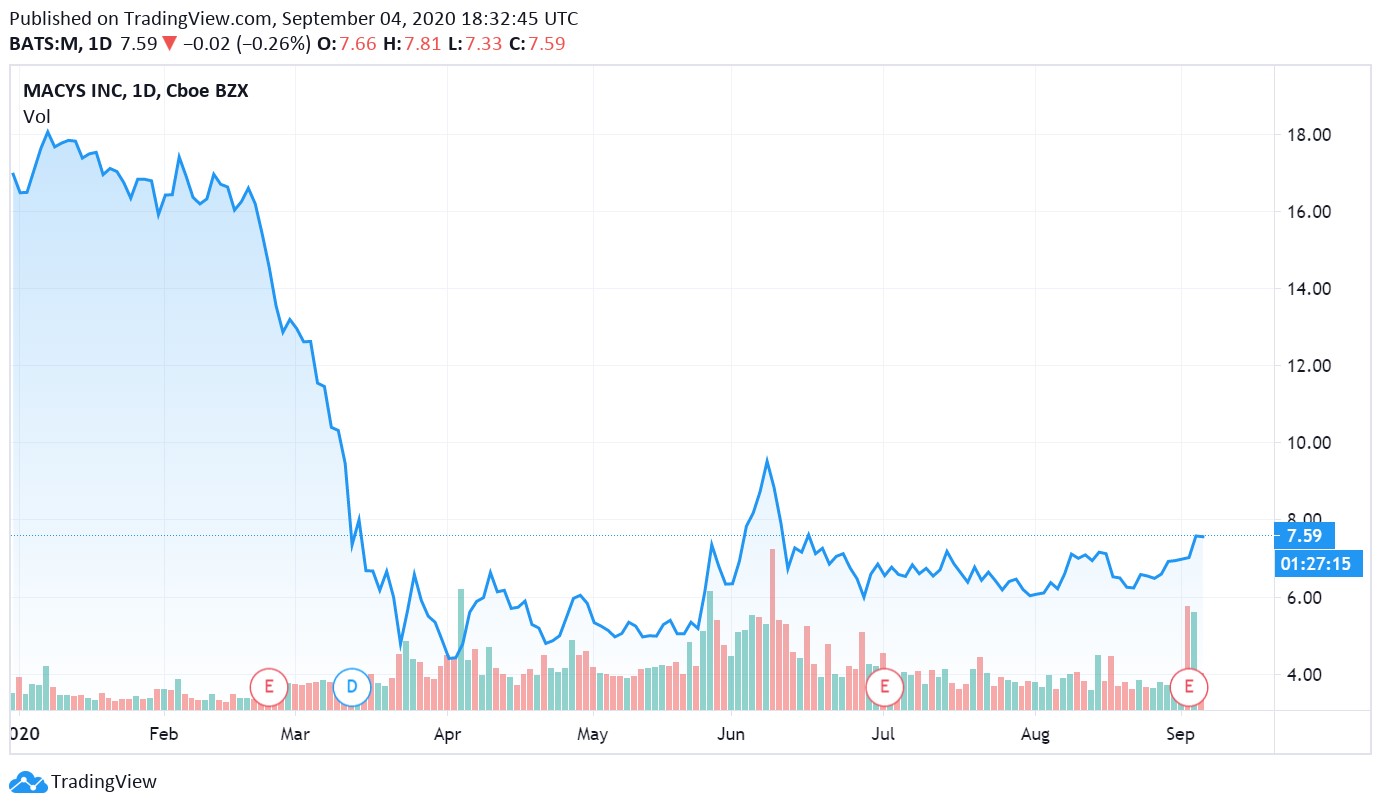 Image Shown: Shares of Macy's Inc have flatlined since crashing during the first three months of calendar year 2020 as investors await signs of the embattled retailer's turnaround strategy taking hold.
By Callum Turcan
On September 2, embattled retailer Macy's Inc (M) reported second quarter fiscal 2020 earnings (period ended August 1, 2020) that saw the firm's comparable sales drop 34.7% year-over-year at stores owned by Macy's due primarily to physical store closures brought on by the ongoing coronavirus ('COVID-19') pandemic. The year-over-year decline in comparable sales deepened to 35.1% when including stores owned and licensed by Macy's. Digital sales offered some reprieve as those were up 53% year-over-year last fiscal quarter, with digital sales as a percentage of the retailer's total sales at its owned stores coming in at 54%.
Quarterly Update
Company-wide (including product sales and net credit card revenues), Macy's reported its GAAP revenues dropped 35% year-over-year while the firm ran a GAAP operating loss of $0.6 billion last fiscal year (versus a GAAP operating profit in the same period the prior fiscal year). Reductions in SG&A expenses were not enough to offset the steep drop in its gross profit. Macy's reported that its cost of sales as a percentage of net sales (excluding net credit card revenues) rose by over 1500 basis points last fiscal quarter on a year-over-year basis as shrinking economies of scale decimated its margins.
Please note that at the start of the fiscal second quarter, Macy's started the process of reopening its stores in earnest and by the end of June most of its stores had reopened. This weighed on its digital sales growth as consumers apparently opted to go purchase goods in-store. By July, the firm's digital sales growth had slowed down to 25% year-over-year according to management's commentary during the retailer's latest earnings call. Digital sales penetration dropped to 42% in July.
Macy's generated a modest amount of negative net operating cash flow during the first half of fiscal 2020 while spending $0.2 billion on its capital expenditures. The retailer suspended its dividend program earlier on this calendar year to conserve cash in the face of the ongoing pandemic while issuing out long-term debt and establishing an asset-based credit facility (which we covered previously in this article here).
As of August 1, Macy's had $1.4 billion in cash and cash equivalents on hand versus $0.5 billion in short-term debt and $4.9 billion in long-term debt. Furthermore, please note Macy's also had $3.3 billion in long-term lease liabilities. The retailer is doing what it can to stay afloat, though it has been tough sledding so far. Its real estate assets has been the retailer's saving grace so far, though as we wrote in the past (link here), it will be tough unlocking the fair value of those assets in the current macroeconomic climate.
Management noted that Macy's had "approximately $3 billion of untapped capacity in the new asset-backed credit facility" at the end of its last fiscal quarter during the firm's latest conference call. The company's cash on hand and access to liquidity enabled management to note that "we expect to have sufficient liquidity to fund our business for the foreseeable future while repaying upcoming debt maturities in fiscal 2020 and fiscal 2021." Please note Macy's reported that its quarterly interest expenses rose last fiscal quarter on a year-over-year basis due to its rising debt load.
Turnaround Strategy
The company responded by launching its "Polaris" strategy in February 2020 which is centered around a few key ideas. For starters, Macy's wanted to beef up its loyalty program so the firm rolled out changes to that system earlier this calendar year that were dubbed "Loyalty 3.0," which made earning loyalty rewards easier. Greater personalization of its rewards program is the next big goal here. The firm also wants to better manage its inventory going forward, and please note Macy's reported that its inventory balance dropped by 31% from February 1 to August 1 of this calendar year. Management noted that Macy's entered the fiscal third quarter with "an appropriate sales-to-stock ratio" after the recent reduction in the firm's inventory.
Expanding the retailer's omni-channel operations and growing its digital sales is another big goal, though Macy's still has a lot to do on this front given that its digital sales growth trajectory started to cool off in July. Finally, Macy's wants to cut its SG&A expenses. Though the retailer noted that its SG&A expenses fell sharply last fiscal quarter on a year-over-year basis, please note that was largely due to many of its stores being closed for at least a portion of the fiscal quarter. Permanent store closures are part of the firm's long-term cost cutting strategy, with Macy's targeting around 125 store closures over the coming years.
Concluding Thoughts
Macy's is making some headway in turning things around, though these are still very early days. The retailer needs to prove that the recent bounce in its digital sales is sustainable and will need to make improvements in its digital ecosystem to support its momentum there. Additionally, Macy's will need to see its revenues rise back up to levels that allow for meaningful cash flow generation, something that may come about from the firm having all/most of its stores open for a full fiscal quarter. As the holiday shopping season draws near, we will be keeping a close eye on the retail space.
-----
Dollar Store and Department Store Industries – KSS M JWN BIG DG DLTR PSMT
Specialty Retailers Industry – AAN BBBY BBY GME HD LOW LL ODP SHW TSCO WSM
Food Retailing Industry – CASY COST CVS KR SYY TGT WBA WMT
Related: AMZN, FDS, SPY, VDC, IWM
-----
Valuentum members have access to our 16-page stock reports, Valuentum Buying Index ratings, Dividend Cushion ratios, fair value estimates and ranges, dividend reports and more. Not a member? Subscribe today. The first 14 days are free.
Callum Turcan does not own shares in any of the securities mentioned above. Dollar General Corporation (DG) is included in Valuentum's simulated Best Ideas Newsletter portfolio. Vanguard Consumer Staples ETF (VDC) is included in Valuentum's simulated High Yield Dividend Newsletter portfolio. Some of the other companies written about in this article may be included in Valuentum's simulated newsletter portfolios. Contact Valuentum for more information about its editorial policies.