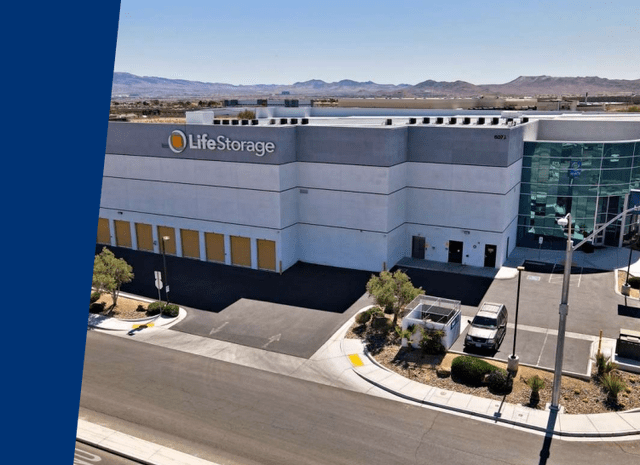 Image Source: Life Storage
By Brian Nelson, CFA
On November 2, Life Storage (LSI) reported solid third quarter results with its top line and adjusted funds from operations ("FFO") exceeding the consensus estimates. Equity REITs have faced considerable weakness during 2022, and Life Storage has not been immune to the selling pressure. When it comes to REITs, however, we still like shares of this well-positioned self-storage operator, and investors are getting a rather nice dividend check to boot. Since 2010, Life Storage has generated a ~10% compound annual growth rate in adjusted FFO per share, an impressive feat.
Life Storage buys, owns and manages self-storage properties that offer space for consumers and commercial users to store items from automobiles to boats and beyond. The REIT operates over 1,100 locations across 35+ states, as of last check, it is the fourth-largest operator in this very lucrative slice of the REIT sector. Self-storage REITs are generally recession-resistant, offer high operating margins, and generally lower maintenance capital requirements. The industry is also highly fragmented giving larger operators an ability to roll up smaller players and drive efficiencies within their portfolios.
Life Storage's growth rates during its third quarter were impressive, with FFO advancing 26.3% on a year-over- year basis, as the REIT increased same-store revenue by 14.9% and same-store net operating income ("NOI") by 18.4% during the period. Life Storage CEO Joe Saffire reiterated that "operating fundamentals are very strong with occupancy remaining elevated from pre-pandemic seasonal levels." Strength in the period emanated from a 17.1% increase in same-store realized rental rates per square foot and same-store occupancy rates averaging 93.1% during the period.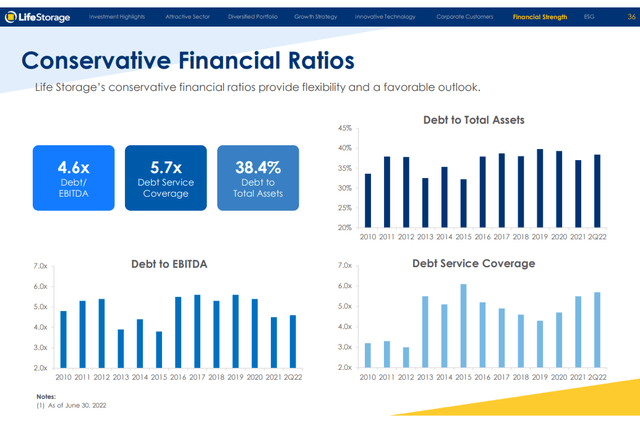 Image Source: Life Storage
The company ended the third quarter of 2022 with ~$22.5 million of cash and $794 million remaining on its revolver so liquidity looks solid, as it continues to go to the market with its continuous equity offering program. This is what we mean when we say that most REITs are capital-market dependent as many need a constant flow of new capital to invest in new properties and to pay out their dividends. This is generally unlike traditional corporate entities that can cover dividend payments with traditional free cash flow. Life Storage's debt to recurring annualized EBITDA stood at 4.6x at the end of the quarter, which is rather high, but the REIT boasts investment-grade credit ratings from Moody's and S&P (Baa2/BBB).
Looking ahead, Life Storage upped its guidance range for a number of metrics in 2022. Same-store revenue is now targeted in the range of 14.25%-15.25% (was 13.25%-14.25%), while same-store net operating income is expected to grow 18%-19% in the year (was 16.5%-17.5%). Adjusted funds from operations is now targeted at $6.42-$6.46 per share, up from previous guidance of $6.27-$6.33 per share, the prior range released in August.
Since the self-storage arena tends to be highly fragmented, acquisitions will be a key part of Life Storage's expansion efforts, but so will adding additional square footage to successful stores. Investors should expect Life Storage to be active in pruning out less successful stores, too, as it focuses on markets with attractive demographics and stronger rates per square foot. We like the momentum behind the economics of Life Storage's business, though we note that clouds on the economic horizon could offer some headwinds.
Concluding Thoughts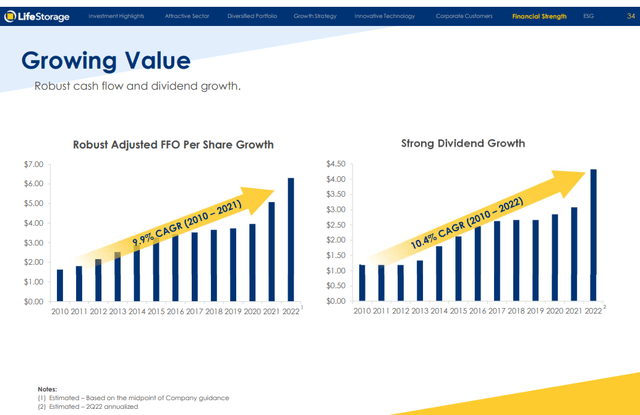 Image Source: Life Storage
Life Storage operates in one of the most attractive areas of the REIT sector, the self-storage arena. The company has raised its dividend considerably during the past five years, and its 35-year history in the self-storage business coupled with its investment-grade credit ratings speak to sustainability. We like its diversified, coast-to-coast presence in the U.S. with roughly 60% of its owned stores positioned in the fast-growing Sun Belt states. Since 2010, Life Storage has raised its dividend at a 10.4% compound annual growth rate, and we expect further hikes to come. Shares yield ~4.2% at this time.
Tickerized for NSA, CUBE, LSI, EXR, PSA
---------------------------------------------

About Our Name
But how, you will ask, does one decide what [stocks are] "attractive"? Most analysts feel they must choose between two approaches customarily thought to be in opposition: "value" and "growth,"...We view that as fuzzy thinking...Growth is always a component of value [and] the very term "value investing" is redundant.
-- Warren Buffett, Berkshire Hathaway annual report, 1992
At Valuentum, we take Buffett's thoughts one step further. We think the best opportunities arise from an understanding of a variety of investing disciplines in order to identify the most attractive stocks at any given time. Valuentum therefore analyzes each stock across a wide spectrum of philosophies, from deep value through momentum investing. And a combination of the two approaches found on each side of the spectrum (value/momentum) in a name couldn't be more representative of what our analysts do here; hence, we're called Valuentum.
---------------------------------------------
Brian Nelson owns shares in SPY, SCHG, QQQ, DIA, VOT, BITO, and IWM. Valuentum owns SPY, SCHG, QQQ, VOO, and DIA. Brian Nelson's household owns shares in HON, DIS, HAS, NKE, and RSP. Some of the other securities written about in this article may be included in Valuentum's simulated newsletter portfolios. Contact Valuentum for more information about its editorial policies.
Valuentum members have access to our 16-page stock reports, Valuentum Buying Index ratings, Dividend Cushion ratios, fair value estimates and ranges, dividend reports and more. Not a member? Subscribe today. The first 14 days are free.