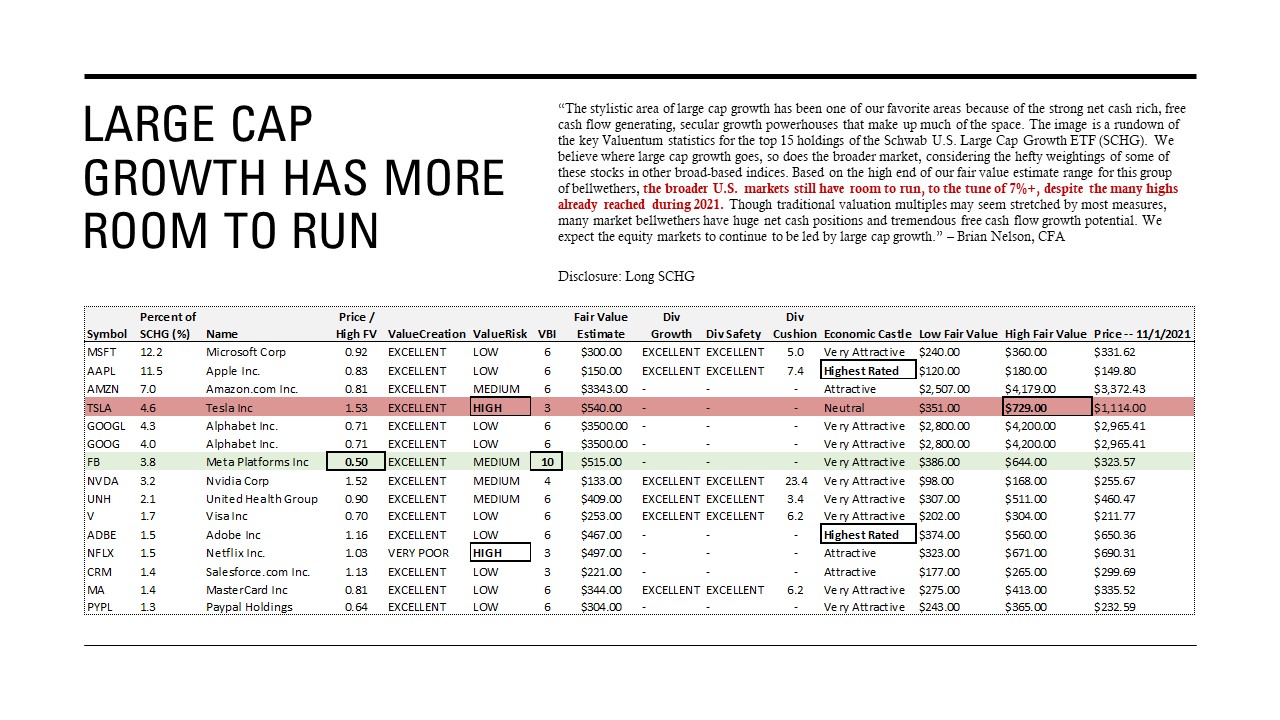 "The stylistic area of large cap growth has been one of our favorite areas because of the strong net cash rich, free cash flow generating, secular growth powerhouses that make up much of the space. The image is a rundown of the key Valuentum statistics for the top 15 holdings of the Schwab U.S. Large Cap Growth ETF (SCHG). We believe where large cap growth goes, so does the broader market, considering the hefty weightings of some of these stocks in other broad-based indices. Based on the high end of our fair value estimate range for this group of bellwethers, the broader U.S. markets still have room to run, to the tune of 7%+, despite the many highs already reached during 2021. Though traditional valuation multiples may seem stretched by most measures, many market bellwethers have huge net cash positions and tremendous free cash flow growth potential. We expect the equity markets to continue to be led by large cap growth." – Brian Nelson, CFA
Download our weekly screener for your firm to gather insights such as these. The weekly screener is always available on the left column of our website. It can be accessed here (xls) -- login required.
----------

Image Source: Value Trap
----------
Valuentum members have access to our 16-page stock reports, Valuentum Buying Index ratings, Dividend Cushion ratios, fair value estimates and ranges, dividend reports and more. Not a member? Subscribe today. The first 14 days are free.
Brian Nelson owns shares in SPY, SCHG, QQQ, DIA, VOT, BITO, and IWM. Valuentum owns SPY, SCHG, QQQ, VOO, and DIA. Brian Nelson's household owns shares in HON, DIS, HAS, NKE. Some of the other securities written about in this article may be included in Valuentum's simulated newsletter portfolios. Contact Valuentum for more information about its editorial policies.