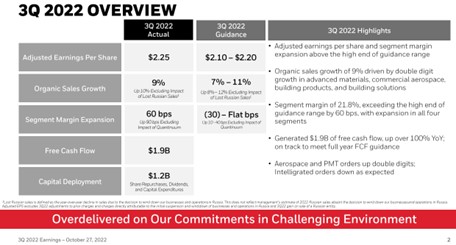 Image Source: Honeywell
By Brian Nelson, CFA
On October 27, Dividend Growth Newsletter portfolio holding Honeywell International (HON) reported solid third-quarter performance and provided higher guidance for the full-year 2022. We continue to like the company as an idea in the simulated Dividend Growth Newsletter portfolio, as we expect robust dividend growth in the coming years. The high end of our fair value estimate of Honeywell stands at $224 per share. Shares yield ~2.2% at the time of this writing.
During the third quarter of 2022, Honeywell reported organic sales growth of 9%, pointing to a double-digit pace of expansion in 'Honeywell Building Technologies,' 'Performance Materials and Technologies,' and 'Aerospace.' The firm's operating margin also advanced 90 basis points higher, to 19.5% thanks primarily to higher levels of profitability in its 'Safety and Productivity Solutions' segment. The highlight of the report, however, was adjusted earnings per share, which advanced 11% year-over-year, beating the high end of the company's guided range by a nickel.
Honeywell's cash-flow performance remains robust, too. Operating cash flow came in at $2.1 billion, up 86% on a year-over-year basis, while free cash flow came in at $1.9 billion, more than doubling. Though Honeywell's free cash flow margin may not be as strong as a company like Visa's (V), for example (see here), its free cash flow margin came in at 21.2% in the quarter thanks to better cash conversion in its working capital. The percentage is very respectable, especially for an industrial giant that has higher capital spending requirements than other asset-light entities. Importantly, management noted that it ended the third quarter with $29.1 billion in backlog, up 9% year-over-year.
Here's what the executive team had to say about the company's guidance for the remainder of the year:
As a result of the company's third-quarter performance and management's outlook for the remainder of the year, full-year sales are now expected to be in the range of $35.4 billion to $35.7 billion, up 6% to 7% organically, or up 8% to 9% excluding the one-point impact of COVID-driven mask sales declines and one-point impact of lost Russian sales. Segment margin expansion is now expected to be in the range of 60 to 80 basis points, including an approximate (30) basis point impact from investments in the Quantinuum business. Adjusted earnings per share is now expected to be in the range of $8.70 to $8.80. Operating cash flow is expected to be in the range of $5.2 billion to $5.6 billion and free cash flow is expected to be $4.7 billion to $5.1 billion.
We continue to expect big things at Honeywell, and we applaud management's capital allocation decisions. The firm deployed $1.2 billion in the quarter, consisting of $400 million of share repurchases, while raising its dividend for the 13th time in over a dozen consecutive years. Though there may be some clouds on the horizon as it relates to the global economy, Honeywell's diversified product suite is allowing it to navigate the market incredibly well.
Industrial Leaders: MMM, DHR, GE, HON, BA, GD, LMT, NOC, RTX, WM, RSG, CAT, DE, CNI, CSX, UNP, FDX, UPS, FAST, APH, GLW, TEL, ETN, ITW, EMR, ROP, PH
---------------------------------------------

About Our Name
But how, you will ask, does one decide what [stocks are] "attractive"? Most analysts feel they must choose between two approaches customarily thought to be in opposition: "value" and "growth,"...We view that as fuzzy thinking...Growth is always a component of value [and] the very term "value investing" is redundant.
-- Warren Buffett, Berkshire Hathaway annual report, 1992
At Valuentum, we take Buffett's thoughts one step further. We think the best opportunities arise from an understanding of a variety of investing disciplines in order to identify the most attractive stocks at any given time. Valuentum therefore analyzes each stock across a wide spectrum of philosophies, from deep value through momentum investing. And a combination of the two approaches found on each side of the spectrum (value/momentum) in a name couldn't be more representative of what our analysts do here; hence, we're called Valuentum.
---------------------------------------------
Brian Nelson owns shares in SPY, SCHG, QQQ, DIA, VOT, BITO, and IWM. Valuentum owns SPY, SCHG, QQQ, VOO, and DIA. Brian Nelson's household owns shares in HON, DIS, HAS, NKE. Some of the other securities written about in this article may be included in Valuentum's simulated newsletter portfolios. Contact Valuentum for more information about its editorial policies.
Valuentum members have access to our 16-page stock reports, Valuentum Buying Index ratings, Dividend Cushion ratios, fair value estimates and ranges, dividend reports and more. Not a member? Subscribe today. The first 14 days are free.