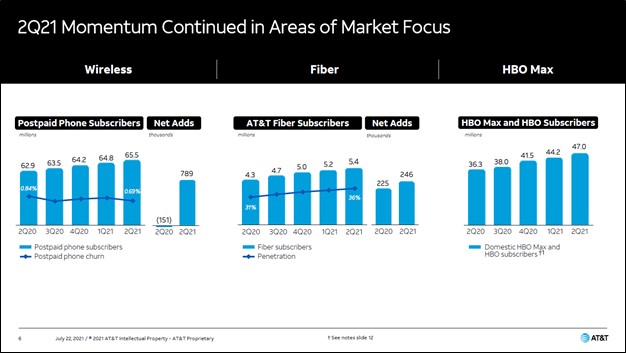 Image Shown: AT&T Inc's core businesses in the wireless and fiber arenas continue to gain subscribers at a rapid pace, while its HBO/HBO Max offerings are also growing at a nice clip. Image Source: AT&T Inc – Second Quarter of 2021 IR Earnings Presentation
By Callum Turcan
On July 22, AT&T Inc (T) reported second quarter 2021 earnings that beat both consensus top- and bottom-line estimates. The company added 1,156,000 net postpaid customers to its core 'Mobility' business including 789,000 net postpaid phone customers, aided by its lowest churn rates ever at just below 0.7%. AT&T also added 174,000 net prepaid phone customers while its AT&T Fiber business added 246,000 net customers last quarter. We include shares of AT&T as an idea in the High Yield Dividend Newsletter portfolio (more on that here), and shares of T yield ~7.4% as of this writing.
Transformative Deals
Over the past several months, AT&T has made some big announcements including agreeing to spin off a 30% stake in its US video business to TPG (includes its DIRECTV, AT&T TV, and U-verse assets), merge WarnerMedia with Discovery Inc (DISCA), and sell its mobile games studio Playdemic to Electronic Arts Inc (EA) for $1.4 billion in cash. Furthermore, on July 21, AT&T announced it was selling its Vrio business (its Latin American video services provider) to Grupo Werthein, a private holding company, though no sales price was included in the press release. The WSJ reports that according to an AT&T spokesman, the deal carries an enterprise value of ~$0.5 billion. AT&T recorded a large $4.6 billion impairment charge associated with the sale of its Vrio business, which is expected to close in early-2022.
These moves are expected to significantly improve AT&T's balance sheet going forward, though management has communicated that AT&T's dividend will be right-sized in the process. After the transformative transaction with Discovery is complete (which we covered in this article here), AT&T expects to generate $20+ billion in free cash flow and aims to have a dividend payout ratio of ~40%-43% (equal to ~$8-$9 billion in annual dividend obligations). The company aims to step up its capital investments towards its 5G and fiber operations going forward to support its long-term growth trajectory, a move we support given AT&T's success on these fronts of late.
As an aside, AT&T expects its HBO/HBO Max offerings will exit 2021 with 70-73 million subscribers worldwide (keeping in mind its HBO/HBO Max businesses will soon be separated from AT&T).
In conjunction with its latest earnings report, AT&T raised its full-year guidance for 2021 and now expects (excluding the impact of its DIRECTV/TPG transaction) to generate ~$27 billion in free cash flow this year, up from ~$26 billion according to its first quarter guidance. At its new free cash flow forecast, AT&T forecasts that its dividend payout ratio will come in the high 50s% range this year (expected dividend obligations divided by forecasted free cash flows).
By the end of 2023, AT&T aims to bring its net debt-to-adjusted EBITDA ratio down below 2.5x once its deal with Discovery is in the rearview mirror. Please note that the timing of other spinoffs and divestments, and the potential for additional activities on this front, will play a leading role here. Additionally, its free cash flow forecast for 2021 will be impacted by the pending spinoff of its US video services unit, though we appreciate the guidance boost as that speaks quite favorably to the performance of its core operations going forward.
Earnings Update
AT&T's GAAP revenues grew by 8% year-over-year in the second quarter of 2021, though its GAAP operating income moved lower year-over-year due to its large impairment charges. However, AT&T's non-GAAP adjusted operating income also moved lower year-over-year last quarter as it continues to face sizable headwinds from the coronavirus ('COVID-19') pandemic. AT&T generated $12.8 billion in free cash flow during the first half of 2021.
The company's net debt load stood at $167.9 billion at the end of June 2021 according to AT&T (a balance sheet statement was not provided in its latest earnings update). Though manageable considering its impressive free cash flow generating abilities and pending transactions, AT&T's balance sheet remains bloated. Management has committed to paring that burden down over the coming years. AT&T exited the second quarter with a net debt-to-adjusted EBITDA ratio of approximately 3.15x.
Operational Updates
During AT&T's latest earnings call, management had this to say about the firm's fiber and legacy businesses (emphasis added):
"Our fiber growth continues to be solid. We added 246,000 fiber customers in the quarter. Broadband ARPU grew by 6.1% year-over-year. Our aggregate Fiber penetration rate is now more than 36% up from about 31% a year ago. And nearly 80% of net ads are new AT&T broadband customers. We've reached a major inflection point in our consumer wireline business. Broadband revenue growth now surpasses legacy declines. This help drive consumer wireline revenues up 2.9%. We expect broadband revenues to continue to outpace legacy decline." --- Pascal Desroches, Executive Vice President and CFO of AT&T
As it concerns AT&T's 'Communications' business segment which includes its 'Mobility' operations, the company signed a major deal with DISH Network Corp (DISH) in July 2021. Here is what the press release had to say about the deal:
Through this agreement, DISH will provide current and future customers of its retail wireless brands, including Boost Mobile, Ting Mobile and Republic Wireless, access to best-in-class coverage and connectivity on AT&T's wireless network, in addition to the new DISH 5G network. The agreement accelerates DISH's expansion of retail wireless distribution to rural markets where DISH provides satellite TV services. AT&T is also providing transport and roaming services as part of the agreement, to support DISH's 5G network.
Dish Network is a relative newcomer in the wireless space after acquiring Boost Mobile last year, and aims to steadily become a much bigger player in this arena. AT&T is effectively replacing T-Mobile US Inc (TMUS) as DISH Network's strategic partner on this front, and AT&T's management team noted during its latest earnings call that "we expect our recent agreement with Dish to provide a boost to wireless service revenues in 2022." In our view, this deal is a win-win considering T-Mobile's acquisition of Sprint was given the go-ahead by regulators with the understanding that Dish Network was going to enter the industry. The wireless market in the US is reasonably competitive, and AT&T has been firing on all cylinders on this front of late in the wake of its rollout of nationwide 5G services.
Concluding Thoughts
AT&T's core businesses are performing quite well while the company begins to jettison its other operations. The firm has made several big U-turns over the past few years, and it appears AT&T is finally on a path that management can stick with, which we appreciate. We expect AT&T's dividend will remain competitive after its deal with Discovery is complete as its core businesses, providing wireless and fiber services to customers in the US, remain major cash flow cows with promising long-term growth outlooks. In our view, there is a decent chance AT&T will eventually completely divest its stake in its US video services business. On a final note, Axios reports that AT&T is actively looking to divest its advertising tech business Xandr and is in discussions with an Indian ad tech giant. We like the move as AT&T needs to get back to its roots.
----
Telecom Services Industry - CMCSA, LUMN, DISH, T, TMUS, VZ, SBAC, AMT, CCI, VIAC
Tickerized for T, EA, NFLX, DIS, DISCA, DISH, TMUS, ROKU, FOX, FOXA, FUBO, VOX, NXTG, FCOM, IYZ, IXP, XTL, WBIF, EWCO, LTL
Valuentum members have access to our 16-page stock reports, Valuentum Buying Index ratings, Dividend Cushion ratios, fair value estimates and ranges, dividend reports and more. Not a member? Subscribe today. The first 14 days are free.
Callum Turcan does not own shares in any of the securities mentioned above. The Walt Disney Company (DIS) is included in Valuentum's simulated Best Ideas Newsletter portfolio. AT&T Inc (T) and Crown Castle International Corp (CCI) are both included in Valuentum's simulated High Yield Dividend Newsletter portfolio. Some of the other companies written about in this article may be included in Valuentum's simulated newsletter portfolios. Contact Valuentum for more information about its editorial policies.